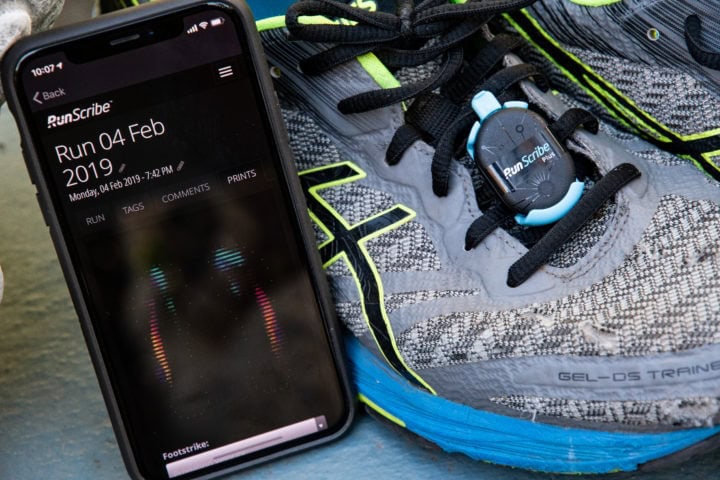 Earlier this week RunScribe announced two news tidbits to the world. First, that they're going to shift focus away from the direct to consumer market, and instead focus more on business to business interactions, such as clinics and related groups. And secondly, they rolled out a new feature for existing folks called ShoePrints.
Because it's Friday we'll keep this one kinda quick. But I wanted to touch on the RunScribe announcement for a few reasons.  The biggest reason being that I've watched founder Tim and his crew start from nothing more than an idea 5.5 years ago, iterate through numerous versions of the pods (and the ups and downs of that), and then ultimately figure out the best direction of the company going forward. But second, because I think it's probably indicative of the challenge that all running efficiency related companies have in the space when focusing purely on consumers. There's been far more companies in this space than I can count in the last 5 or so years, and RunScribe is and has been one of the best positioned of them all from a technology standpoint.
A Bit Of History:
It was originally at the ANT+ Symposium in 2013 that I first checked out RunScribe. At the time the pods looked a bit different than now, and initially were only on the heel. Here's the first prototypes: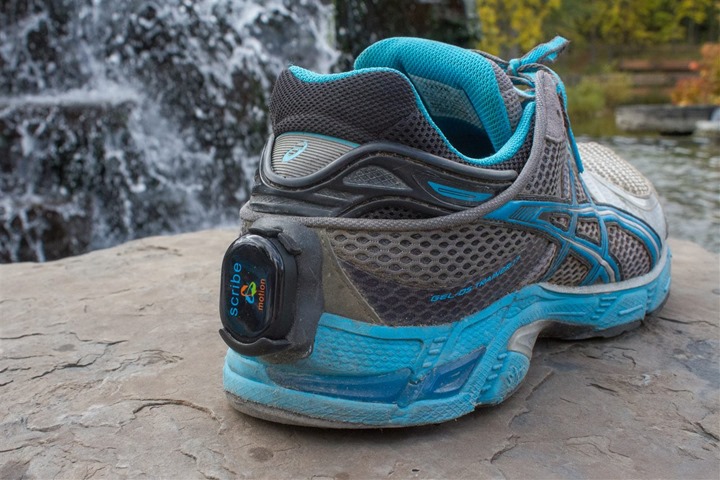 But more importantly than what they looked like was how they worked. Back then Garmin had just announced their Running Dynamics. But this was before the days of Connect IQ. So the entire concept of RunScribe going out and just developing their own app to work with Garmin wearables didn't even exist yet.
Thus the viewability of the metrics was highly limited. There wasn't a practical way to see them on your wrist, except via smartphone app – which wasn't exactly ideal for the core audience of mostly higher end runners for RunScribe. While RunScribe did try and convince Garmin to open up some of the running dynamics metrics, that didn't happen for another four years – far too late for RunScribe to leverage on their earlier products.
In fact, RunScribe would ultimately shift directions to Bluetooth Smart for the middle generation products. A decision that likely hurt everyone, but they honestly had little choice. It hurt RunScribe because overwhelmingly the GPS watch market is dominated by Garmin (who at the time was ANT+ only), it hurt ANT+ because they lost an innovative company, and it hurt consumers because it lessened the value of the device to not be able to see the data in real-time.
Fast forward 3-4 years and RunScribe was finally able to take advantage of Garmin's Connect IQ platform, transmitting that data live to people's wrists on Garmin watches. It also transmitted more detailed data to the company's smartphone app, where you could do all sorts of fun analysis on your running stride and related efficiency metrics:
The company even started transmitting running power as well. Like other companies in the space though (including Garmin, Stryd, and Polar), I generally take running power with a grain of salt. Still, they were working on it and they trended in roughly the same directions as everyone else. They were also one of the few that actually backed up their numbers with the exact algorithms they were using.
But the company also suffered yet more setbacks, oddly enough – one again at Garmin's sword. The Fenix 5 series should have been the best thing that ever happened to RunScribe, but in reality, it was a kick in the groin. The Fenix 5/5S were saddled with a poorly designed communications/antenna solution that caused dropouts on some ANT+ accessories, but especially those pushing the limits of signal range (the Fenix 5X was not impacted). This most severely impacted Stryd and RunScribe, where the pods are quite a distance from your wrist and would impact data on their Connect IQ apps. RunScribe ended up finding a home-grown hack of putting a thin strip of foil on existing pods would give them just the bump they needed. Still, it was a setback for the company. Stryd meanwhile simply recommended against usage with the Fenix 5/5S.
Either way, being Garmin's best selling premium wearable and having premium ($200+) products for said wearable, it was a significant setback.  Still, most RunScribe users seem to appreciate the company's never-ending visibility in their own forums and continued support of users, both through frequent app/firmware/Connect IQ apps, and even hardware updates.
In fact, one such feature was just released last weekend – called ShoePrints. This feature shows your footprint from a pressure standpoint on the shoe, by using the data gathered during your run. Here's my ShoePrints from my run Monday night:
As one might imagine, this type of information, while interesting to consumers, would be fascinating to running shops and others looking to find the right shoe for a person, or figure out if a person might need some sort of foot bed or other tweak to their shoe situation.
The Future:
In the tech world it's often said that products can be 'ahead of their time', and in some ways, that's exactly what happened initially with RunScribe. It simply hit about 12 months too early to take advantage of Garmin's Connect IQ platform – which would have been perfect for it (and likely accelerated it). Instead, from a consumer standpoint, it got caught in the cross-fire not once, but twice. Still, they chugged on.
And at this point the company is simply finding more success with universities, clinics, and labs that are looking for running gait/efficiency related information.  Founder Tim Clark outlined this reality in a recent post within the forums:
"I expect it won't come as a surprise to any of you that RunScribe are a small team, that got a whole lot smaller starting in 2017. Most of you have interacted with me personally, either on the forums or via support, so you can probably do the math. Nor will it likely come as a surprise that support for a consumer product, particularly one with as much complexity as RunScribe, is non-trivial. Professional users on the other hand, represent a growing opportunity, as there are few products which capture as many metrics, and offer simultaneous L/R data. We're already in hundreds of clinics, gait labs, and universities around the globe."
As to how it might impact existing consumers, it doesn't sound like there's much of a change. The company is still developing the product (and still selling it), just that now it costs basically twice as much (Tim notes that the older pricing just doesn't work at the scale they're at right now), and it's likely the features will be focused more on the professional setting – but you'll continue to see updates to the product, including new features. Here's what they had to say:
"If you've got RunScribe, honestly, not much. If anything, by spending less time dealing w/ FB's ever-changing targeting algorithms and consumer support questions, I hope to find myself with more time to spend on product development/improvements. Even if you don't need to see multiple runners in your account, there are plenty of other things in the pipeline that I believe will continue to increase the value of RunScribe [ShoePrints is just the first example]. You've already seen a lot of bug fixes and feature requests in the past month, so I hope it's clear that I have no intention of abandoning the platform or my existing users anytime soon."
In fact, it's more than that. For example, they've also rolled out the ability for clinics to manage multiple runners as well, making it ideal in multi-user scenarios where as previously everything had to be dealt with on a one to one basis.
Despite all this – I'm looking forward to seeing where RunScribe goes from here. The company's had what I see as by far the best visualization of the data out there, and I suspect the science probably backs it up quite a bit given the universities now leveraging the product for their own needs. I also wouldn't be surprised if someone looks at RunScribe as a nice acquisition opportunity as well. It's already well established with a fully functioning products/platform/app and partnerships. But who knows.
With that – thanks for reading, and have a great weekend ahead!