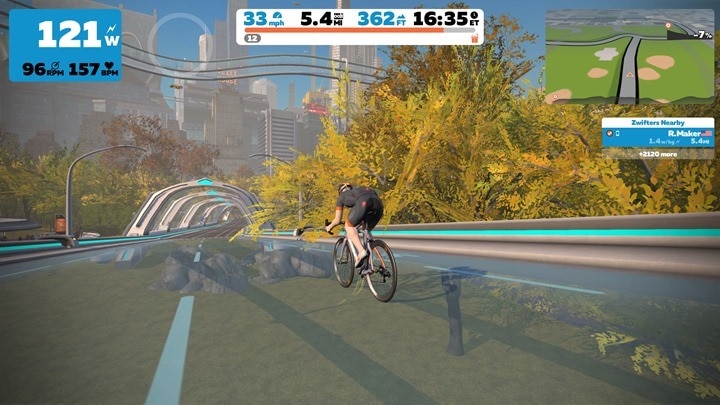 After bits of teasing since earlier this summer, the Zwift New York City course is finally here. And, it's nothing like what you expected. Well, unless you expected flying cars, levitating translucent roadways, and buses dangling from glowing blue railway systems. Which, is what Zwift sees in 2119 (101 years from now).
See, to Zwift's credit – all of their drips of info and visual leaks to date have meticulously made you believe they were designing a Central Park focused course that would highlight the natural beauty of New York City's most famed park. And that's true. There are, in effect, two concurrent levels to what Zwift has designed for New York City. But, let's not get ahead of ourselves.
Unless you want to of course. In which case, just watch this video I stuck together. It has some awesome B-roll montage sections showing off all the courses in it. Why are they awesome? Because it's Friday, of course, …everything's more awesome on Friday:
But, if you skipped the video for some bizarre reason, then we can walk through it all in text and photos. If you watched the video – then frankly you're not going to get much more out of this post. I'd suggest buying these on Amazon to support the site instead.
The Routes: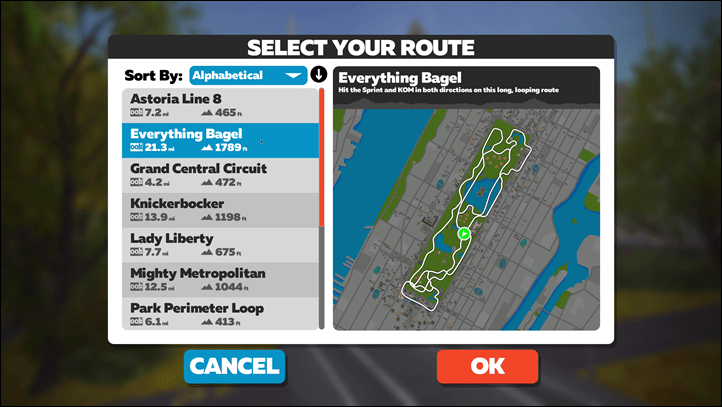 Like most Zwift courses, the New York City map is heavily cycling focused. But unlike all courses – it actually has dedicated running trails too. And not only that, but virtually all cycling roads that I rode also have separate running lanes as well. After all, nobody wants to get a Shiv into the back of them.
All of the courses are 'in' Central Park, which at first might sound disappointing (I was initially), but hang tight a moment and it'll become more clear (unless you watched the video, in which case again, go watch cat videos or something).
Here's the cycling-specific routes first:
Astoria Line 8: A 7.2mi/11.5km loop that has 465ft/142m of elevation gain. It essentially does a double-figure 8 using the main perimeter loop and then two cut-overs.
Everything Bagel: 21.3mi/34.3km with 1,789ft/545m of gain. As the name implies, this does virtually all of the cycling roads (if not all of them), along with hitting both the sprint and KOM in both directions.
Grand Central Circuit: 4.2mi/6.75km with 472ft/144m of gain. This mostly hangs out in the southern end of the park, and tips into the city portion a bit.
Knickerbocker: This 13.9mi/22.4km long route has 1,198ft/365m of gain. It's essentially combining the Astoria 8 with the Grand Central Circuit, along with a bit of extra backtracking to cover all the ground.
Lady Liberty: 7.7mi/12.4km with 675ft/206m of elevation. This combines the Grand Central Circuit with an 80% loop of the main Park Perimeter loop.
Mighty Metropolitan: 12.5mi/20.1 with 1,044ft/318m of gain. This route is heavily situated above Central Park, with sweeping views of the skyline.
Park Perimeter Loop: 6.1mi/9.8km with 413ft/126m of gain. The one and only classic NYC Central Park loop that you know and love.
Rising Empire: 12.9mi/20.8km with 1,234ft/379m of gain. A combination of the Grand Central Circuit and portions of the Mighty Metropolitan, mostly above the park.
The 6 Train: 4.0mi/6.4km with 226ft/69m of gain. The fastest route around the park with minimal elevation gain.
The Highline: 6.5mi/10.5km with 586ft/179m of gain. Fully on the elevated roadways over Central Park.
Phew, there ya go!
Oh, wait, you wanted running courses too?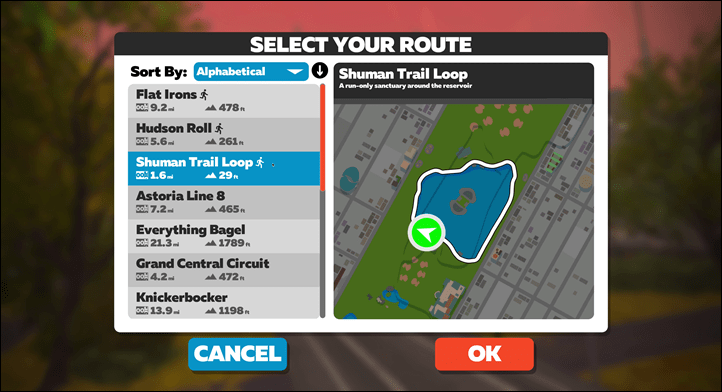 Ok. Well, to begin you can run any of the above courses. But there are also three run-specific courses that are not open to cyclists (at least the Shuman Trail Loop portion). They are:
Flat Irons: 9.2 miles with 478ft of gain: This is a loop around the lake, followed by a loop around the main Park Perimeter.
Hudson Roll: 5.6 miles with 261ft of gain. A loop around the lake as well as inner portions of the park.
Shuman Trail Loop: 1.6mi with 29ft. Just the lake – but also ideal for doing interval workouts, as it's basically a pancake.
Now technically speaking it's really only that 1.6mi loop that's uniquely bike-free, which is less than the new Zwift Island (Watopia) running routes. I'd like to see Zwift add a few more running-specific routes as well to NYC, perhaps below the elevated roadway as it dips over towards the buildings in one area. Either way, it's a good start.
Riding it: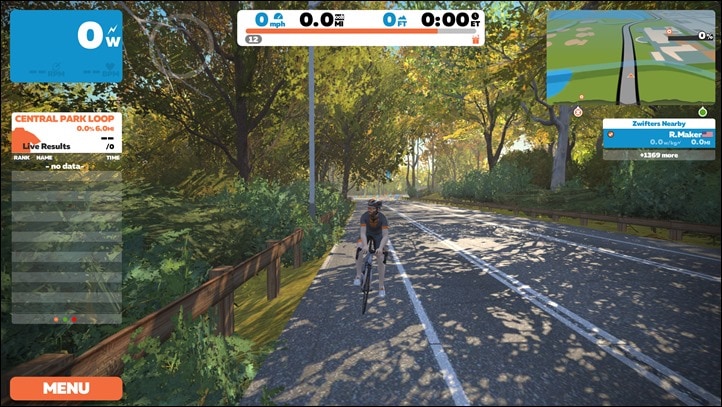 Ok, now, let's get to those flying cars.
But first, the main Central Park Loop. After all, that's what everyone thought they were getting.  You see, while the Zwift New York Courses at this point does stay fully within Central Park (ok, it goes briefly one block away), it doesn't do so totally at ground level. Instead, Zwift has basically built two levels.
The lower level is pretty much NYC's Central Park as you know and love it, while the upper level is fictional and futurist. Of course, both levels can see each other. It's simply the upper one floats above the lower one on elevated roadways. First, here's a gallery of screenshots from my loop riding around the lower portion – which is essentially the main roads of Central Park that I've run (and ridden) countless times before in real life.
But like other Zwift maps, you can choose one of the various turn-offs to go up onto the elevated roadways, which resembles good ol' F-Zero from back in the day. My brother and I used to play that game non-stop as kids on SNES. Probably my favorite game.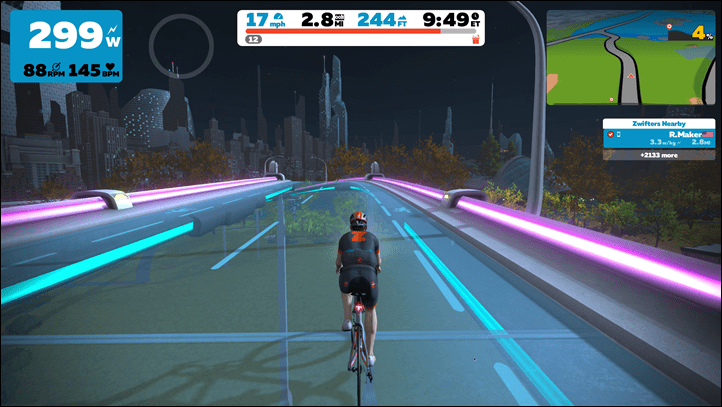 Once up on these elevated roadways you see just how futuristic Zwift has made New York City. There are flying cars, crazy bus-monorail floaty things, and pigeons. Because pigeons never die.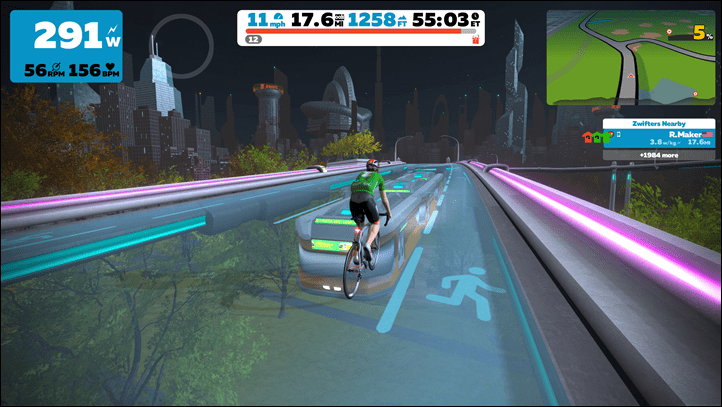 While the vast majority of this elevated section occurs within the boundaries of Central Park, there are some portions that leave it. For example this piece that briefly goes a block away to float at mid-building level: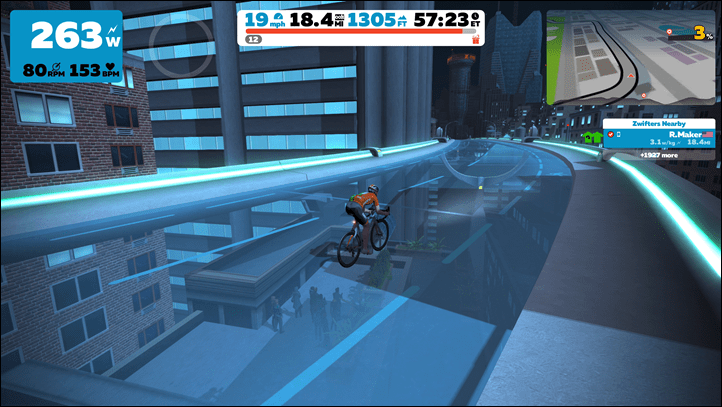 Here's a complete gallery of some of this upper portion from my ride:
As you can see – certainly futurist. What isn't futurist though is me getting the sprint jersey, ever. Instead, that's just the beauty of riding the course at a time when nobody else is riding it. Zero peoples. Which is pretty much the only time I'll ever get that.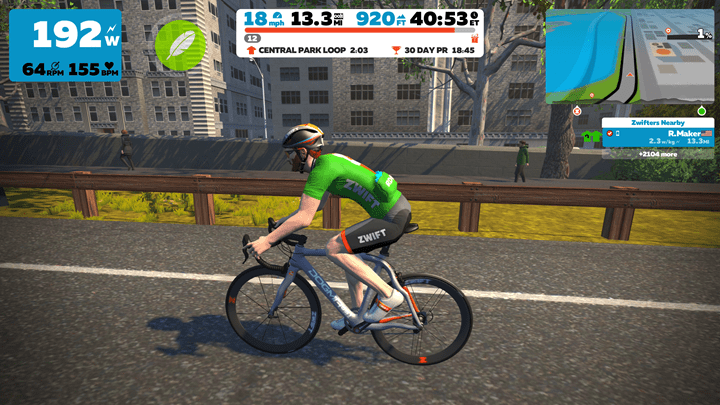 But then I doubled-down on that and also got the route record (lap record) holders jersey too! It's orange. And they even split across my back to showcase my awesomeness: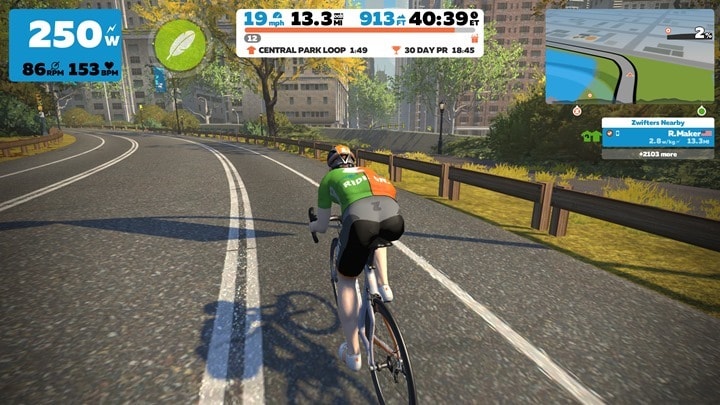 Again, the fact that I was the only one racing isn't important here. What's important is that I won.
Oh, speaking of winning – here's a bit of a gallery from the run route too around the lake. That's the portion that's runners only. It's very…quiet.
And yes, all of this should be available at this very moment for you, hot dog stands and all. You'll need to update your app though across whatever devices you're using.
Going Forward: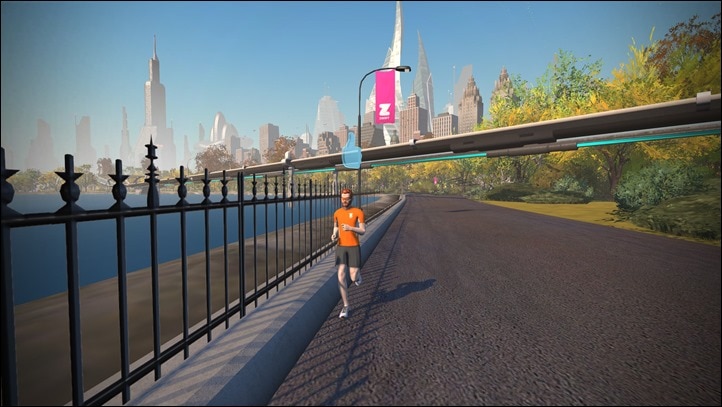 There's no doubt that the New York City course is a welcome addition. It brings us our second course in just a handful of months – a big change from previous years. Of course, it probably won't appease everyone – but I can't imagine too many that will be upset by it.
The bigger question in some ways is where Zwift goes from here. Certainly they have plans for world domination, but I can't help but think that this shows the importance of having functionality like world (map) switching. When I checked in last night there were nearly 4,000 people on Zwift concurrently. And while that might work on a larger map like Zwift Island, it's less practical on smaller roadway courses like Innsbruck and New York City, which only have about 25KM of roads each. And it's not even winter yet.
The other aspect I'd like to see Zwift focus on is upping their training game. Certainly the focus on structured training over the past year is good – but I can't help but feel they're still lagging behind what others are doing in terms of dynamically looking at performances and suggesting workouts that best fit to that. There are some amazing things that Xert, TrainerRoad, and SufferFest are doing around the holistic aspect of training that Zwift could take cues from.
Still, today's addition should keep things fresh for a while to come. Plus, who doesn't like a route named the 'Everything Bagel'? If only I could get good NYC bagels here in Amsterdam. Mmm…bagels.
With that – thanks for reading and have a good weekend!