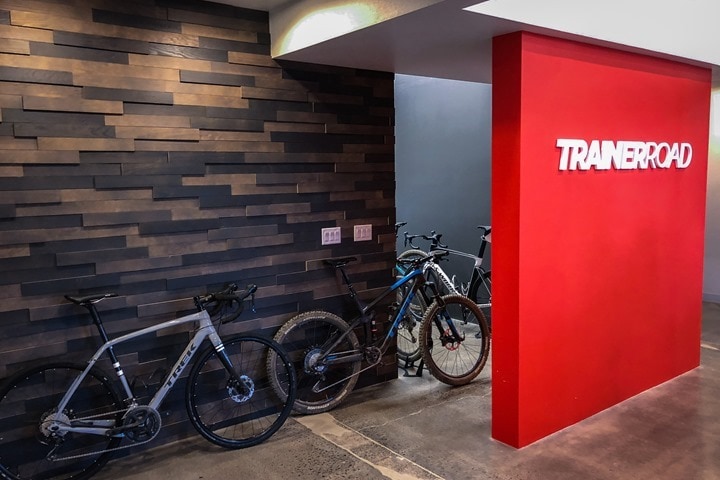 Today TrainerRoad announced and released their next set of features to their platform, which edge it closer and closer to a full-fledged training log platform than just a trainer control platform.  This transition of course isn't new. It began in earnest back this past spring when they added a bunch of training analytic pieces to their site.  But most of those pieces were about historicals, not the future.
Whereas today's announcement is as forward-facing as you get. You can now plan and schedule workouts, races, and even training load for the entire season. Heck, a few seasons.  You can move around scheduled training plan workouts if you get sick, or if your seagull of a boss changes their mind at the last second and sends you on a trip to Kalamazoo.
Oh, and they're increasing their pricing.
But, before you yell – know it's only for new users as of October 8th. The rest of the details on that is down in the sections below. Nuances and all that.
With that, let's get to said details of the features first.
Calendar and Training Plan Feature:
So this gigantic section of my post is basically divided into a few chunks:
A) The fact that you now have a calendar
B) Ability to add training plans to your calendar
C) A bunch of nuances about said planned workouts (plan or otherwise).
D) What happens when/once you do a workout
Got it?
Good. Let's move quick, I'm hungry post-run and behind on lunch.
First up is that you've now got a legit calendar that shows you what you did and what you've got coming down the road.  Note that at present (like, for the next few days/weeks/whatevers), it only shows historical cycling workouts/races, and not yet historical runs/swims/jazzercise classes. But more on that in a second.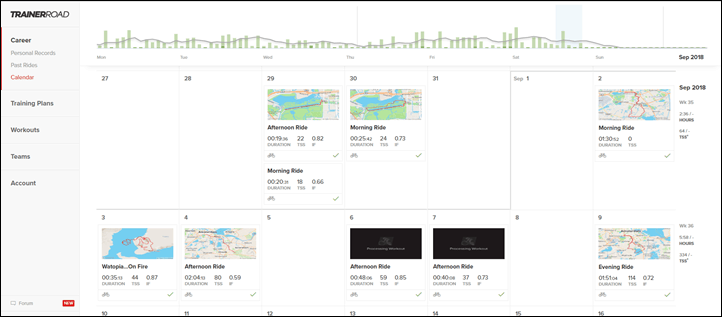 At the top of the calendar view you've got a bit of a chart showing you training load metrics via TSS (in green columns), whereas the purple line is effectively CTL (except, not actually called that).  The TSS score matches that used/displayed by other devices/platforms, as it's licensed from TrainingPeaks.

Now when it comes to forward-looking workouts you can either manually add them in, or choose from their gigantic training plan library.  Starting with just a single workout, you'll pick a day and then add in what you want.  If you choose a TrainerRoad workout for that day, then it'll automatically show that within the app when you turn on the app.
Additionally, it knows the TSS/IF and estimated calories for that workout as well: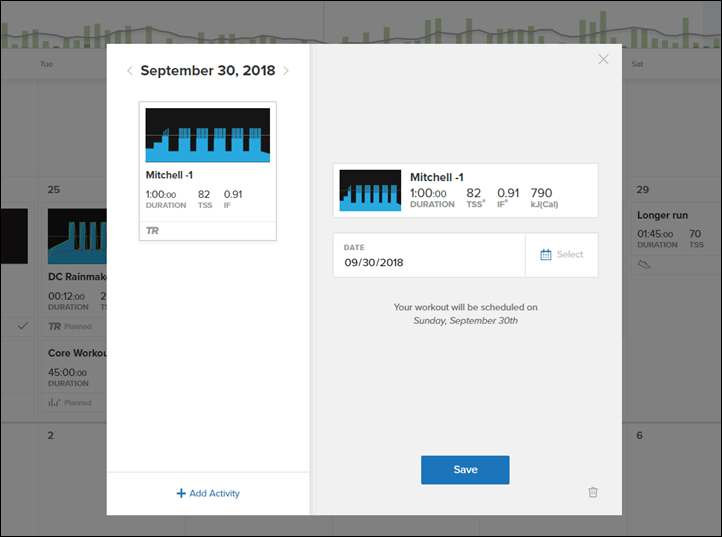 Whereas if you manually add a different workout you can put in the workout type (swim/bike/run/other), and then duration and intensity estimate. After which it'll generate an estimated TSS (Training Stress Score).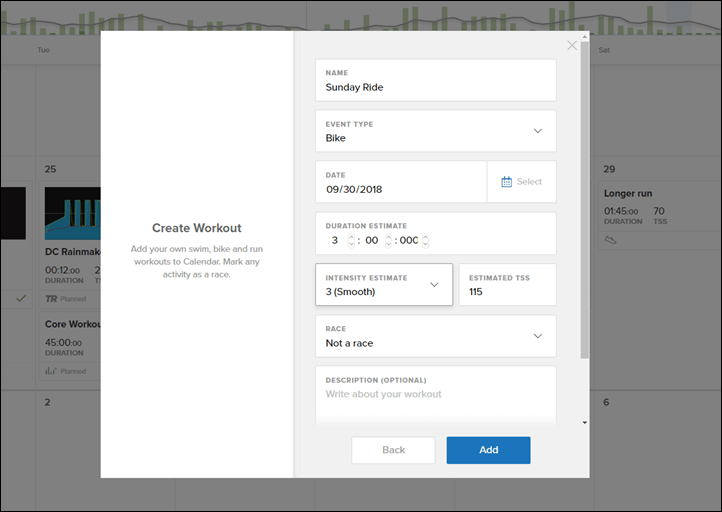 Of course, one can quibble about the estimated TSS scores. These are generic across the platform, and aren't super specific to you as an individual.   And when you start talking running, one person's 45-minute run could be very different than another person's. In talking to TrainerRoad about this, they get that it's not a perfect proxy yet. But they feel it is a rough estimate to at least help you envision forward-looking training load.  It's also a reason why at this point planned swims do not generate a TSS score yet.
If you were to select the 'Race' option above, it highlights it a bit within the platform and makes it clear in various views.
Next, comes plans. For plans you'll start by choosing one of the three categories of plans: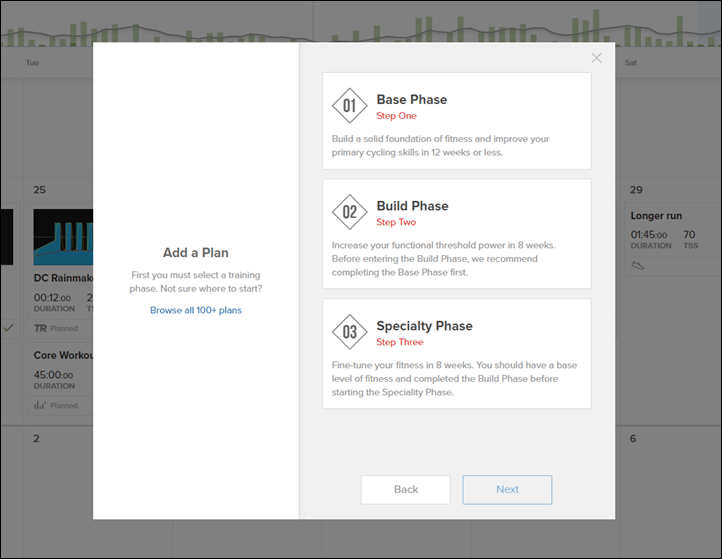 There's plenty of plans depending on what you're aiming for, including triathlete plans: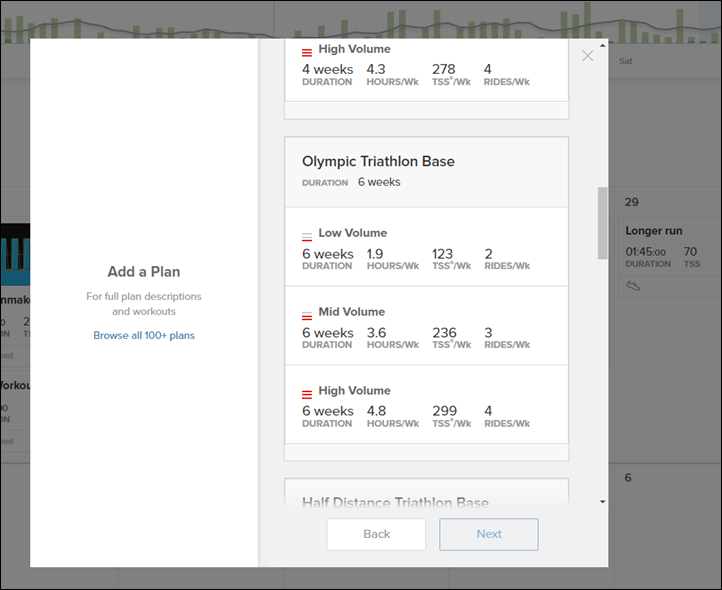 You do see some quirks of the platform still though.  For example, if you look at that low-volume triathlon base plan above, it specifies 1.9hrs/week.  Except, turns out that's only for the bike portion.  It doesn't seem to count the runs/swims towards that total duration.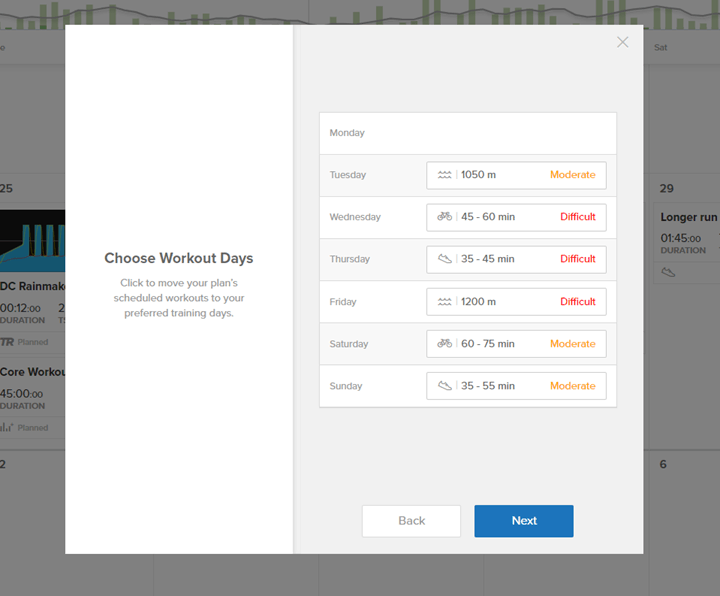 It sounds like that's a bug they're still working through, and is probably pretty minor in the grand scheme of things.
What's cool here though is that you can choose which workout days you can do, and even get pretty creative with groupings as well.  For example, let's say I couldn't workout on Monday or Thursday, but I had lots of time on Wednesday. I simply drag the workout days around as I see fit and then it'll build the plan around no workouts on Mon/Thurs, but a double on Wednesday.
Of course, we can nitpick a bit on this plan and how they can improve even this scenario a bit more – such as then suggesting that you actually merge the swim/run day together rather than a swim/bike day.  But that's all things for the future (and stuff that nobody else in this landscape really does anyway).
You'll then choose when you want the workout to start, or if you want it to end by/on a certain date.  After which you just hit that add button.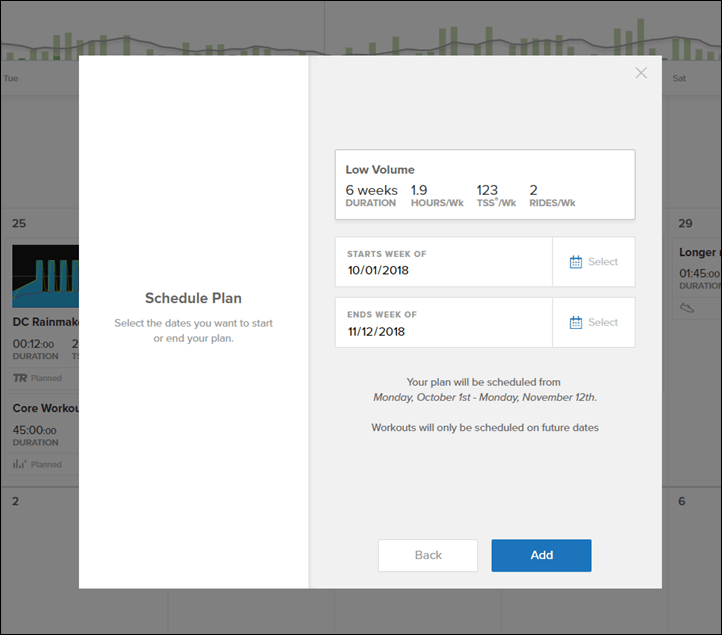 You'll now see the workouts on the calendar, as well as the purple line up-top showing the expected training load in a forward-looking manner going beyond today.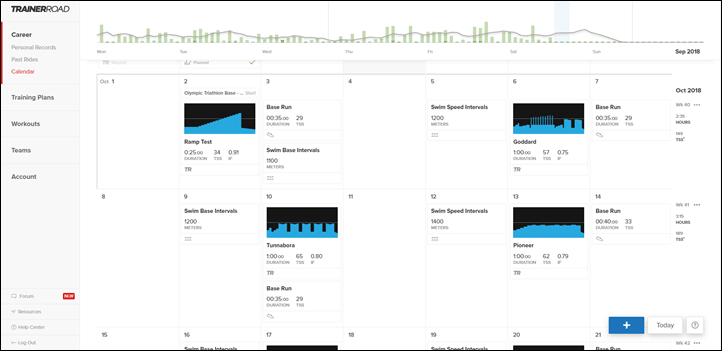 For trainer workouts, you'll get specific TrainerRoad workouts as you can see above.  Whereas for swim and run workouts you'll get prescriptive guidance. Keep in mind I selected a base workout, so there's less focus on intervals from a running standpoint in this particular portion of the plan.
In the event you need to push a week (such as unexpected travel), you can do so via the push/pull week option for any weeks on the training plan.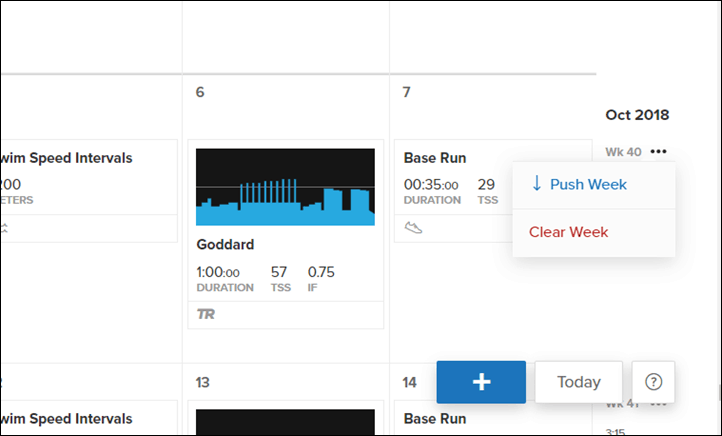 When it comes to actually doing the workouts, that's basically the same as before – except that the app will automatically show the planned workout when you open it.
Afterwards, what you'll notice now is the calendar view will 'check off' workouts that were scheduled, as completed.  Check out the below view of my calendar taken on Wednesday morning. It shows the Tuesday TrainerRoad workout as having a little checkmark next to it, whereas the Wednesday ride and Thursday runs aren't yet showing up because those haven't happened yet.

Fast forward now to Thursday afternoon and here's how things look:

Now the morning ride shows as checked off (even though it wasn't on TrainerRoad), but the interval run I just completed with my Garmin watch doesn't.  Why's that?
Well, at the present only rides are automatically checking off. Both my core workout and interval run I had to manually mark as complete.  I suspect that'll happen eventually, but not quite yet.
Still, for cycle-specific peoples, everything works pretty smoothly – especially if you've got device sync setup for outdoor workouts as well from your Garmin device.  Then it's like one cohesive family.
Price Increases Coming:
In addition to the pile of new features, the company is set to raise prices for new users starting October 8th. This does NOT apply to existing users, and no matter what price you pay you'll continue paying that same price.  Even if you signed up the first day TrainerRoad was born and are still paying only $7/month. That'll stay, and TrainerRoad says they have no plans to change that.
However, for new users that sign-up for the service from October 8th, the price will be $15/month, instead of $12/month. Annual pricing will go from $99/year to $129/year.
From a monthly standpoint this matches what Zwift announced last fall ($15/month), however, there are two key differences. First is that TrainerRoad offers an annual plan (going forward $129/year), whereas 12 months of Zwift would be $180.  Additionally, when Zwift adjusted pricing, that goes into effect a little over a month from now for all existing users. Whereas TrainerRoad keeps their existing pricing scheme the same.
Of course, one could debate endlessly which platform is a better value, or which company has done more in terms of development. Frankly, that's like comparing iOS to Android, or Mac to Windows. It doesn't really ever end or resultant in a true winner, no matter how hard one cheers for their side.
I'm not sure what more to say about this one. I think this is as much a case of keeping up with the Joneses as anything else, but it's hard to argue that folks aren't getting massive piles of training value out of $129/year. That's far cheaper than any coach will cost you for a season's worth of training plans, let alone a year's worth.  But again, folks find different values in different products.  To each their own.
Wrap-up: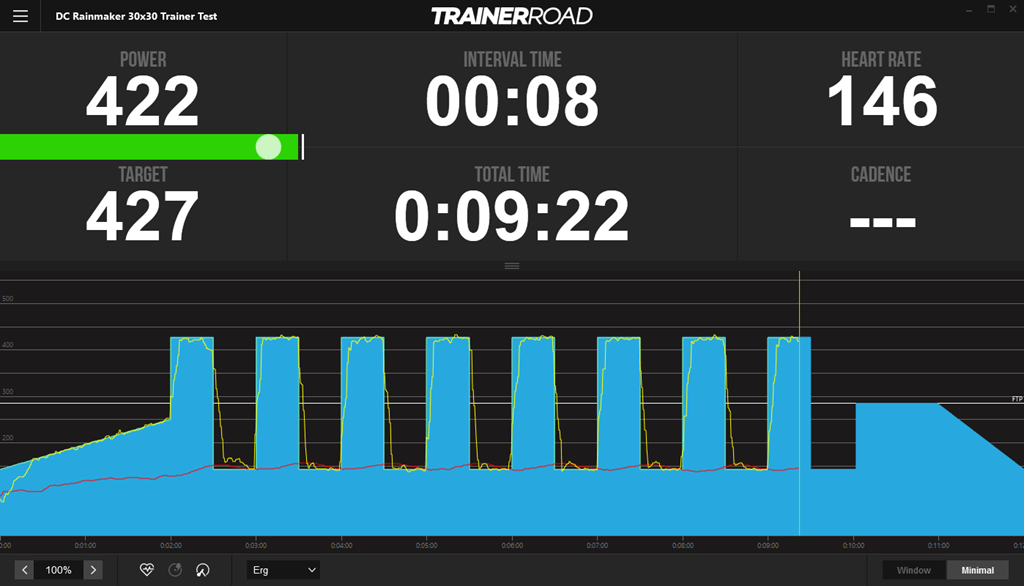 There's no doubt the training analysis platform and trainer platform/app world is heating up.  There seems to be a constant stream of new entrants. But it's also heating up enough that the lines are starting to blur between the two types of training 'things'. TrainerRoad is looking more and more like a one-stop solution for training analysis and planning, as well as execution than ever before.  In that same ballpark would be Xert as well, who is also blurring the lines equally as much.
This of course raises the question of what are the long-term prospects of something like TrainingPeaks or Today's Plan.  and I think that would be a bit of a stretch to think like that. Certainly those platforms have vastly more analytic capabilities (especially for coaches) than TrainerRoad has today (less so for Xert though).  They also support far more sports better than TrainerRoad does today.  For coached athletes or teams, those platforms will be where it's at for at least years into the future.
Still, for individual athletes looking for a budget-friendly solution that's a one-stop shop – it's going to be harder and harder to ignore platforms like TrainerRoad and Xert.  The idea that you have a single app that takes care of the entire training planning and execution aspect is appealing.  And it's something that I think the training log platforms have to realize is likely the future.