Yes, I'm still alive – despite being a bit quiet on the site this past week. Playing catchup after last week's quick 46hr round-trip from Amsterdam to NYC and back. Add to that managing to get a bit sick the day before heading to NYC and continuing till now.  Still, here's what I've been up to the last few days.
1) Back across the pond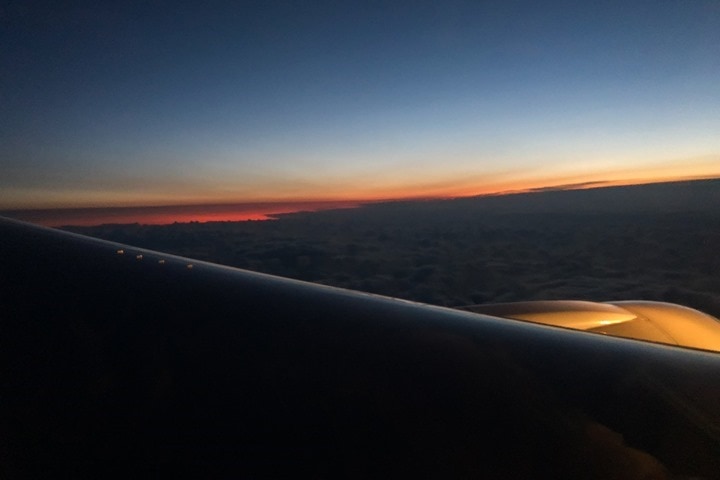 I kicked off the extended weekend of sorts by flying back to Amsterdam from NYC. With good tailwinds and low runway traffic at Newark, the flight only took a touch over 6 hours in the air. Not too shabby!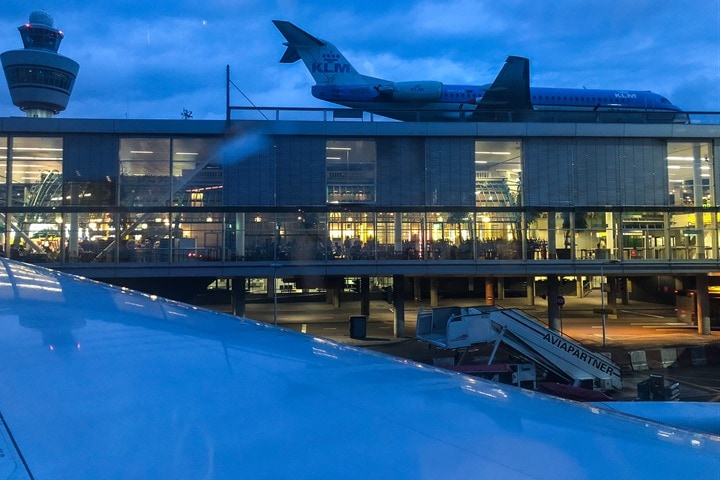 I had hoped to avoid checking luggage, but bringing back a hefty sidebag of drones along with a gimbal, and a suitcase full of other products and cycling/running gear sorta squashed those plans. Plus of course my backpack with multiple laptops and plenty of other gadgets. Win some, lose some.
At least the airport was reasonably efficient and I was stepping through our front door less than an hour after the plane kissed the runway. I'll take it!
2) Sport Testing the Mavic 2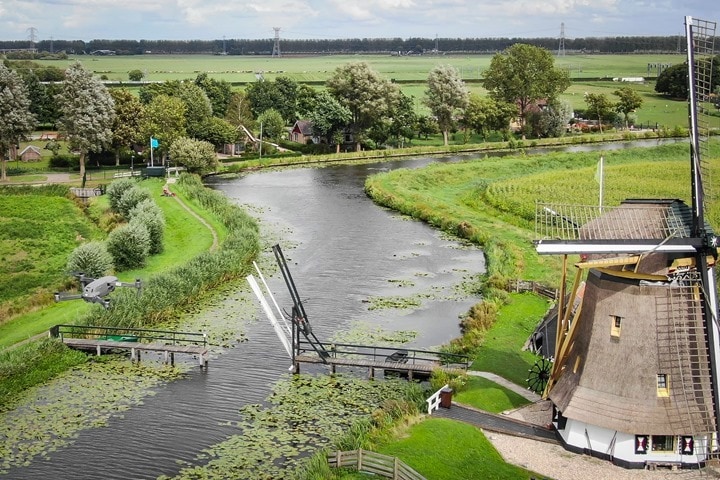 (See drone in mid-left side of photo above)
After a couple hours of sleep (I didn't sleep on the plane, worked instead), I loaded up a solid backpack full of gear and headed out for a ride with The Girl. In the backpack, I had two drones + two controllers, a DSLR camera, tripod, microphone, GoPro, a crapton of batteries, and some other random gear. Light it was not, but it was only about 20KM each way to get outside of the Amsterdam no-fly zone areas, so no biggie.
My goal was to film not one, but two videos. The day prior, in NYC, I ventured out to the beaches to one of the handful of drone-legal spots to get in a few hours of testing time with the Mavic 2, but now it was time to put together some actual videos on it (actually I did shoot an entire first impressions video on the two units while at the beach, but I didn't like how things came out, so didn't bother to edit it). My goal was one video focused on Active Track 2.0, which is the first DJI drone to have it. It claims better tracking by significantly increasing the sensors used, while also adding more sensors for obstacle avoidance.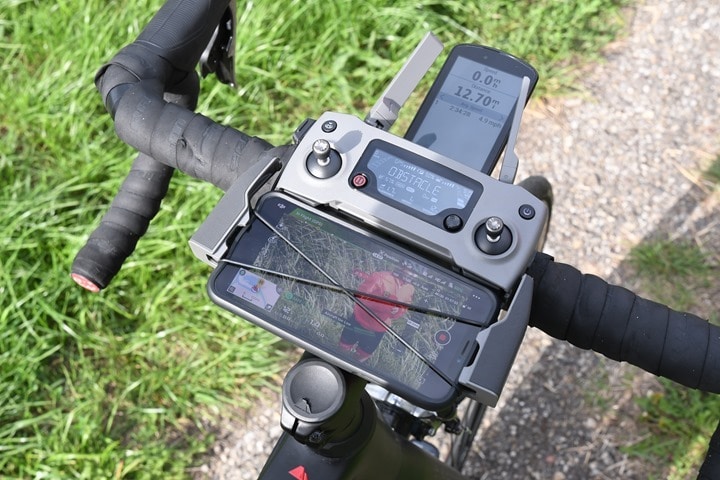 In case you're wondering, I rigged up the controller to my handlebars with just a standard iPhone Quadlock case. Oh, and two spare Garmin Edge rubber bands.
In the second video, I'd be doing a deep dive into the technical nuances between the two drones. For this video, I'd film all the talking portions back in the studio, so I just had a huge shot list of b-roll.
The shooting went well, took about 3.5 hours of testing and shooting. First, a pile of runs/tests without secondary cameras running, and then towards the end we turned on the cameras and microphones and I did the actual Active Track video.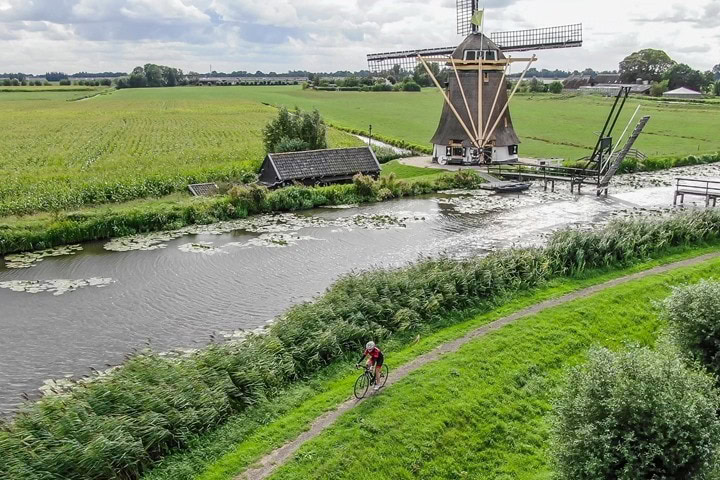 The Girl was riding a fair bit initially, and then I switched. If you check out the video below, you'll see most of the intro section is actually of The Girl rockin' it on a mixed gravel path in some crazy winds.
Good times!
3) Assembling gimbals
On Saturday The Girl headed down to Brussels for the day, while I hung around and entertained the kiddos. That meant that a long ride or run was out of the question, but during their naptime I had a bit of time to toy with some new gadgets. The most interesting of which was the Ronin-S gimbal I picked up.
Back a few weeks ago The Girl was hand-held DSLR filming some stuff helping me out. She was semi-displeased to see the resultant footage and the bit of shake in there. Certainly some I could fix in post, but she wondered what a gimbal would look like. Somehow out of the whole thing I got the request to buy a DSLR gimbal. Despite my umpteen action camera and phone gimbals, I do not yet have a DSLR gimbal in my collection.  Obviously, I didn't ask twice after this unexpected non-chore-attached purchase approval.
Initially when the last-minute NYC trip came up I figured I'd be able to walk into B&H in NYC and pick it up. Turns out the Ronin-S is heavily backordered, ranging from 2-3 weeks to 2+ months. So that plan went out the window.  Content with this, I didn't bother to do much other research beyond calling a few NYC area camera stores to see if they had anything – most of which quoted me October timeframes.
So then fast forward to Thursday after the DJI launch event in NYC and while I was chatting with one of the DJI guys I asked when they expected consumer availability to catch-up. He gave me a hot tip to check local area Best Buys. 60 seconds later on the Best Buy website and I found a store on the way to the airport that had them in stock. A minute or so after that I had ordered it for local pickup. #Winning
In any event, here I am, assembling the Ronin-S.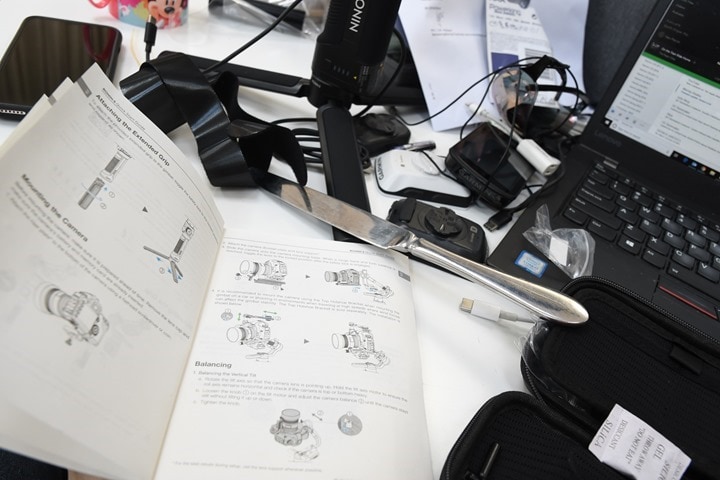 It's not hard to assemble. And it's more 'balancing' than assembling. A set of calibration steps to get it all nice and level for the best results.  The only downside to this is that it's kinda a pain in the butt to switch back and forth to a normal tripod setup. Perhaps I can find a tripod adapter that accepts the same quick-release plate so that I don't have to swap quick release plates merely to tripod-mount the camera.
Also, my Nikon D500 doesn't support follow-focus (or any other camera control) yet. The firmware update for a number of cameras is coming soon, so in the meantime it's a non-smart gimbal, more than a fully integrated gimbal.
4) Editing videos
After all this video shooting the past few days, it was time to edit everything. Some videos are relatively straightforward. Something like a single camera with a single audio track. Easy peasy.
Then there's drone and action camera review videos. In general, these videos are a beast to edit. For example, the Active Track video below included three concurrent camera views and two concurrent audio tracks. In theory, this would be relatively easy with multicam, but in reality it's messy because of the latency issues between the drone video feed and the screen recording feed. So that ends up about half a second out of sync for the audio to my wired mic to another recording device.
But it's only half a second out of sync in certain views. So each time I cut the camera I have to re-align the audio tracks. In writing this now I probably could have done it differently with audio/video tracks, but ultimately, it's still messy stuff.  Not to mention each run we do tends to be a separate set of files, since nobody trusts the iOS screen recorder to last very long, so you hedge your bets.
Here's the final video:
Plus, I've still gotta dig into the large pile of footage on my Fitbit Charge 3 video, that should be up tomorrow.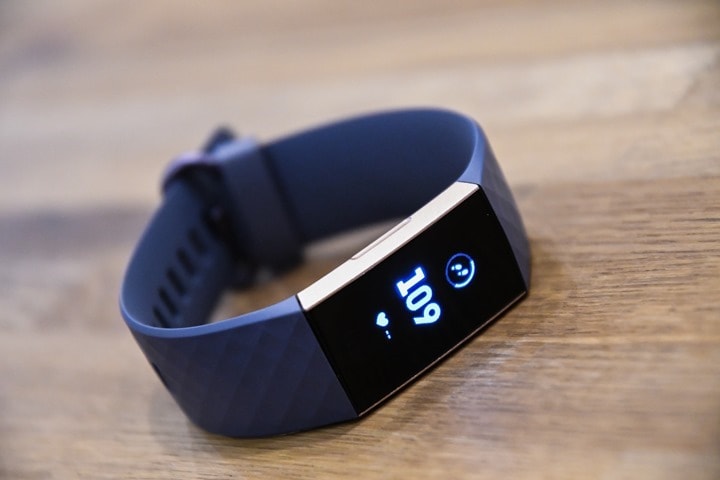 That's an easier video to cut because it's single camera with b-roll, but the lighting conditions for shooting the b-roll were less than ideal. So I'll have to spend more time repairing that in post-production. Fun times!
5) Packing the bike, once again
Sunday afternoon I had a couple of errands to run, namely moving things back down to the DCR Studio and then picking up some supplies from the hardware store. I took along a small helper: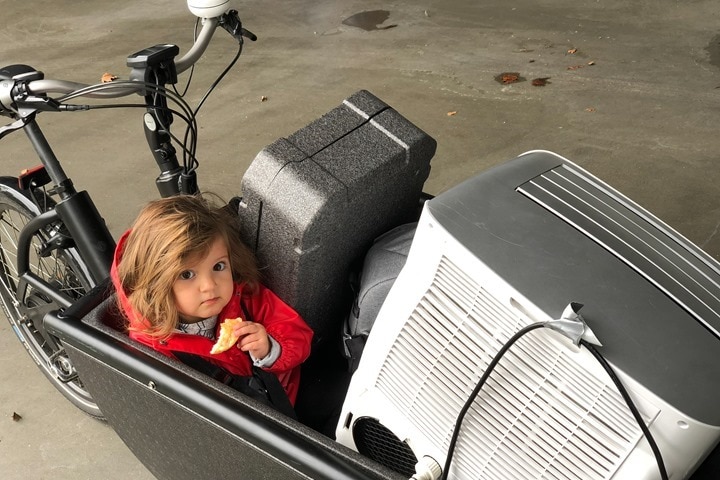 Sometimes she gives looks like a teenager. But in reality she was singing and smiling along the entire way. She loves the bike so much it's silly.  Even the parts when she was squished in between an A/C unit, a gimbal box, and a bunch of other random bike parts. In fact, I think that's the part she found most fun.
With that – thanks for reading and have a great week ahead!