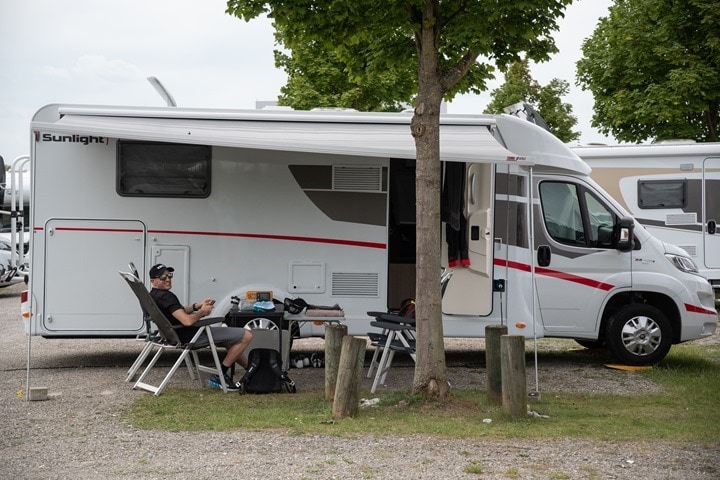 As is customary the last few years, I rent an RV and drive down to Eurobike for the week-long festivus.  The main reasons I do this is that it's both cheaper than most hotels, as well as being a huge time saver on a daily basis.  Finding hotels that are close to the convention halls is both tough and expensive (especially this year with the move to mid-July versus the last three days of August), whereas the convention center actually provides a massive RV campground a mere 100 meters away from the main halls.  It's a blast!
Even more so since I suckered Shane Miller (GPLama) into doing the full trek with me this year.  You've probably seen a boatload of our videos on it, or some of the behind the scenes antics in the Weekly DCR Newsletter (you do subscribe, right?).  We tried not to get into too much trouble. Mostly tried. Kinda tried. Ok, didn't try.
This is the parking spot Shane selected for one of our nights:

Meanwhile, my selection: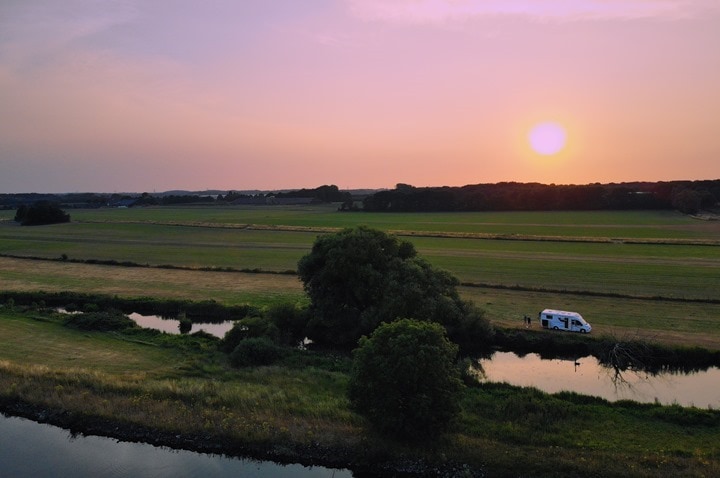 Just sayin'.
We broke up the 8-10 hour drive down to Eurobike with a few stops including some riding.  Both of us had plenty of pre-Eurobike work to do for releases at Eurobike, so this was a good balance of getting in last minute things as well as riding in new/unique places.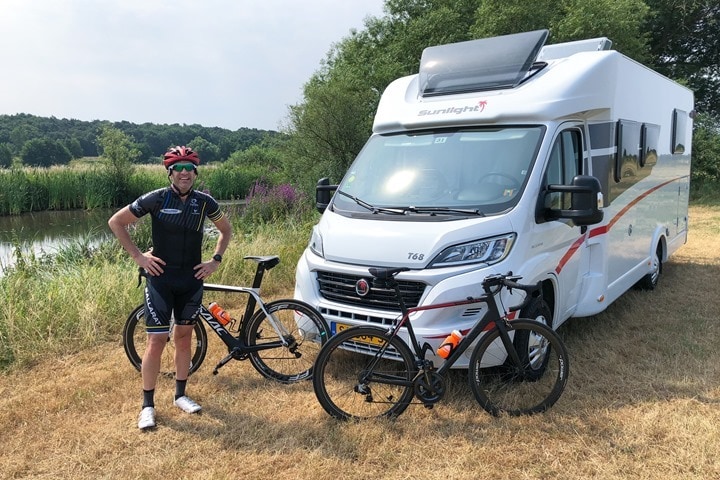 While the RV is a place to sleep that's close to the halls, it's also a bit of a 'booth' for us.  We took meetings there, and companies met us there as well.  For example below is Stages and Elite at the RV in the days prior to the show:
Plenty of testing occurs either at the RV, or starting from it: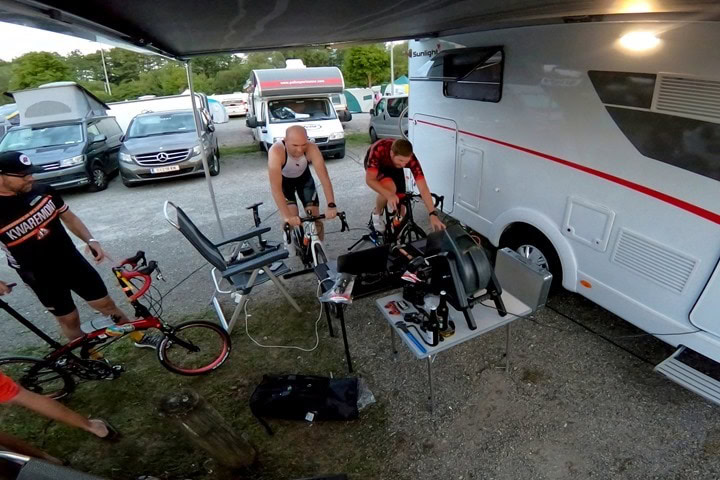 Within it is where we stash all the gadgets, trainers, and goods we use – not just for Eurobike posts, but actually many posts leading up to and after Eurobike.  You'll have seen lots of things I shot or filmed from the RV within the last few weeks, and probably a few more to come.  It's just the way I roll, literally.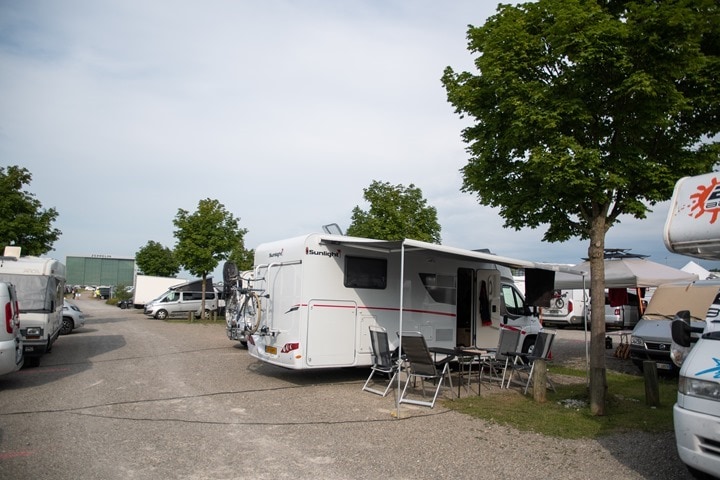 This year (like last year), we filmed an RV tour a few days after Eurobike, once we'd caught our breaths from the craziness that is the show.  This goes from front to back (actually, back to front this time) on all the goodness that's packed in there – not just for one person, but two peeps!  Without further ado, enjoy!
For those that were wondering, the two specific items I mentioned for links below that I bought/brought were the combo GoPro charger/USB battery bank, and the 6-in-1 USB charger cables. Love them so much!
If you want to look back at history, I did a DCR Eurobike RV tour a few years ago, which you can find the original 2015 edition and last year's too!
Also, like past years we did some recording of other items at or in the DCR Eurobike RV.  We did two LAMA Drives videos – one on the way down (pre-show), and one on the way back (post-show). The way back one is long, but packed full of geek talk. You can view the pre-Eurobike one here though. Here's the post-Eurobike one:
I've still got one more non-tech Eurobike related post coming up, which is my Stelvio ride.  But you can preview that video here, if you haven't seen it.  Else, it's just a few tidbits more on the tech side before we close everything up till next year!
Frequently Asked Questions:
I've had a ton of questions (mostly from people at Eurobike) about the RV while at Eurobike.  Here's the rundown of the most common ones:
Did you rent the RV, and if so – where?
Yes, I rented it from a place in Amsterdam (about 25-minutes outside the city), but you can also rent from a place in Zurich. The one in Zurich is a couple of kilometers from the airport (5-minute drive).  I booked it online in May, super easy.  From Zurich it's about a 2-hour drive to the Eurobike showgrounds.  Whereas from Amsterdam it's roughly 8-10 hours depending on traffic and the route you take (though, the drive is pretty easy and straight/flat).
Most RV rental places that I've been to aren't super near airports (except Zurich), so take that into account a little bit – because a taxi to/from (before/after) a place 30 minutes away could run you $75-$150 total.  Whereas some RV places will offer airport pickup/drop-off/etc for a more reasonable fee (that might seem unreasonable at first).
Where did you park it?
There's a dedicated RV parking lot (well, more like three of them) on the grounds of the Eurobike convention center.  Essentially they've turned one of the parking lots into an RV lot.  It costs $20 per night to park there.  This includes electric for you to plug the RV into.
Additionally, the parking lot includes large shower stalls (usually hot/warm if you time it right), bathrooms, a dish cleaning area, and a water fill/dump station.  Oh, and it's all of a 3-minute walk to the front door of Eurobike.
Was there electricity & water?
Yes, at the Eurobike lots they did have plugs for RV's (included).  They also had a location to fill your water tanks near the entrance, so you can drive over there to fill-up at the start of the week.  Further, they had a central dump tank station as well for toilet goodness.  Right behind it, a small walkway/tunnel connects you to the main convention center that you can see in the background.
Is there WiFi?
Not in the RV lot itself.  There is good cell service though.  The convention halls have WiFi, but that can vary on speed. Download speed is usually pretty good in the evenings, but upload speed is consistently not good (year after year).
Both Shane and I used data-plans from the Netherlands this year. Since I live there, I have a dedicated phone I use for hotspots with a boatload of data on it, and then Shane got a 10 or 20GB plan to help supplement as well. In total, we burned through about 40GB of data, not including some videos we uploaded late at night using the convention WiFi.  These days most European plans allow roaming between countries of data, but be careful because some prepaid SIM card plans are country-specific.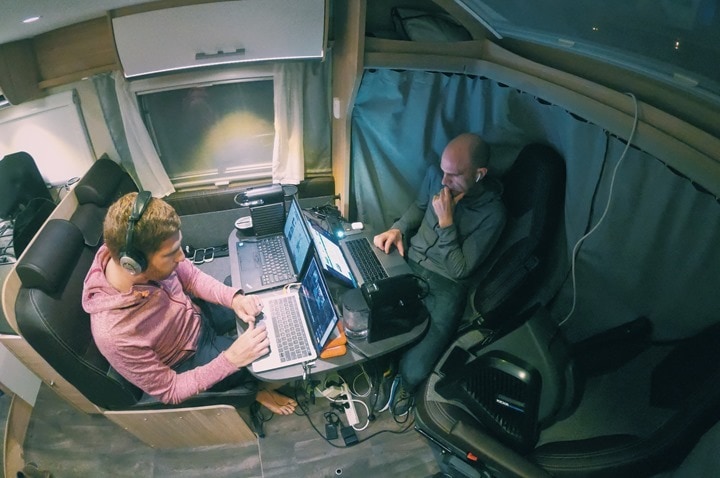 If you're only passing through Germany, you can also buy pre-paid SIM cards from ALDI, the grocery store that's nearby.  Note, do leave yourself a bit of time to figure out the German SIM card activate process.  It's one of the most wonky and complicated anywhere in the world.  Both Shane and I in the past actually had to basically FaceTime with someone to get it all working.
How much did the RV rental cost?
It's pretty cheap – cheaper than a hotel would be in this area during this week.  For Monday to Friday it would have been 1,000EUR (total).  This was more expensive than years past (which was about 750EUR for those days), because it was peak season being early-mid July.  Whereas Eurobike in the past has fallen into a shoulder-season rate.  We added a few extra days on the weekend as well of course, so that ups the price a bit.  But for just the Monday-Friday piece it's rather inexpensive compared to hotel costs in the area, let alone any hotels that are remotely close to the convention center.
That includes a full kitchen set and the tables/chairs outside and the overhang (depending on the model).  It does NOT though include bedding, hence why I have a sleeping bag.  You can rent that from them.  Same goes for towels.  I find in general that even if you have to buy some of this stuff, you can do so at any number of Ikea stores you'll pass along the way, and your whole payment will likely be under 50 EUR.
What about food?
There are 2-3 large grocery stores within about a 5-7 minute bike distance, right beyond the grounds of the convention center.  The RV lot and the convention center also have free bike rentals through the town, like a bike share program. I didn't use it, but just an FYI that it's there.  At worst though it'd be a 15 min walk to the nearest grocery store (which is massive).
From there I could cook anything I'd like.  Since I was plugged in the entire time, the fridge stayed cold (and the freezer stayed frozen). The RV came with two gas tanks for use with the cooking stove inside.  Heck, this year it even came with a Nespresso machine!
And driving it?
Fairly easy really.  Just like a big SUV, except taller.  It was 6.98m long, or basically 23ft.  And it was 3.2m tall (about 10.5ft).  Virtually all rentals you get will squeak in under 7-meters and under the weight of 3.5 tons (they'll be like 3.49t).  Anything more and you've gotta have a special license.
And yup, I'll continue to do it next year as well!
—
With that, thanks for reading!  If you're looking to burn a bit of time, here's all my Eurobike 2018 posts!  And yes, there's still more on the way as I dig out from product announcements the past week or so.