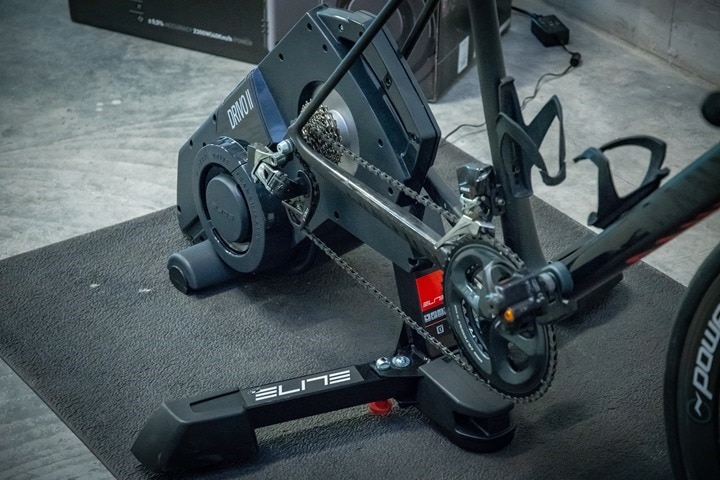 Being the first company to kickoff Eurobike 2018's new trainer parade, Elite has dropped the Drivo II upon us.  This is their high-end direct drive trainer that's meant to compete with the best options on the market in the indoor trainer realm.  The last Drivo unit was about two years old and was due for a refresh, which this new unit accomplishes in a mostly evolutionary way.
As is the trend these days for new trainers, we're not seeing significant jumps between model years. Instead, it's more minor things, and Elite is the same here.  In the case of the Drivo II they increase the accuracy levels even further, to a market-leading +/- 0.5%, while also increasing the resistance speed significantly (three times faster). Beyond that, there's some aesthetic changes (it's no longer beige, woot!), and they changed the feet design so that it's no longer awkward. And that's about it (actually, that is it).
But of course, those are actually fairly important changes for the trainer, and funny enough – I think the most important one in terms of tempting buyers might actually be the color change. It was oft-complained about, and this seems to solve that.
In any case, I dig into all the changes – including resistance speed changes and accuracy in this full in-depth review. I've had a media loaner for a while, which will head back to them once I've wrapped up with it here soon.  If you found the review useful you can hit up the links at the bottom.
With that – let's dig into it!
What's in the box:
When it comes to the box, Elite has never been shy about going all Texas-sized with the packaging. And the same is true of the Drivo II, it's a fairly beastly box.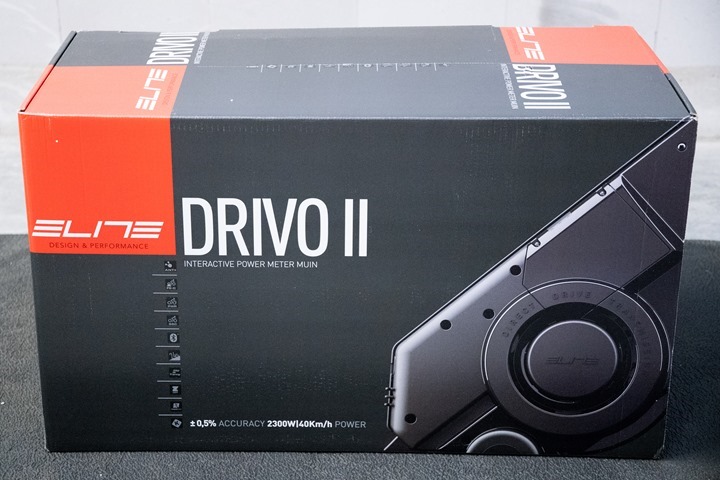 Inside you'll find all the parts reasonably well organized, with the legs arriving detached from the trainer, alongside a box of smaller parts to sort through (including a cadence sensor, thru-axle adapters and a pile of adverts/paper stuffs).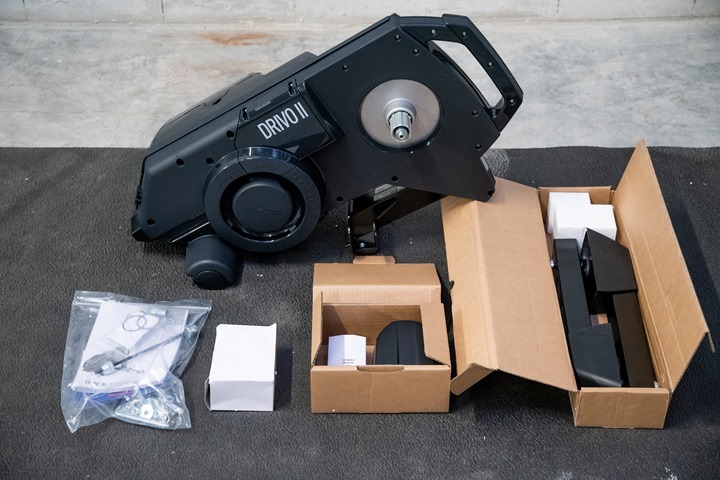 Here's what it looks like once all that packaging is removed: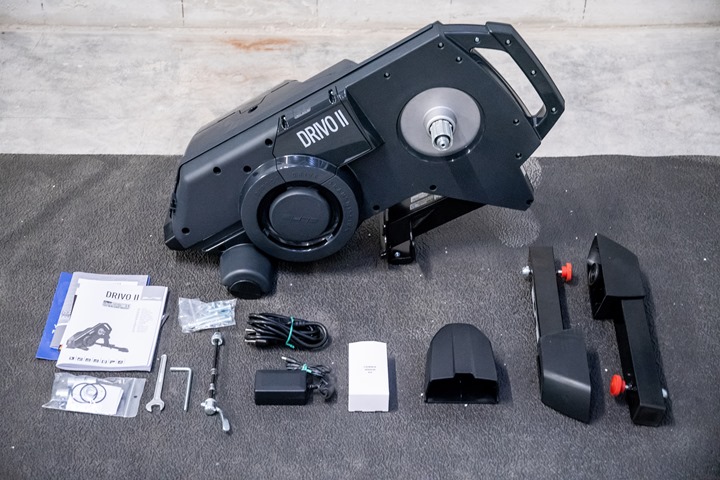 You'll then be taking the legs and simply attaching them to the main frame.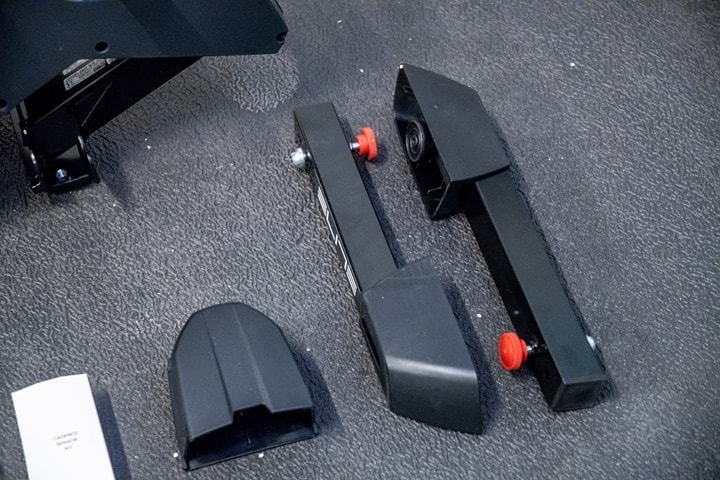 It only takes a minute or two per leg, and I cover it in my full video I'll upload shortly.  In the meantime, check out Shane Miller's video on the unboxing pieces:
I would note though that when it comes to trainers, the KICKR you simply take out of the box and are ready to ride, and the same for the Tacx Neo.  So there's a tiny bit more legwork here to be done.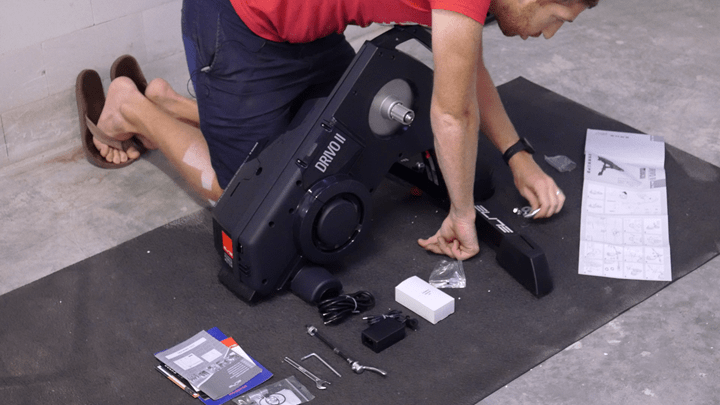 Now like other Elite direct drive trainers, the Drivo II lacks a pre-installed cassette. With the Wahoo KICKR having such a pre-installed cassette, it's definitely a bit of a downside that you've gotta go out and get your own. The cost ($50-$70 usually) isn't so much the barrier, as it is ensuring you have the right installation tools for it (another $10-$25). The cost of a Shimano Ultegra 11-speed cassette runs about $65.  Of course, you can go SRAM if you have SRAM, Campy if you have Campy, and so on.  You will need a lockring tool though to install the cassette, and ideally a chain whip.
The actual installation of such parts is easy, and once you have the tools you'll have them for life – so there's something there.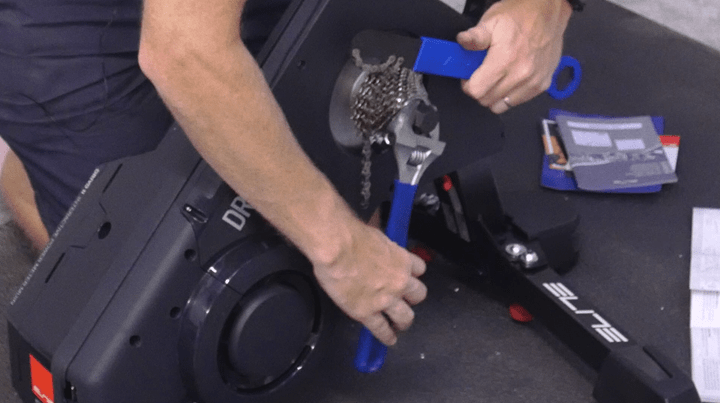 In the case of installation of cassettes, the Shimano/SRAM 9/10/11 speed cassettes don't require additional accessories, whereas the Campagnolo cassettes do require purchase of an accessory adapter from Elite.
The Basics: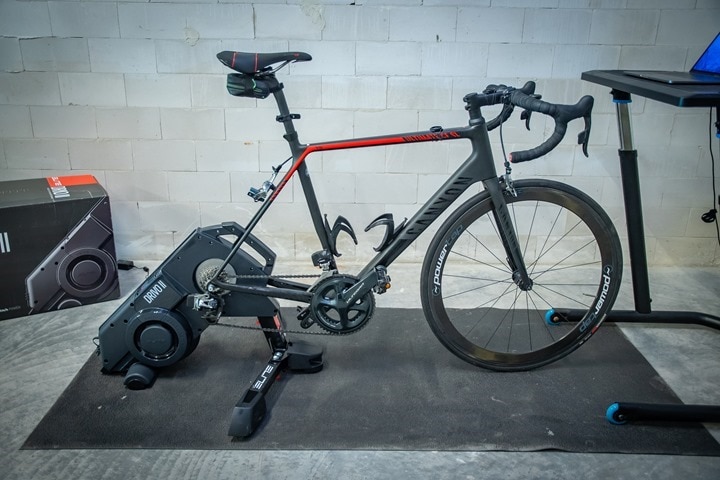 The Drivo II follows that of other Elite trainers in having status lights on the back for a quick check of overall trainer health as well as connectivity.  You'll see individual lights for power, ANT+, and Bluetooth Smart.  The ANT+ & Bluetooth Smart lights indicate whether or not something is actively connected/controlling the device, and the power light indicates whether or not the cable is plugged in.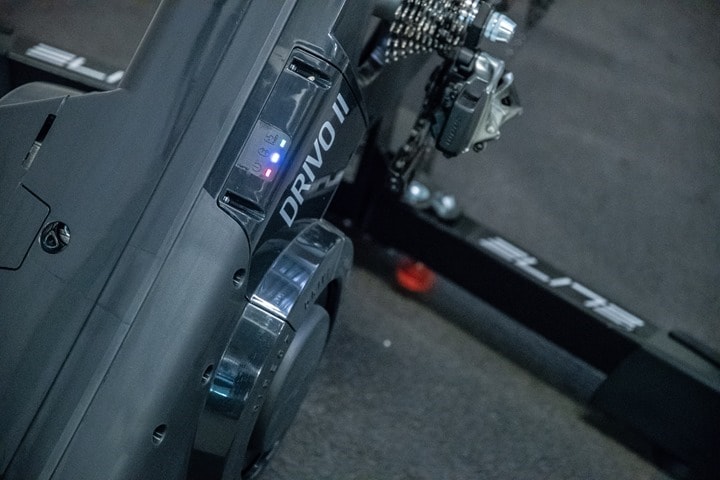 Like most other trainers, the Drivo does require that you supply power to it for any sort of significant efforts.  You can technically run it without power, and to my surprise it actually holds power fairly well.
I was able to hold sustained 350w of resistance without any problems (no power). I did that for close to a minute – but that just became a me limitation, not a device limitation. I was also able to throw down intervals up to about 750w of resistance, which again, became a me limitation and not a device one. I'm not entirely sure what the non-powered limits are, but I suspect for almost anyone out there that the wattage I just noted is more than sufficient for pre-race warm-up type scenarios.
Note though that while outside it's all non-controllable mode (and without power broadcasting), so the basis here is for sitting in an isolated location (perhaps at a race site) for a quick warm-up.  In my case I measured the power using the power meters on my bike.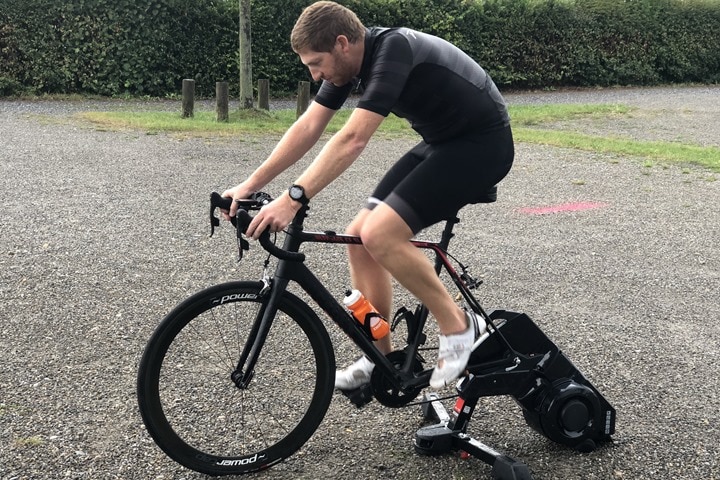 Back inside, the power cable is a two-part design that attaches to the back and has a small 'maze' arrangement to help protect it a bit as seen below, in case you trip on it.  While at first I liked this idea, I think ultimately I just prefer what Wahoo has done with the flexible and quick-detaching system for trips.  In the case of the Elite, I suspect all you'd really end up doing is snapping the cable in the event of a strong trip, versus with the Wahoo design it'll pop-out harmlessly.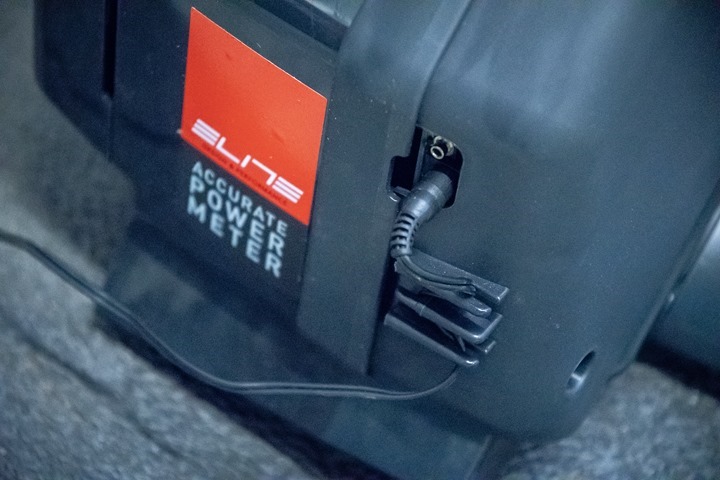 The resistance control on the Drivo II works in a few different ways, as well as by different applications/methods.  But most of this all boils down to two core methods:
ERG Mode: Setting a specific power level – I.e. 225w.  In this mode, no matter what gearing you use, the trainer will simply stay at 225w (or whatever you set it to).
Simulation Mode: Simulating a specific outdoor grade – I.e. 5% incline.  In this mode, it's just like outdoors in that you can change your gearing to make it easier or harder.  Wattage is not hard-set, only incline levels.
In the case of simulation (aka slope) mode, the Drivo II can simulate from 0% to 24% incline – which is as high as you get in the indoor training realm.  And realistically, if you've ever tried riding up 24% inclines on a road bike, you'd probably fall over.  The key notable change on the Drivo II compared to the original Drivo is that it now does this change 3x faster.  So it can go from 0% to 24% in 3 seconds, realistically faster than any road/path/route I know of.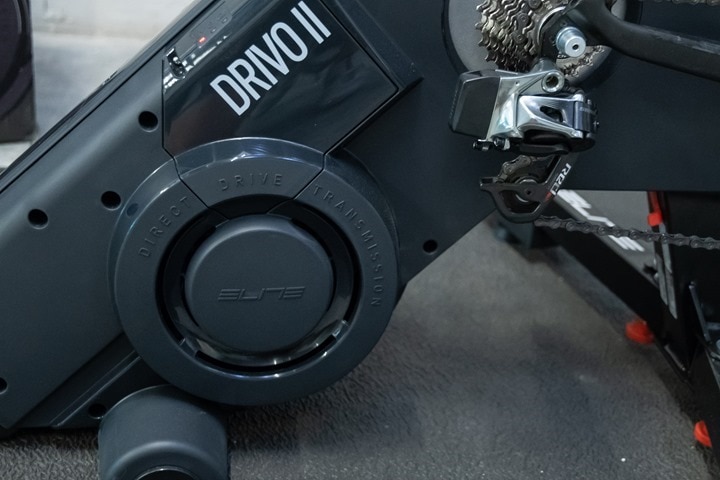 The reason the speed here matters is because technically Elite is moving a magnet electronically within the unit. So it has to physically move to adapt to changes in resistance.  Thus there's been hardware changes to allow them to move significantly faster than before.
The second piece that Elite simulates is ERG mode.  In that case the company claims up to 2,300w of resistance at 40KPH and 3,600w of resistance at 60KPH.  Realistically though, you don't care about that. I can only barely break 1,000w for a second or two, and even the strongest of cyclists out there can't come anywhere near these numbers, let alone at these speeds.  Said differently: The peak resistance numbers on trainers like the Elite Drivo 1/2, Wahoo KICKR, CycleOps Hammer, and Tacx Neo are really all for show. Nobody's touching them, and it just doesn't matter practically.
What does matter though is whether there's a delay or not in changes to resistance, and with the Drivo II trainer, I test that in my 30×30 test down below in the power accuracy section. So check that out.

When it comes to road-like feel, I put the Drivo in roughly the same category as the other high-end trainers I mentioned.  Much of that is driven by the flywheel, and be it physical or virtual, flywheel sizes tend to be measured in weight.  This impacts inertia and how it feels – primarily when you accelerate or otherwise change acceleration (such as briefly coasting). It's got a 13.2lb/6kg flywheel, which is identical to that of the original Drivo.  The exact flywheel weight isn't everything though, because companies can use differing methods to significantly enhance the effective flywheel weight (or simulated weight in other lingo).  Elite's Drivo has two listed sizes, one is the actual flywheel size (6KG/13.2LBS), while the second is the replicated flywheel size.  This is because with its two-belt system, it actually doubles-down on that replicated feeling in the same way pulleys or levers make it easier to move a heavier load.  Other companies use similar methods, and it's not about smoke and mirrors, but rather very simple physics here.
Either way, for me personally, it's hard to separate the fact that I'm riding indoors from outdoors. It's still a trainer, and I'm still looking at a wall in front of me.  My brain can only turn that off so much.  Overall I think the unit's got a pretty good road-like feel.  I'm not sure if it's the absolute best out there (trying to compare them all over time is near impossible), but it's pretty solid.
Finally, the Drivo is ready to ride as soon as you power it on. In theory there's no calibration.  However in my case I did a single calibration using the app the very first time I rode it and that seemed to address an oddity I was having.  The calibration process, if you do it, is very quick though:
After that point I saw no further need to calibrate it again – just like the Tacx Neo does.  I wouldn't say the same for many other trainers, but as with the Drivo I, I'd put the Drivo II in a unique class unlike others.  Fear not though, I talk all about accuracy in a few sections.
App Compatibility: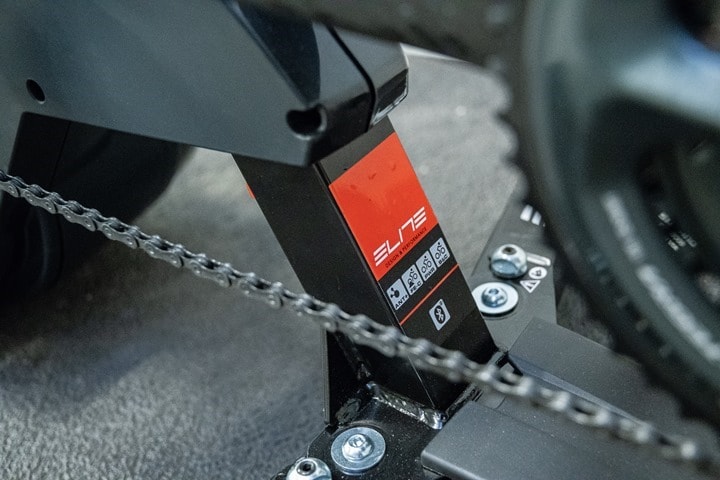 The Drivo II follows the same app compatibility standards as previous Elite products, and essentially follows the industry norms as you'd expect from a high-end trainer.  As you probably know, apps like Zwift, TrainerRoad, SufferFest, Rouvy, Kinomap and many more all support most of these industry standards, making it easy to use whatever app you'd like.  If trainers or apps don't support these standards, then it makes it far more difficult for you as the end user.
Thankfully, that's not the case here.  The Drivo II transmits data on both ANT+ & Bluetooth Smart, as well allowing interactive resistance control across both ANT+ & Bluetooth Smart.  By applying resistance control apps can simulate climbs as well as set specific wattage targets.
The Drivo II supports the following protocol and transmission standards:
ANT+ FE-C Control: This is for controlling the trainer via ANT+ from apps and head units. Read tons about it here.
ANT+ Power Meter Profile: This broadcasts as a standard ANT+ power meter
ANT+ Speed/Cadence Profile: This broadcasts your speed and cadence as a standard ANT+ Speed/Cadence combo sensor
Bluetooth Smart Control: This transmits both the Elite variant of BLE control, as well as the Bluetooth Smart FTMS variant. In the case of TrainerRoad, they'll use proper FTMS, and in the case of Zwift (for the next few days anyway), they'll use the Elite variant.
Bluetooth Smart Power Meter Profile: This broadcasts as a standard BLE power meter
Bluetooth Smart Speed/Cadence Profile: This broadcasts your speed and cadence as a standard BLE combo Speed/Cadence sensor
It's these same standards that also allow you to connect via head units too. For example the Wahoo ELEMNT/BOLT as well as Garmin Edge series support ANT+ FE-C for trainer control, so you can re-ride outdoor rides straight from your bike head unit to your trainer.  In the case of the Drivo II these easily pair up that way.  You can also use it for recording data as well too.  For example, for my accuracy testing section, I recorded the data on a Garmin Edge 520 directly from the Drivo II.  From there I'm able to save the file and upload it to whatever platform I like.
For me, in my testing, I used Zwift and TrainerRoad as my two main apps (which are the two main apps I use personally).  In the case of Zwift, I used it in regular riding mode (non-workout mode), whereas in the case of TrainerRoad I used it in a structured workout mode.  I dig into the nuances of these both within the power accuracy section.
In any case – all good there, and it's nice that with Elite having really pushed a lot of the Bluetooth Smart FTMS control work two years ago, everything is nice and stable this go-around in terms of apps.
Sound Levels: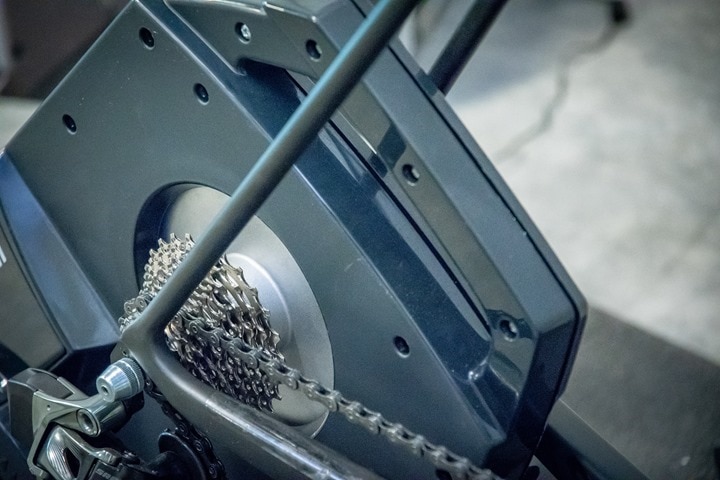 Everyone wants to know how loud trainers are. Unfortunately, with the move of the DCR Cave still well in the unboxing stage, I haven't unearthed my handy-dandy sound level traffic light.  Fear not, my ears mostly still work.
The Elite Drivo II essentially follows the same sound levels as the original Elite Drivo.  It's a tiny bit less loud than the Direto, only because the Drivo II has less of a fan/flywheel wind noise. But that's really just an incredible nuance. Either way, your fan is still going to be louder.
Nonetheless, to give you a feel for things, I've put together a section within my upcoming overview video showing the new sound levels.  As with any sound level tests, there's a lot of variables.  I outlined all these in my KICKR 2017 post in the past, but I figure it's worthwhile noting here again.  There are a massive number of environmental factors that truly do have a huge impact:
– The room materials (which can make trainers quieter or louder due to echo, noise dampening, etc…)
– The size of the room
– The exact distance of the camera and/or decibel meter
– The mode of the decibel meter
– The type of mics used
– The sound levels of the mics used
– The exact position of the mics relative to different sides of the trainer
– How the mics capture different tones
– How I edited the audio (normalized levels)
– The speed of the trainer
– The cleanliness of the drivetrain on your bike
– The shifting accuracy (tuning) of your bike's drivetrain
– Whether or not I remembered to turn on the @#$@# mics
– And other items I'm likely forgetting
Any one of these items can make the entire trainer sound dramatically different.  I included a look at the audio as part of my full video shortly, or currently within Shane's video at the start of this post.
Ultimately, as you can see, it's basically 'ok', but not fantastic. It's quieter than the KICKR 2017, but not nearly as quiet as the Tacx Neo of course – which is still as of this writing the undisputed king of high-end smart trainers (the king of all trainers though is the STAC Zero).
Finally, once we get past Eurobike and I find my darn traffic light and get the cave build-out finished…I'm going to make the mother of all trainer noise level videos. Sound good?
Power Accuracy Analysis:
As usual, I put the trainer up against a number of power meters to see how well it handled everything from resistance control accuracy, to speed of change, to any other weird quirks along the way.
In my case I used two different bike setups that I have in my stable:
Giant Bike Power Meters: Garmin Vector 3, Stages R, Avio Gen 2
Canyon Bike Power Meters: PowerTap P1, WatTeam G3
This is all in addition to the trainer itself.  I did a number of rides working through some initial items on power meters actually, but I'm going to focus on my last 3-4 rides which have been rock solid.
In my case, I was looking to see how it reacted in two core apps: Zwift and TrainerRoad.  The actual apps don't much matter (at all), but rather the use cases are different.  In Zwift you get variability by having the road incline change and you being able to instantly sprint.  This reaction time and accuracy are both tested here.  Whereas in TrainerRoad I'm looking at its ability to hold a specific wattage very precisely, and to then change wattages instantly in a repeatable way.  There's no better test of that than 30×30 repeats (30-seconds at a high resistance, followed by 30-seconds at an easy resistance).

So we'll start there. I did a first test using TrainerRoad and controlling things via ANT+ FE-C.  As you can see, it was so-so, but not actually that great in terms of how fast it made the change.  The accuracy itself was solid though comparing to the power meters I was specifically focused on (namely the Vector 3 in this case) since it was capturing full left/right power:

That got me pondering a bit, because I've always had fantastic accuracy and speed with the original Drivo, and this was less ideal than that.  So for fun, I then re-did the workout using Bluetooth Smart control instead, via FTMS:

As you may be able to see, that looks better.  But I also made one more change there, which was a gearing change to the small ring in the front for the first 6 intervals, and the big ring for the last two. TrainerRoad had popped up a message in the app suggesting this would improve responsiveness, and sure enough it did (though, not nearly as much as you can see the overall trend was far better with FTMS than ANT+ FE-C.
Which isn't to say that FE-C is worse (or better) than FTMS. It can often be a slew of reasons why one is better than another in a given combination. Without spending all morning monitoring the packets with the TrainerRoad team, there isn't a way for me to know why that one morning one did better than the other.  The reason I showed both though was merely to illustrate that sometimes changing the protocol helps.
In any event, to actually analyze the darn data there, you'll notice that the accuracy side of the house is spot-on, with the units agreeing quite nicely:

Further, the reaction time was good, with it generally going from about 150w to over 400w in usually 3 seconds or so. Which is what I'd consider 'good', not spectacular, but good/solid. In general you don't actually want it to change instantly (0.1 seconds) from 150w to 400w+, as it's like hitting a brick wall.  So this was nice and functional.

Ultimately at the end of the day what I see in TrainerRoad mirrors what I saw with the original Drivo – it's very solid for accuracy, and perhaps more importantly in some ways: The two companies play well together from a device integration standpoint.
Next, let's take a look at things in Zwift.  For this workout I went more freestyle mode and just rode a bit.  Here's the results of that:

Woah – what the heck? That's massively off.

In this case I was mostly just paying attention to the Drivo numbers on Zwift, and not the other power meters, so I didn't catch it right away.  That's weird though, I wondered what was up?
But it brought me back to the very first ride I had on the Drivo II after unpacking it, which showed the exact same sort of high overages from the Drivo – substantially high.  In the case of the first ride, I let it sit overnight and then tried again the next morning. Worked perfectly then. Hmm, that's odd.
In that case I had only had two done things: A) Unplugged it, and B) Powered it back on with the bike on during power up.
Pre both times I had done calibrations and it showed the same value each time (every time I've ever calibrated the Drivo II, it's showed these same values).  Calibration/spindown is also significantly shorter than most trainers – lasts only 3-5 seconds. That's it (compared to 20-30 seconds for most trainers).
So that brings me back to this and Zwift.  Next, after another warm-up and more calibrations I loaded up ERG mode on Zwift via workouts for a super quick validation test, and that worked out beautifully, it was spot on during this step test in 50w increments:

But here's where it gets odd: After the quick ERG mode step test it brought me into slope mode (regular freestyle Zwift), and virtually immediately things went askew. While the Zwift recording continued non-stop I actually reset the head units merely to have them easy to slice and dice. I almost never stopped pedaling, and yet it immediately went all wonky (that purple line is the Drivo II, well above the others):

So at this point I was effectively fine in ERG mode (workout mode), but showing high in simulation mode.  Hmm.
Ok, then I tried for fun switching it from Bluetooth Smart to ANT+. After all, in TrainerRoad it had changed the behavior a bit.  And sure enough, as soon as I did that, it was perfect.  Well then, that's weird.  So, it was working just fine in ERG mode for both ANT+ & Bluetooth Smart, but regular slope mode was incorrect for Bluetooth Smart.
So what about if I did a ride starting in ANT+ and then changing mid-ride to Bluetooth Smart?  Would that make things happy?

Well then, this is where it gets really interesting. Above I've started the ride in ANT+ for a few minutes, then stopped pedaling and without exiting switched to Bluetooth Smart.  While in ANT+, it was spot-on perfect.  Then, while in Bluetooth Smart it was wrong.  So continuing that I then switched it back to ANT+ mid-ride, instantly perfect again.
Huh.  So, I did what most people do, I e-mailed Elite.  And then about 12 minutes later a car pulled up, and five Elite employees (actually, the owner plus four employees) arrived at the DCR Eurobike RV and began troubleshooting: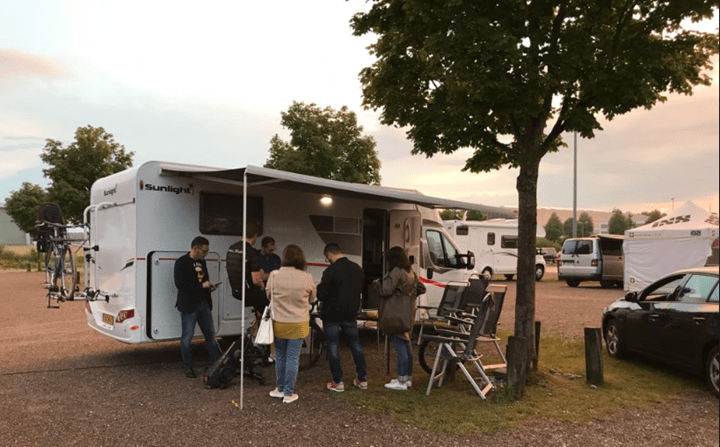 No, I'm not kidding. This actually happened.  To top it off, I was actually eating pasta when they arrived (Elite's, an Italian brand).
With a car full of engineers standing around they began troubleshooting and I kept riding.  We eventually narrowed it down to a very specific issue:
Power broadcast is incorrect when connected via Bluetooth Smart to Zwift in simulation (slope) mode
Meanwhile:
It is perfectly fine in Zwift via ANT+ in both simulation and ERG mode.
It is perfectly fine in TrainerRoad via ANT+ and Bluetooth Smart for all modes.
It is perfectly fine in the Elite app via Bluetooth Smart slope and ERG modes (we didn't try ANT+ because that wasn't the issue)
They even tested with specific Bluetooth Smart FTMS test suite tools – that too was perfectly fine. In short, it's one very specific use case (albeit a really important one for Apple iOS and Apple TV users) that something is amiss.
With that established, Elite left for the night to try and figure out what was going on.
At this point you may wonder why neither I nor Shane Miller (GP Lama) caught this on earlier sessions.  And the answer is simple: We just happened to randomly connect via ANT+ in those sessions.  Essentially, it was just a game of luck that we selected the ANT+ side versus the Bluetooth Smart side.  With so many possible combinations and apps to test, the matrix gets surprisingly big surprisingly quick.
If we look at Shane's data on his unit via ANT+, it's spot-on (just as mine is). There's actually two devices in there – it's just so close you can't tell:

So how does this story end? Well, we'll find out.  But I'm actually not super concerned about it yet.  Mostly because I can fully understand the scope and limitation of the issue. If I had done everything in ANT+, I'd never have seen it. Even if I had done all workout mode in BLE, I'd never have seen it.
Elite for their part is digging into it and they're confident they'll figure out the bug in short order, likely in conjunction with Zwift's engineers – since that's the only application that seems impacted at this time. It doesn't impact any other apps I've tried, nor any other devices/scenarios I've tried.
To sum it up – the underlying accuracy of the Drivo II is solid as it has been before, it's just that there's a bug preventing the broadcasting of that data from being right on one protocol type in one trainer mode [Update: Elite says that Zwift has found and fixed the issue I saw, I haven't had a moment to re-test all this yet.]
(Note: All of the charts in these accuracy portions were created using the DCR Analyzer tool.  It allows you to compare power meters/trainers, heart rate, cadence, speed/pace, GPS tracks and plenty more. You can use it as well for your own gadget comparisons, more details here.)
Trainer Comparisons:
I've added the Elite Drivo II into the product comparison database.  This allows you to compare it against other trainers I've reviewed.  For today and tomorrow I've compared it against the Wahoo KICKR (2017) as well as the Tacx Neo and CycleOps Hammer.  But given this weekend is Eurobike and plenty of announcements are expected, look for me to revamp this default listing in the coming days with better comparisons as new models come out.
Function/Feature

Elite Drivo II
CycleOps Hammer
Tacx NEO Smart
Wahoo KICKR 2017
Copyright DC Rainmaker - Updated October 28th, 2020 @ 9:50 am New Window
Price for trainer
$1,199
$1,199USD
$1,369
$1,199
Trainer Type
Direct Drive (no wheel)
Direct Drive (no wheel)
Direct Drive (no wheel)
Direct Drive (No Wheel)
Available today (for sale)
Yes
Yes
Yes
Yes
Availability regions
Global
Global
Global
Global
Wired or Wireless data transmission/control
Wireless
Wireless
Wireless
Wireless
Power cord required
Yes for broadcast, no for general use
Yes
No
Yes
Flywheel weight
13.2lbs/6kg
20lb/9kg
SIMULATED/VIRTUAL 125KG
12.5lbs/5.7kgs
Includes cassette
No
No
Yes (11 Speed SRAM/Shimano)

Resistance

Elite Drivo II
CycleOps Hammer
Tacx NEO Smart
Wahoo KICKR 2017
Can electronically control resistance (i.e. 200w)
Yes
Yes
Yes
Yes
Includes motor to drive speed (simulate downhill)
No
No
Yes
No
Maximum wattage capability
2,296w @ 40KPH / 3,600w @ 60KPH
2,000w
2,200w @ 40KPH
2500w @ 30MPH
Maximum simulated hill incline
24%
20%
25%
20%

Features

Elite Drivo II
CycleOps Hammer
Tacx NEO Smart
Wahoo KICKR 2017
Ability to update unit firmware
Yes
Yes
Yes
Yes
Measures/Estimates Left/Right Power
9EUR one-time fee
No
No
No
Can rise/lower bike or portion thereof
No
No
With KICKR CLIMB accessory
Can directionally steer trainer (left/right)
No
No
With accessory
No
Can rock side to side (significantly)
No
No
No
Can simulate road patterns/shaking (i.e. cobblestones)
No
No
Yes
No

Accuracy

Elite Drivo II
CycleOps Hammer
Tacx NEO Smart
Wahoo KICKR 2017
Includes temperature compensation
N/A
Yes
N/A
Yes
Support rolldown procedure (for wheel based)
Yes
Yes
N/A
Yes
Supported accuracy level
+/- 0.5%
+/- 3%
+/- 1%
+/- 2%

Trainer Control

Elite Drivo II
CycleOps Hammer
Tacx NEO Smart
Wahoo KICKR 2017
Allows 3rd party trainer control
Yes
Yes
Yes
Yes
Supports ANT+ FE-C (Trainer Control Standard)
Yes
Yes
Yes
YEs
Supports Bluetooth Smart FTMS (Trainer Control Standard)
Yes
Yes
Yes
YEs

Data Broadcast

Elite Drivo II
CycleOps Hammer
Tacx NEO Smart
Wahoo KICKR 2017
Transmits power via ANT+
Yes
Yes
Yes
Yes
Transmits power via Bluetooth Smart
Yes
Yes
Yes
Yes
Supports Multiple Concurrent Bluetooth connections
No, just one
No, just one
No, just one
No, just one
Transmits cadence data
Yes
Yes
No

Purchase

Elite Drivo II
CycleOps Hammer
Tacx NEO Smart
Wahoo KICKR 2017
Amazon
Link
Link
Link
Link
Clever Training - Save with the VIP program
Link
Link
Link
Wiggle
Link
Link
Link

DCRainmaker

Elite Drivo II
CycleOps Hammer
Tacx NEO Smart
Wahoo KICKR 2017
Review Link
Link
Link
Link
Link
Don't forget you can mix and match your own trainer product comparison tables using the database here.
Summary: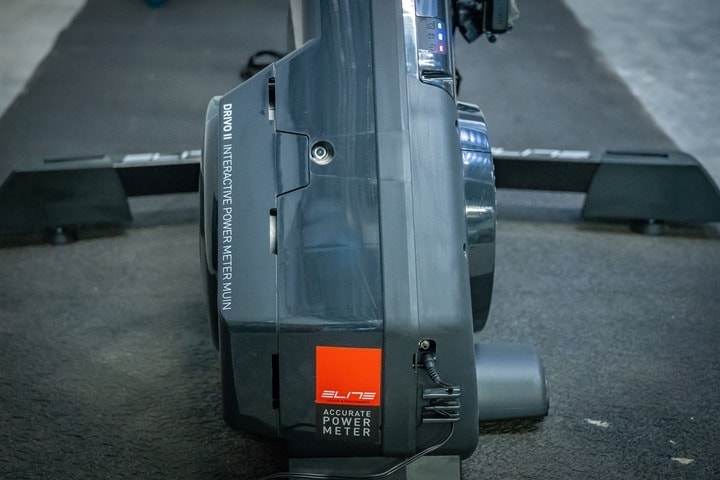 Overall, Elite has done a nice job in making the modest hardware updates to the original Drivo that people have wanted – faster reaction time and for many – just a different color.  While I don't think anyone actually asked for even higher accuracy than the Drivo already, they got it anyway – at +/- 0.5%, making it the highest accuracy claim of any consumer trainer I'm aware of.  And I think based on the testing I've seen, they've got the numbers to back that up.  Oh, and did I mention it's finally black?
There are some downsides though. First is that setup isn't quite as clean as other trainers in this price bracket. It's not something you'll remember more than a few hours later, but it's no doubt an aspect nonetheless.  What your pocket-book won't forget though is that you had to go out and buy a cassette for it, as well as potentially tools to change such a cassette.  Especially since you're paying $100 more for this trainer than the competitors which include a cassette.  Still, the higher accuracy claims may counter those downsides for some – assuming they can sort out what I suspect is a minor communication bug with Zwift in Bluetooth Smart.
The Elite Drivo II is set to start shipping next week in limited quantities, with the company expecting to catch-up globally by the August timeframe.  This puts them in a really good spot in terms of trainer availability for 2018.  As I suspect we'll see with various trainer announcements over the coming days, there will be a bit of a divide between the companies. Some models will be available immediately, while others won't land till mid-fall or so. I don't expect a lot of middle-ground there actually.  The haves and the have-nots if you will.  I think this year more than ever, companies that wait on announcements till later in the summer, or availability till later in fall will definitely fall into the losing side of the equation.
As always, if you've got any questions – feel free to drop them in the comments down below, and I'd be happy to try and get them answered.
Found this review useful? Or just want to save 10%? Here's how:
I've partnered with Clever Training to offer all DC Rainmaker readers exclusive benefits on all products purchased. You can read more about the benefits of this partnership here. You can pick up the Drivo II trainer through Clever Training using the links below. By doing so, you not only support the site (and all the work I do here) – but you also get to enjoy the significant partnership benefits that are just for DC Rainmaker readers. And, if your order ends up more than $79, you get free US shipping as well.
Elite Drivo II Trainer  (USA – Clever Training)
For European/Australian/New Zealand readers, you can also pickup the unit via Wiggle at the links below, which helps support the site too! With Wiggle new customers get 10GBP (or equivalent in other currencies) off their first order for anything over 50GBP by using code NEWGB at check-out after clicking the links below.
Elite Drivo II Trainer (EU/UK/AU/NZ – Wiggle)
And finally, here's a handy list of accessories that most folks getting a trainer for the first time might not have already:
| | Product | Amazon | Note |
| --- | --- | --- | --- |
| | Apple TV 4K | Amazon | There's no better bang for your buck in getting Zwift (or FulGaz/etc) on your big screen TV than Apple TV - it's the primary way I Zwift. Even if you don't have a 4K TV, the 4K version has more powerful graphics than the base, worth the extra $30. |
| | Basic Trainer Mat | Amazon | This is a super basic trainer mat, which is exactly what you'll see me use. All it does is stop sweat for getting places it shouldn't (it also helps with vibrations too). |
| | Cassette Installation/Removal Tools | Amazon | There are *many* variations of cassette removal tools, this is the best bang for your buck. Don't overthink this. You'll likely only use this tool once every 2-3 years. |
| | Front Wheel Riser Block | Amazon | Here's the thing, some people like front wheel blocks, some don't. I'm one of the ones that do. I like my front wheel to stay put and not aimlessly wiggle around. For $8, this solves that problem. Note some trainers do come with them. Also note, I use a riser block with *every* trainer. |
| | Honeywell HT-900 Fan | Amazon | I've got three of these $12 fans floating around the DCR Cave, and I frequently use them on rides. They work just fine. Sure, they're not as powerful as a Wahoo Headwind, but I could literally buy 20 of them for the same price. |
| | Indoor Cycle Trainer Desk (RAD/Lifeline/Vinsetto/Conquer/etc...) | Amazon | This desk is both a knock-off of the original KICKR Desk, but yet also better than it. First, it's got wheel locks (so the darn thing stays put), and second, it has two water bottle holders (also useful for putting other things like remotes). I've been using it as my main trainer desk for a long time now and love it. Cheaper is better apparently. Note: Branding varies by country, exact same desk. |
| | Lasko High Velocity Pro-Performance Fan (U15617) | Amazon | One of the most popular trainer fans out there, rivaling the Wahoo Headwind fan in strength but at a fraction of the price. It doesn't have smartphone/ANT+/Bluetooth integration, but it does have secondary outlets. I've been using it, and a similiar European version lately with great success (exact EU variant I use is automatically linked at left). |
| | Shimano R7000 105 Cassette (11-speed) | Amazon | This is a Shimano 105 cassette (thus, slightly more budget compared to the Ultegra), in most cases, you probably won't notice the difference. Ensure that the number of speeds matches your bike (e.g. 11-speed, 10-speed, 9-speed, etc...). |
| | Shimano R8000 Ultegra Cassette (11-speed) | Amazon | This is a Ultegra cassette, you can save about $10-$15 by picking up a Shimano 105 instead. Ensure that the number of speeds matches your bike (e.g. 11-speed, 10-speed, 9-speed, etc...). |
| | Tacx Tablet Bike Mount | Amazon | I've had this for years, and use it in places where I don't have a big screen or desk, but just an iPad or tablet on my road bike bars. |
Or, anything else you pick up on Amazon helps support the site as well (socks, laundry detergent, cowbells). If you're outside the US, I've got links to all of the major individual country Amazon stores on the sidebar towards the top.
Thanks for reading!