This weekend was jam-packed with tidbits, many of which where left on the 5 Random Things cutting room floor.  Still, here's what made the cut!
1) A Massive GoPro Selfie Stick
Friday afternoon I was on a mission – I needed some better photos. Not of me, but rather, of a space we're looking at for the DCR Cave.  The problem was that the leasing company managed to lose the key to the space, and after two days of searching they couldn't find it.  So while we waited until the holiday weekend was over to get a locksmith in, I decided to take matters into my own hands: A giant camera stick.
See while there were windows on the base floor of this space, I couldn't see what was up on the second level.  Thus, I needed either a giant ladder or a giant stick.  A stick was easier to transport by bike.
I went to the hardware store and bought whatever this stick is supposed to be used for (painting I think).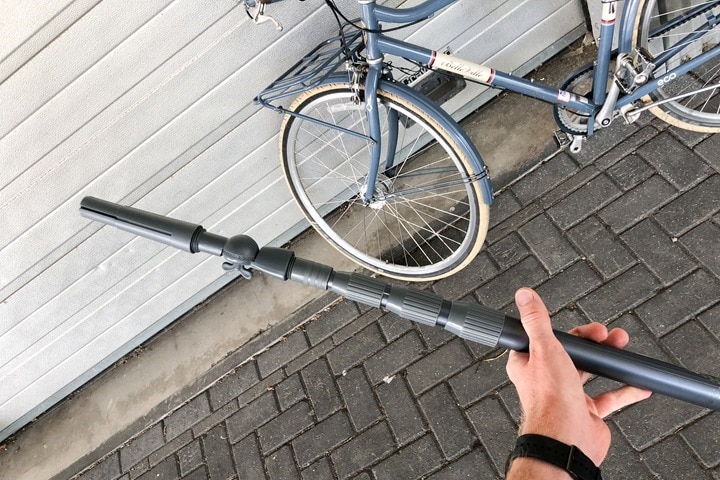 Then electrical taped the GoPro Shorty tripod to it (it's part of my '6 Favorite GoPro Accessories' collection).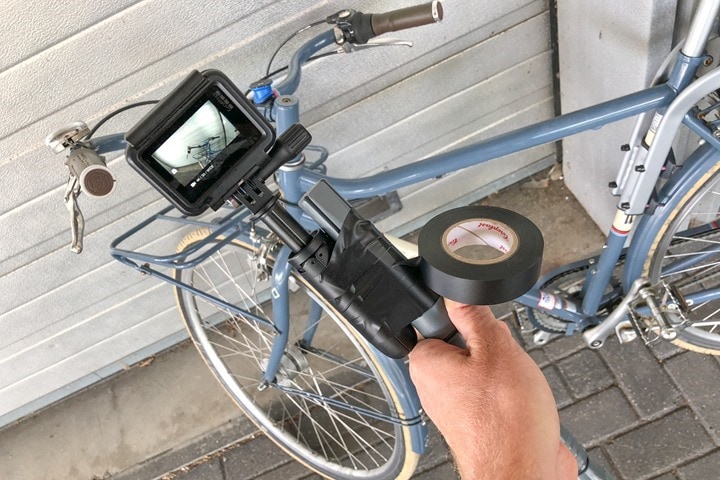 Then I extended it out to the full 4 meters (12 feet) and just jammed it up against the glass way up high and got some blah photos.  Reflections were tough since the glass was double-paned, but still, I got slightly more insight than I had before – so that's a win.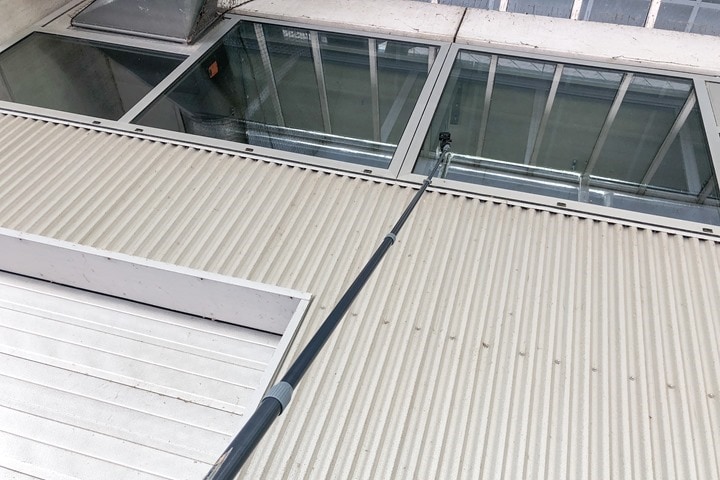 What's nice is that once collapsed, it's roughly the length of a small broom stick, so easy enough to ride with.  But then while riding home I realized that was kinda boring.  So this happened on a quiet section of trail:
Yup, I'm gonna call this the 'Longy', and then sell it for at least $969, which seems appropriate based on how GoPro prices their accessory plastic products.
As for the potential DCR Cave V2? More on that soon…you know…once I can actually get inside to see it.
2) Cycling With Thousands of Gnats
Saturday morning I saddled up and headed out for a ride. I didn't have a super-specific testing agenda, outside of testing three or four different things.  Which, I guess in retrospect is kinda a bunch of things to test.  But since I wasn't focused on lots of head units or watches directly, it seemed easier.  On the docket to keep an eye on was:
A) New Avio power meter
B) Scosche Rhythm 24 (final prod unit)
C) Suunto 3 Fitness
D) Something else
Of course, as is often the case, even the easiest sounding rides seem to find ways to go wrong.
A) The something else wasn't working with one power meter
B) The Suunto wouldn't talk to my phone all of a sudden (which is required for GPS)
C) My GoPro battery was totally dead…two minutes into the ride.
Sigh. No worries, off I set. I didn't need GPS for the Suunto 3 Fitness unit, I was more interested in HR anyway for this ride.  And the something else didn't really need power meter data for this ride anyway.  And the GoPro? Well, I had my phone.  I just wanted to ride.
And ride I did.
I headed out towards a lighthouse about 30KM away, out in a very watery area, appropriately known as the waterlands. Here's said lighthouse with my noble steed (this is actually where I shot a bunch of my DJI Spark review last summer):
The only bad part of the ride was that apparently it was peak season or time for gnats. I was eating hundreds of gnats per minute…for a long long time. So…many…gnats.  Oh well, at least the scenery was pretty: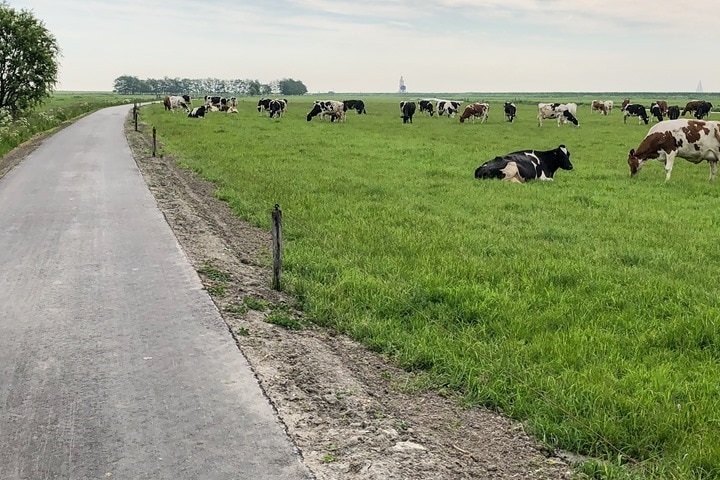 Here's where I went:

On the way back as I neared Amsterdam I had to take a small ferry for a two-minute journey to get across the river.  Ya know what's cool though? The ferry is free! Yup, free to everyone: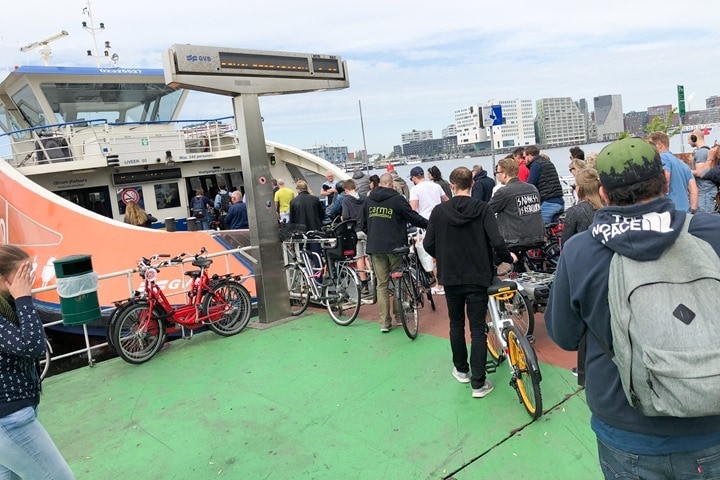 They leave every 4-5 minutes…so the wait is non-existent.  Once I was back on the city side of Amsterdam, it was a short pedal through bachelor and bachelorette party tourist cycling hell back home.  Oddly enough, this turned out to be the most dangerous part of my ride.  You're constantly on edge as non-sober (yes, at 11:25 AM) folks attempt to navigate the city's sometimes daunting cycling paths, often making last second decisions that don't end well.
What's funny is that I even specifically routed all the way around the tourist center of Amsterdam to avoid this…but alas, didn't go far enough apparently.  Oh well, got home just fine.  Next time I'll route through Belgium instead.
3) BBQ'ing The Afternoon Away
After getting back from the ride I zipped over to the butcher and the grocery to pick up a slew of items for a BBQ we were hosting that afternoon…using our awesome new BBQ. While it's not some big American BBQ, we make up for it in how we use it. Or something like that.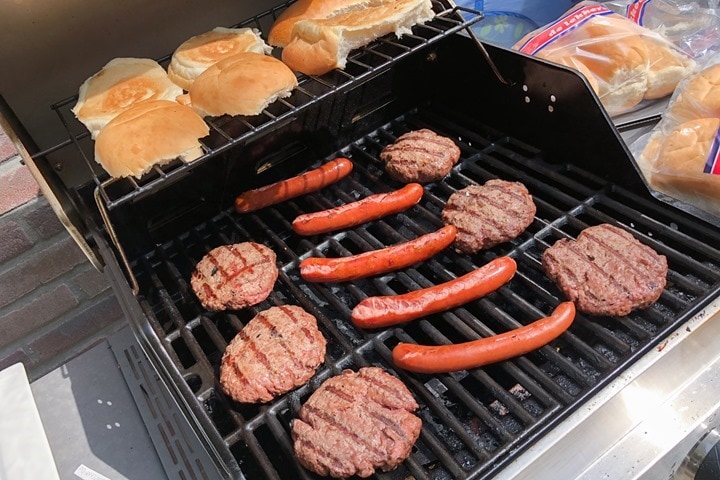 I don't have any more pictures from that afternoon…so you'll just have to do with the above.
4) Production COROS Pace Showed Up
I'm impressed. Albeit, I'm not sure whether I'm more impressed with someone at COROS, or with DHL. But either way, they had sent me a note late last week that they'd reached full production status with the COROS Pace Triathlon GPS watch that I previewed earlier this year.  And as such, they wanted to get a final production unit in my hands.
I shot them the address around midnight Thursday night/Friday morning, and by early Saturday morning the DHL guy was knocking on our door.  Here's what he delivered:
I'll be getting it unboxed and into the rotation here over the next day or two – but definitely looking forward to seeing what they've tweaked since I last poked at it a couple months ago.
5) Happy Mother's Day!
Finally, Sunday was all about relaxing with the Nuts and Mamma Nut (The Girl). I had woken up a few times during the night to make cinnamon rolls from scratch. I was following the recipe in this well-regarded breads book, and they mostly turned out well. Of course, I ignored my own hand-written notes in the book from last time to cook them far less time than the book suggests, so they ended up slightly darker than I wanted.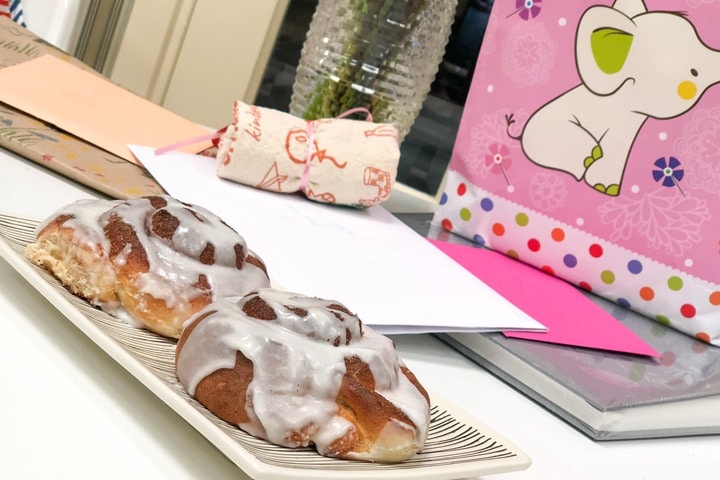 And next time I'd put them in a taller pan too, and closer. That makes them more like sticky buns (which are different), but I don't care, I just want gooey.
Of course – Happy Mother's Day not just to The Girl, but also my Mom as well! It sounds like she had a good day as well enjoying the outdoors, albeit 4,493 miles away!  And to all other mothers out there, hope everyone had a great weekend too!
Thanks for reading all! I've got a few interesting posts coming up this week, plus a trip to Finland later in the week. Lookin' forward to it!