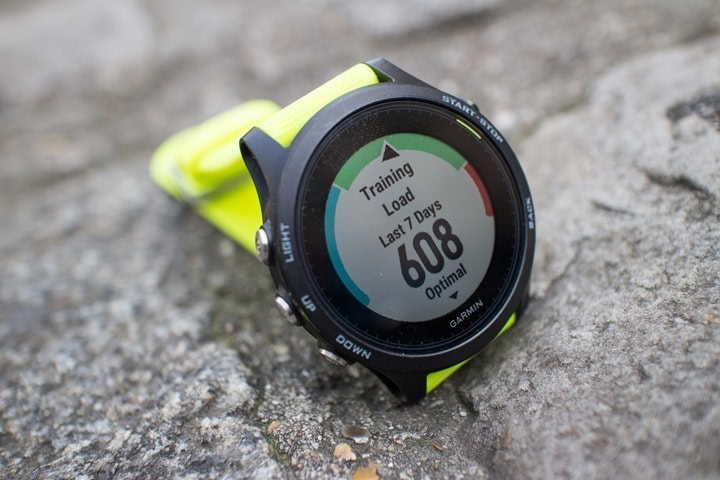 All good things must come to an end.
And this, my friends, is the end.
To wrap things up I'm giving away my current running and triathlon watch – the Garmin Forerunner 935.  Affectionately known as a plastic Fenix 5, this little puppy contains all the features of the Fenix 5 series but in a lighter weight case…and a whole bunch cheaper.  More money for ice cream I say!
It's the best Forerunner watch that Garmin's got.  Whether you're a runner or a triathlete, or perhaps just someone that likes runners or triathletes – this will do the trick.  As a non-triathlete, if you're sporting one you'll easily attract fellow triathletes or runners to you.  It's like having a free wingman for dates when you want to target the athletic type.
That optical traffic-cone neon yellow band is a siren to the Type-A athletes out there that you're serious about training.  Or at least serious about finding an athlete to bring home from the bar.
Giveaway Opens: 10:00PM US Eastern Time
Giveaway Closes: 12:00AM US Eastern Time (Duration: 2 hours)
In-Depth Review: Garmin FR935 In-Depth Review
Product Source: Clever Training & Myself
Even if you don't win, you can still support the site by using either Clever Training or Amazon, both of which are listed at the left. If you purchase through Clever Training or Clever Training Europe, DCR readers can use coupon code DCR10BTF to save 10% off any order (or get 10% back in points on almost anything else), plus most devices get free shipping too! Support via Clever Training makes giveaways like this possible!
To enter, simply leave a comment below within the 2-hour timespan specified above. All entries must be posted below in the comments section by the time the giveaway officially closes per the posted times above. Winners will be chosen randomly. Products will be shipped to winners within a few days by Clever Training. Everyone worldwide is of course eligible as always.
Comments may take a short while to show-up, simply due to the various spam-filters catching them. I'm going through manually and approving any caught comments. So refrain from re-trying 17 times, fear not, it'll show up. Note, only one entry per person per giveaway item. If you have questions on giveaways, see my FAQ here!
Click here to see all Giveaway Extravaganza Posts from today!
Thanks all!
—-
Finally – for those asking – I'll post all the winners sometime later Thursday afternoon (time-zone TBD depending on…life).  I've still gotta fish out a few more people from the SPAM buckets.  But fear not – everyone will get correctly accounted for, as well as any duplicates/etc removed.  Thanks again for coming along for the ride!