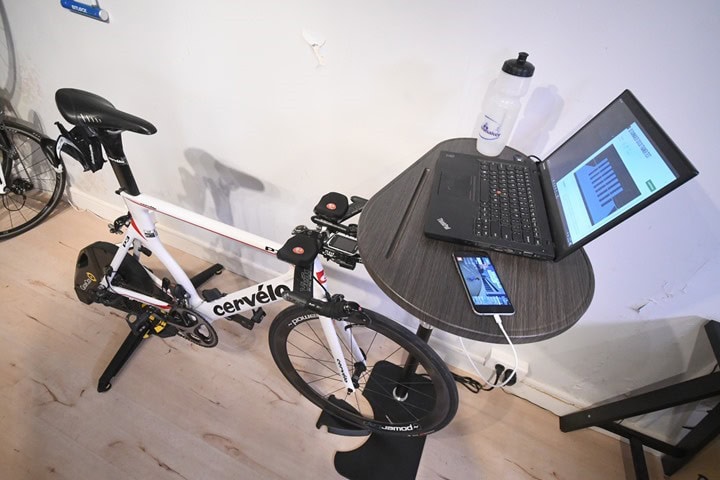 As trainer season is in full swing now, so are the various trainer-focused items showing up on my doorstep.  And not just trainers of course, but separate trainer accessories.  Today's product hails from Edmonton, Alberta (Canada).  I figure if anyone is to know about spending time on trainers, it's people from Canada.
The company – Paceline Designs – has at present precisely one product: The Podium trainer desk/stand.  This builds a bit on the dedicated trainer stand concept that Wahoo initiated last winter with the Wahoo KICKR Desk.  But Paceline Designs has taken a little bit different spin on it.  First, they've added in both power outlets and USB ports, and then they shrunk the footprint – appealing to folks who may not have castle-like pain caves.
They shipped one over for me to try out a few weeks ago.  Note that while normally I would send the product back to them after trial, it'll actually cost more to ship it back than its retail value – thus they asked me not to do that.  So instead I'll be donating it to the local tri team where they can find a lucky recipient of it.
In any case, let's get on with things!
Video Unboxing & Overview:
This time around I decided to go with a video unboxing approach.  In part because my unboxing table (as seen here), is too small for this package.  But mostly because I was feeling in a video-mood that day.
So not only do you get the video unboxing, but also high speed assembly sections (complete with music), as well as a look at how I wired it all up and some post-rides thoughts.  It's like a Tim Hortons combo meal, minus the Timbits.
And yes, I actually did re-box it up after I found the camera had stopped recording.  Which explains why I couldn't figure out how a mere five pieces fit so perfectly in that box before I undid it (I would have simply reviewed the footage).  Just like having a few leftover screws after putting back together the airplane.
The Details: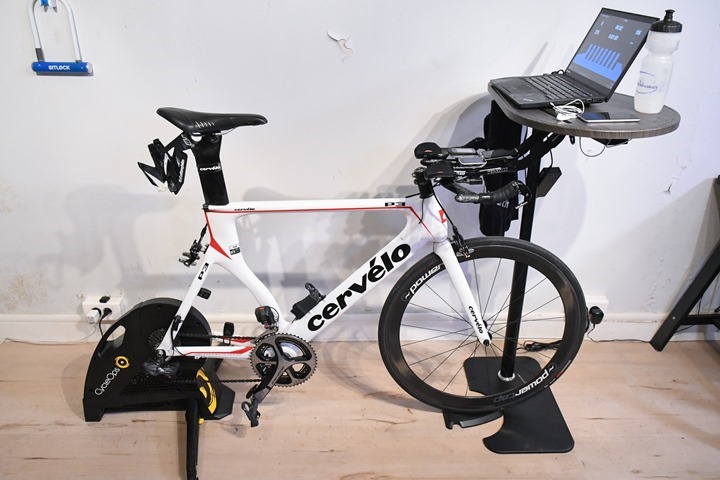 As you can see the desk is essentially two flat pieces separated by a miniature stripper pole.  The tag-line the company uses is that the entire system fits into less than two square feet of real-estate, and sure enough, it seems to.
The baseplate is fairly straightforward, though you may have noticed four inset holes on the underside, within the video.  These are for future use, similar to how the towel pegs are inset holes (not drilled all the way through).  The company recommends in their online setup instruction that if you have wood floors, to consider putting furniture pads on it to minimize scratches (to the floors, not the stand).  Also, the base has a cutout such that your front wheel isn't sitting on the base itself.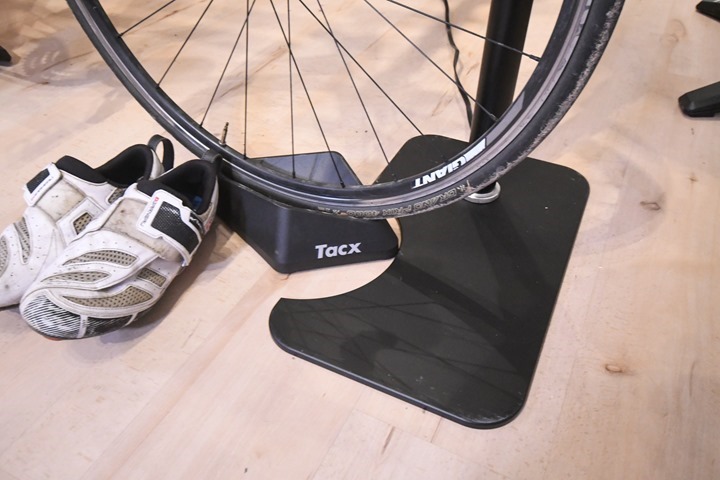 Next, the height of the pole is adjustable using the silver collar at the middle of the pole.  As you saw in the video – it can go crazy high.  Like high enough for someone to ride on my shoulders and they'd be using the desk.  Alternatively, it can go short enough for even The Girl's bike.  Technically speaking, the pole puts the desk at a height from 32″ to 52″ (81cm to 132cm).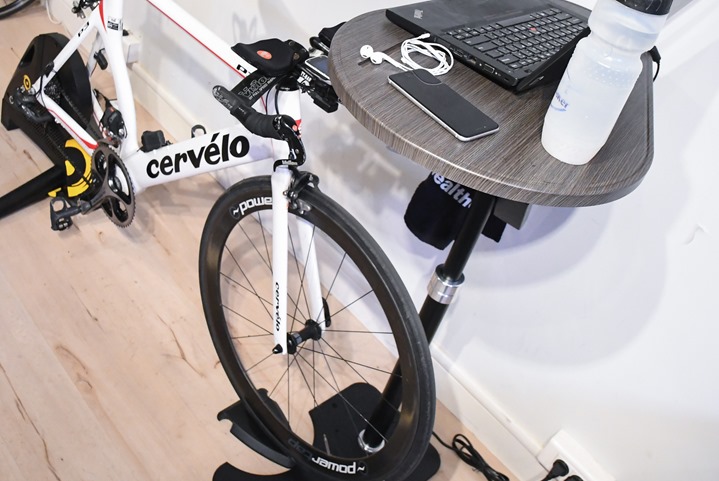 Sitting atop the pole is the desk portion.  You'll see that all the way around the desk is a small groove.  This is to ensure M&M's don't fall off the table during the rougher portions of a trainer ride.  It likely won't prevent Timbits from spillage.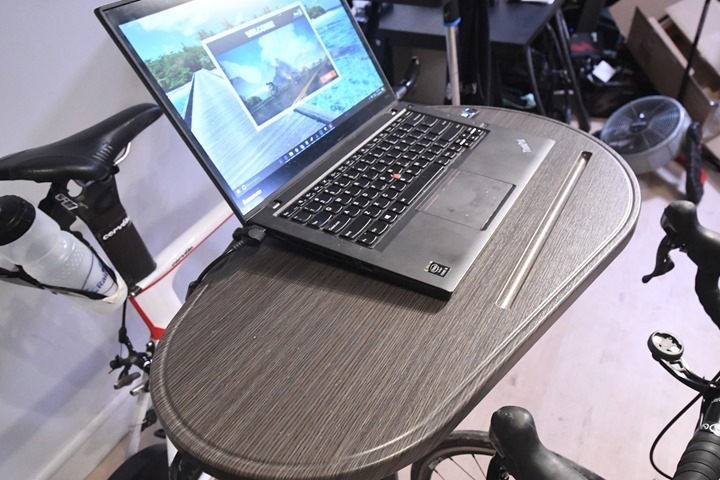 Additionally, there is a groove cut across the center of the stand.  This is for holding phones or tablets upright.  However, I found that doesn't actually work, at least with a naked phone/tablet.  That's because the groove is rounded, so they just flop over (the KICKR Desk has notched grooves to prevent that).  However, in talking with the company, they did this rounded design so that it holds phones/tablets in cases (which can be more tricky on the KICKR desk depending on your specific case).  To each their own.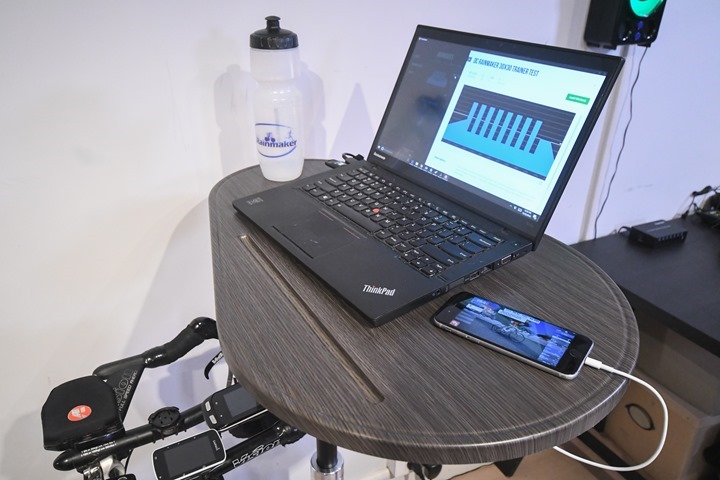 The surface of the table (and associated pole) is pretty strong.  The company claims it can hold a 27" TV.  But I think that's probably inaccurate.  My guess is that it can likely hold a 96" TV or greater.  Seriously, it's built like a tank. Albeit, a 96" TV might be a bit awkward and tempting the fate gods that nobody knocks it over when they walk within two blocks of you.
In my case though, I just put a laptop there, since that's what I typically use (and all my TV's are mounted to walls).  I also put a few other random electronics there like my phone, a GoPro, headphones, and a water bottle.  I ran out of M&M's by the time I took this photo.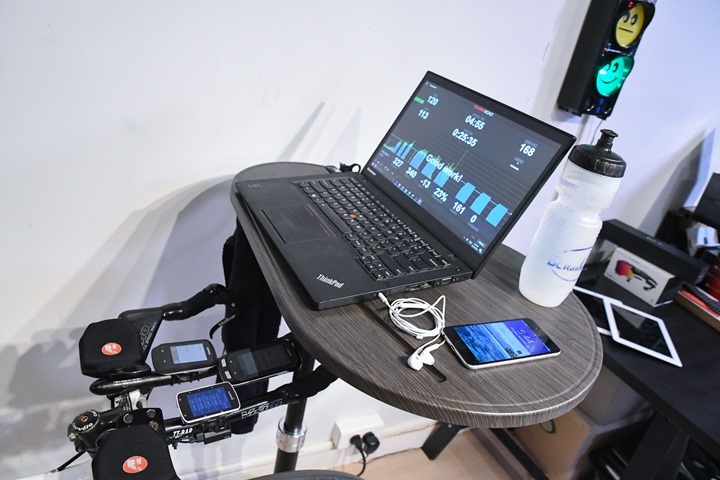 But the real selling point of the Podium desk is the power ports hidden below it.  On the underside are two 110-220v power plugs, plus two 2.1Amp USB ports.  Don't worry, they didn't do anything courageous and leave you only with USB-C ports, or no ports at all.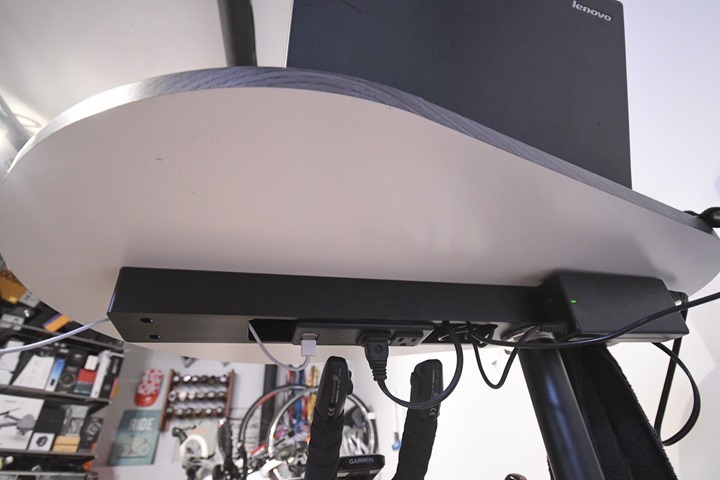 The great thing about the 2.1A ports is that they are plenty to charge an a tablet, such as an iPad.  You could even charge both a tablet and a phone.  Or even power up my DCR Trainer Decibel Meter Stoplight on it, or heck, even your trainer itself.  Also, as noted by the voltage, the ports will work worldwide, since it's 110/220V.  Though, it's only North American outlets right now (but a simple $1 adapter solves that).  One minor area for improvement would be to use universal outlets, which makes the product more appealable globally.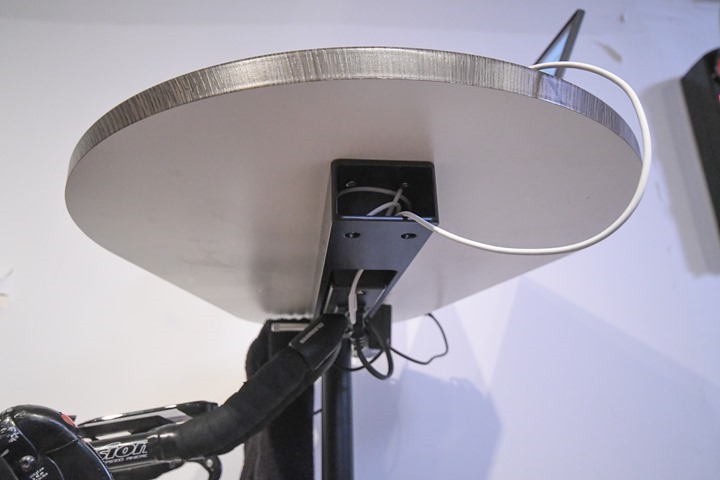 There's also a bit of space in the metal piece under the desk for some moderate cable management depending on the types of cables you're running.  In my case the laptop power adapter was too big to fit in (just barely), so I ended up Velcroing it to the side.  You'll also have noted in the video that the power from the upper portion of the desk runs cleanly inside the stripper pole to the base area.  Nice and tidy.
Last but not least, there are two towel hooks on the front.  Though technically adding these hooks cost an extra $20.  The holes are pre-drilled.  The towel was not included, and I will not be donating my sweaty towel to the tri team either.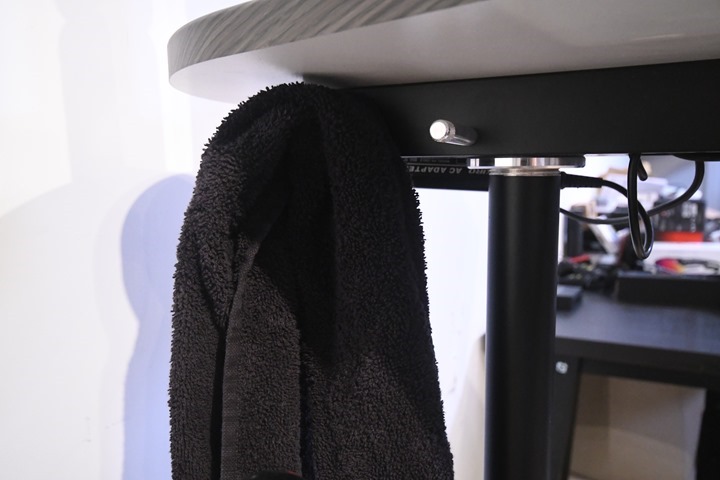 So there ya have it – the desk in all of its technical detailed glory.
Wrap-Up: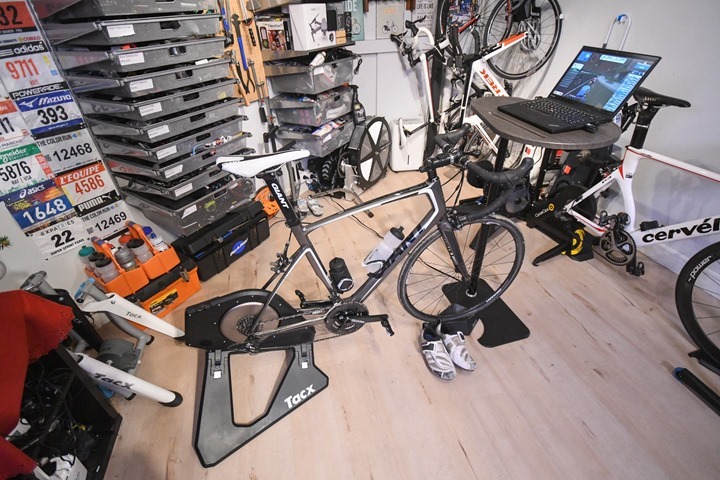 So how do I like it?  Overall, it's pretty darn cool.  I love the power ports – especially having both physical outlet style as well as USB style (and being 2.1A). That's cool.  So is the internal cable management from the top to the bottom of the pole, also well done.  And while the metal tube up top didn't fit my laptop power supply (it probably would fit my travel power adapter though), it otherwise keeps cables out of the way rather nicely.
There are only two downsides that I've seen.  First is that groove across the center.  While I get that it's designed for cases, I wonder how many people actually put their iPad in a case?  Phones I get, but tablets less so.  Next, as you saw in the video, it 'carries momentum' well.  Which is to say that if you've got a full water bottle on it, and bump the stand, the water bottle is going for a flight.  I did that multiple times on accident.  Obviously, the solution to that is either putting the water bottle in its appropriate water bottle cage on my bike (logical), or perhaps having a small bottle hanger off the side (less stylish).  Not a huge deal, but just a minor nit.
Of course – last but not least is the price. At $239USD, it's pricey.  Plus, it'll set you back another $20 for the towel pegs.  It's in the same ballpark as the Wahoo KICKR desk (at $229USD), though with a different take.  Obviously I prefer the power enablement of the Podium desk over the Wahoo desk. I actually also like the towel pegs more on the Podium than the KICKR (just easier to hang back up mid-ride).  On the flip-side, I kinda like the larger size of the KICKR desk, as it gives me a bit more real estate for laptops, ice cream, etc… mid-ride.
None of which mean that you can't build these yourself, or come up with cheaper alternatives.  There are plenty of suggestions in the KICKR Desk post comments section.  But it's like many consumer goods: You can invariably Google for DIY versions of anything and save money, they just may lack the polish or purpose-focused functions of a more pricey model.  No worries, choice is good.
With that – thanks for reading!