Update – August 12th, 2017: BSX has delayed LVL till at least Summer 2018, though they've also received significant funding from additional investors, including Samsung.  As I noted when I first posted this a year ago, my concern wasn't the scientific aspect, but rather fitting it into a device this small that would prove challenging for them.  Ultimately that's precisely what they described in the update.
Over the last month, BSX (maker of the BSX Insight Muscle Oxygen/Lactate Threshold Sensor) has slowly ousted their next product, which shifts away from the lactate threshold testing arena to focus on hydration.  However, today they kicked those efforts into high gear with the launch of their Kickstarter campaign for the LVL Band wearable hydration sensor.
I've had a chance to talk quite a bit with BSX about their plans over the last month, in addition to getting a bit of a hands-on look at the size of the device with a non-active unit (more on that in a bit).  Let's dive into it.
What it is?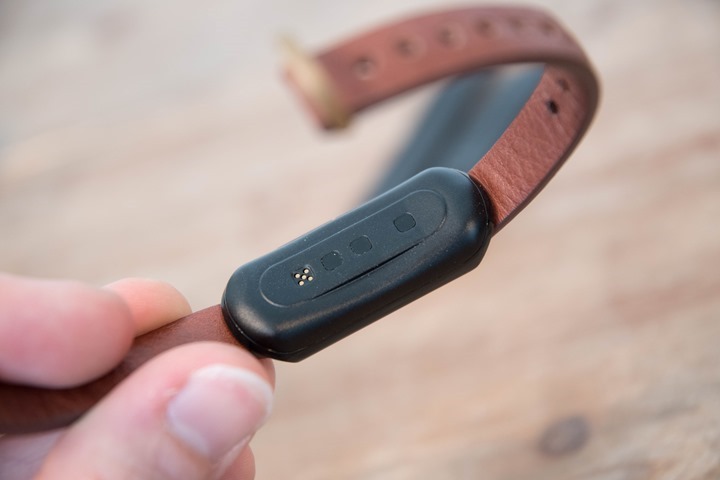 The LVL Band is designed to be part activity tracker, part hydration sensor.  The idea stemmed from an incident involving BSX founder Dustin Freckleton during medical school, which resulted in him having a stroke at the age of 24.  Doctors at the time specified dehydration as the primary cause for the incident.  That stroke resulted in a complete left side hemiparesis, meaning he couldn't wiggle his fingers, toes, or limbs.  It'd take him three months to learn to walk again.  While Dustin made a full recovery and went on to focus on the BSX Insight lactate threshold sensor, the hydration idea sat on the back burner.
The LVL Band tracks hydration, heart rate, sleep quality, steps, and calories burned.  It measures hydration and heart rate using NIRS (Near Infrared Light), similar to the red light sensors that the company uses within their BSX Insight device.  However, while there are elements of the existing Insight device in LVL, it contains additional wavelengths to detect the hydration aspects.  Meanwhile, the other metrics (i.e. steps) are largely just captured using common accelerometers.  Note that the LVL Band won't capture Insight metrics such as muscle oxygen levels.  But the company says they're capable of measuring respiratory rate, blood oxygen, muscle oxygen, and lactate threshold down the road with the LVL Band, should they go in that direction and expand the capabilities of the device.
Now the previously mentioned sleep quality is an interesting element.  Not because sleep quality hasn't been done before, but because BSX is claiming they can give you predictive sleep quality by evaluating your hydration state.  Said differently: They believe they can tell you at dinner time if you'll wake up groggy the next morning.  Whether or not they can take into an account an unexpected alcoholic beverage intake escalation on a Friday night at the club isn't clear.
The unit will show your current hydration state through a series of simple colors and levels on its OLED touch screen.  The hydration levels on the mockups below being "Very Low", "Low", "Medium", "High":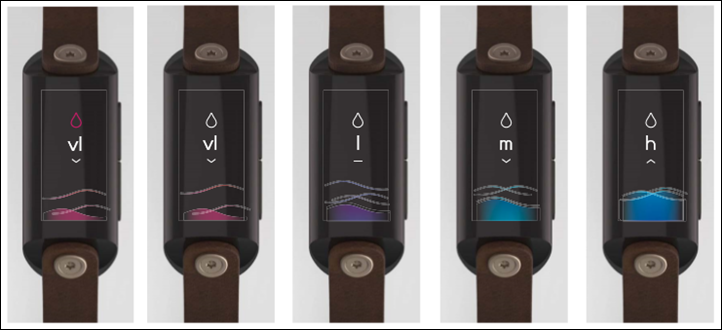 This is then reflected in the companion app, with suggestions on how to remedy it: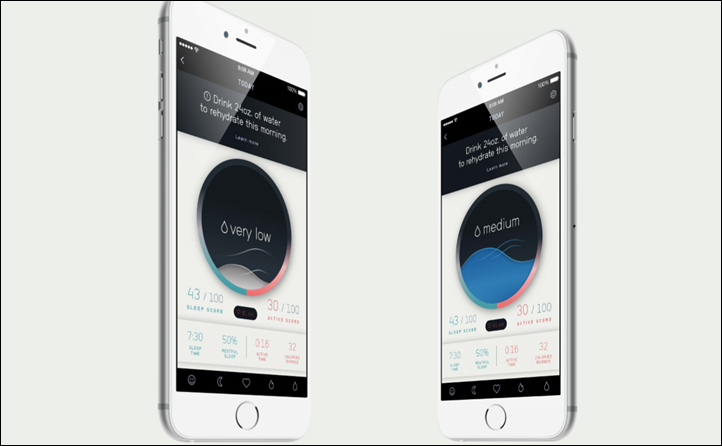 It's well known that dehydration can lead to performance loss.  Be that athletic performance, or just more life-oriented performance like mood swings or weight management.  For example, BSX will note that a 1-2% dehydration level can result in a 5.8% performance decline.  Anyone who has done a hot weather endurance race can easily attest to the results of failed hydration strategies.  So there's certainly demand there for such technologies.
Where do they stand on development?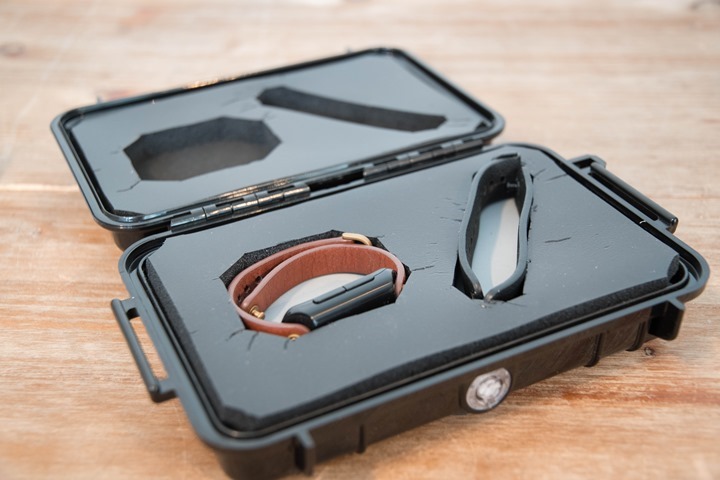 So…all this sounds great in theory – but Kickstarter projects are notorious for delays.  Especially ones that are slated for completion dates so far away (next summer in this case).  However, it sounds like BSX is a bit further along with at least the underlying technology aspect.
To date they've been doing weekly tests with athletes, similar to what we saw them do leading up to the launch of their earlier BSX Insight sensors (way back when).  They've tested close to 200 athletes to date. As a result, they're saying they've "completed scientific validation".  That validation with those volunteer athletes involves a test procedure designed to validate the sensor is producing accurate results.
The test is a 5-hour long session that starts by having the athlete workout at 102-105°F (38-40°C) @ 60% humidity.  They then dehydrate the athlete by having them workout at 50% of lactate threshold level for 2 hours without any fluid intake.  That takes them to a 2-7% body weight loss, with most athletes being in the 5-6% body weight loss range.  Next, they rehydrate them to 110% of the volume they lost during the athletic portion of the test.
Now the point of that flight of fun is the monitoring piece.  During the test they're monitoring continuously using the LVL sensor technology, and then cross-checking that against both constant blood, urine, and body weight measurements.
The results they've had to date have it outperforming the medical industry benchmarks of +/- .5% accuracy for % water weight.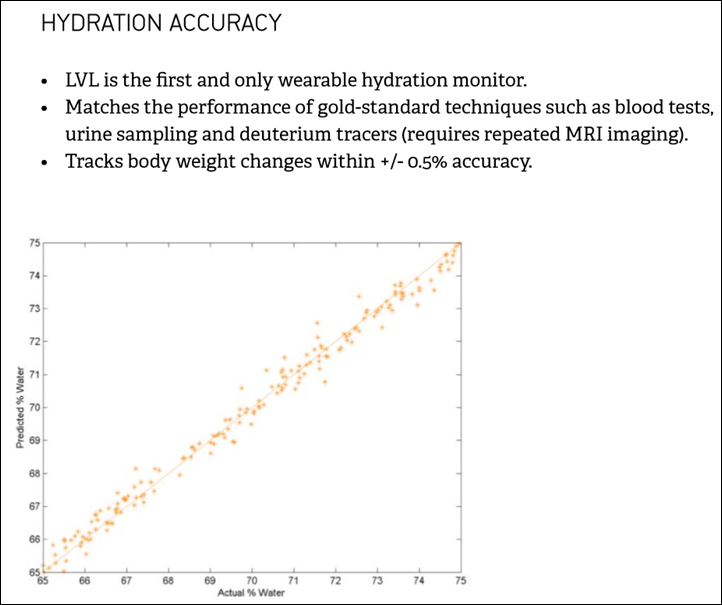 On the heart rate side, they're seeing accuracy at +/- 2.7bpm.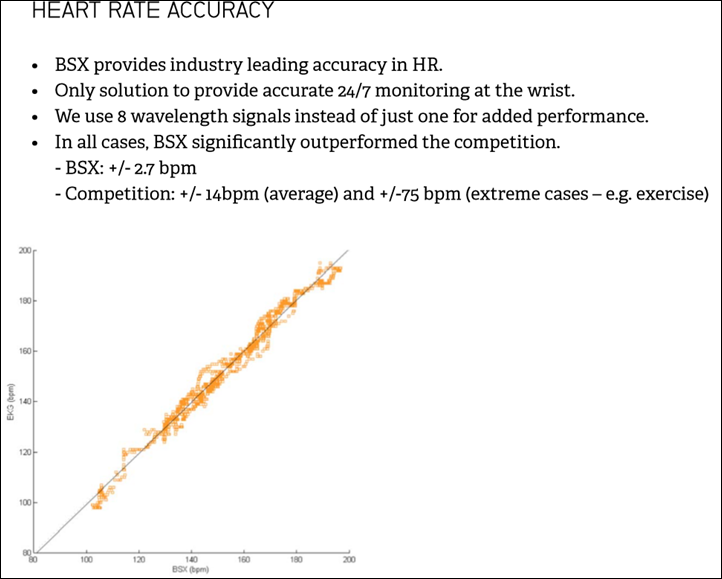 So why launch now?  Well quite frankly it's because it's still hot out in many areas.  They could have launched mid-winter for their June release, but by doing so now people are still thinking about heat.  Further, by time they're having to think about heat and hydration again, it'll be June and they'll be shipping (if all goes according to plan).
Initial Thoughts: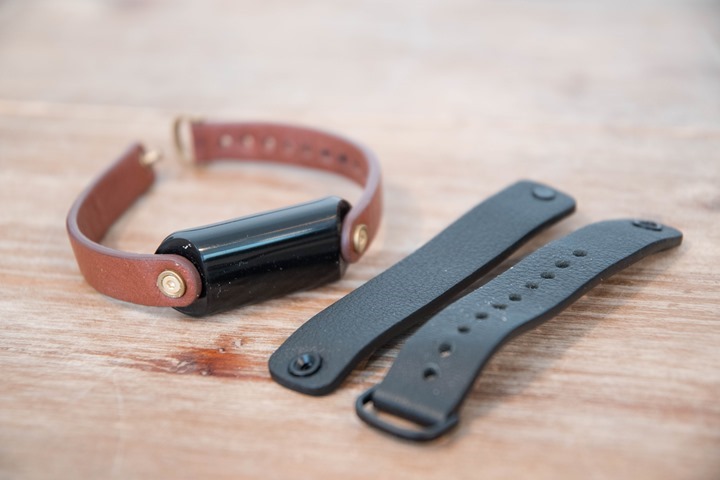 Obviously the technology could be tremendously interesting.  First is of course the athletic interests here. The idea of potentially going into a competition knowing and managing your hydration state is huge.  Obviously there are technologies (namely scales) that can measure water % today, but even if accurate, those scales require you to step on them.  Most of us don't go about our day to day lives (work, sleep, etc…) stepping on a scale every few minutes.  So by time you're up for that weeknight long run in 90°F heat, it's too late.  Or, travelling to a race – the same thing.
However, as interesting as hydration state might be to athletes, the market is far larger outside of it – even beyond just normal people trying to stay hydrated for simple health reasons.   The same goes for healthcare and even military uses. For example, soldiers deployed in hot regions such as Middle East are constantly reminded to hydrate with water plentiful and nearly forced upon them.  The ability to enable not just individuals to monitor their own hydration status in real-time, but also those in command could be huge.  Be it in government, military, healthcare or private sector – there's massive opportunity here for *accurate* technology that's portable, connected and wearable.
And those last pieces are key.  Right now we have data from BSX, but not data independently validated outside of their labs.  If we look at the original BSX Insight sensor, that was ultimately validated externally with high levels of accuracy.  So the company has at least set a baseline precedent for gathering accurate data.  But the next piece is ensuring it's accurate once miniaturized down to the tiny size of the wearables you see in this post.
As I noted earlier on, the company sent me a mockup to check-out.  But it's just that: A mock-up.  There's nothing real inside of it, and for some tech companies getting from prototypes to miniaturized can be far more difficult than anticipated.  Hopefully with their past experience, they've set reasonable timeframes.
Speaking of which, the product launched today on Kickstarter, and will set you back upwards of $198, depending on which reward you select.  The availability date is pegged at next June (2017).
With that – thanks for reading!