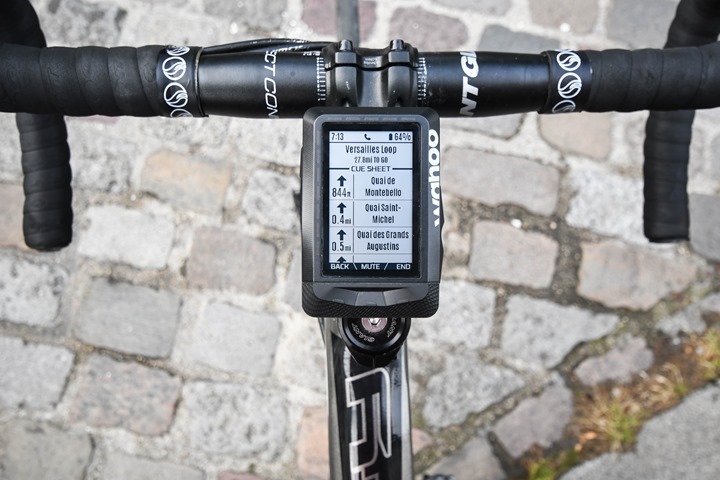 When the Wahoo ELEMNT was first announced last fall, it included the claim of being able to do 'Turn by Turn' navigation.  That capability gives your bike computer the ability to tell you to 'Turn left on Main Street', rather than a more typical breadcrumb trail or similar non-aware route overlay.  It also means a unit can recover from a navigation failure (even if it's your fault) and get you back on track.
However, when the ELEMNT shipped this past spring, it was lacking that functionality.  Instead, it had the ability to download routes from Strava and RideWithGPS, but not the ability to do Turn by Turn (TBT) navigation on those routes.  As a result you had to simply leave the navigation page open at all times, and then keep an eye on upcoming changes to your route.  While I did use it for a number of navigationally challenging routes – it wasn't as ideal as having alerts/prompts.
So bring the latest Wahoo ELEMNT firmware update, which now introduces that capability to the unit.  I had a chance to try it out a bit over the last few weeks, and wanted to give a brief overview of how well it works (and where it stumbled a bit).
Creating the route:
Now the first step in using the ELEMNT routing is that you have to create the route somewhere else.  Or download someone else's route.  Either way, it all happens on a non-Wahoo platform.  While the ELEMNT supports downloading routes from Strava and RideWithGPS, it only supports TBT navigation today on RideWithGPS routes.  So it's off to RideWithGPS.com to create our route.  Note that you need not have a paid RideWithGPS.com account for this.  A free account (like mine) is fine.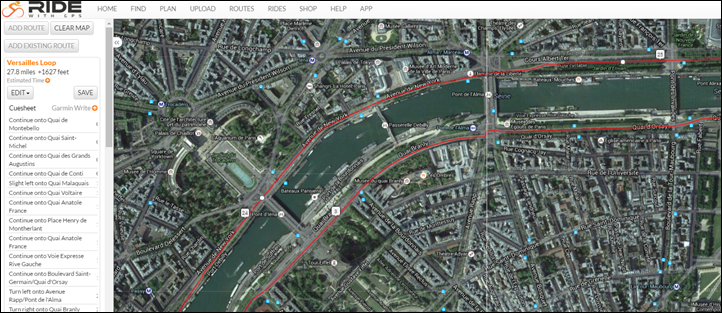 You'll do the click and map thing just as you would on pretty much any other mapping program for the last decade or so.  Along the bottom it'll also create an elevation plot, so if you want to see how painful the route is, it'll show that here.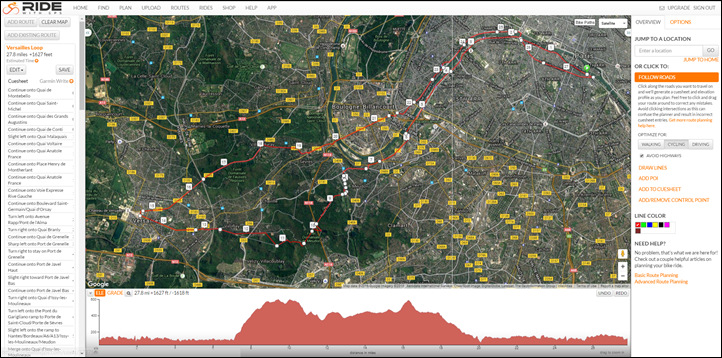 As with other services you can click to 'Follow Roads', or go rogue.  I often will turn it on/off throughout the route depending on what I plan to do.
Once that's all done you'll simply save it to your account, which the ELEMNT will pull down the next time you sync your account on the ELEMNT.  You can view all of your saved routes (be it ones you've created or others you've 'borrowed') within your account on RideWithGPS.com: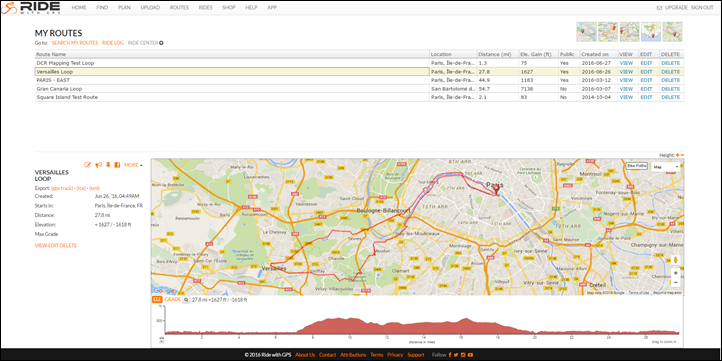 If you haven't done so already, you'll want to first update your Wahoo ELEMNT's firmware.  Simply go into the settings and tell it to check for updates.  It'll connect to the WiFi's and pull down some magic: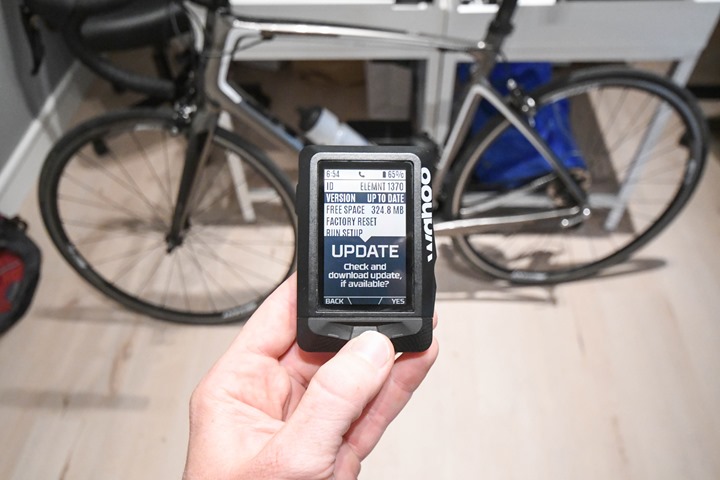 After which you'll want to validate you've authenticated your RideWithGPS.com account to the ELEMNT (if you haven't done so already).  To do that you'll use the Wahoo ELMENT companion app on your phone, which handles the authentication setup pieces.  It only takes a second:
Before heading out you'll want to briefly validate the route is on the unit, since it uses WiFi to sync said routes.  So if you forget, you're kinda hosed.  Note the top line status and wait till it's finished.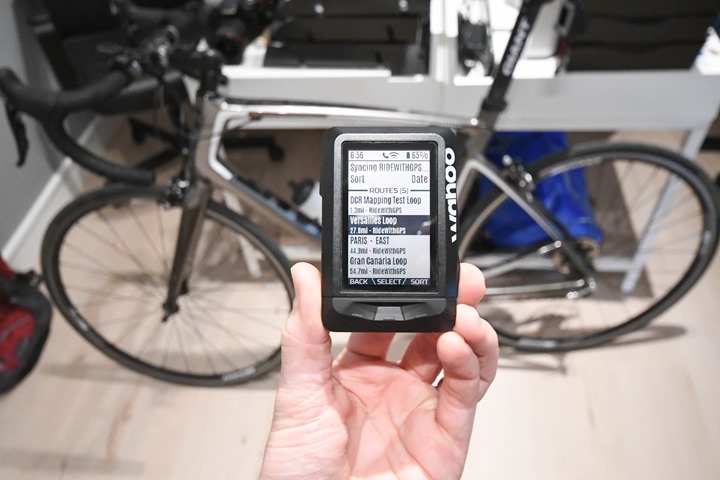 Ok, now…let's go ride.
Out on a Ride
:
Now that we've got the route created and sync'd it to the ELEMNT, we'll crack open the 'Routes' menu and choose it: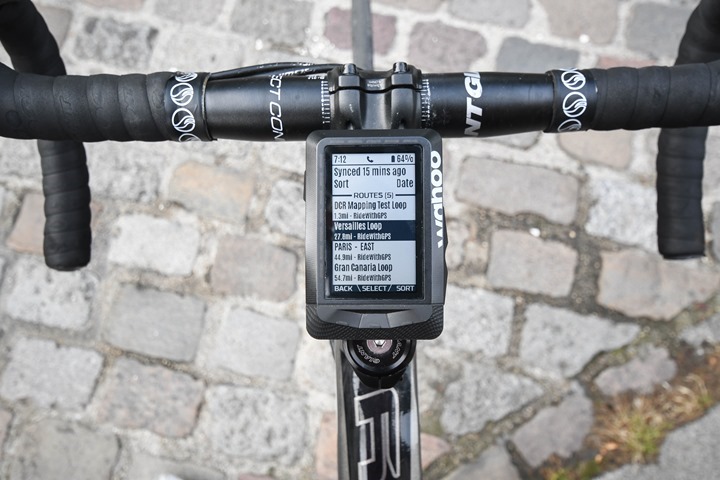 It may take a second or five for the unit to load the route and corresponding map tiles.  Once it does you can press 'Start' like normal.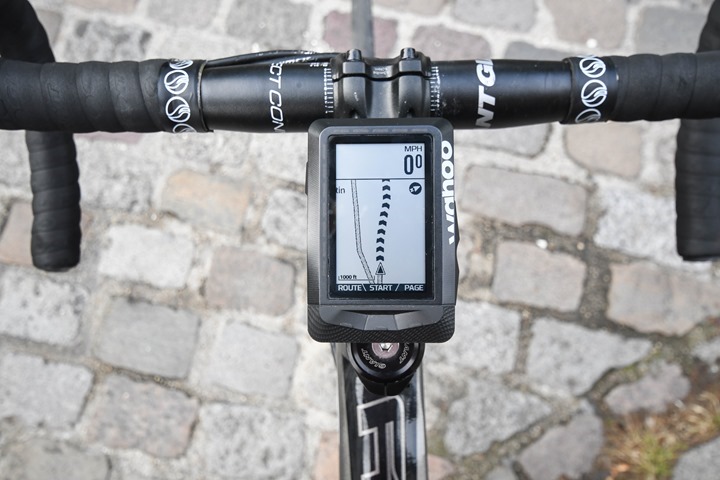 While riding you'll get instructional information on any data pages you have – assuming you have something that you need to do.  Meaning that if you've got 10 miles on the same road, then those instructions on the non-map pages will disappear.  They'll reappear as you approach a turn or other bit of insightful navigational information.
You'll also get both visual alerts using the LED's, as well as audio alerts.  Right now the audio alert's a bit quiet, though Wahoo noted they plan to increase the loudness in a near-term firmware update.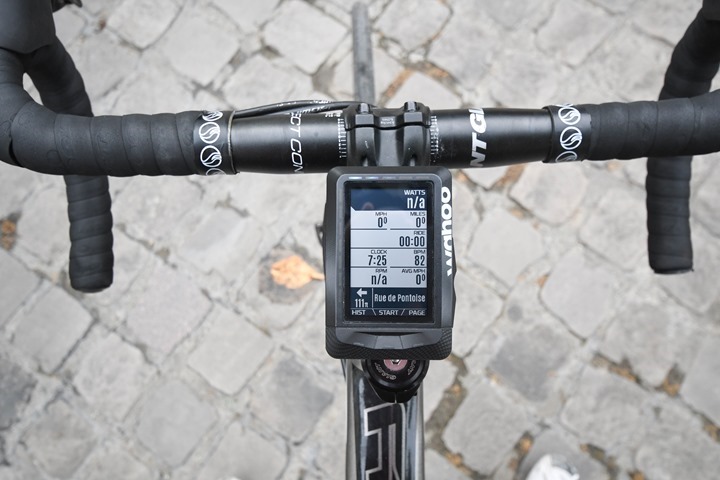 The turn by turn road instructions display slightly differently depending on which page you're on.  For example, on the map page they display as a banner mid-way across the screen, whereas on the elevation plot and regular data pages they'll appear on the bottom.  Here's a mini-gallery of the different ways the data is shown (click to expand any).
You can also get a Cue Sheet listed as well at any point in time, which is kinda neat.  You can scroll up/down within it.  This sheet shows any turns or street name changes and is accessible from the route page.  This page also allows you to mute the route guidance as well as straight-up end the route guidance.  So you can effectively de-couple routing from your workout itself, without one impacting the other.
All of which is pretty straightforward.  It's worked well for me thus far, even in cases where I've gone off-course briefly and had to get back to the course (though, more on that in a second).  For example, there was construction closures on one road, so I use a parallel road next to it.  Once I resumed back on the correct road a mile later, it was all happy again.
But there are some caveats.  For example, unlike the Edge series the ELEMNT can't do anything for you when you go off course and need assistance getting new routing instructions.  It doesn't re-calculate the route.  It just gives you some blinking red lights – the international symbol that you've f'd up in an irreconcilable way.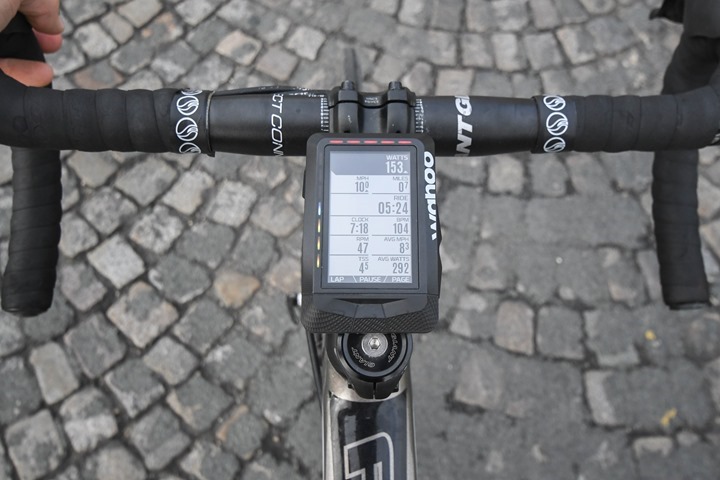 It's up to you to figure out how to fix your screw-up.  All it will show is your steps with negative distances next to them, indicating you need to go find them yourself.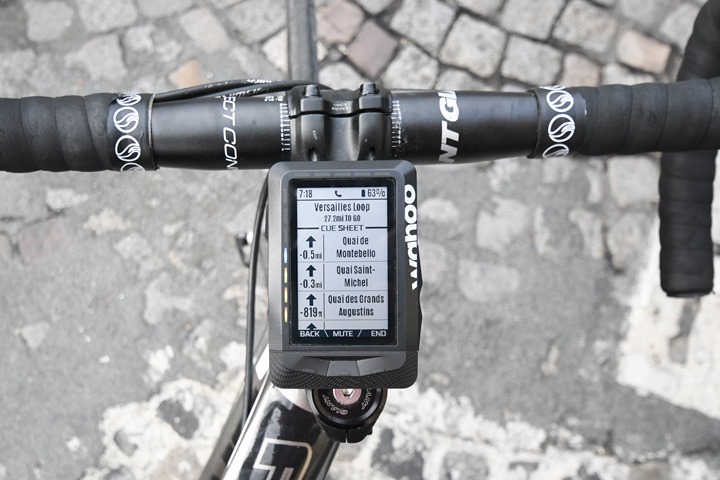 Also, none of this gets you the ability to randomly search out locations like a nearest eatery or a specific address, both of which other units on the market can do.  It's basically only going to route you from Point A to Point B, using the directions pre-canned by RideWithGPS.  Go afoul of that and the ELMNT looks back at you with confusion and a blinking red light.
Thoughts on Integration: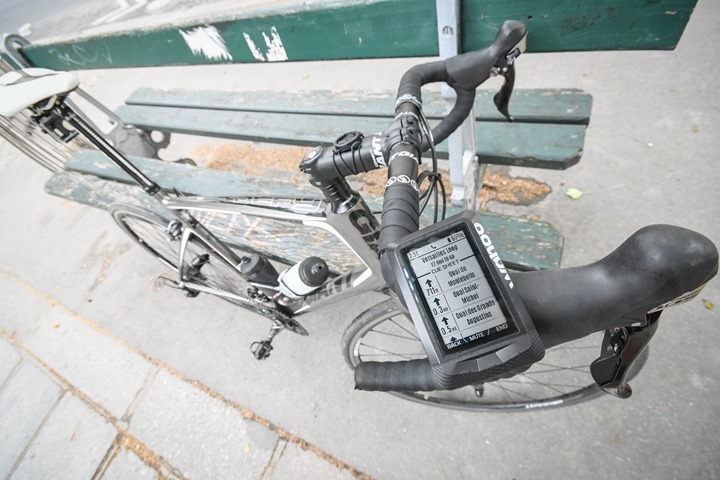 Now I would say that while Wahoo has made a bit of a business out of making software 'other people's problem' by making their platform fairly open, I think it's going to be a challenging point going forward to truly compete with Garmin.  By that I mean that Wahoo really needs to make it easier to create routes from a mobile phone and be wholly within a Wahoo app in doing so.
I think it's great that they have extended integration with 3rd parties, but at the same time I don't really want to be dependent on 3rd parties for what I believe should be 1st party functionality.  For example, if we fast forward to workout creation – will that be done internal to a Wahoo app, or offloaded to another 3rd party?  Before you know it you'll find every function requires a different 3rd party.  Just like viewing your workout does today.
Don't misunderstand me though – I want the option to have 3rd party integration, but I feel like it should be just that: an option.  Not a requirement for core functionality.
Still, all of this works better than creating/moving/downloading routes on Garmin Edge devices.  After all, you can't really use a mobile device to do that today.  Instead you have to manually create the route on Garmin Connect using a desktop computer, then sync it afterwards.  Plus, you can't easily get routes from 3rd parties to Garmin Edge devices unless you plug them in to a physical computer.  And don't even get me started on adding maps to a Garmin device, free or otherwise…
ELEMNT's Next Steps: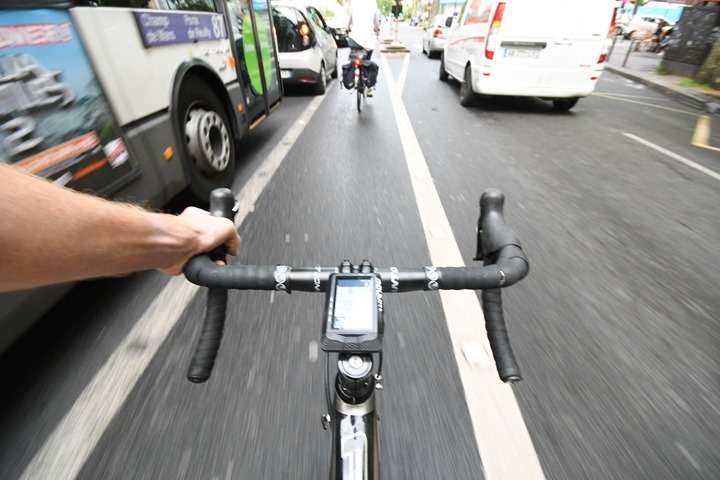 So now that Wahoo's got that one knocked off their list, what's next on the update agenda?
Well, you'll remember there were a bunch of features/plans that were on the longer term list, so I checked in with them yesterday to see where those stood.  Here's the run-down:
ANT+ FE-C Trainer Support: Planned 'prior to trainer season' – meaning, the northern hemisphere trainer system.  Remember that today Wahoo supports the KICKR/KICKR SNAP, but not non-Wahoo trainers like Tacx, Elite and CycleOps.  So this would bring them in line with being able to support any trainer with the ELEMNT.  Within my review I noted that the ERG trainer control on the ELEMNT is without question the best implementation I've seen on a head unit in terms of trainer control.
Strava Live Segments: This would enable a user to compete on a given segment and receive updates in real-time (live) on their ELEMNT.  While his had been slated for the June timeframe (when I last checked in March), it didn't quite make that. This is still planned and sounds to be nearing completion.  Wahoo would only note that it's "coming soon".
Structured workout support: This is planned for the fall, to coincide with the northern hemisphere trainer season.
More Detailed Live Tracking: Right now live tracking is merely a dot on a map, with no context of speed, distance, or where you went.  It sounds like by next spring they'll have a richer experience on this.
GoPro control support: While this was planned for later this year (2016), it sounds like it's going to slip beyond that as the company is instead focusing on various trainer integration with ELEMNT features.
ANT+ Lighting control: They don't have a specific timeline, but they are evaluating various lights, including the Bontrager light sets.  At this point I believe only Garmin and Bontrager make ANT+ lights.
Obviously, there are numerous other smaller items that didn't make my question list (or my train of thought), that will undoubtedly be added in.  One merely has to look at the ELEMNT change log to see they are moving very quickly on both adding features, but also fixing bugs.  They spent a fair bit of time over the past few months trying to track down an odd hardware sensor dropping bug that some people were seeing, which sounds like it deferred some resources available to work on new features.  Hopefully with that issue behind them, the company is able to dedicated more resources for new features.
With that – thanks for reading!