Today Pebble announced two new fitness focused devices, the Pebble Time 2 and the Pebble Core.  Both are squarely targeted at competing with existing fitness companies, but in this case Pebble is taking a bit of a different twist on things with the Core.  It's almost a throw-back idea to the days of having separate accessory pods for GPS, except unlike those days it's got a bunch of cool stuff in it.  So it's like a throw-forward…or something.  But more on that in a minute.
Longtime readers know that I don't often like posting on products until I've had some hands on in person.  And they're working to get me a unit to play with a bit before the Kickstarter campaign ends.  However in this case, I have spent numerous hours both in-person earlier in the year, and then on Skype calls discussing the concept and then getting live demos of the unit.  It's not quite the same as hands-on, but I know there will be a bunch of interest around the products and my thoughts so I figure this is a good starting point for now.
The Pebble 2: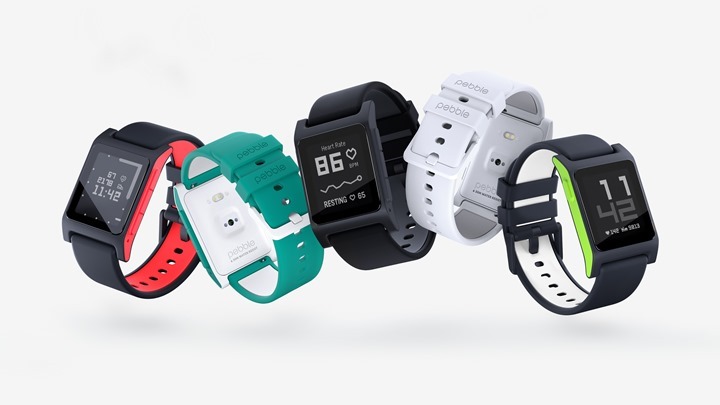 The Pebble and Pebble Time both receive pretty solid upgrades, with the inclusion of an optical HR sensor – making them the Pebble 2 and Pebble Time 2.  This sensor will be used for both 24×7 HR tracking as well as workout tracking.  The sensor is integrated directly into the back of the unit (versus some Pebble sensor band ideas that have been floated about).
Of course, anytime you start talking optical HR sensors you get into the realm of accuracy and recording rates.  At this point Pebble says they're seeing test results within 5% (bpm) of other units (chest straps and Mio optical HR sensor), 95% of the time.  On the optical HR sensor update rates, during 24×7 mode, the unit will sample at a reduced rate that's still being decided (considering allowing the user to control rate), while during workouts it'll record at every second.  But again, I'd wait until the egg hatches before deciding one way or another whether the sensor is good or not.
The unit does *not* have GPS in it, as that's been pushed to the Pebble Core, the pod-like clip-on accessory.  Of course at $99 the Pebble 2 (with optical HR) would be one of the cheapest optical-enabled watches out there.  The larger Pebble Time 2 starts at $169, but that features a much larger and color screen.  Both of which the base Pebble 2 lack.  Note that post-Kickstarter, the retail prices would be $129/$199.  Though I don't think $199 is a viable price for the Pebble Time 2, compared to competitive offerings.
They expect battery life to be about 10 days for the Pebble Time 2, versus 7 days for the Pebble 2.  Both the new Pebbles are waterproof to 30 meters, despite also both having microphones in them (often a tricky point for waterproofing). And both Pebbles have automatic exercise detection. In fact, the optical HR sensor will kick up the sampling rate automatically when it detects you're exercising.
The main appeal of Pebble outside of its core smartwatch and health features is the app ecosystem.  It's been around well before the Apple Watch, and thus has a pretty dedicated following in terms of apps.  Of course, it doesn't quite have as many mainstream apps as something like the Apple Watch (i.e. there's no United Airlines app), but you still get some majors like Uber, PayPal and Evernote.  Which is more than Garmin's Connect IQ has in terms of major brands.  As fitness watches become more and more mainstream, watch ecosystem app stores will continue to be more and more important.  And that's even more true as you get to the ability to connect directly to cellular networks without a phone, as the Pebble Core provides for.
The Pebble Core: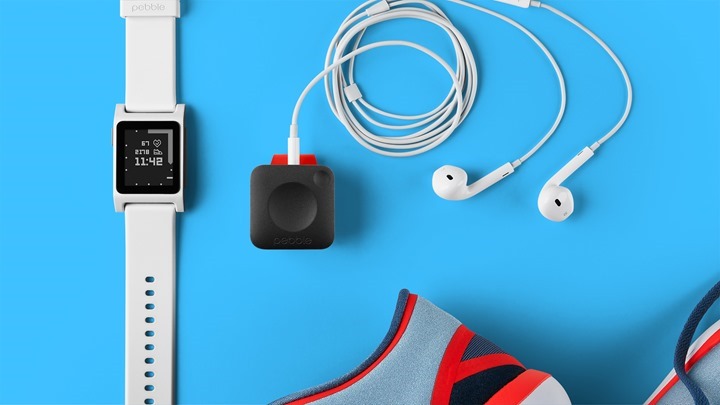 The Pebble Core is essentially a small device similar in size to a small iPod Shuffle, and is designed to work both with and without the Pebble.  In fact, you don't need a Pebble at all to use the Core, you can use it sans-phone and sans-Pebble (though, you'll need a phone to configure it eventually).  I'm probably much more excited about the Pebble Core than the Pebble 2, as I think it's a pretty intriguing concept, and a device that I'd likely use across a number of scenarios – running and non-running alike.
Inside the 40mm x 40mm square case packs a ton of tech, especially for $69 ($99 later at retail).  Some of it we've seen before in other devices, but none of it we've seen all wrapped together as a single unit:
– GPS (no GLONASS though)
– 4GB of storage for music storage
– WiFi Connectivity (802.11bgn)
– Bluetooth connectivity for wireless headphones
– Headphone jack for wired headphones (3.5mm)
– Micro-SIM card slot for adding cellular connectivity (3G – Bands 1900/2100)
– Microphone for audio recording/capture
– Wireless charging via Qi charger
– Entire device is simply Android 5.0 based
– Internal accelerometer
– Waterproofed to IP67, weighs 50g
All of that is paired with a software layer that also has some unique unseen before items, most notably:
– Spotify integration (for those with Premium accounts)
– Sync to various fitness platforms, including Strava, MapMyFitness, Under Armour, and RunKeeper
– SOS/Emergency notifications to friends/family using cellular connectivity
– Planned sync with Tapiriik (the developer interns for Pebble), so that gets you to Training Peaks and many others.
– Automatic app-integrated button actions, such as ordering an Uber (or anything else 3rd party developers think of)
While running with just the Core alone (no watch), you'll get audio cues for things like Pace, Distance, and Time via Bluetooth or wired headphones.  When paired with a Pebble watch you can also see that on the watch face.  Additionally, with 3rd party apps like Runkeeper and Strava, you'll get a similar experience there as you would using those apps normally.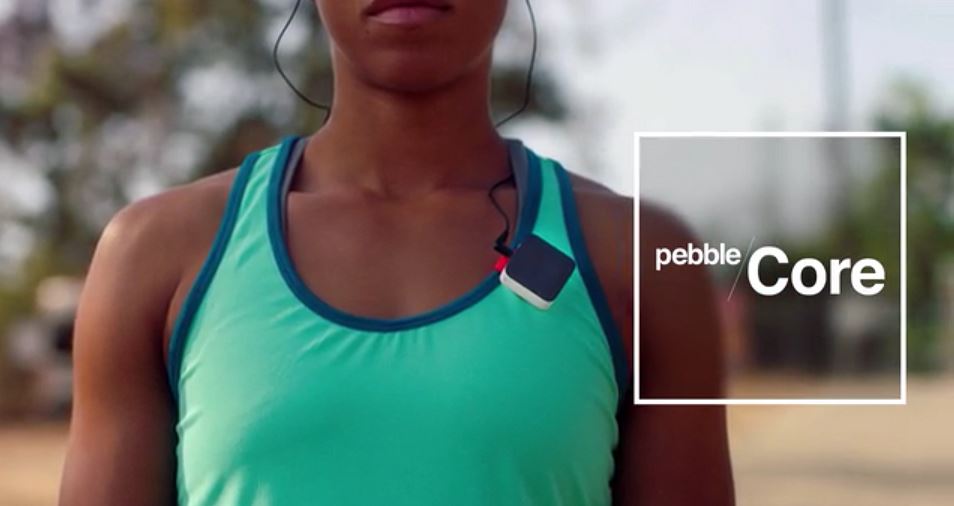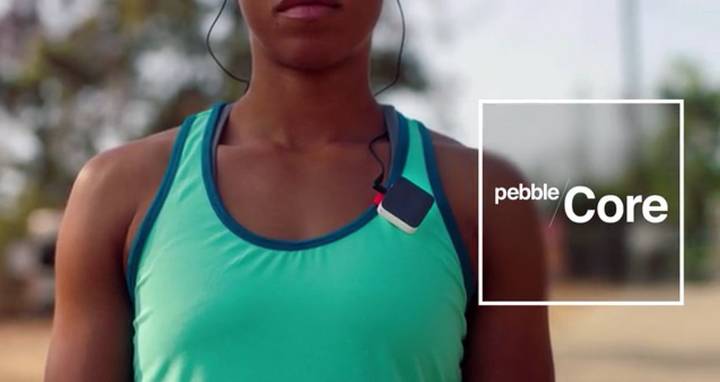 Note that unlike either Apple Watches or Android Gear based watches, the Pebble is compatible with any recent iOS or Android device for day to day usage.
Like the rest of the Pebble ecosystem, the Core is extensible for apps.  The Core will have its own Core JavaScript API, which is simply an extension of the existing PebbleKit JS API used on the Pebble already.  And since the core is running Android, you can also side-load Android app APK's as normal.
However, for users not using 3rd party apps, there are some initial limitations.  For example, the Core won't connect to any Bluetooth Smart sensor initially (i.e. Heart Rate, Cycling sensors, etc…).  Though, if you're wearing a Pebble 2/Time 2, it will record HR data via the optical HR sensor.  And 3rd party apps can connect to sensors using the standard Android Bluetooth API's.
Many cyclists will be wondering about ANT+ sensor connectivity.  In my discussions with Pebble, it's something that hasn't been finalized yet and they are considering some options.  While ANT+ connectivity doesn't matter much to runners, it'd be critical to gaining any momentum as a cycling tracker.  There are tons of incredibly interesting scenarios with a 3G connected pod this size – most notably race tracking, such as the Tour de France live tracking (similar to this) or like Quarq's Race Intelligence System.  Numerous sporting events would love to use such a small clip-on device with live tracking.
Speaking of which, while the unit can be clipped onto either a keychain or your clothing, the back of it can be swapped out for other accessory clips down the road.  Meaning that someone could design a bike-mount style clip as a replacement for the Core's side-door.
Pebble is saying that you'll get about 9 hours of battery life in GPS tracking mode while playing stored music.  You'll get upwards of 20 hours in GPS-only mode though, but only about 4 hours in GPS+streaming music.  As noted above, the unit charges via wireless charging.  The idea being if you had it on your keychain you could just drop everything on a charging mat.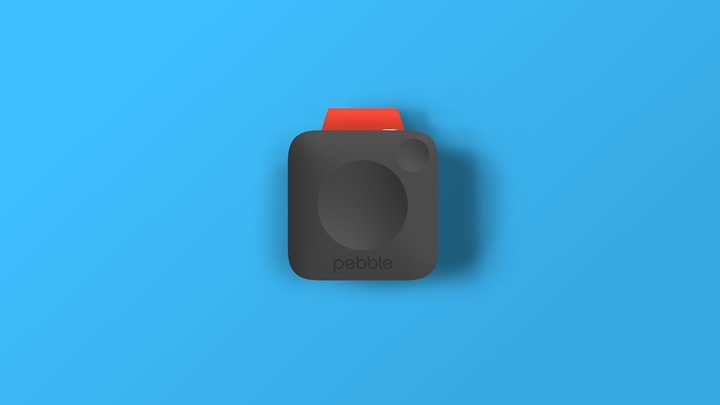 Probably the most appealing aspect of the unit for me is the Spotify integration.  In fact, I rarely listen to music while running simply because I don't want to deal with downloading specific playlists to a dedicated device (nor do I want to carry a phone while I run).  I find I never bother to update the music on standalone devices, so it ends up being the same music over and over.  This solves that problem by having 3G & WiFi connected to my Spotify account, continually fresh music. Not to mention the ability to use either wired or wireless headphones.
The only downside here is that the Core doesn't ship till January 2017 (the Pebble 2 units ship in September).  For the Core though, that's an eternity in the tech world. And even more so once you miss the 2016 Holiday period (November to December).  That January 2017 dates means that all sorts of new competitive devices would be announced at/by CES 2017 in the first week of January.  I'd have thought they would have attempted to nail a November 2016 delivery timeframe, but I suspect the runway simply isn't long enough for an all new device.
Hopefully Pebble will be able to get a unit in my hands before the end of the campaign though, and I'll be able to give you a better idea of whether it's a worthwhile investment for something this far off.  And also on the bright side, unlike many other Kickstarter companies – Pebble is a well understood animal at this point.  Not to mention having well established manufacturing chains to make their timelines happen.
With that – thanks for reading!