Another busy weekend, but this one almost full at home. At least I was home by Friday night – and that's what counts, right?
1) Trained back from UCI Headquarters in Switzerland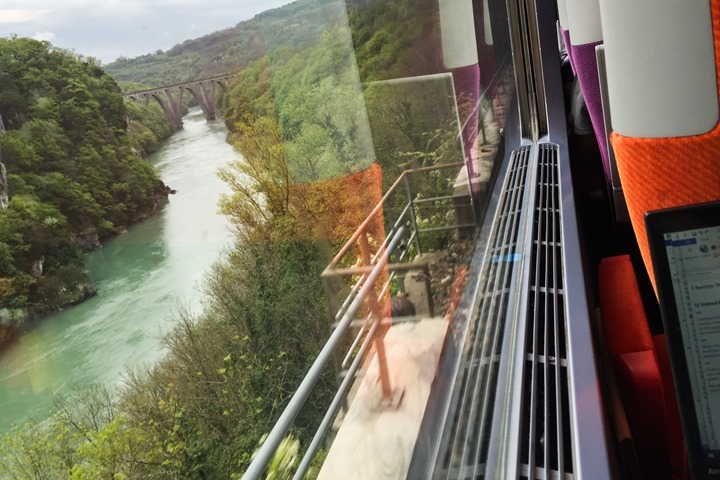 I had gone down to Aigle, Switzerland on Thursday morning, to spend the remainder of the day there. While the exact reasons I was there I'll have to hold off for a little bit longer, I did get the chance to explore around a bit – as well as go out on the velodrome. This is the same track that held the 1-hour world record attempts back about two years ago that kicked off the numerous other recent world record attempts.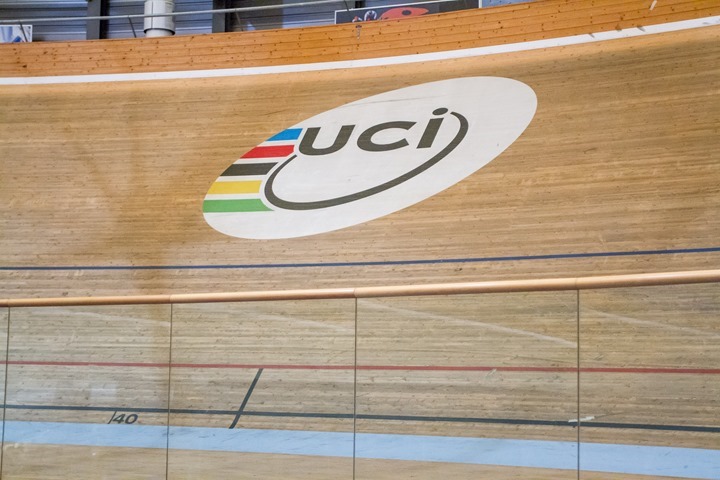 While I have some really awesome 360° video on the track with the 360Fly (such an awesome use of a 360° camera), that'll have to wait too, since it shows too much of what I was doing there. So here's a sorta fuzzy shot that doesn't give away too much.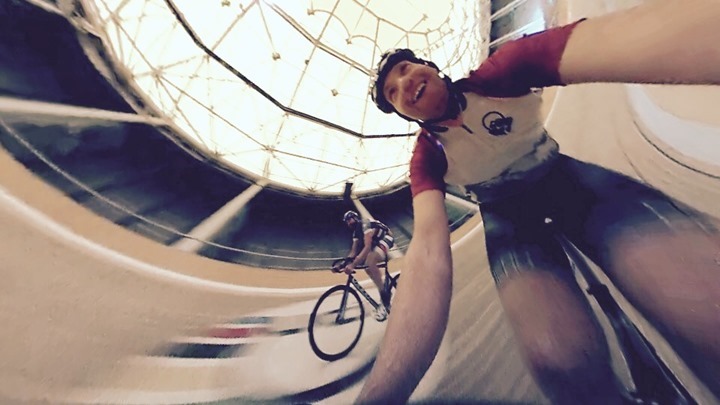 I'd also point out that I was rather happy that I managed not to crash on the track (both for my benefit and the track's). I was riding a true track bike, which means you must keep pedaling. Being single-speed, it's kinda like a spin bike in that the pedals keep going around, so there is no just stopping to coast (clipped in anyway). Nor are there brakes.
But again, all ended well. As did my train ride back home. First meandering through the Swiss Alps, and then eventually into France and onto the high speed rail lines back to Paris. It's impressive to look closely at the front of the TGV trains once they arrive at the station. We should hold a moment of silence for the platoon of bugs that met their fate on the front of my train:
That's all for now.
2) New unboxing goodness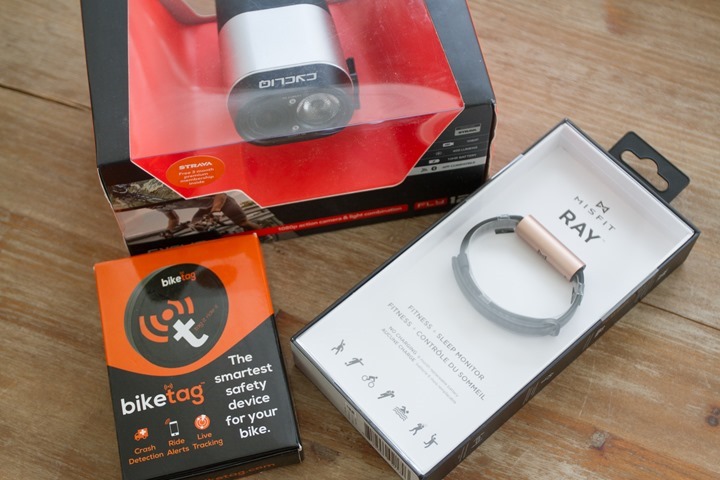 I often lament getting inbound boxes unstuck from French customs. But recently we managed to get one really stuck. Usually I can undo any stuckage (or suckage as it may be) in about 1-2 business days. But about three weeks ago I sent over a box from our US forwarding box and things all went really downhill, resulting in it being stuck in not one – but two quarantine locations for more than two weeks. Yikes!
We finally got it all unstuck on Thursday, and delivered on Friday – allowing me to get around to unboxing a small pile of things that had been growing since February.
It's funny, our forwarding shipments tend to go in bursts. This one sat accumulating for over a month. Yet in the span of last week and this week I'll probably have to courier over three different boxes, based on various time constraints.
Up on the list was the Garmin Varia Vision (you'll remember my post back here about that).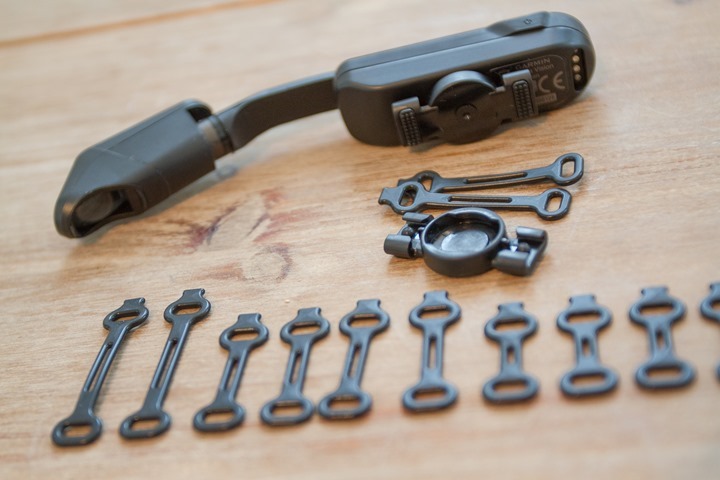 I also had the Cycliq Fly12 unboxing, and the Misfit Ray. With the Cycliq Fly12 I had two units. One that I tore into back in California at Sea Otter, and another for unboxing once I got back. I rode some more with the Fly12 again this weekend. Which is a good segue into the next section!
3) Riding the Grand Prix Formula E Race Track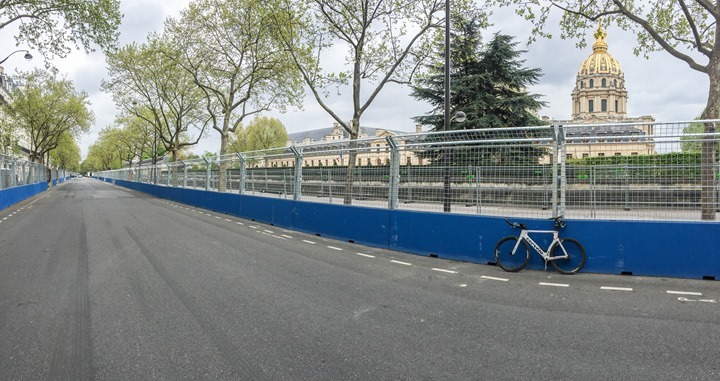 This past weekend was the inaugural Grand Prix Paris Formula E. E standing for 'electric'. So it's like Formula 1 cars…but without the noise or the gas. This video from the organizers shows all the highlights of Saturday.
While I saw them setting up the track last week, I completely and totally forgot about it on Saturday until talking to friends that night and realized I missed it. Entirely.
No worries, I could recover from this! Apparently they weren't set to totally dismantle things till the following few days. So if I went out Sunday morning I'd be able to ride the track. And that's exactly what David and I did. Him on his Vespa, and me on my Cervelo. Same-same, but different.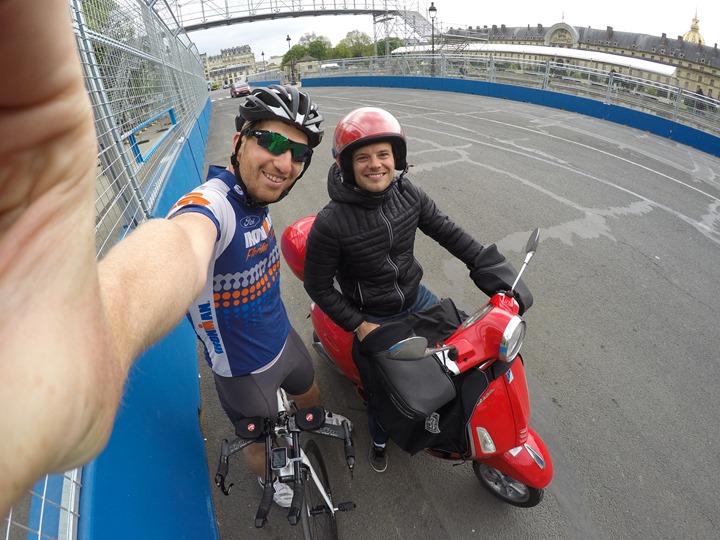 We took turns doing laps getting video and photos of each other. Just goofing around until 12PM when we became pumpkins with our respective wives to get back home.
And if you timed it right, you got shots with no traffic at all in them. Given it's a Sunday…in France, things are pretty quiet in the morning. Interestingly, they had laid new pavement down for this route – which was pretty nice to ride on.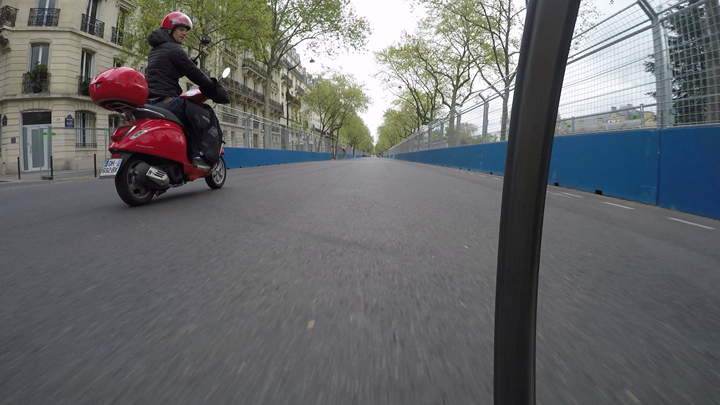 I got a bunch of footage on the Cycliq Fly12 using the new PowerPod TT mount. But I'm too lazy to edit it all right now. So I'll save that for my review later on. So here's just a simple pic of me in the meantime: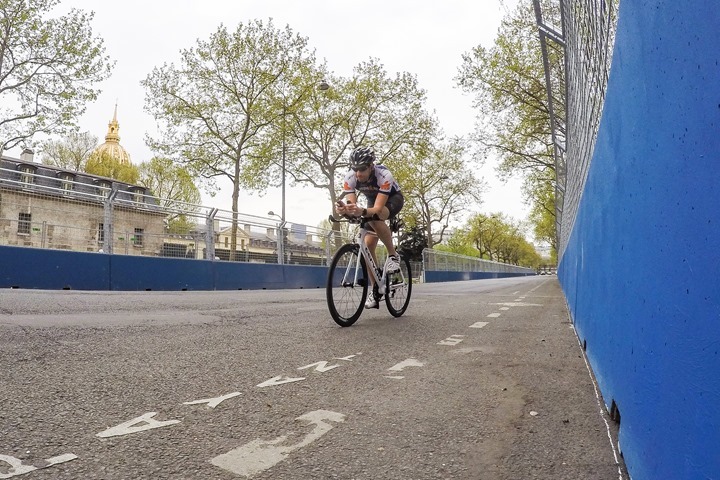 Ok actually, a couple more pics: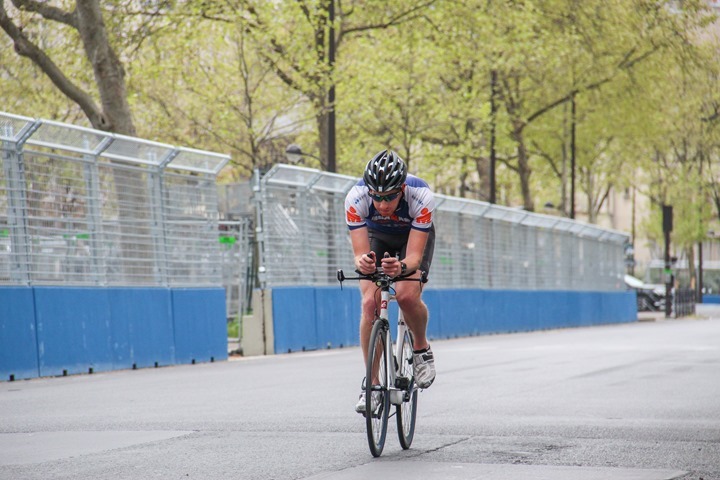 And the best thing of all? We both managed to get home just before it completely dumped out.
4) Lighting up in the DCR Cave
One of the biggest challenges I have in product review photography is what happens when the sun goes down. Or anytime I need to take photos down in the Cave (i.e. trainers). While the cave is awesome in almost every way, one way it verifiably sucks is lighting. When we first built out the cave I argued with the construction folks that there wasn't enough lights. They said it was silly that I wanted more lights. Like many other things with that project, I should have told them to take a hike.
There is definitely not enough light.
Most times it takes a fair bit of Lightroom work (how appropriate, huh?) after the fact to fix the photos and make them halfway decent. And many don't ever make the cut because of the low-light conditions.
So I spent some time researching lights while in NYC at B&H two weeks ago. While I didn't quite find what I wanted there, I managed to find some options on Amazon that I could get shipped in time to California during Sea Otter. These LED panels were nice and lightweight, while also being dual-voltage. Further, they allowed control of both brightness and temperature color. Perfect!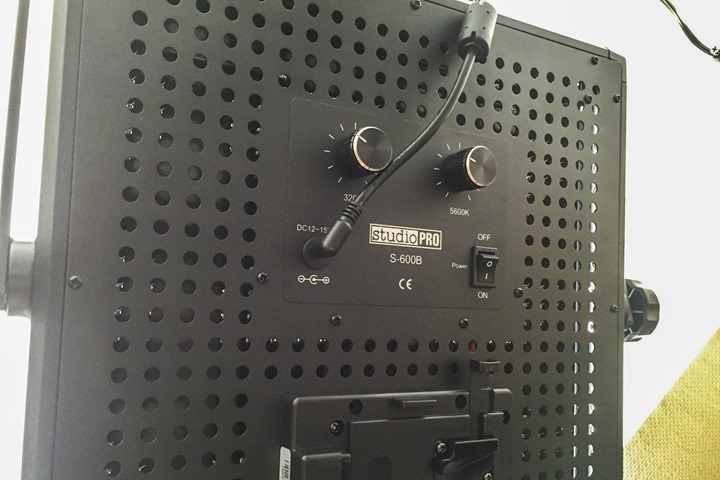 I then picked up a few small wall mount brackets that I could attach to the walls. The challenge with light tripods in my space is there just isn't enough space. I might buy one to use temporarily, but I much prefer them up and out of the way. It's also nice in that I can quickly release the lights and move them around.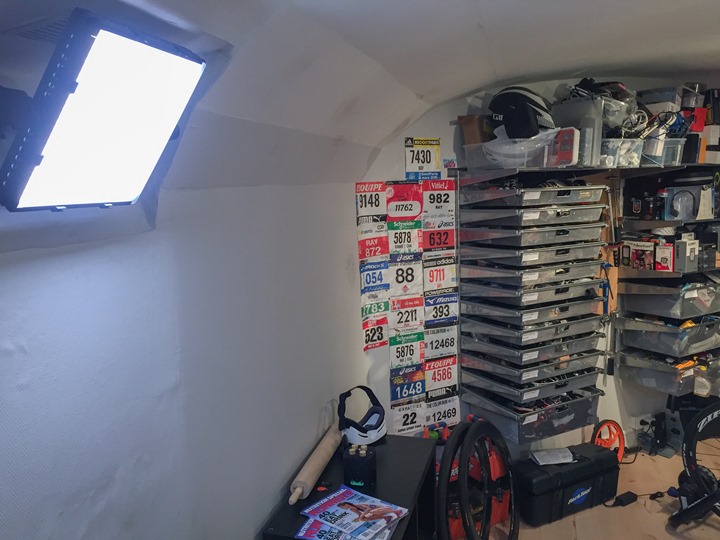 So I bought a few extra wall mount brackets that I'll space around the cave.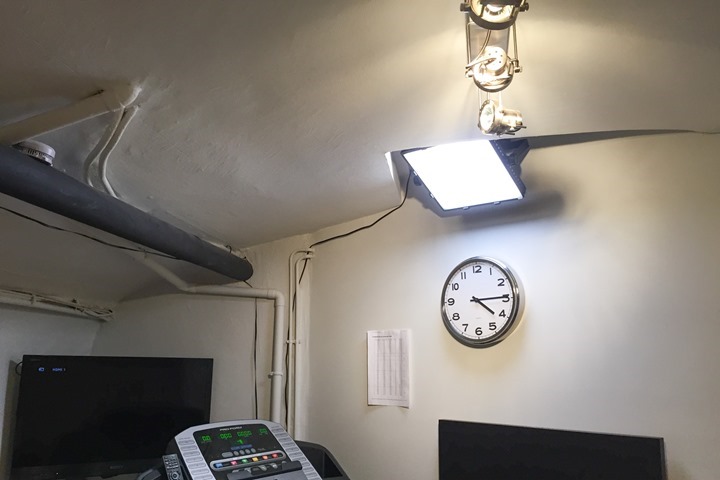 Overall pretty happy with them. They add a ton of light and make it much easier to get the shots I want. I'll have to toy with the exact color balance a bit over the next few days. And obviously, photos of lights will kinda turn out boring. What I hope is less noticeable is how much clear photos in the Cave will be.
Update! Here's a video I shot Monday with the new lights. While still a bit tweaking I can do – so much better!
But so far so good.
5) At the Strada, not Strava, Café
We wrapped up our weekend having a nice brunch at the Strada Café. Yes, it's just like Strava, even with an orange-based logo. Except spelled Strada and not Strava. And like Strava, it's also not French.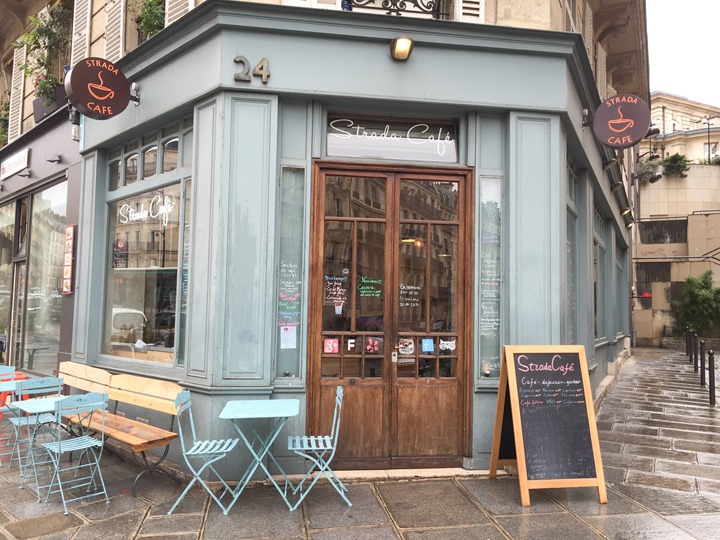 Over the last few months it's become our favorite local café hangout, since it's only about 2-3 blocks from the Cake Studio/DCR Cave. The vibe is more British/Australian than French, but the food is rather good and usually pretty light.
We've never had their brunch before, which is a multi-course affair that turned out to be anything but light. This was pretty much the only thing we'd need to eat all day. After merely the first course (along with fresh pressed juices), I was already feeling full: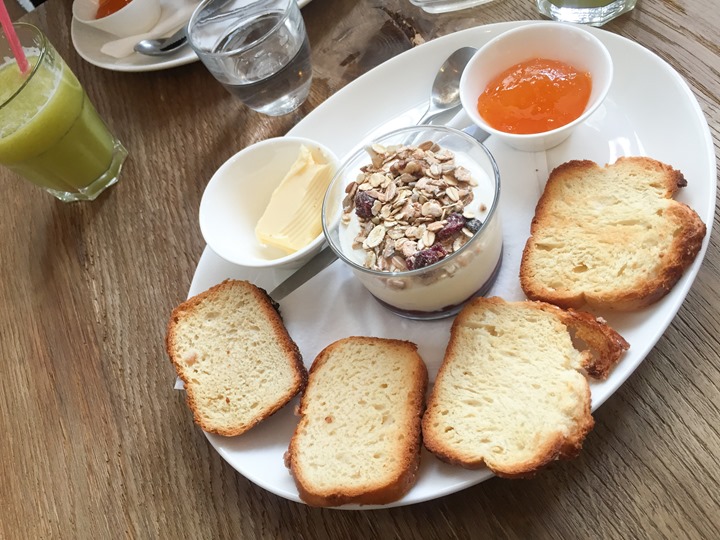 Then there was the second/main course and my giant mug of hot chocolate (included):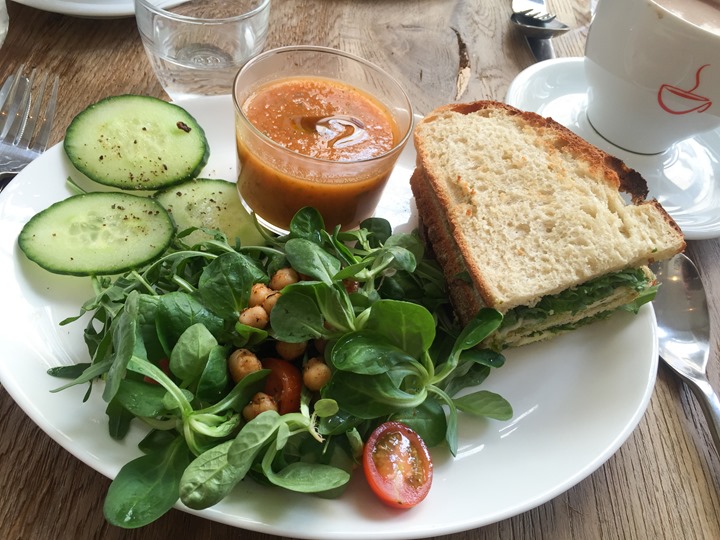 Never mind the finale with dessert: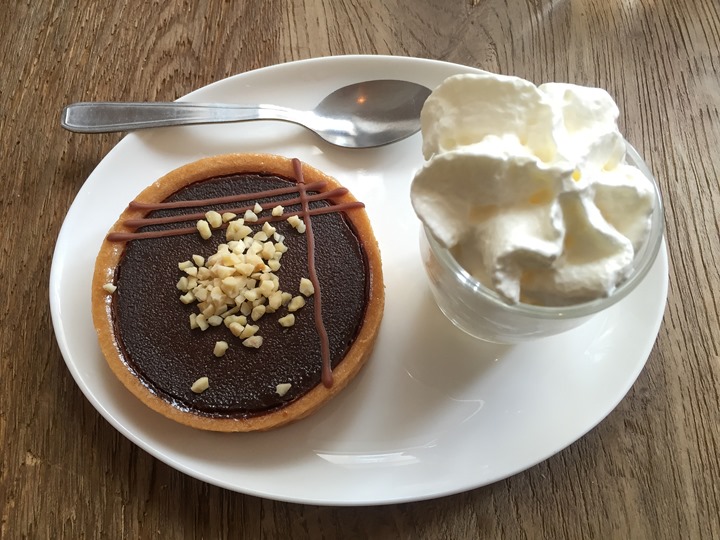 Seriously, my stomach hurts. So good though! Any one of these courses probably would have been more than sufficient for me.
Which reminds me, I've decided to go ahead and add them to my local/Parisian restaurants list. Basically the list of places that we visit frequently and enjoy. There are no doubt more famous places in Paris, but these are the spots we go back to over and over again with super-friendly owners and great food.
With that – thanks for reading, have a great week ahead!