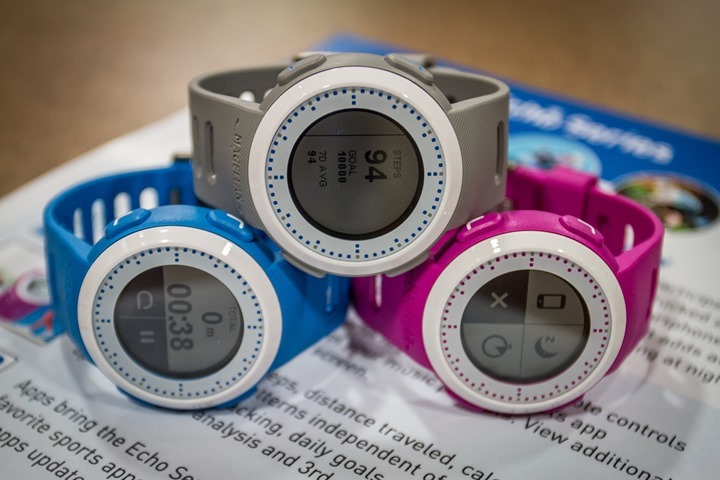 Here at Outdoor Retailer this week Magellan has announced their latest incarnation of the Magellan Echo line, the Echo Fit.  The Echo fit builds upon the original Magellan Echo (which was released about this time last year) and adds in both daily activity tracking as well as sleep tracking – and even a phone-less running mode.
The Echo Basics
For those not familiar with the baseline (original) Magellan Echo, I'll briefly cover the basics.  That unit is like a smart watch in that it depends on your phone for most tasks.  Meaning that it uses the phone's GPS to track pace and distance while out on an activity.  More interestingly though it leverages connectivity to enabled apps – such as MapMyFitness and Strava.  These apps directly integrate with the watch to display pages unique to those apps.  For example in the Strava app you'll get notified as you complete Strava segments, in real-time.
The Echo connects to your phone (iOS and as of last week, Android too) via Bluetooth Smart for all of its data needs.  From there it uses that channel for displaying not only pace/distance/speed, but also any paired sensors like heart rate, cadence and even power meters if you have one paired to your phone.  Essentially the Echo acts as a blank slate for app developers (like Strava) to do whatever they want with the device.  There's even a swanky golfing app for it.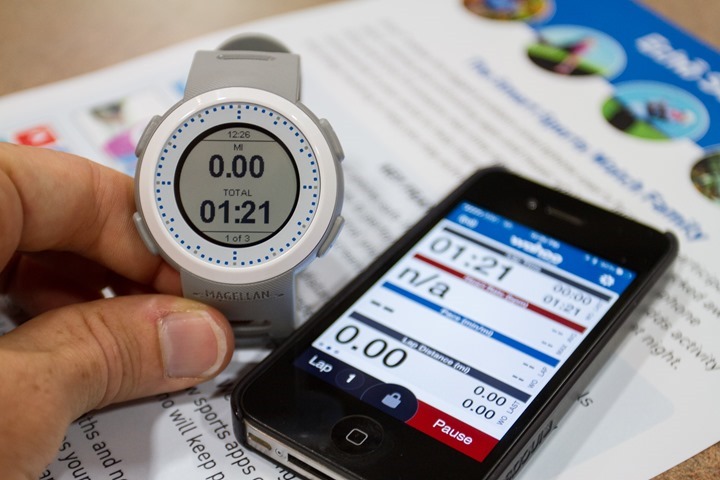 New Echo Fit Features:
But that's all stuff that's been there a year – let's talk about the new stuff.  To start, the unit adds in an accelerometer that's used in two core areas.  The first is daily activity tracking, making it like a FitBit or a FuelBand.  The unit will track your activity 24×7 and display it on a page on the watch.  Note that the user interface isn't quite 100% final, so you'll still see some minor tweaks between these photos and final availability.
Some of these new functions are available from a menu page that's accessed by holding down the upper left button for a moment.  You can then see the sleep option for example, as well as a timer mode.  For daily activity tracking you only need to just tap the other left button to access at any time.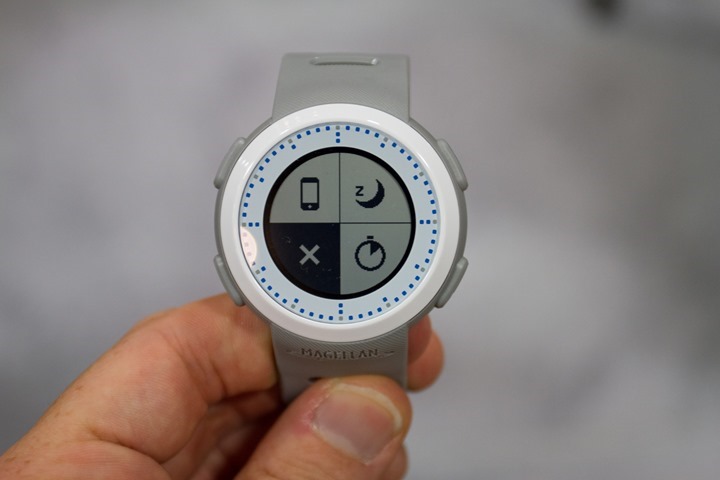 Note that the unit depends on a replaceable CR2032 coin cell battery, and the Echo Fit is designed to last about 8 months (versus the 10 months for the original Echo).  After that you'll simply pay a couple dollars at your local drug store to get a new CR2032 battery and swap it out.
Below you can see the step counter page.  It shows my goal (which I can define), as well as the number of steps taken.  Along the left you'll see a progress bar that fills up as I make progress towards my goal.  Finally, you'll see a 7-day average of steps.  I think this is a cool addition I haven't seen elsewhere on other units, and helps to balance out high step days (walking a convention floor) with lazy days (every other day of my life).  Thus helping me to see what things really look like.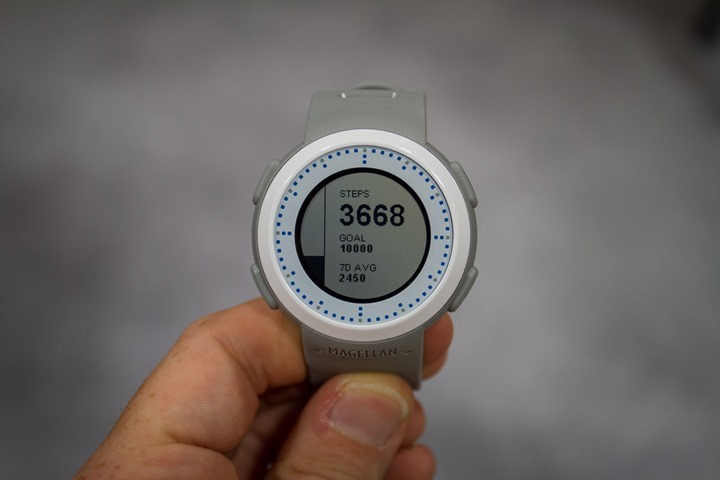 While not shown yet on the above screens you'll also get distance (walked) as well as calories.
Next, they've added in a sleep tracking mode.  You'll start the sleep tracking manually via the menu shown two photos prior, which then takes you to the below page that starts the sleep tracking system.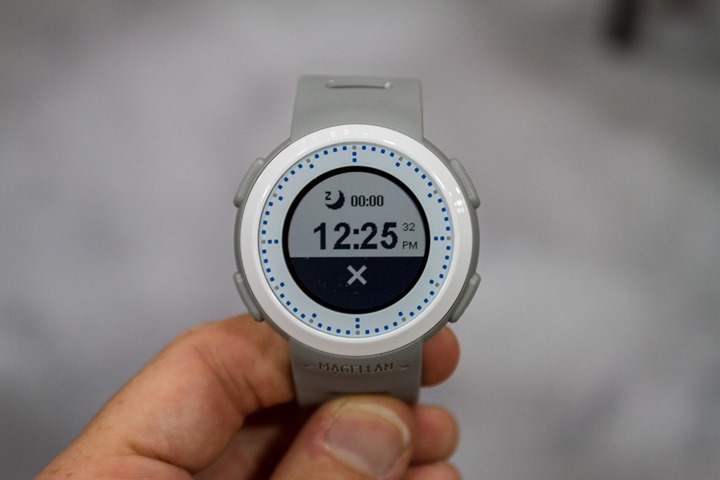 In the morning when you wake up you'll end the sleep tracking mode.  This will then be shown 24×7 as a page just after the step counter page, where you can see your actual sleep that day – your goal sleep, and then also the 7-day rolling average.  Again a useful feature particularly for me as my sleep patterns seem to be pretty sketchy.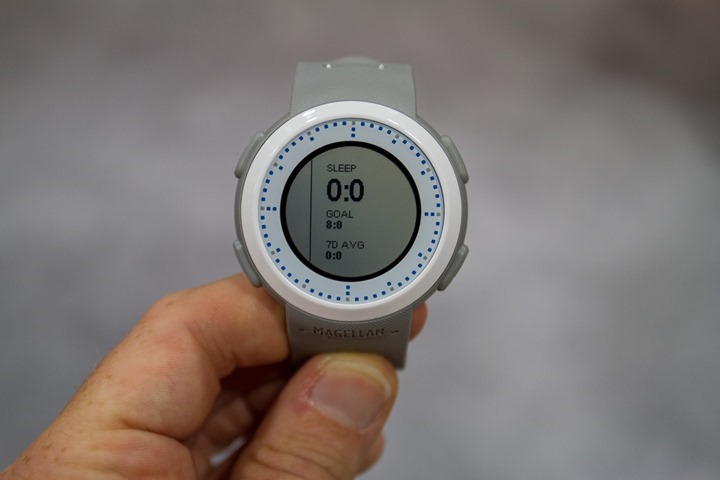 Next, they've introduced a new phone-less running mode.  This mode allows you to run without the phone and get accelerometer based distance and pace metrics.  This is similar to many other watches that have come on the market in the last 12 months that have introduced wrist-based pace and distance.  In most cases I'd give those watches 'grades' between a 'D' and a 'B+' in terms of accuracy, but, I have seen continual improvement from all manufactures over the past year – so I think in time it'll be pretty solid.
This mode requires no phone be on your body while you run, but at the same time won't show a GPS track afterwards.  I asked what the accuracy level looks like here and it's something they're still narrowing down.  Fear not, it'll be an area that I test out in more depth as part my review this fall.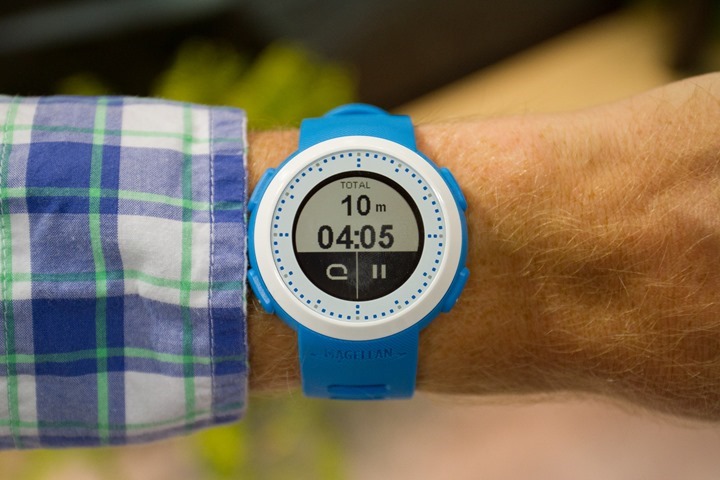 New Features for both Echo Models:
Note that while none of these accelerometer-dependent features will be available on the original Echo (because it lacks the hardware inside of it), there are some features coming to the original Echo via firmware updates.
First up is that both Echo and Echo Fit will get an update later this fall (around November) that enables smart phone notifications from both iOS and Android.  This means you'll get visual alerts from your phone for things like incoming calls, text messages and any other app that uses the notifications center (such as Facebook or airline apps like United).
Second is an update that was just pushed out recently that adds in a new timer mode.  This mode is available on the original Echo units and allows you a basic timer.
Pricing and Availability: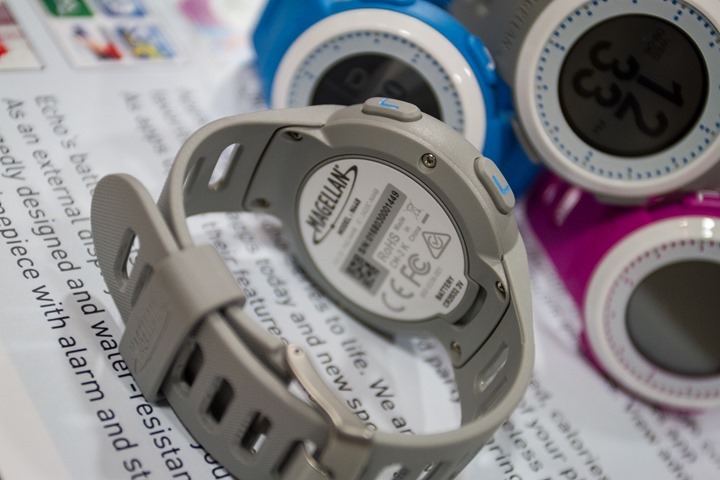 Almost last but not least is pricing and availability.  Starting on August 15th the original Echo will drop in price to $129US (without a heart rate strap).
Meanwhile, the Echo Fit will be available in October at $149US without a heart rate strap, and $199US with a heart rate strap.  It'll be available in all the below colors (blue, black, purpleish, and grey).
They'll be working to establish major partnerships for uploading the calorie/step data (they already have it present for the athletic data), hopefully in time for or around launch.  Right now they're just sorting out with some of those companies the best way to present/send that data to them (an item that every activity tracker company that comes into the market has to solve).
My Initial Thoughts: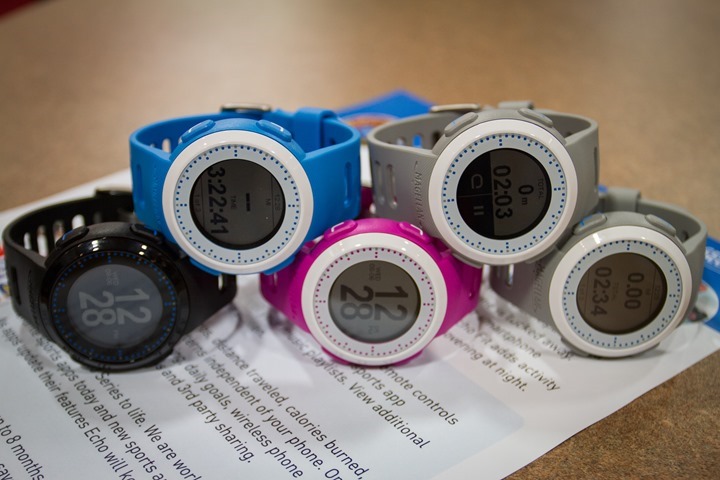 To me this is a natural evolution of the Echo lineup.  It immediately makes it competitive to other activity trackers on the market, especially those targeted more at Fitness – even more so when the smart notifications show up.  Further, since it already has a ton of app-driven screen functionality it offers a unique twist that others can't match.
At the same time however, I do wonder if it'd do significantly better just a bit cheaper at $129US.  That would put it in line with units like the new Timex Move x20 as well as with the more established Garmin Vivofit and Polar Loop.  Now all three of those lack the app functionality, but that's functionality that's harder to explain to most consumers in a retail setting – but easier to demonstrate once they start using it themselves.  Thus a lower price point might get the ball rolling a bit more.  But again, just my two cents.
With that –  like most other products I'll be aiming for an in-depth review around the time the product hits retail availability later this fall.  And as usual, feel free to drop any questions below – thanks for reading!