Woot, a weekend back home!  Lots of goodness the past few days, which have included a holiday here in France on Monday.  I'm starting to get the hang of having holidays every two weeks – that's my kind of style!
1) Me, the pool, and my closest of friends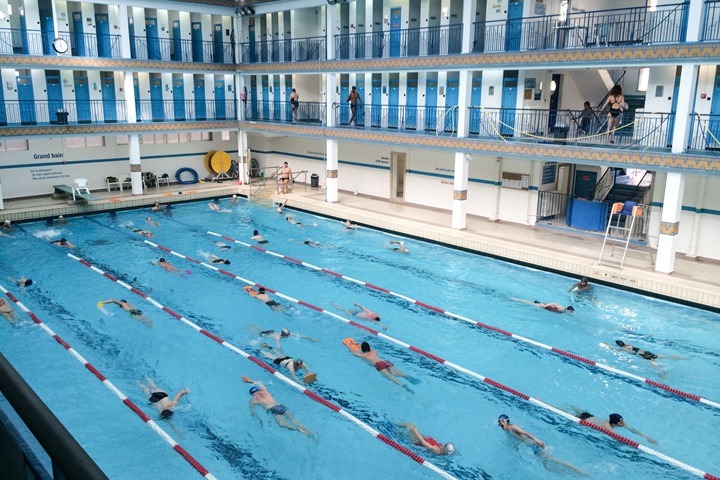 With a triathlon on my schedule for late July, I've redirected some of my training effort into the pool (it was previously rather run-heavy).  Of course, as I've discussed before, that means battling it out in the lanes with a million people at once.
I did discover this past Friday evening though that if I go right at the 4:30PM evening opening time it was only 4-6 people per lane, versus about 45 minutes later it was 10-12 people per lane.  Thankfully I think school vacation starts here shortly, which means the pool is open all day long, so going earlier in the afternoon should help out.
Post swim on the short few hundred meter walk home I hit up our favorite boulangerie for a hot baguette.  Not all of the baguette made it home…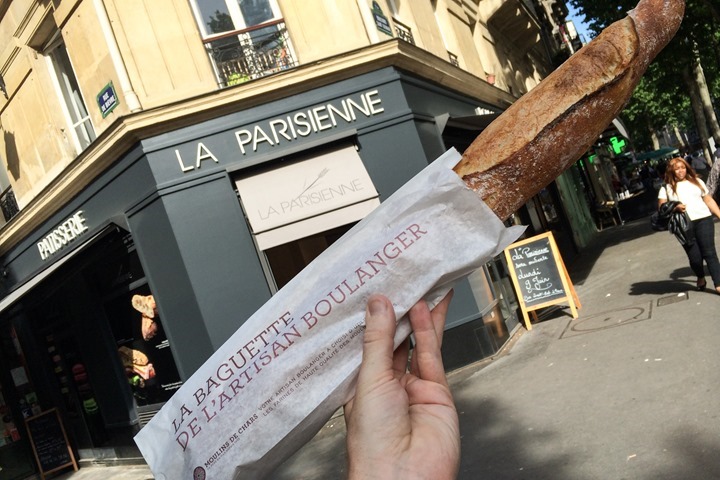 2) A hot evening run
After doing a crapton of walking on Saturday during the day walking errands (my activity counters put it at about 8 miles), I was ready to brave the hottest day of the year and head out for a run.
My run was only about 11 or so miles, and thankfully just easy Z2 pace (roughly 7:30/mile in this weather) – so it was pretty enjoyable.
Even better was that The Girl decided to come along on bicycle, sorta like when I accompany her on a bike sometimes when she's out running.
The most skillful moment of the ride was when I managed to midflight refuel her from my CamelBak while I was running and she was riding (obviously, we couldn't stop!).
As we got back to the house, the areas along the river were absolutely packed with people.  This past weekend, and perhaps next weekend, will be the most packed that the river will get all year for evening lounging & picnics.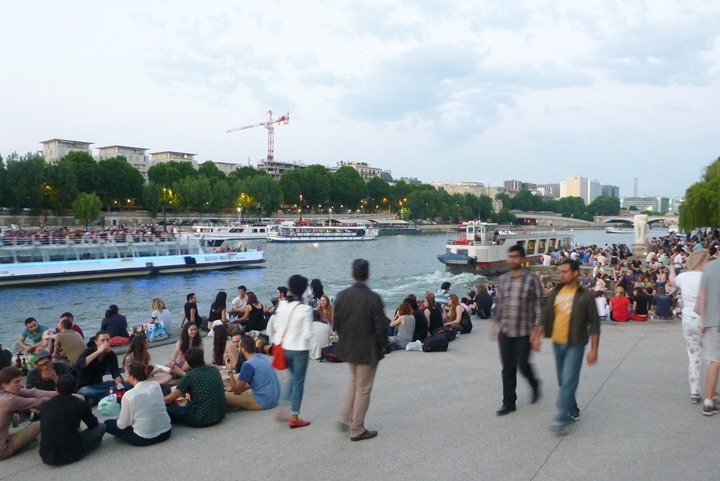 The reason is that after another 7-10 days many of the students will leave the city, and then shortly thereafter many Parisians do as well for the summer.  So while the tourist numbers will dramatically increase in about 5 days, the local numbers will decrease.  And it's mostly the locals that hang out at night along the river with self-made picnics.
Here's a photo I took at the end of my run from the bridge near the house: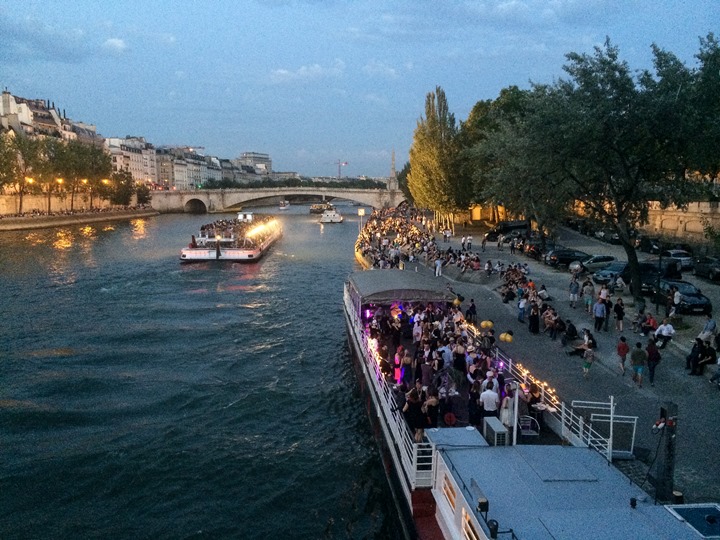 3) Enjoying restaurants around town
If there's any problem that's not really a problem it's that we live in a locale with a plethora of restaurants.  As such we sometimes fall in the rut of eating from the 'usual' places because we know the food is good there (or, more likely, know the owners).
This time though we ventured out of our little bubble a short 20 minute walk away to a solid restaurant across town for dinner, enjoying part of the meal inside and then as a table opened up the remainder outside in a bit of a courtyard.  Totally awesome food, and definitely worthwhile adding to our 'favorites' list.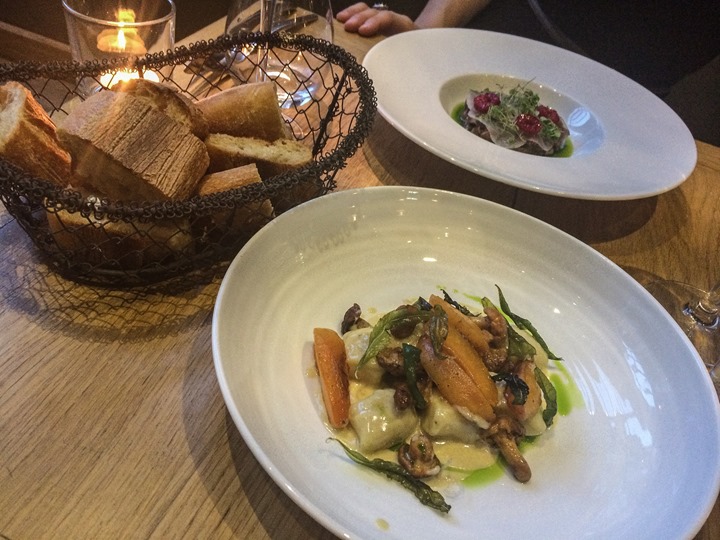 In a rare twofer of restaurants on a weekend we also went out Saturday morning to breakfast (super-rare for us actually).
But, there was one minor problem getting there: The Queen
See, she decided to visit "our" flower market, which meant that the streets were all a little bit hosed up. And more importantly, the metro stop where we planned to board was closed.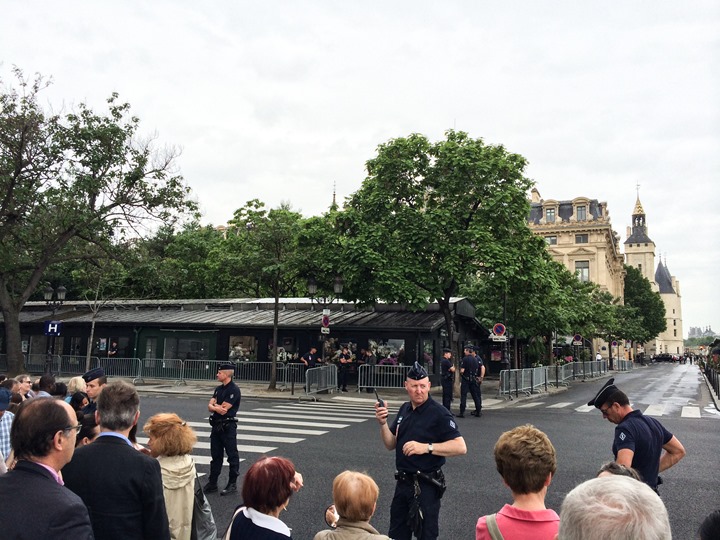 While we probably would have waited around to see her, we didn't actually know how long she was going to be there – and didn't quite want to wait forever.
Later on that day I swung back through to check out the newly unveiled signpost honoring/renaming the flower market after her.  This is the market that we pickup our Christmas tree from each year and then stick it on a bike for the short ride home.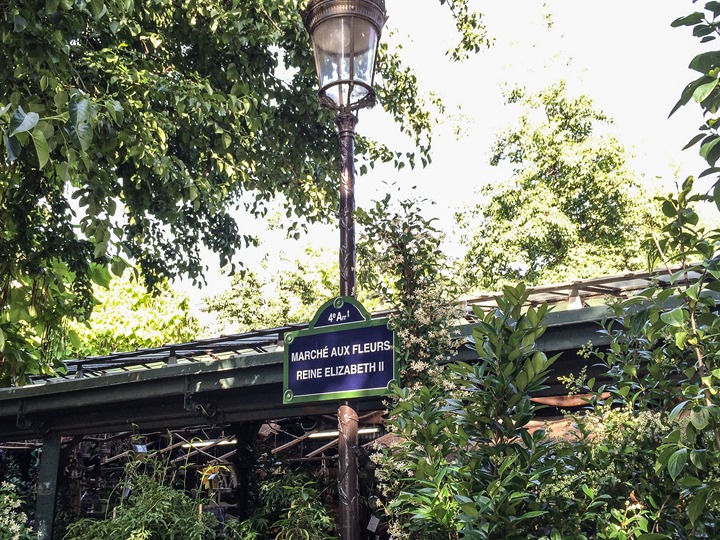 After circumnavigating The Queen, we finally made it up to the small diner for breakfast.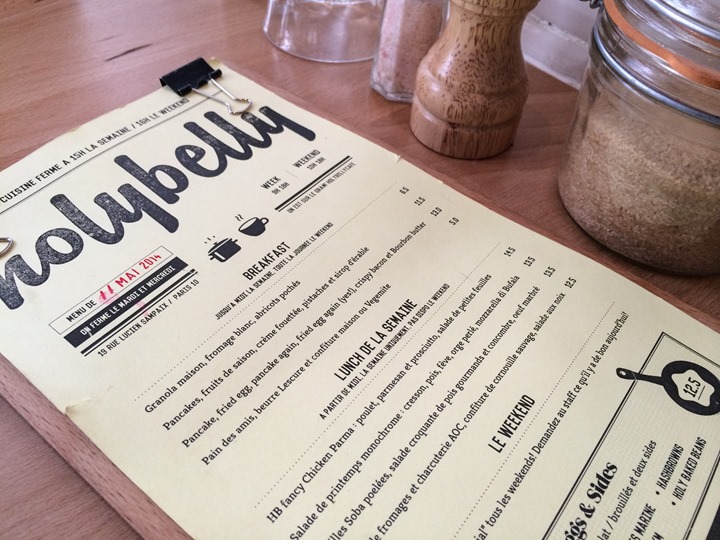 While I recognize it could be hard to tell from the photo below, my dish was incredible.  It's oddly enough the only one listed in English above on the menu: "Pancake, fried egg, pancake again, fried egg again, crispy bacon and Bourbon butter."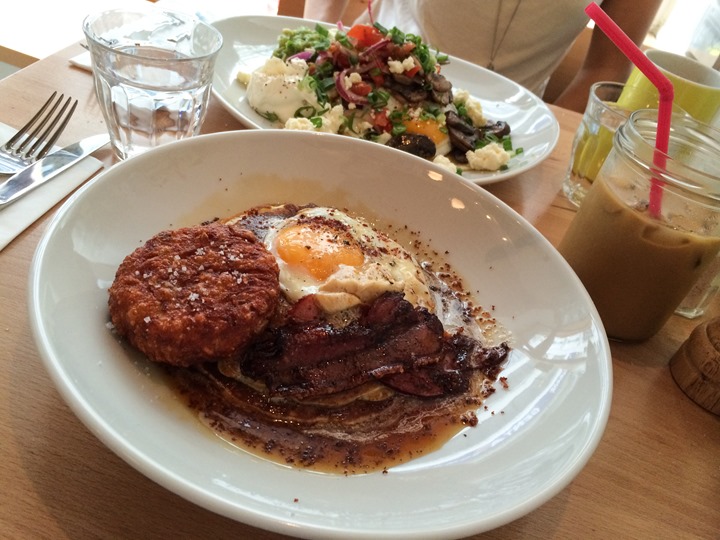 Oh, and I got a hash brown on the side (it's the giant hockey puck thing).  It was brilliant.  The whole thing.  Just pure maple syrup filled awesomeness.  Most definitely going back.  A lot.
4) A long ride to the French Open Finals
Sunday morning was long-ride time.  The ride was scheduled around 2ish hours (so, not terribly long), but all in it ended up being closer to three hours simply due to getting to/from the better training areas.
On the way outbound as part of an extended warm-up I passed Roland Garros, where the final matches were set to play a few hours later.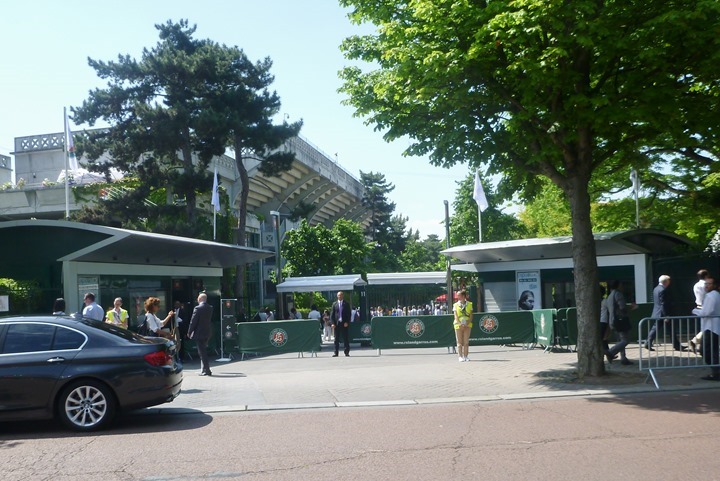 I'd continue on out of the city in a rather non-direct manner to Versailles, which would be my turnaround point.  The place was swarming with visitors on this warm and sunny day.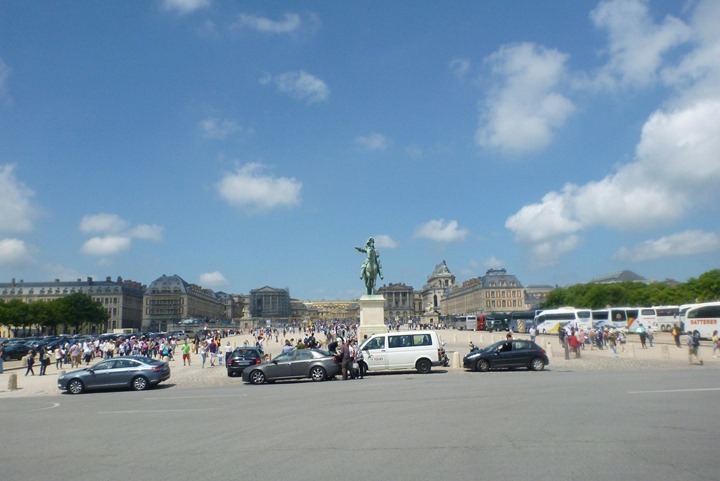 After returning from Versailles I hit up Longchamp to start 2x10min at a higher intensity (about 300w roughly).  This area is perfect for it because it's closed to cars and just has a gazillion cyclists going around one-way.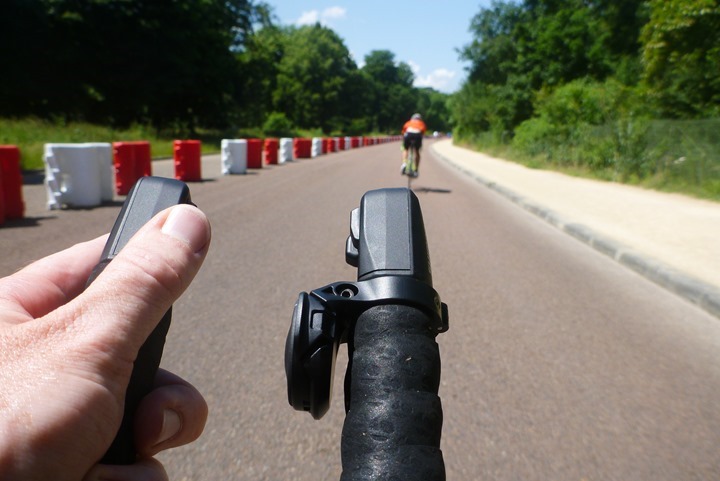 After knocking out the 2×10 sets I was essentially done.  The only challenge is that it's still a 25 minute ride back home from there.
I decided to take a short detour (really, only about 200 yards) on the way home to the backside of the Eiffel Tower (normally I'd be on the other side) to check out the French Open on the big screen TV that was setup on the lawn.  A gigantic tennis ball also hung from the tower.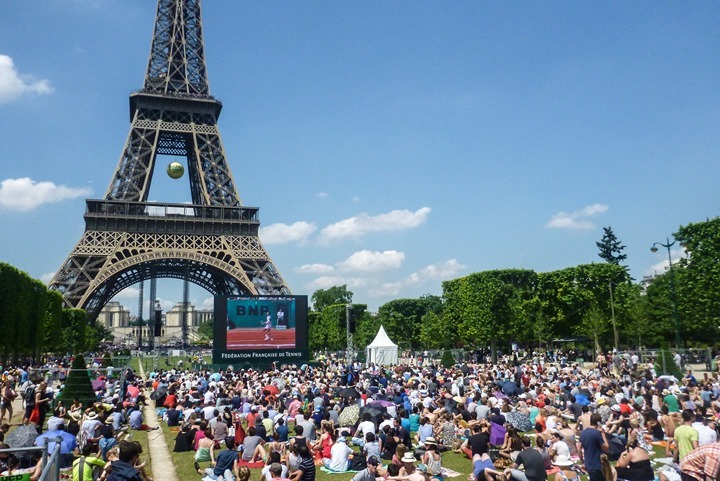 There was a court setup here as well, not for official competition of course – but just there.  Last year this was held over at Hotel de Ville (right near us).  I'd be curious if historically this is at Hotel de Ville, or the Eiffel Tower.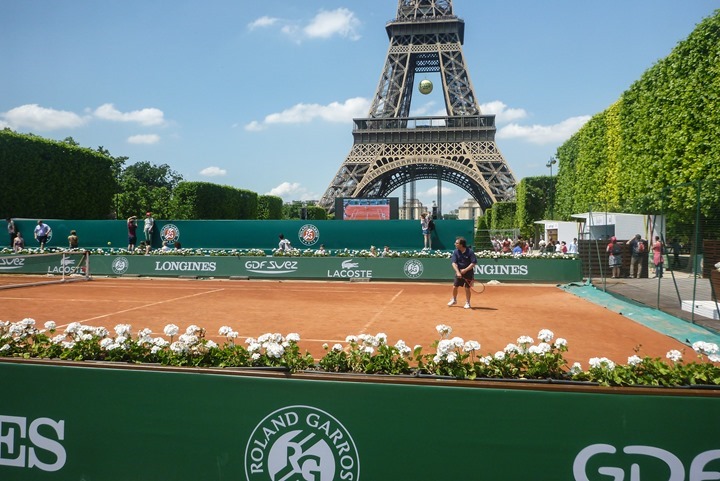 Oh, me…and my bike: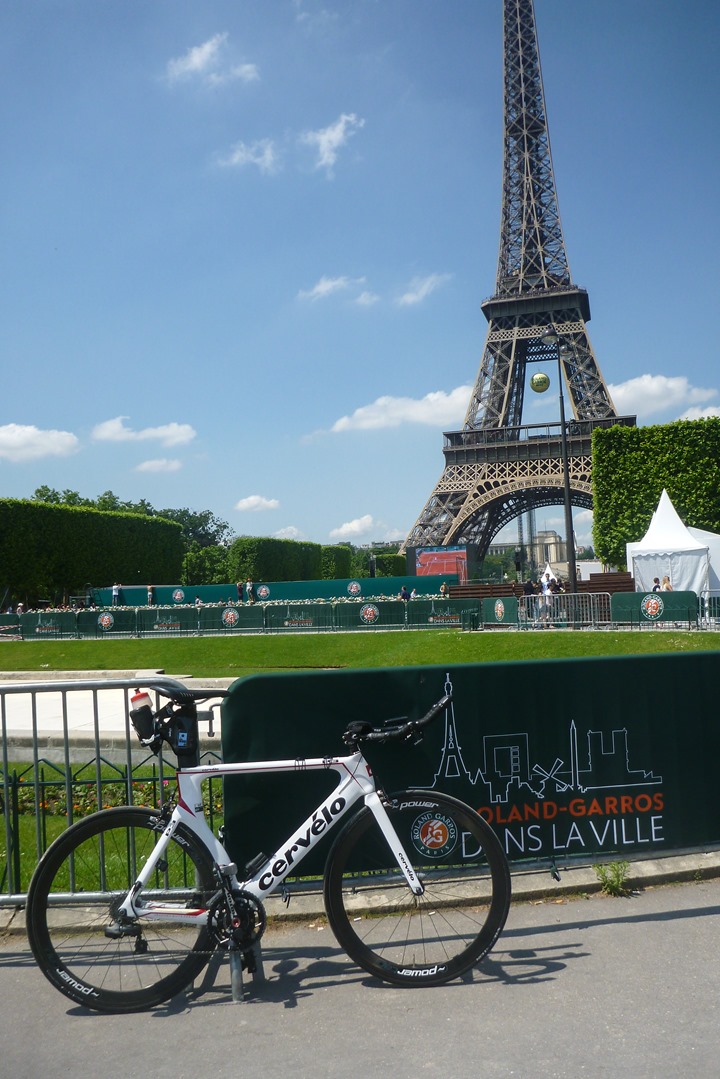 Definitely a nice day for a ride given the warm weather.  Though, I need to find me some better routes again.  Probably time to start taking the train out of the city and riding around there instead.
5) A light show
Finally, while I chugged away Sunday night on my Polar V800 In-Depth Review, a thunderstorm slowly rolled over the city.  The lightshow would last about 3-4 hours for the 'main set'.  While I was pretty heads down in typing most of that, I did take about 15-20 minutes out of it to try and get a few photos from the window, as well as propping up a camera on the roof.
The below turned out to be my favorite: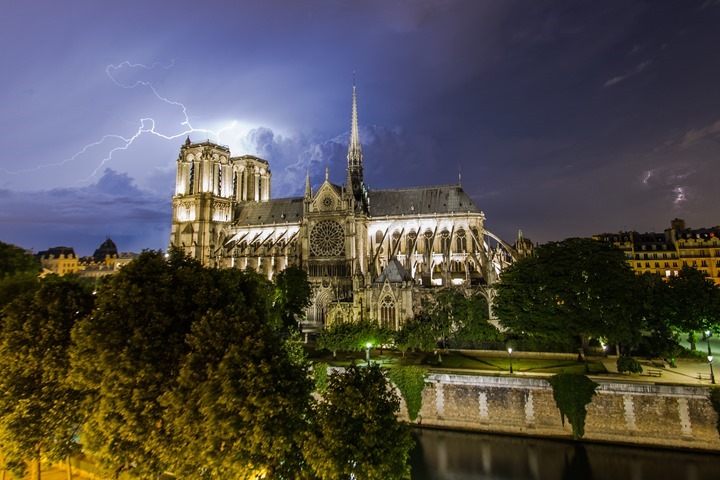 Thanks for reading!