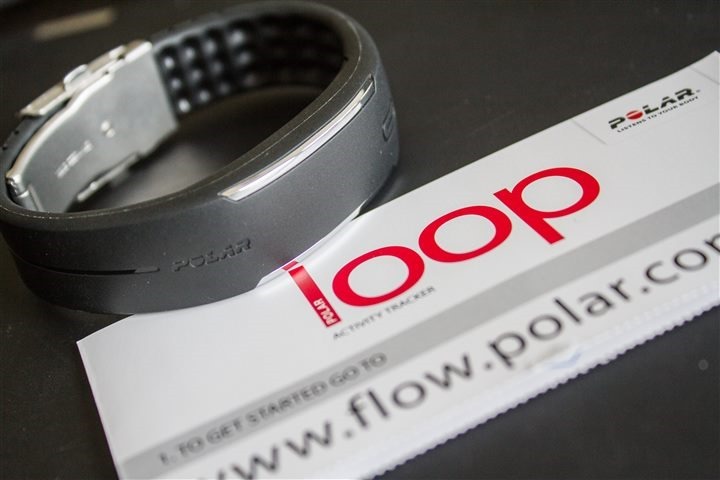 Hello! My Polar Loop In-Depth Review is now published, and can be found here.  Thanks!
Today Polar announced their latest product – the Polar Loop.  This marks a new area for Polar where they're branching into the heath "activity monitor" segment, as opposed to the straight-up fitness markets they've traditionally played a large part in.  The growing activity monitor market includes incumbents such as Fitbit, Nike, Jawbone, Withings, Basis and many others.  While the Polar Loop may look similar to some of those devices, it does have a few interesting differences that we haven't seen anyone else tackle yet.
I've only had a day to toy around with the device, so I thought I'd briefly cover where things stand and where they're going in the near term.  As the device shifts from beta to final retail unit, I'll circle back at that point with a typical full in-depth review.  Like yesterday's first-look post, this isn't meant to replace a review – but rather just to cover the main functions.
Unboxing:
When it comes to the review process, I actually don't very much enjoy unboxing.  Mostly because it's slow and tedious and I have to wait for the light coming in from the windows to be 'just right'.
Thus, I was happy to find that the unboxing for the Loop is really about as streamlined as it gets.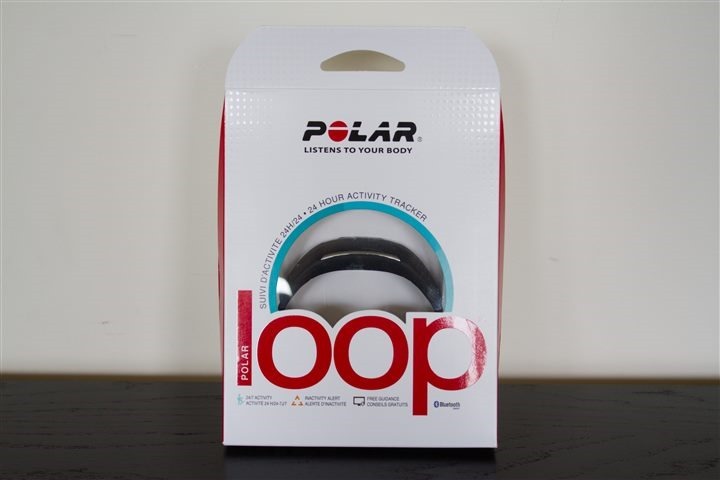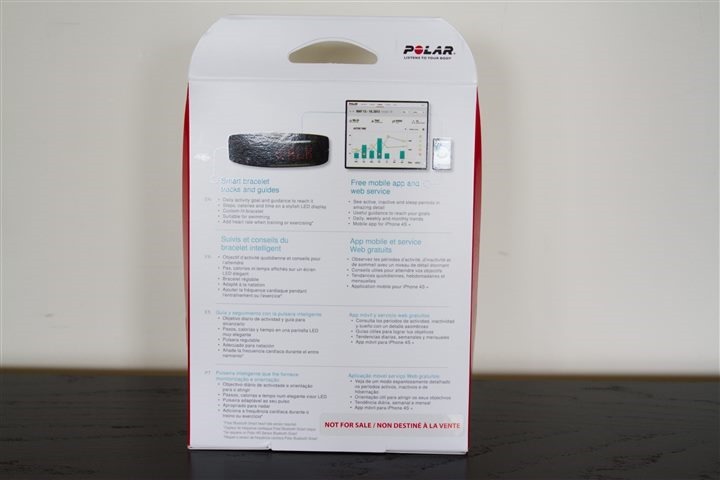 Inside the box is the Loop, a charging cable and a small instruction card, that's it.  Woot to simplicity!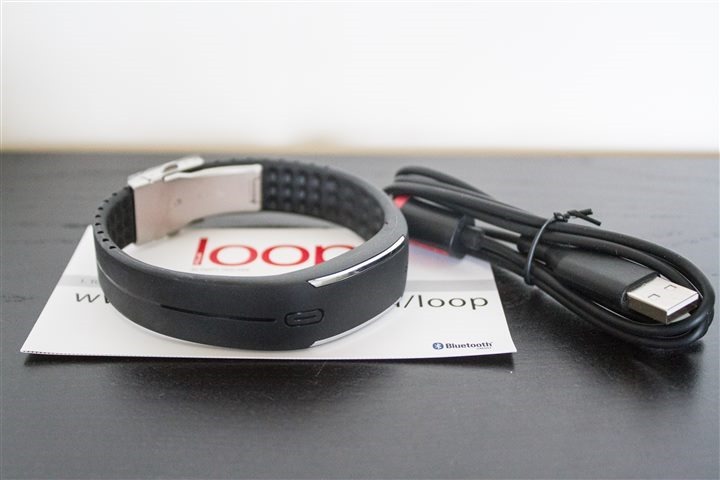 Well, actually, I'd later find this little doohickey was in the box too – but let's not get ahead of ourselves.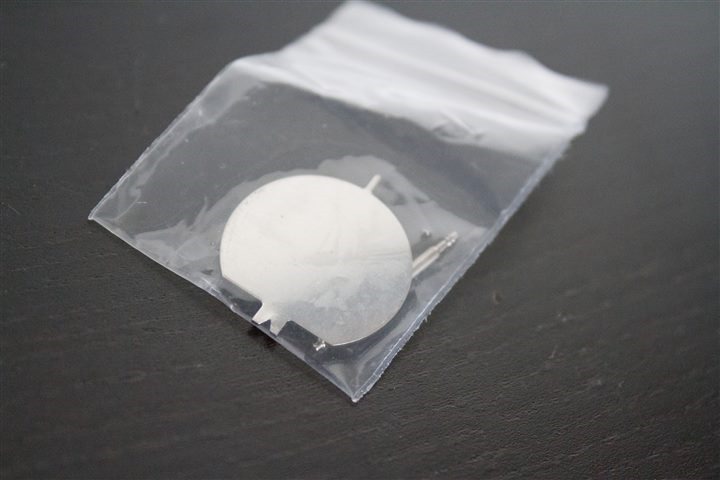 Here's the unit in it's original condition and state: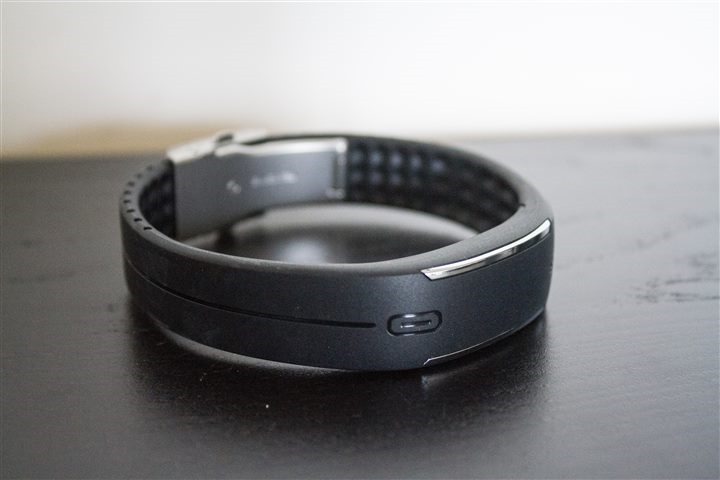 The unit has a clasp that clips in place to allow you to take it on/off your wrist.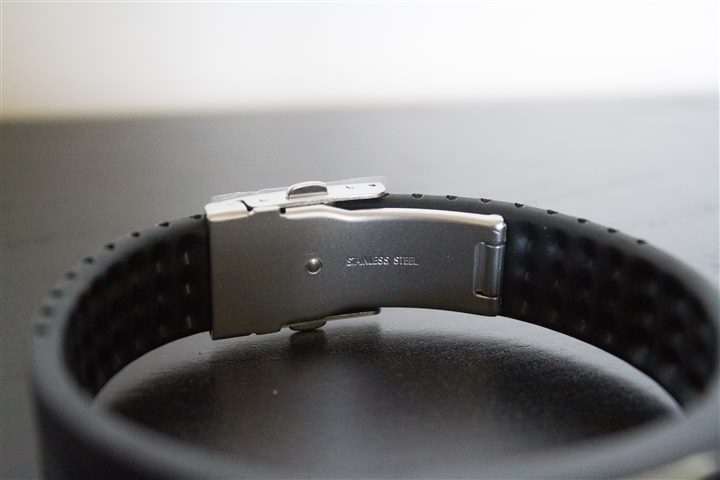 Then, we've got the USB charging cable.   It uses a standard USB port on your computer/wall/TV/XBox, etc… to charge the device.  Meanwhile, on the other end it uses something that kinda reminds me of the S-Video connectors (remember those days?).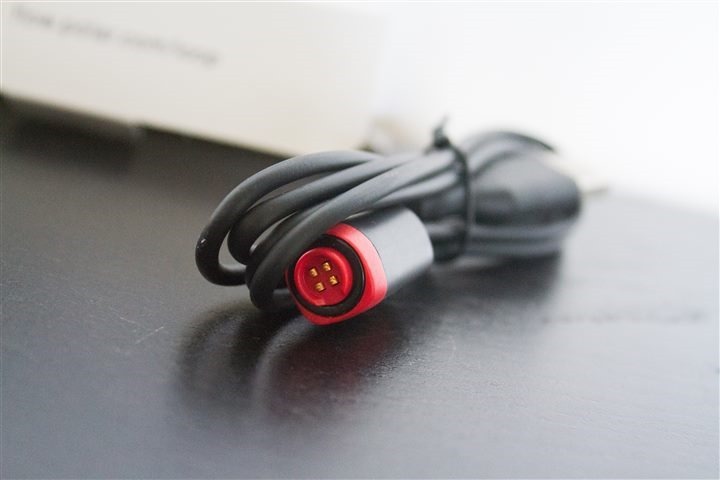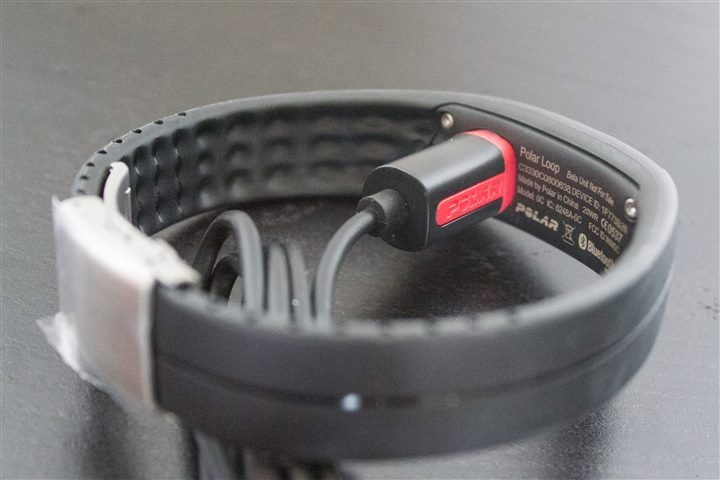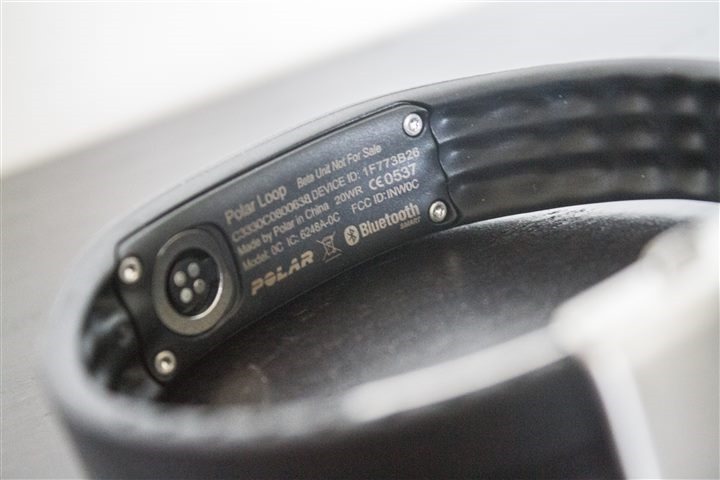 With those two items completed, let's dig into getting the unit setup.
Arts and Crafts Project Time:
Given I lack small children at the moment, I don't get too spend too much time with scissors and rulers.  Or flavored glue sticks.  But today that would change.  See, the Loop comes with a default size that's large enough to affix the unit to Squatch (yes, I'm from Seattle).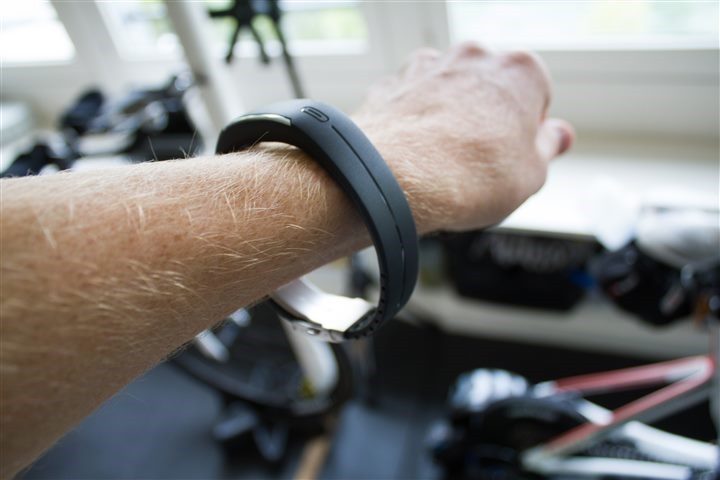 So, you've got to fix that.  While most other players in the market solve this via some sort of clever lego-block style system (Nike), or just different SKU's (Jawbone) – Polar went in the direction of simply requiring you to get out your scissors.  Since The Girl doesn't let me use her nice scissors, I have a $1 pair from Ikea that's all mine!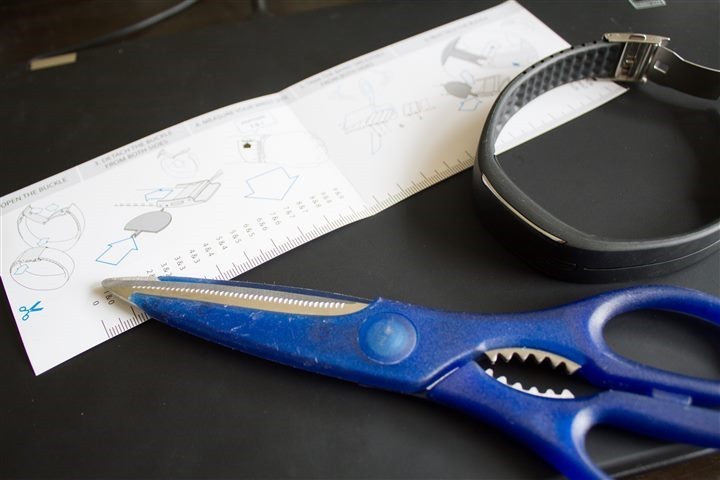 First you'll grab that card from the package.  The card is actually your ruler.  So go ahead and separate it: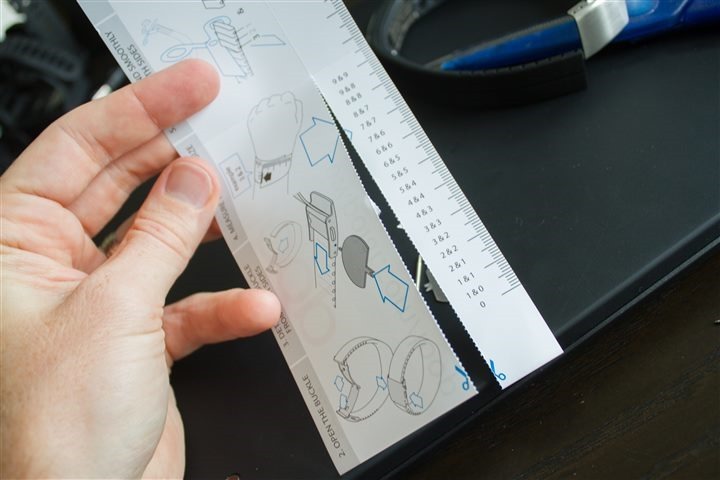 Then, wrap it around your wrist to measure yourself.  I assure you, doing this and taking a photo of it is one of the more difficult photos I've taken during a product review.  Especially when you're too tired to setup a tripod: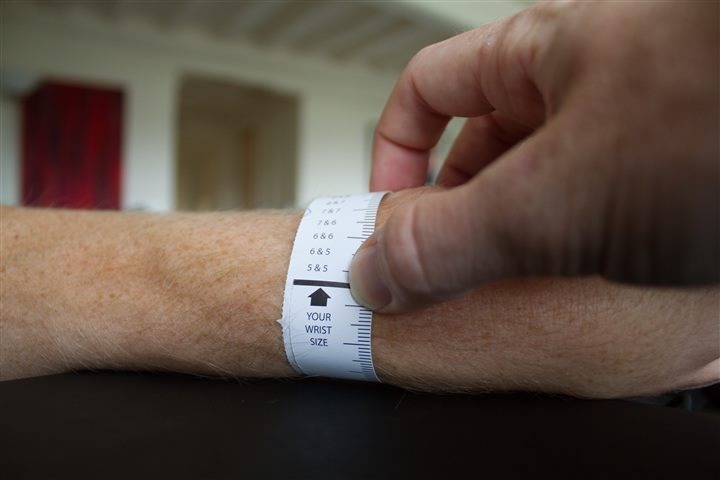 The numbers you see represent how many 'chunks' you're going to cut off from each side of the strap.
To do that, we'll go grab that metal doohickey in the box and poke out the pins of the strap clasp: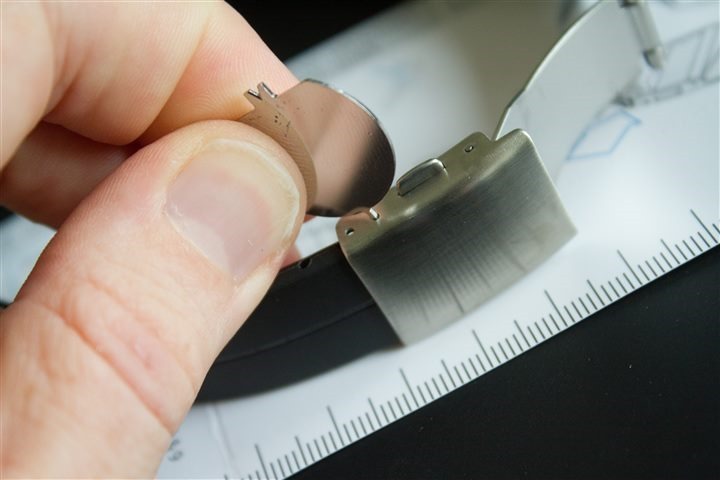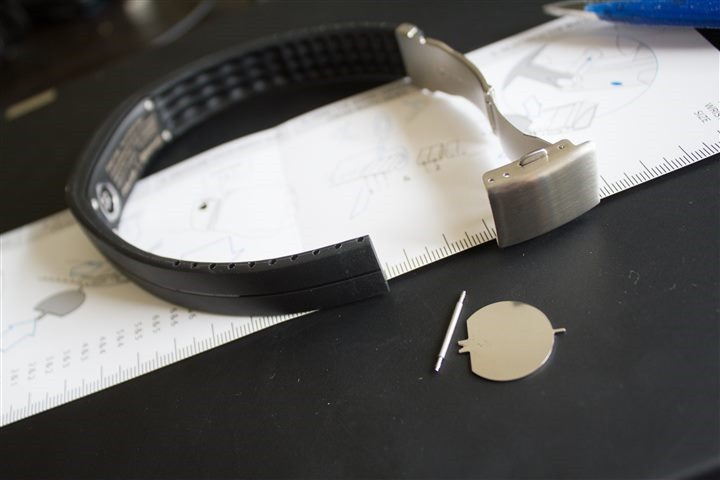 Next, the moment of truth: Measure twice…and cut twice: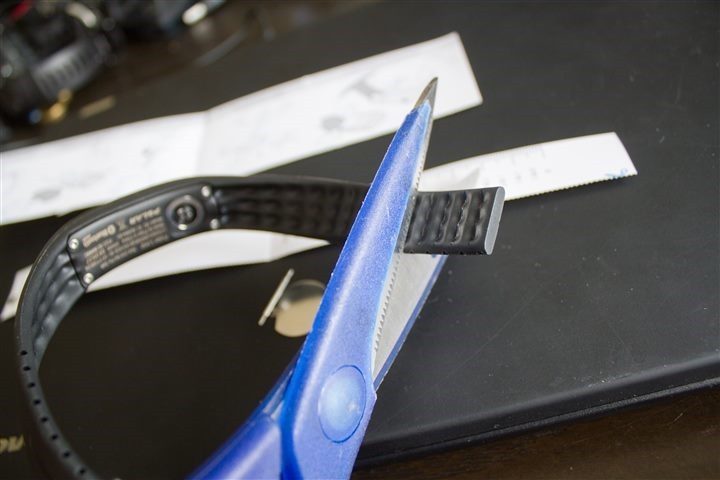 You'll cut the band on both sides to be shorter: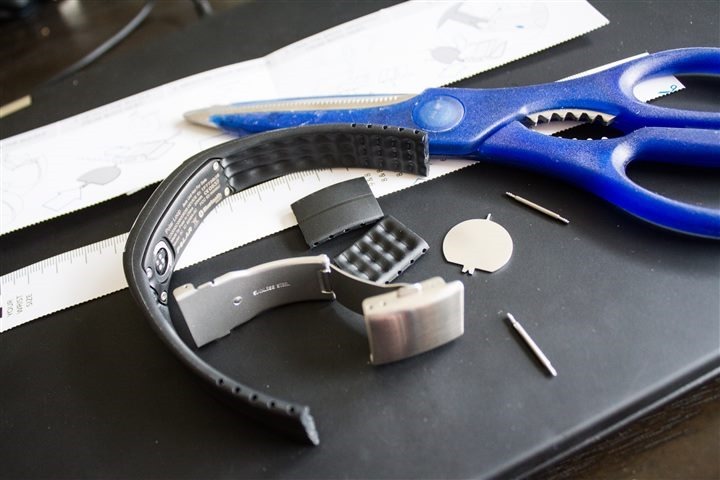 Ok, then grab the metal thingamajig and put the pins back in place: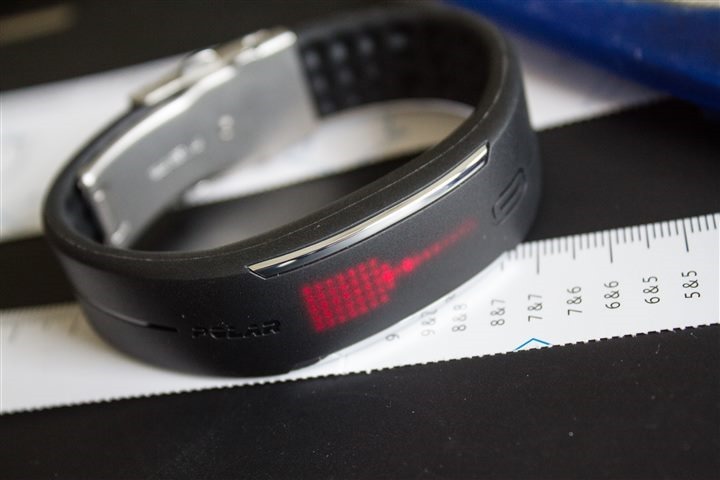 Presto, the right size!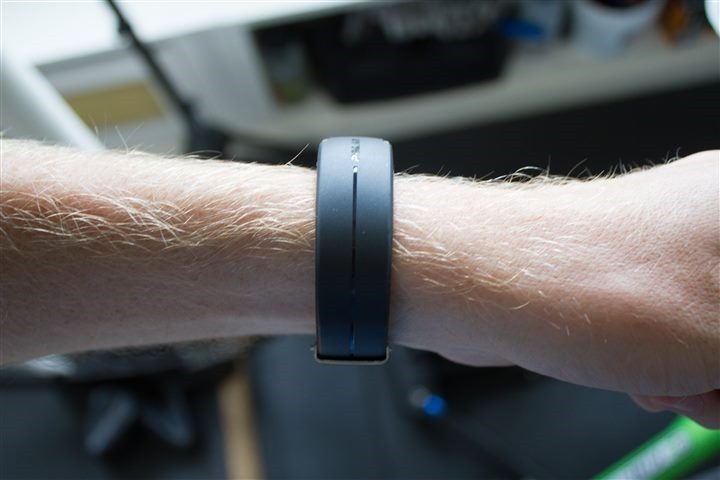 Ok, it actually took me two tries as it was still a bit loose after taking off the initial chunk.  But, nonetheless, mission accomplished!
General use:
The unit has a single button on the front of it, that allows you to iterate through several screens.  Like the Nike FuelBand in many ways, the singular interface keeps things fairly straightforward.
Each button tap will iterate through the different features and then briefly display the state of that metric.
Steps: Steps is pretty straight forward and monitors your steps using the internal 3D accelerometer. It doesn't display actual distance (i.e. miles/kilometers), but just steps.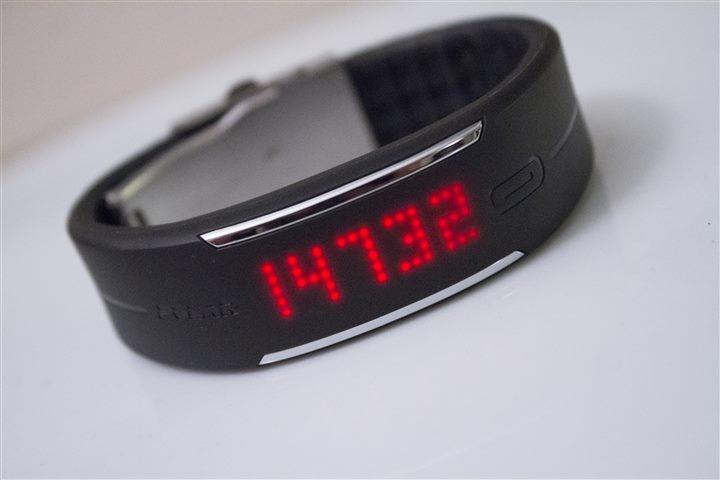 Time: Not much complex here. The time is your local time.  You'll set this via your phone.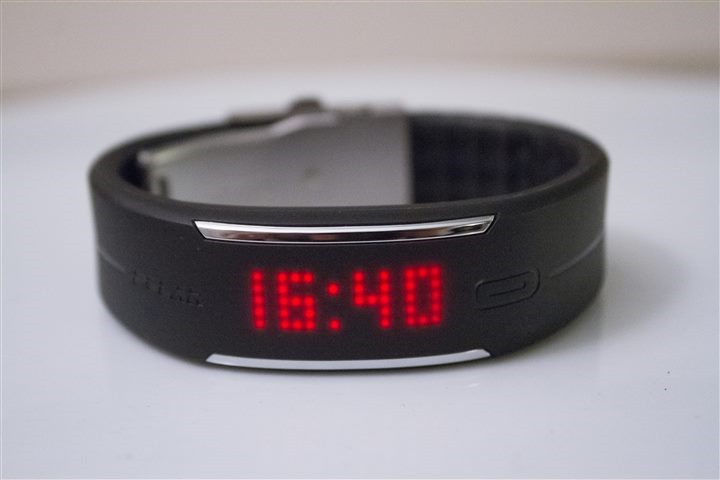 Actv (short for activity): This is field shows you how much activity time you've accumulated.  It starts off with how long you've been awake (since sleeping, since it tracks that), then shows you how much time you've walked and jogged.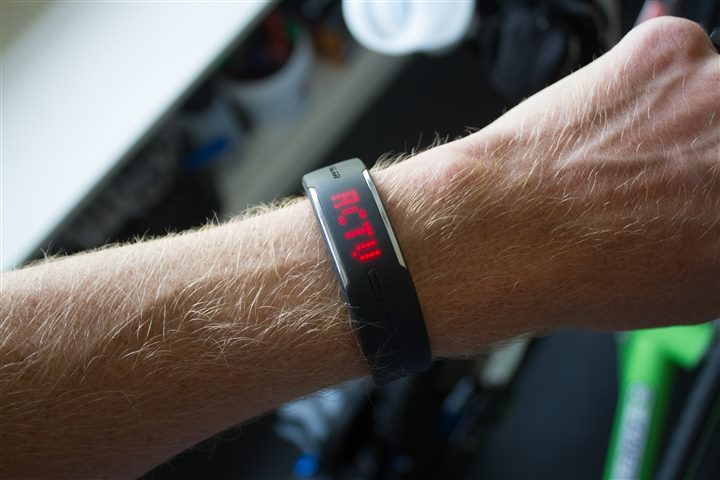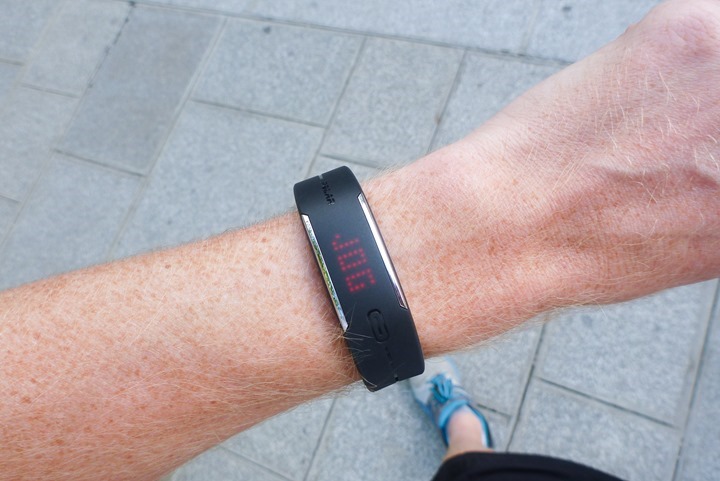 If you reach your goals for the day, the unit will also give you a little fireworks show.  Additionally, it has a bit of a progress bar after displaying the word Goal.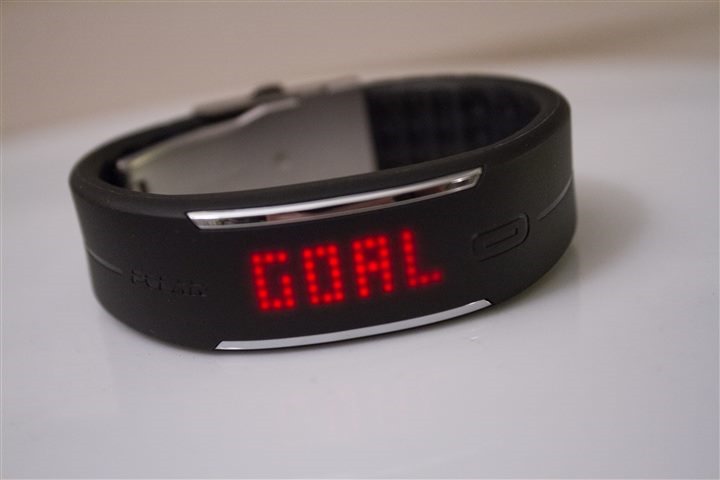 Cals (short for calories): These are calories burned.  Note that if you use a HR strap, it'll use that data instead to determine calorie burn.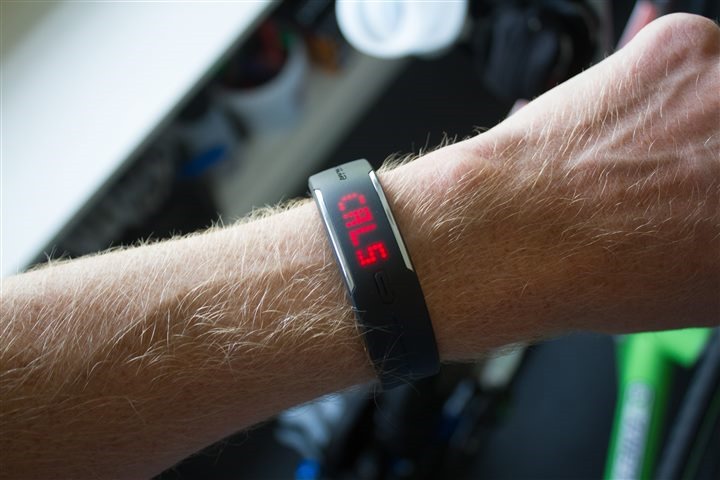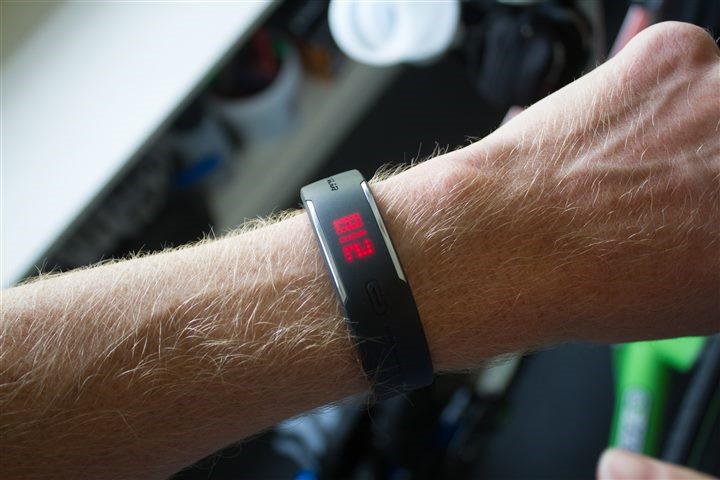 The last function is the ability to track sleep.  It even tells you "Sweet Dreams" (well, it did sitting on my lap writing this post anyway).
In addition you can also briefly hold down the unit's button to plop it into an airplane mode, in the highly unlikely event you remember to do so on a flight.
Pairing with a Bluetooth Smart heart rate strap:
Perhaps the single most interesting aspect of the Polar Loop is the ability to pair it with a heart rate strap.  The challenge with most activity trackers is how to bridge the gap between a device aimed to track day to day walking around the office/home, with that of something designed to track your exercises.  Most activity tracker devices out there today tend to gloss over the exercise piece – especially on calories.
To solve that Polar added the ability to pair a heart rate strap via Bluetooth Smart.  This works with any Bluetooth Smart HR strap – such as the Polar H6 or H7.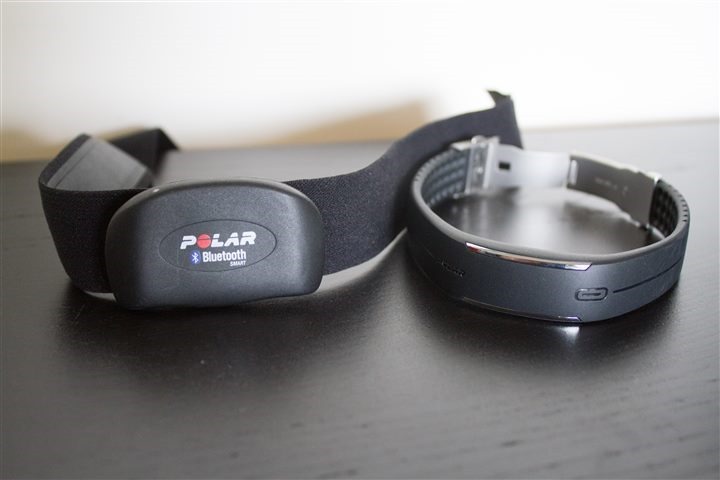 I also tested it on a few other non-Polar branded straps as well (such as the 4iiii's Viiiiva).  Regardless of which brand, it has to be a Bluetooth Smart strap. Not a standard Bluetooth (legacy) strap, nor an older Polar strap. Only Bluetooth Smart (look for the little "Bluetooth Smart" symbol):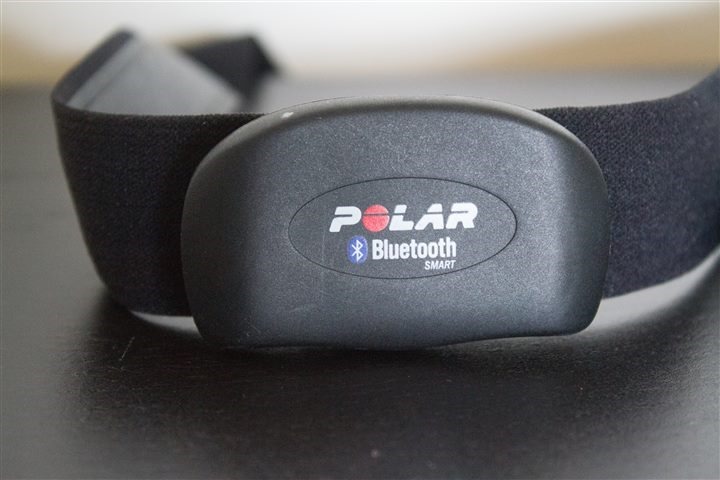 In this mode you'll simply hold the HR strap close to the Polar Loop and then tap the button, which triggers a brief search for the strap before pairing to it.  The Loop will now add your current HR metric into the list of fields you can display.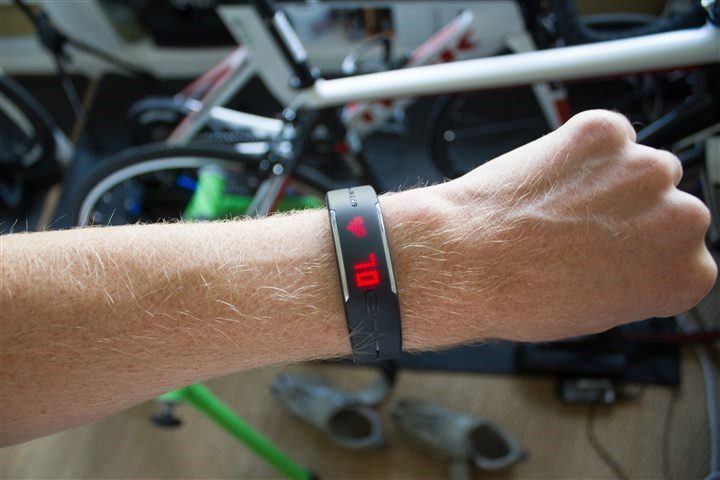 As I went on my run tonight, I was able to simply tap the Loop to display my current heart rate.
Later, if I were to upload this data to the app, the calorie information will have been pulled from the HR strap versus simple weight/distance metrics that most devices use.
This is a pretty cool idea, and one that I'm kinda surprised nobody else has added.  How to bridge the gap between fitness device and general life-monitoring device is a question I'm frequently asked, and it appears that Polar may have found the solution.
Polar Flow: Apps & Website Usage:
As part of the Polar Loop platform (that's the device), Polar is also releasing a new website and app – called Polar Flow.
The Loop syncs with your phone via Bluetooth Smart, so it will require an iPhone 4s or newer.  Out of the gate there will only be an iPhone app available, whereas Android will follow down the road in a few months.  I suspect that the recent Bluetooth Smart challenges on Android are the key driver of that.
Unfortunately, I didn't have access to either the website nor the iPhone app as part of my poking with the device.  Thus I can't really comment yet on how that's going to shake out – that'll all come in due course with a full review anyway.  However, in looking at the two screenshots I can share with you (below), as well as a few others that they've shown me – I'm impressed with how polished the apps look.
It's interesting to note for example in the below iPhone image that it breaks out your different activity periods: Sleep, Sitting, Standing, Walking, and Running.

You'll also notice as we look at the website, that this is a refreshed site dedicated for the Polar Loop and future Polar devices.  It seems like some good progress over the current/legacy Polar websites which are in desperate need for updating.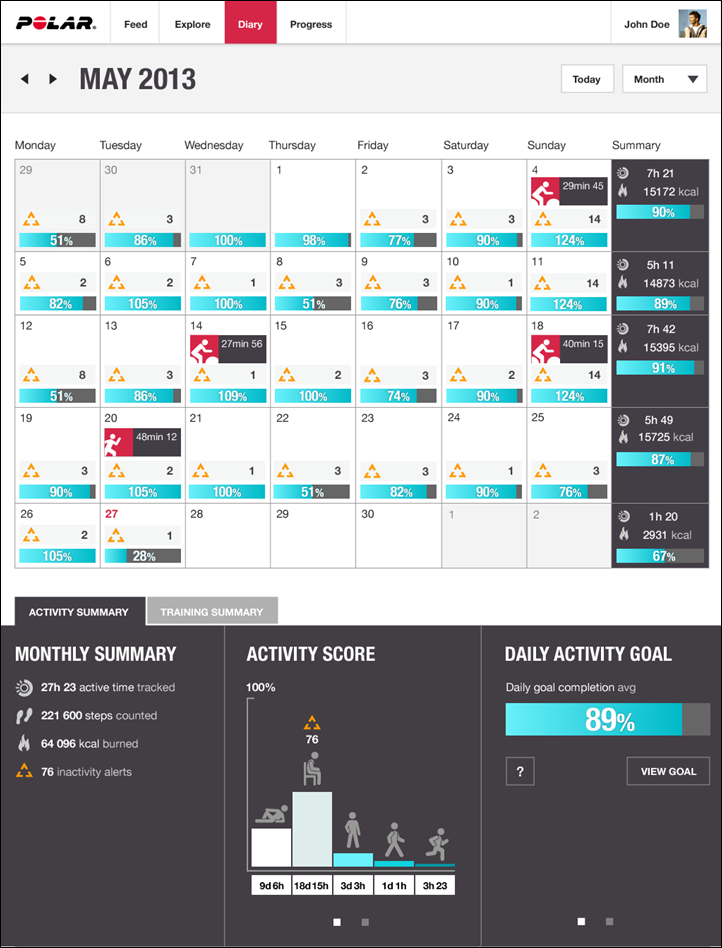 Summary: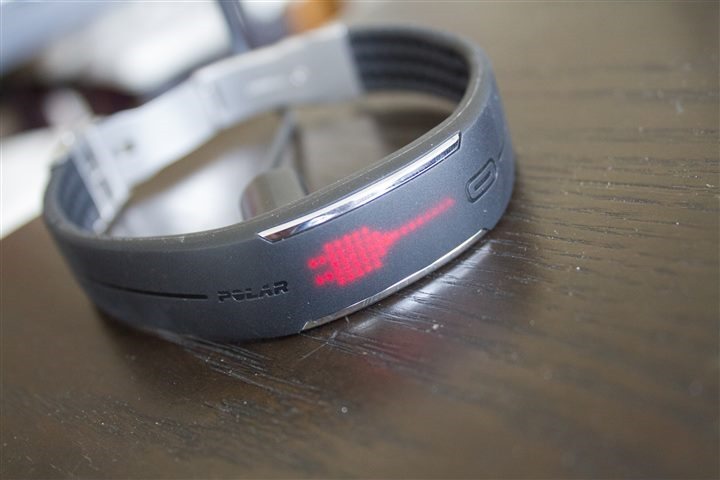 It's notable that the device is the only one out there that's fully certified to be 20-meter waterproofed, and also the only one that can be worn while actively swimming (though it's unclear if it'll track that properly as an exercise).  It's also of course the only one that pairs to a heart rate strap for exercises – like I did tonight with my run (where I didn't feel like bringing a cell phone).  You'll notice it was pouring out, no problems with water: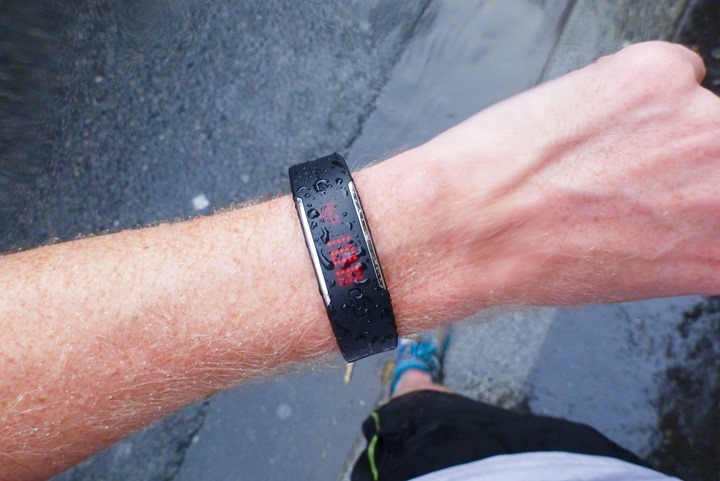 As the $109US Polar Loop releases in two weeks, I'll be aiming to dig more deeply into it after a few weeks of device and new Flow app platforms usage.  There's a lot of players in this space, and I expect it to only get more crowded – so I'm looking forward to helping to separate out the winners and losers here.
In the meantime, here's a quick comparison table of the features.
As always, feel free to drop questions into the comments below and I'd be happy to try and get them answered.  Thanks for reading!
Update: Ordering information
Just as a heads up, you can now order the Polar Loop via Clever Training – which in turn helps support the site. As most of you know, I've partnered with Clever Training to provide DCR Readers with an exclusive 10% off coupon (DCR10BTF), good for anything you put in your cart. Plus free US shipping over $75.  The relevant links are:
Polar Loop Activity Tracker
Polar H6 Bluetooth Smart HR Strap
Polar H7 Bluetooth Smart HR Strap
Thanks for the support!