It snowed!
Well, obviously – otherwise I would have titled it "A not-at-all-snowy Parisian Run"
It started snowing Friday  afternoon, and stuck pretty much  immediately.  By mid-day Saturday it took a bit of a break.  So I decided to head out and get my run in.  I had about an hours worth of running to do, at varied paces.  It was a bit of a cross between a tempo run and an interval run.  Started off with a standard 15 minute warm-up and build.  Then from there I'd do two 15-minute sets at a semi-high intensity.  Roughly 5K race-intensity.  Each with two minutes in between.
Off I went!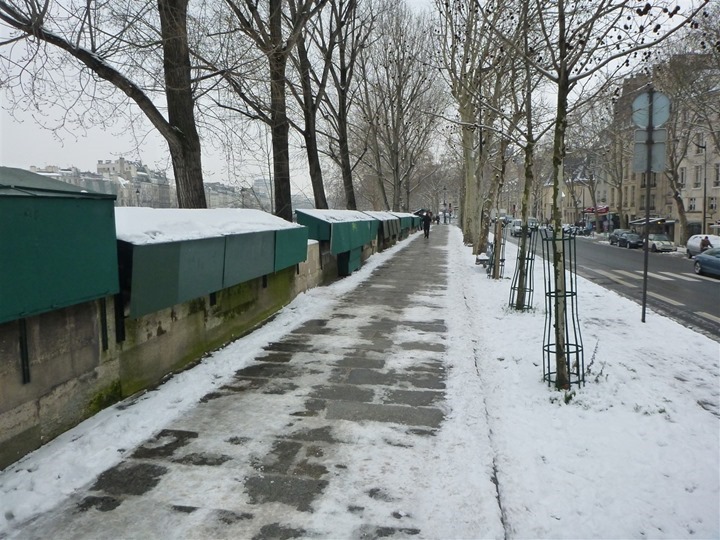 I stayed up high, figuring that down low along the river would be a bit of a mess.  And looking down along the river from up on a bridge that definitely held true.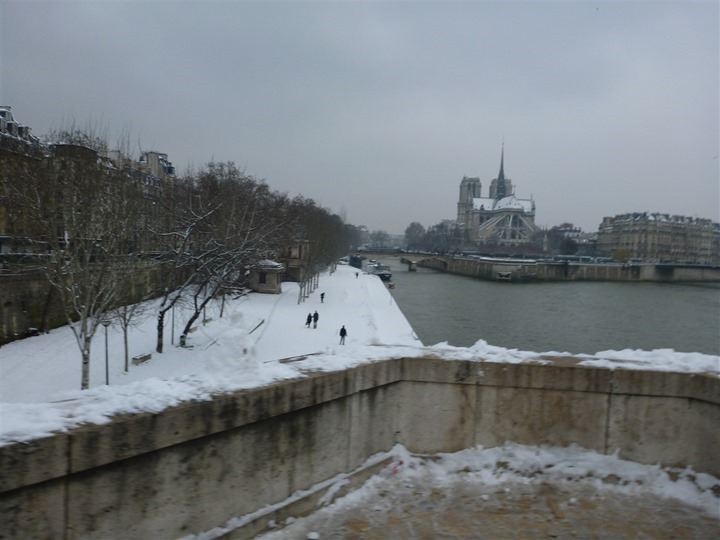 At first, things weren't too bad on the island.  While the cobbles were a bit messy, for the most part they were clear.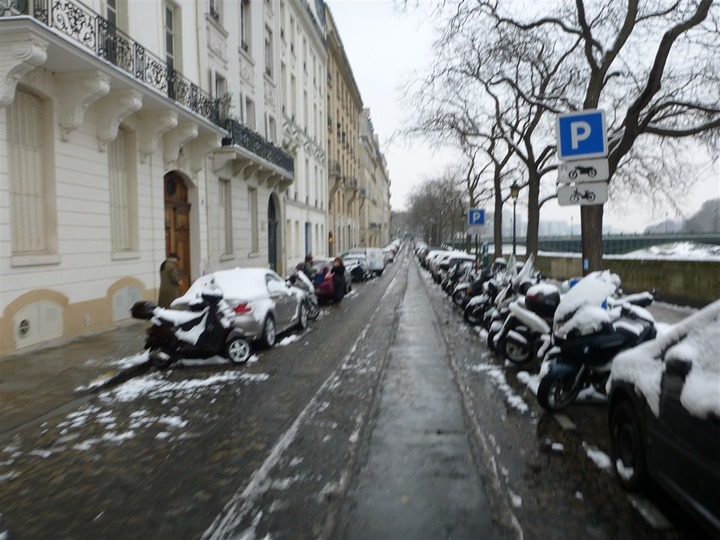 My hope was that the road you see below would have been closed.  In theory it's supposed to be closed for runners and cyclists.  But I've noticed the last two weeks they haven't done that (on either Saturday or Sunday).  Perhaps some locals can explain the rules, as I thought I was good.  My thinking was that since they typically close it at 9AM, it would have been relatively free of snow and perfect for running intervals when I ran around 1PM.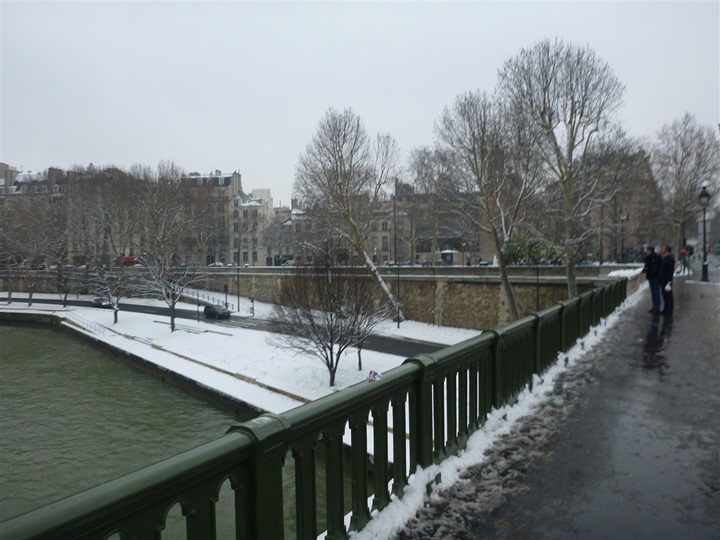 With the road open to cars, I stayed up above on the sidewalk.  As you can see below, that was a bit of a mess.  Compact snow and ice…with a dash of pedestrians.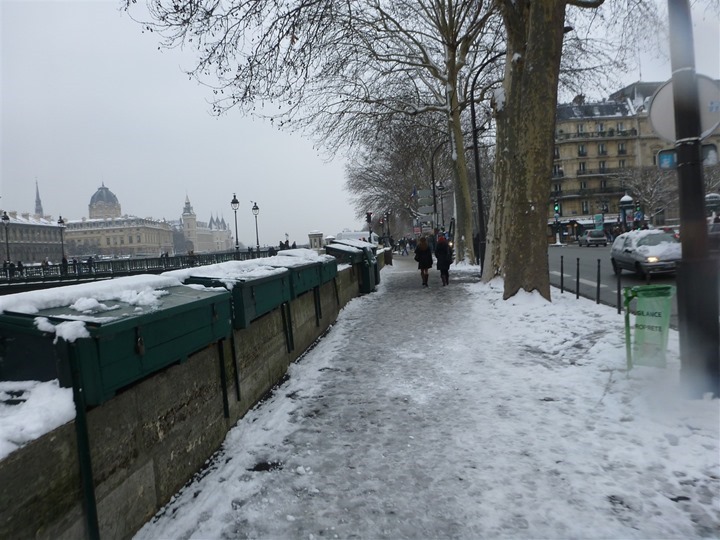 As I approached the Louvre, I figured that perhaps inside the grounds and then in the giant park in front of it, it would be semi-clear.  So I followed the path through the snow and cut through the building.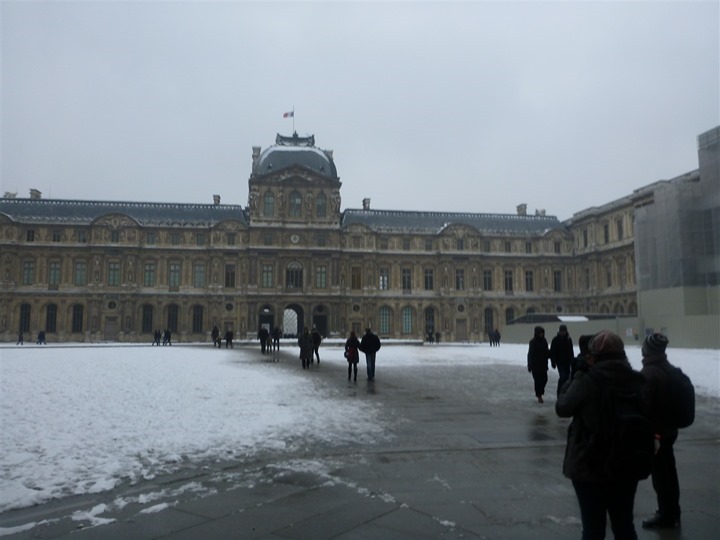 And while there was a cut-through in the snow – it wasn't because anyone had shoveled, instead, it was just where the masses had wandered.  On the whole, it doesn't appear that there's any requirement that any establishment (private, public, or residential) shovel or plow.  Coming from the US, where most cities have laws that buildings/homes shovel the public sidewalks in front of their plot, it's a bit of a different twist.  Even places as big as the Louvre or Notre Dame – no attempt at snow clearing made (all weekend).  Kinda surprising.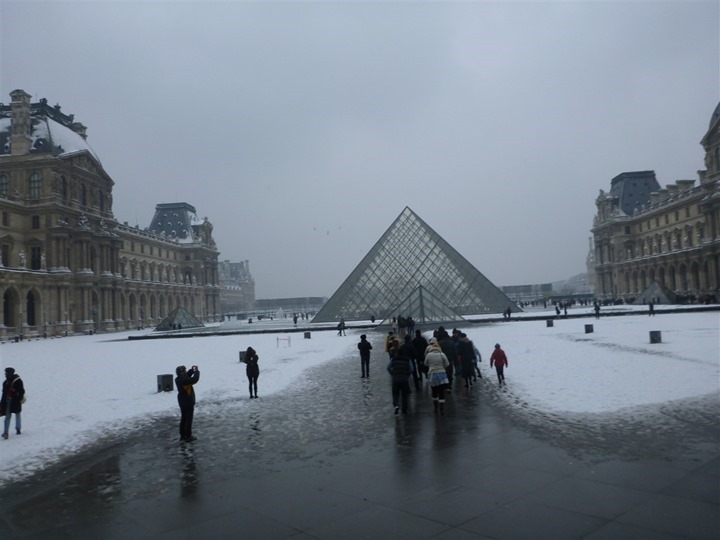 As I left the Louvre and headed into the park the conditions for running at pace really got worse.  I had (for reasons unclear to me) skipped on wearing the Yaktrax.  I think I just figured that they would have plowed/shoveled main routes (either on sidewalks or the sort).  In reality, the park was a mixture of snow/ice and just semi-deep snow.  None of it ideal for hard running.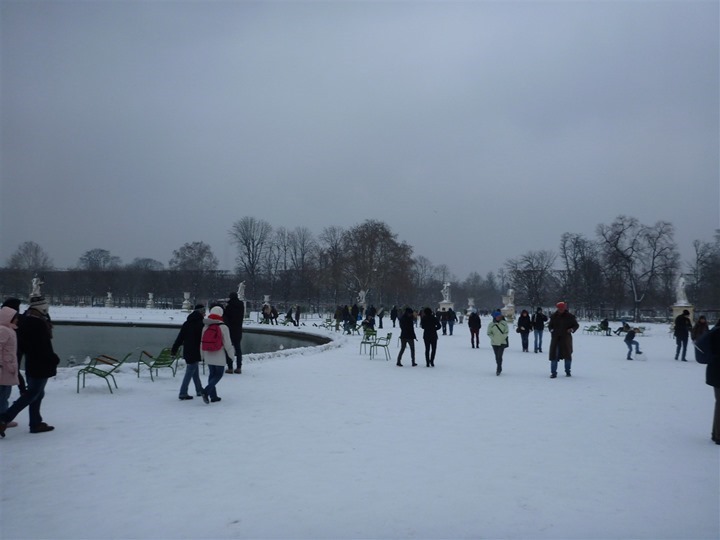 It was at least pretty however.  So, it was still enjoyable in the sense that it was relatively quiet and peaceful.
As I popped back out of the park, I figured I'd try the other side of the river bank for better conditions on my way back towards home.
The sidewalks were no better (actually, probably worse).  But, I did find something magical: Bus lanes!  These separated lanes meant that I could easily see the buses coming (towards me) from far away. Given the median they couldn't sneak in.  Additionally, with no taxi's in this particular section – it meant that it was largely uninterrupted running on clean pavement.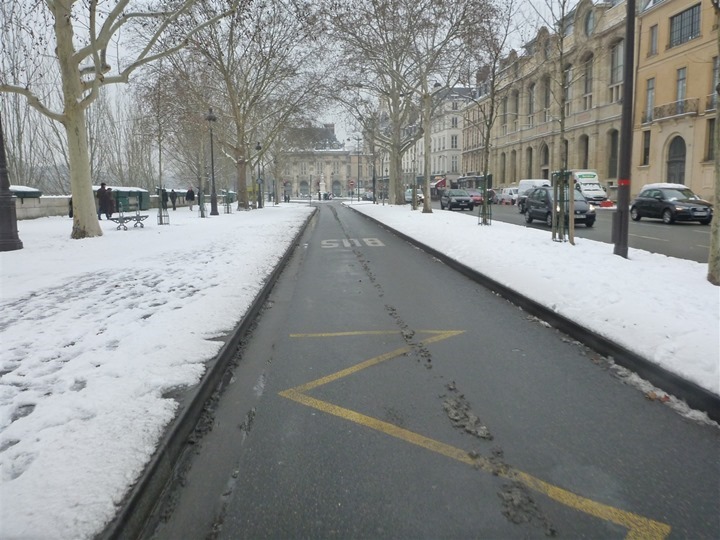 When the busses did come in, I simply just jumped up onto the curb.  Easy!
As I made my way down into the final mile of the run, I got back on the island at the far Western side of it.  Ironically, this side of the island had perfectly clean roads.  Sweet for running!  With cars rarely using this road (and another road going the other direction), I probably should have just done my run here.  Lesson learned for next time.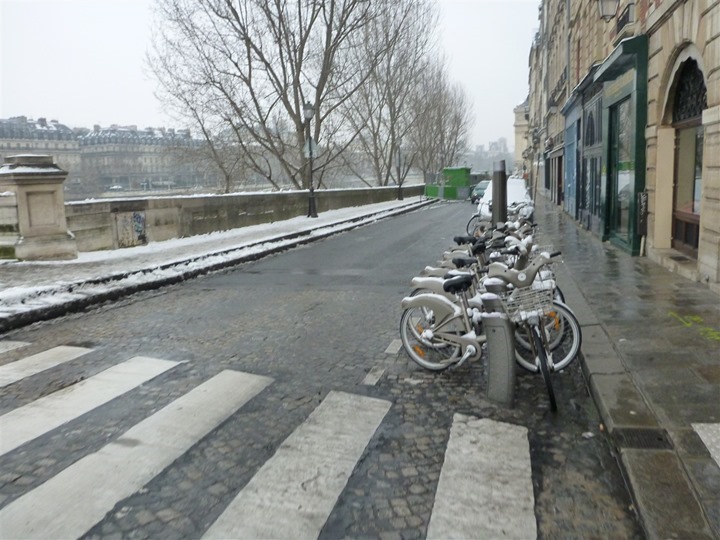 Here's a bit of a look at my route from a mapping perspective.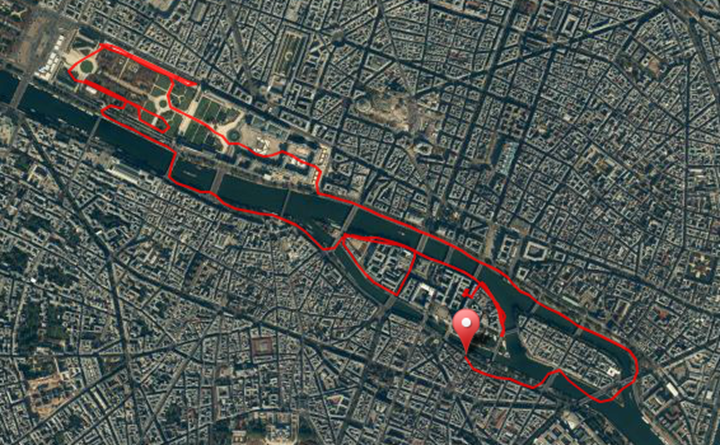 I finished up next to Notre Dame and went and and decided that a Banana-Nutella Crepe was a perfect way to get some post-run fuel immediately in.  Luckily I had stuck a 10-spot in my running top before heading out!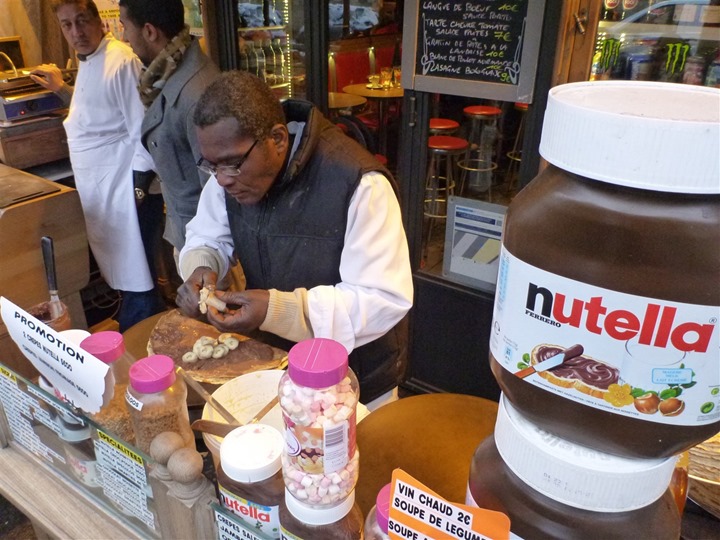 Then I walked the short distance back home.  Along the way I found a small band playing along the river:
They'd play for a surprisingly long time (I'd hear them from the house for a number of hours).  Not really your typical French music however.  It was mostly pep-rally songs like you'd hear at a high school basketball game.
As I made the short distance up to the house, I noticed that the cobbles got quite a bit nastier with a layer of compact snow on.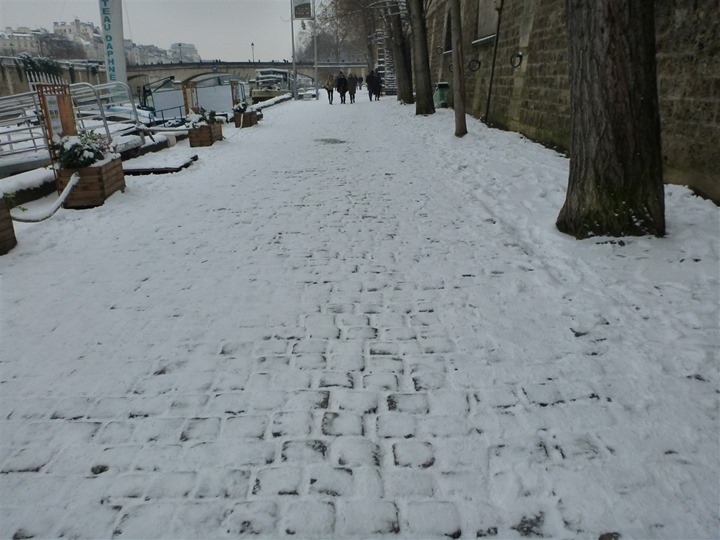 Saturday night it snowed some more.  Mostly all night and then again into the morning.  In fact, it pretty much snowed the vast majority of the day.  I had a trainer ride, which I did later on – but before that I decided to go out and wander around a bit.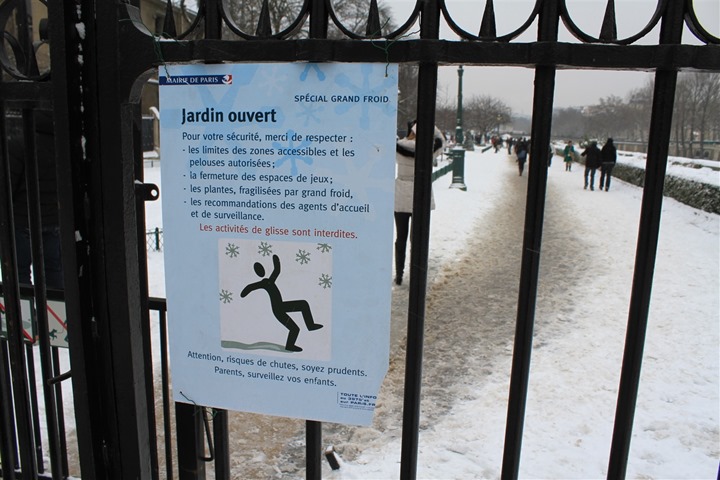 Despite the snow, the tour boats were out in force as usual.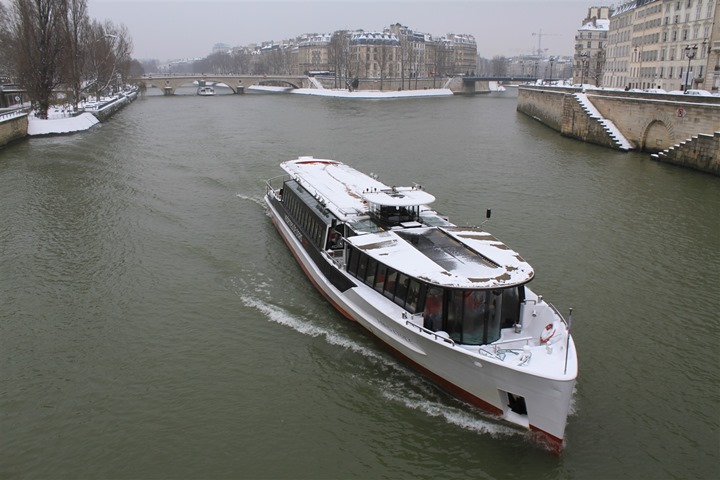 As I headed across the second bridge on the opposite side of the island I noticed some cars attempting to go up a slightly steep exit ramp.  This entertained me for a good 10 minutes.  Over and over again.  No, they didn't make it.  But they sure tried.  Many of them.  A lot.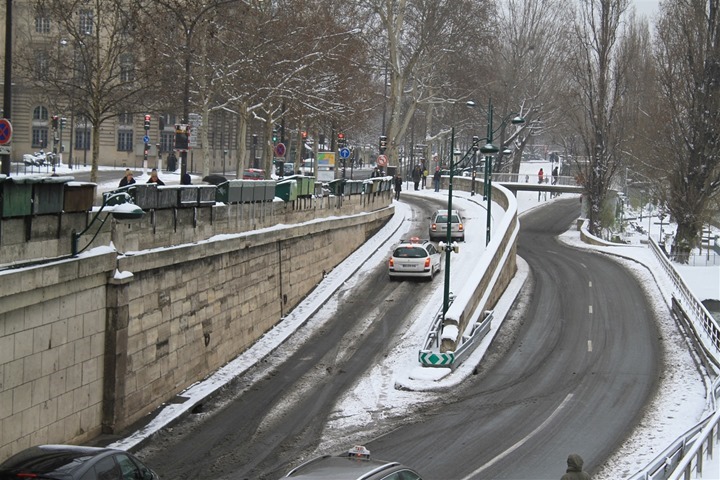 While that was happening, the ramp leading up to it was getting clogged up.  So some kids decided to take advantage of it.  They were throwing (powdery) snowballs at the stopped cars (left lane).  Eventually they realized that it was far more effective to just push the snow off the overhang onto the car below.  The jeep guy kept honking, and tried  to slide forward a bit out of their range.  But that only served to give the kids even more snow to push onto his car.  Everyone on the bridge was cracking up laughing.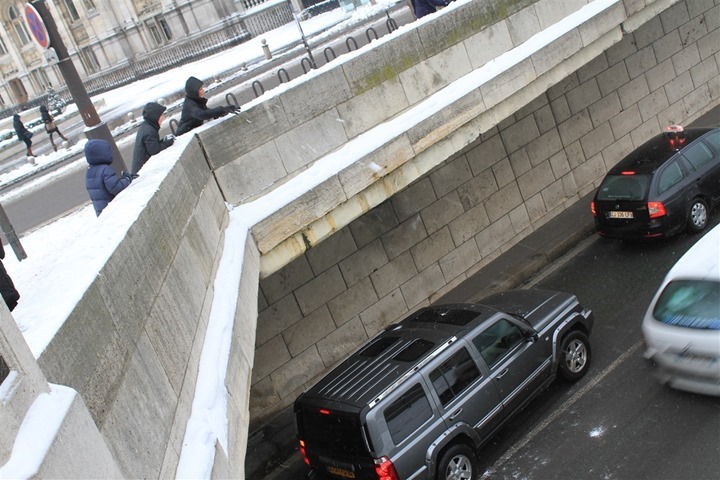 On the other side of the bridge is the skating rink.  For once, it wasn't a slushy-rink.  Usually it's about half water and half ice.  This time, it was more half-ice and half snow.  But that's an improvement.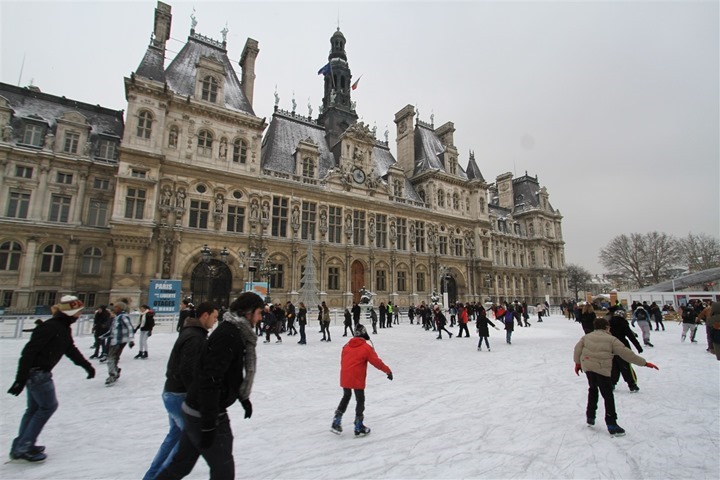 Next to it, the Merry-Go-Round.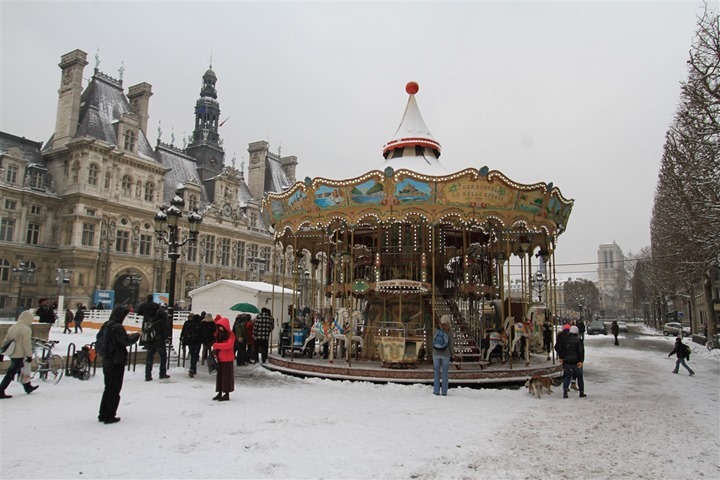 As I headed back, I came across the below.  It was shot on my phone using a fair bit of zoom – so not quite great quality.  But I think it still captures what I was looking for.  Which, was to show a bunch of totally crazy kids sledding down a hill towards the water.  They'd pull up and manage to stop just before the edge each time.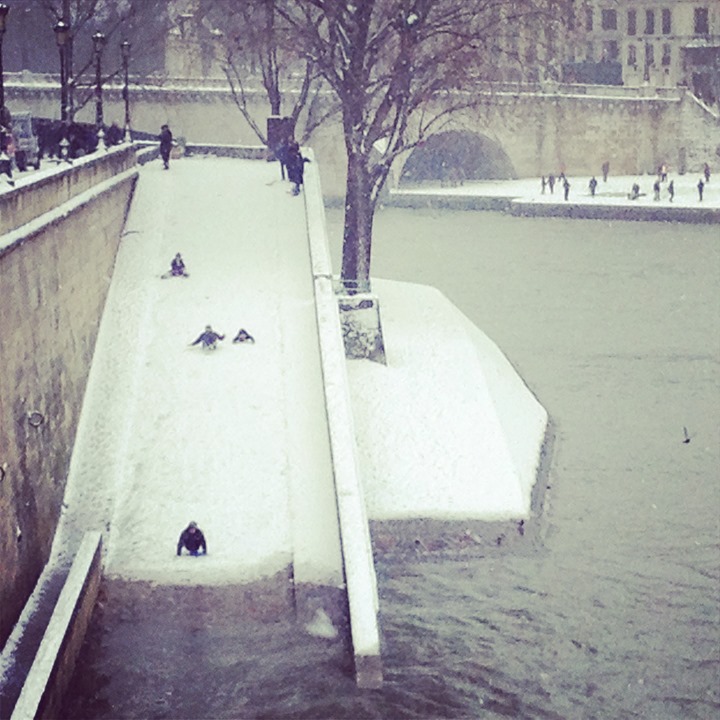 As I started to make my way back, I found one of our favorite couples.  They're always out there, almost every day, getting their photo taken.  We're not entirely sure what their deal is – but we see them year around.  There's actually about 2-3 different couples.  One day I'll write-up a big expose post on them.  'Seasons of daily wedding photos'.  Or the like.
Changing gears completely – were these guys.  They went flying down the street – probably doing close to 50MPH.  Of course, on the top of his helmet was a GoPro.  $5 says a YouTube video is in the making…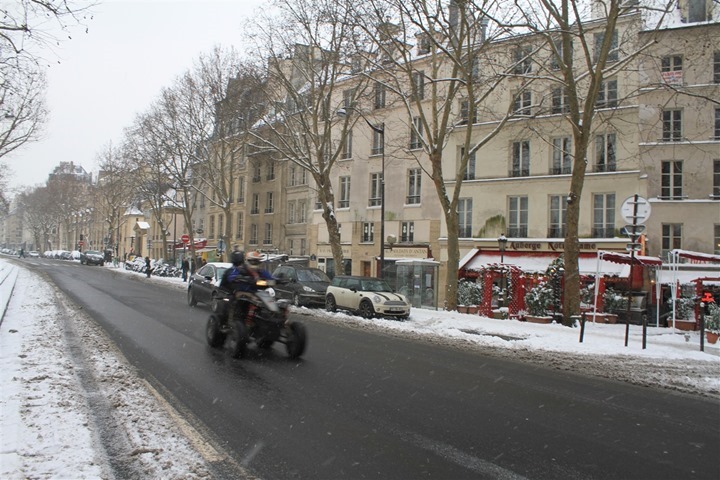 And finally, back to our street.  Well, the street on the side of it.  It always looks pretty.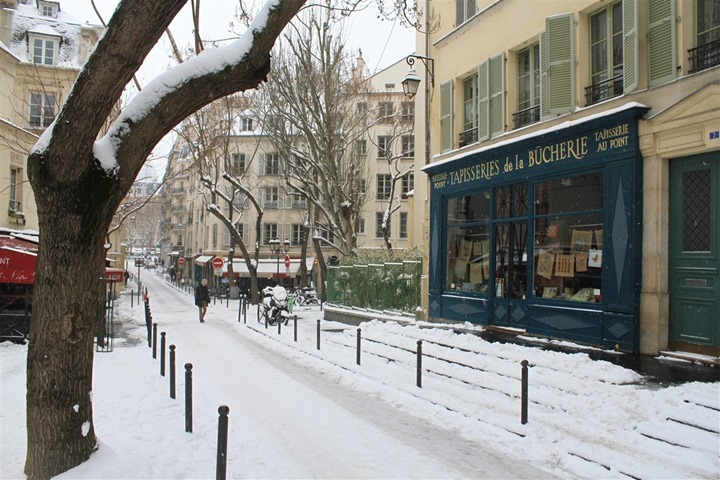 With that, it's nightfall again.  And soon it'll be snowing again.  It's supposed to snow off and on all week.  From what I understand – this isn't exactly normal.  Or even frequent.  In fact, it sounds rather rare.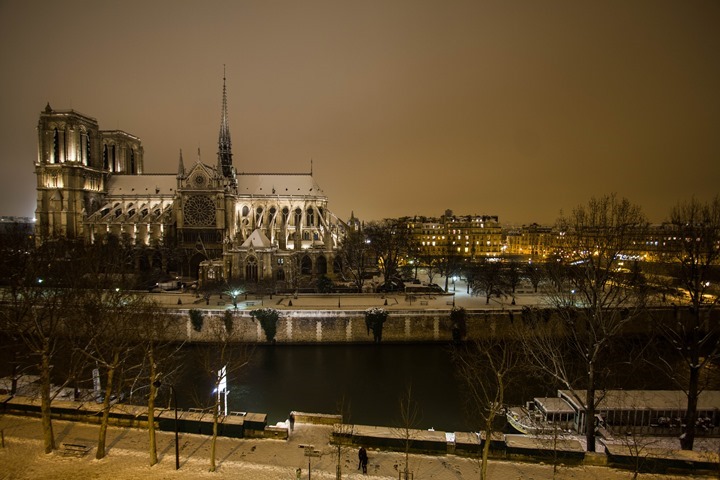 Tomorrow, a two plus hour run in the snow…this time with Yaktrax.
Thanks for reading!