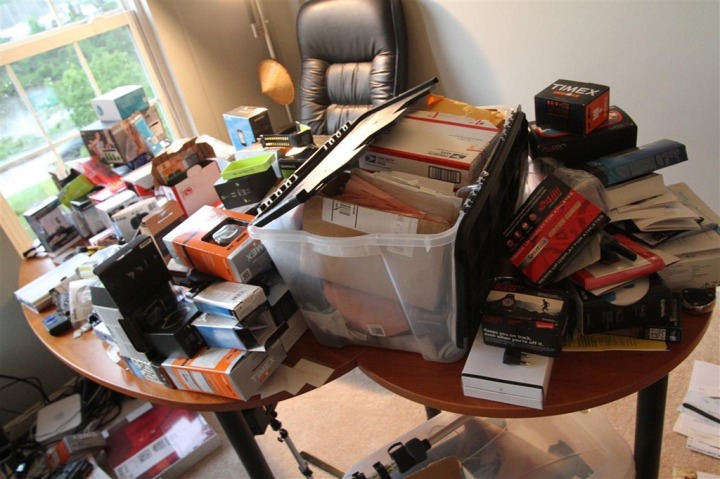 (Some of you may have seen me post this photo on Facebook back a few weeks ago…hence, the origins of this post)
It's been building up for a while now, and now it's time.  Perhaps, way overtime.  Either way – it's gonna happen tomorrow, starting at midnight eastern: The Giveaway Extravaganza.
(Sidebar 1: If I could make the extravaganza thing blink and be in lights like a Vegas sign, I would.)
Now, I probably could have just has accurately called it "I have too many boxes of stuff I need to get rid of extravaganza", but that didn't have the same ring to it.  Obviously, if you saw my product review shelf back in January, you'd know there's lots of cleansing opportunity.  The kicker is – nothing from that shelf is going.
So what am I giving away?  A premium blend of products that range from brand new and never used, to a few lightly used units.  Some of the brand new items are things that folks gave me to review and just didn't end up here, and some are extras that I bought and figured now's a good time to have a giveaway. 
(Sidebar 2: Oftentimes when a high demand product is first announced I'll buy a few through different retail channels in case there are delays, and then just giveaway the extras.)
On the 'pre-tested' items, a few of them were units that were sent to me for product review that the company doesn't want back.  Some of them have simply been sitting around in this box for months waiting to go back.
(Sidebar 3: There are few things I loath doing more than shipping and receiving.  More specifically, shipping.  It's such a pain in the butt.  Vendor provided printable FedEx/UPS return labels are the love of my life from a product review standpoint.   But because most times companies don't care about the product being returned they don't provide these (that's the industry norm).  Since my policy is I do return just about everything sports technology related – it sits there in a box after the review unused waiting for me to figure out who and how it gets shipped back.  The kicker being in every case I've already re-bought another copy of the product for my personal collection.  These are just…well…doing nothing.  Time to go!)
At any rate – tomorrow, at midnight eastern, I'm kicking off an all-day giveaway circus – Woot-off style.  Roughly every three hours a new giveaway product will appear on the site, and you can add your name to the hat for that product.  It'll only last there roughly three hours – then it closes, that's it – like a fart in the wind!  As always, nothing special from you other than leave a comment on the item you want.  You can play once for each item.  Simply say hello.
(Sidebar 4: I have no further sidebars.)
All in, the value of these products is roughly $2,000!  All I'll say is that true to my norms, there will be no half-eaten gel packets here, just totally awesome devices.  One.after.another.
And because it's 24 hours of extravaganza, no matter where in the world you'll have your chance to join the fun (and, as always, I ship anywhere).  See ya tomorrow!
Update 12:01AM Friday – To see the current/latest giveaway during the extravaganza, click here! And remember, enter on the specific product post, not here. Enjoy!