Things have been pretty busy as of late – with trying to knock out some big ticket items for work before the holidays, so tonight's post is going to a be a bit brief.
First up was my first ride with the LeMond Revolution Trainer.  I had left on on Sunday with the trainer functionally setup, but my bike still off to the side.  As I mentioned then, the Revolution Trainer is different in that when you mount the bike to it, you remove your back wheel.  The bike then mounts to a pre-installed cassette on the trainer itself (unless you purchased a trainer without the cassette):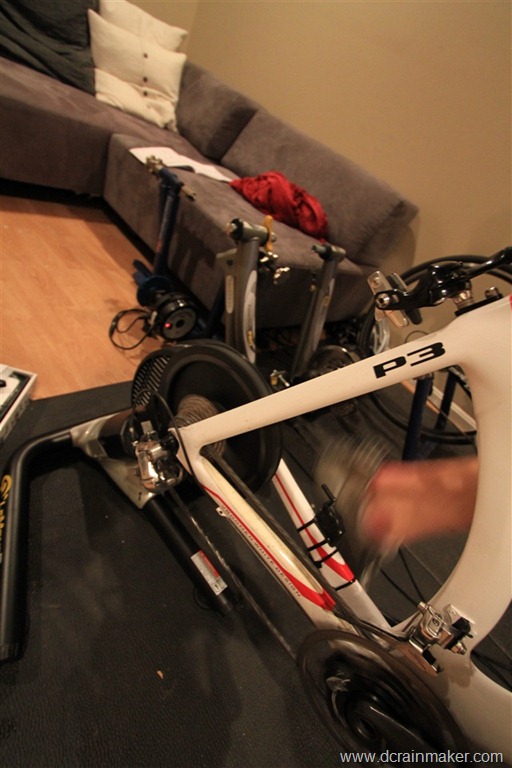 Of course, if you cycle a fair bit, removing the wheel isn't hard at all, and doesn't take terribly long (less than a minute).  Though, for my Cervelo Time Trial bike, the wheel actually exits out the back, versus dropping down.  This means there's a bit more finagling to get it out.  Again, not hard, just would be somewhat annoying if you did it on a daily basis.  For me, it would sit on the trainer during the week, with my longer rides outdoors, so it'd be a once weekly thing.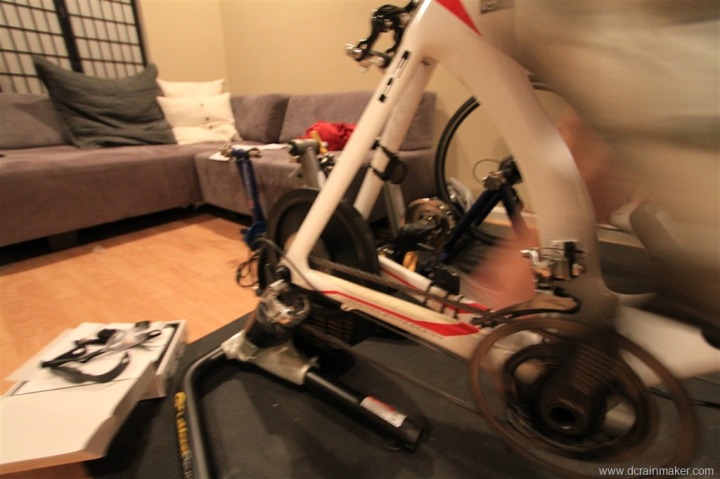 The only times I had used the Revolution Trainer in the past was when I was on a show floor of some sort (Interbike, ANT+ Symposium, etc…).  Thus, my experience was never on my own bike, nor in a space where I could judge feel and compare noise.
First up was the feel.  And it's rather astounding.
It literally does feel like you're riding on the road.  Sure, I had remembered this from the past, but when you just jump on the feeling is astounding.  When I say 'riding on the road', I mean that as you accelerate or decelerate, the bike responds in the same way as being outside.  For example, if I just stop pedaling, the bike will literally glide – just like as if I was outside – for a rather long time.  It's so cool.
It also means there's no resistance setting/configuration – everything is done via the wind unit on the side, which counters your efforts.  This is beneficial in that you legitimately have to hold the wattages you produce, you're not just 'along for the ride' like in a computerized or specified resistance trainer unit.  In those scenarios you don't have to focus as much on maintaining a given wattage, since the trainer does that, but in the Revolution case, it's just like outside where gearing and cadence play a part.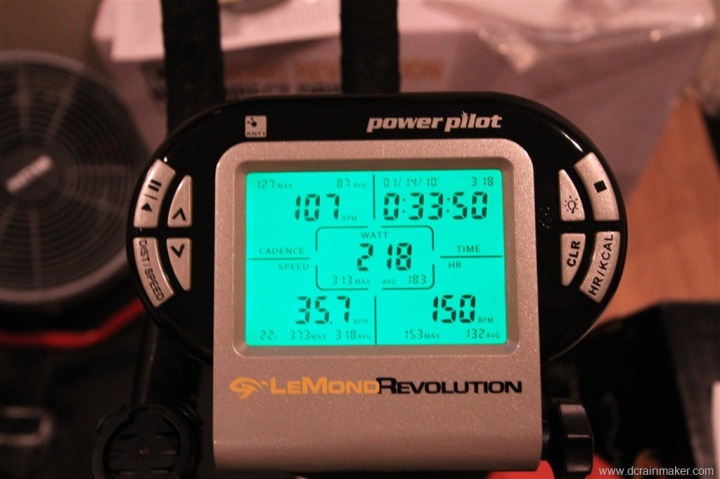 Speaking of wattages, I had the Power Pilot all hooked up.  This is the head control unit that receives data from the Revolution Trainer.  In my case I paired it to my regular Garmin ANT+ HR Strap (though they included their own in the box), and then paired it to the existing cadence sensor that was on my bike (they also included their own, but I didn't feel like adding yet another ziptied sensor).
Most impressive was how close the wattages were, by the end they were within 3w of the Quarq Cinqo I had on there.  I didn't spend a significant amount of time re-calibrating my Quarq on this ride, other than just a quick back-pedal before and and a few minutes into it again doing the same.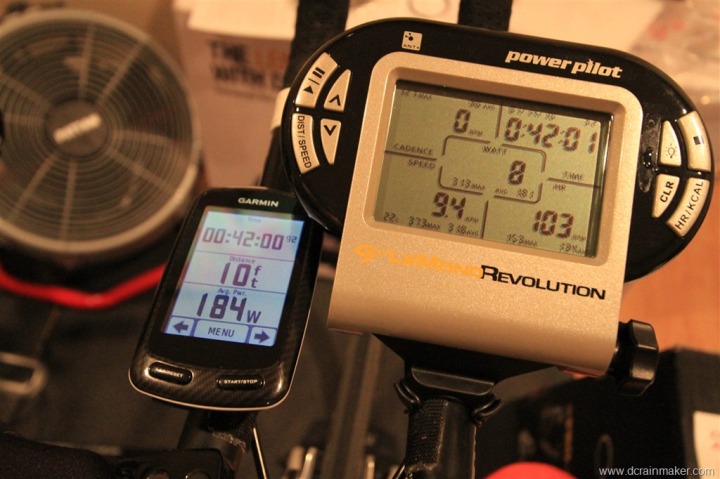 And finally, for the noise.
Let me be clear about this (said shouting over sound of trainer): This thing is loud.
Anyone who tells you differently isn't in an enclosed room.  Sure, on a show-floor it sounds fine, and probably even in a wide open space, or larger room.
But in my little trainer room, it echoed like a beast.  A really angry beast.
I didn't hear anything on the TV.  Perhaps it didn't even include an audio track at all.  Hard to say.
But…it did at least feel awesome. 🙂  It's cool to ride something so different than other trainers, and it really does feel different.
And for now, that's where I'll leave off.  The full review is of course coming in a bit, but I want to get use it like normal and then put all my thoughts together.  And don't worry, I'm fully planning on posting a video showing (audibly) the noise differences between trainers.
Until I do post that review, you can pass your time watching me on TV.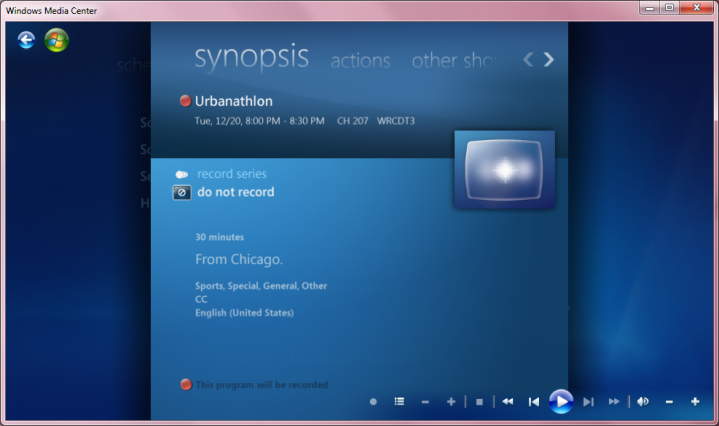 Well, maybe me on TV.
I actually have no idea if I'll be in there, but I intend to watch and find out (as should you).
As part of the Urbanathlon series in Chicago, New York and San Francisco they're going to be showing the first race (Chicago) tonight (Tuesday) on the Universal Network at 8PM EST.  That's where you normally find all the other triathlon goodness, so you should know where it is by now.
I'm looking forward to it!  Let me know if you see me!
Thanks for reading!