Thanks everyone for entering the giveaway! Apparently quite a few want a new Timex Global Trainer!  That said there were just over 900 entries after accounting for ways to double-up, into the giveaway, and another bunch from Active Duty folks.
I then took all the entries and sorted through them like I usually do (in between cooking dinner tonight…mmm…that was good!) to ensure everyone gets the correct number of entries.  This means in total 971 entries.  After which, I went the route of simple and used Random.org to generate a number between 1 and 971.  The lucky winner was number 45!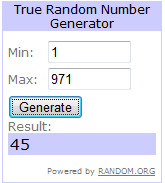 And the winner is: 'BruceDowns'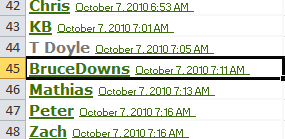 Here's his entry:

Congrats Bruce!  Please contact me with your shipping info so I can get your new Timex Global Trainer on its way to ya!
For those that didn't win – don't worry – you can still go out and pick up your very own little orange watch and enjoy it keeping you on target for your workouts this winter!  You are working out this winter, right?
And if you utilize the link above, you help to support more giveaways like this.  It's sorta like recycling: Utilize linkage > More Giveaways > More good stuffs for you.
Thanks all and have a great weekend!