I signed up for the Ironman 70.3 Rhode Island race back a month ago.  It's located near where all my extended family lives in Connecticut and Rhode Island, so it seemed only logical given it also fits perfectly into my pre-Ironman race schedule.  If you haven't signed up for it yet – you should.  Simply because that's where all the cool kidz are gonna be that weekend.  So get a move on it!
The site doesn't have much information on the actual bike course though.  By much – I mean any.  However, I did e-mail some folks and got a tiny bit more information (read: almost none).  But they gave me the one or two roads that I needed to put together a rough overview of the course.  They said the final version will be available in the March/April timeframe.  Here's the little snippet of text I had to go on:
Athletes will transition to the bike in the parking lot Roger Wheeler State Beach.  Athletes will ride north on State Road 1A through historic Wickford before turning west onto State Road 102.  The majority of the bike course encompasses State Road 102 and the quiet, scenic communities of Exeter, West Greenwich, Coventry, North Scituate and Johnston.   The bike route finishes in downtown Providence, with the bike-to-run transition located at Waterplace Park.  
So with that, I began guessing.  First I started with the swim – that seemed fairly straightforward.  Given the waves on one side (the right side of Point Judith), it really could only happen in one place (the left side of Point Judith, in the semi-protected area).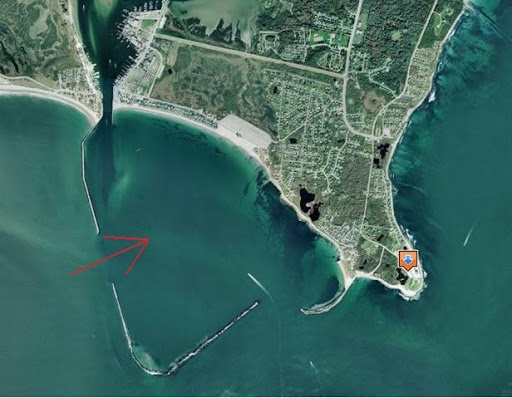 Off to the bike course.  The below picture is at the bike course, my assumption is the swim will be right below the #1 on the map – although hopefully out of the way of the ferry route.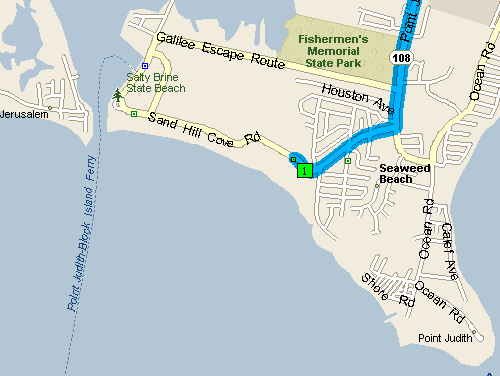 I'm going to guess that we'll be briefly on 108 to start with, as Rt 1 doesn't start until you get off the little peninsula.   The below photo shows the relatively flat route leading away from Point Judith.
Once on Rt 1A it looks like we go for 18 Miles before turning west off onto Route 102.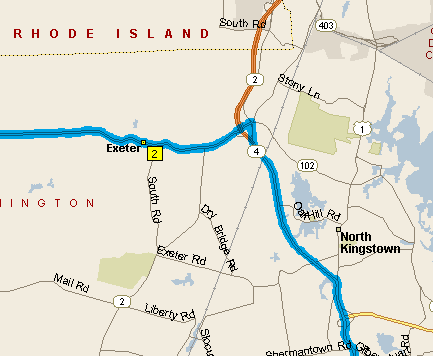 After arriving on 102, it basically creates a long half-circle outwards and then slowly back towards providence.  Following it along you go through all of the little towns that they described in text snippet above.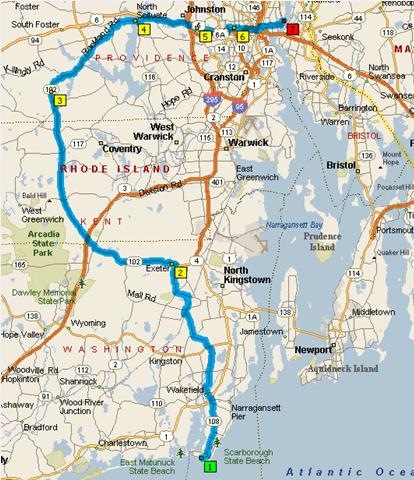 However this is where I have to start guessing big time.  I would assume that around North Scituat we'll turn off onto Rockland Road to get towards downtown.  We could turn off onto some other roads – but then that wouldn't fulfill the criteria of hitting North Scituat.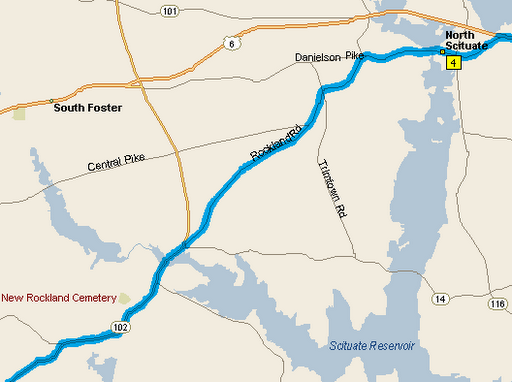 Then it doesn't specify how on earth we're going to cross downtown.  There are plenty of options cause there are a gazillion streets.  I've mapped out a few that put the bike course at around 56 miles (+/- .5 miles) – which would be pretty close to what they need.  Obviously they'll be able to take some tiny shortcuts that I can't easily map on the web.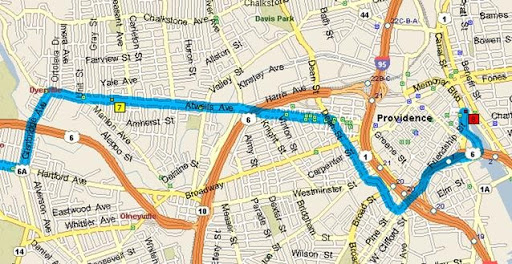 Here's where I think the bike will finish and the run will start – based on what little I know of Providence: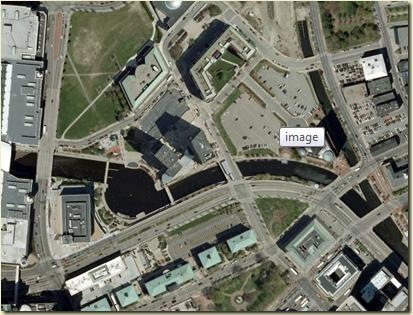 So that's just my rough guesstimate on the bike course – my guess isn't going to be perfect of course, but the major portions of the course are certainly there.  The only questionable pieces (from a 'did I get it right' standpoint) will be the last 2-3 miles through downtown and the first couple miles or so right after the swim.
Using all of that, I tossed it through USATF's web site to get an elevation profile.  I use USATF's as opposed to MapMyRun.com because USATF allows for elevation profiles.  Here's what it (the bike course) shakes out as:

Total climb: 3601 feet / 1098m (accuracy is questionable…I just did a copy/paste from the site)
So all in all it's shaking out like a cool course.  The first half is gradually uphill, and the 1/3rd or so drops back down again.  Should make for some interesting negative splits and a fun day!
As for the run – I have no idea.  It's 13.1 miles, given we're talking Rhode Island here, that should just be long enough to circumnavigate the state.  Twice. 🙂
Note: In the event you find/read this post after March/April – you probably just want to check the events site to get the real deal.  Just sayin'…