Woohoo! I just noticed that the Warren Miller fall tour schedule is up and available.  For those that don't know; I'm a bit of a ski nut.  Probably comes from growing up in Seattle and skiing from about 3 years old.  Which was then followed by ski racing as a kid (and skiing four days a week) and then fairly competitive ski racing in my early teens.  At which point it simply just got too expensive with both me and my brother heading towards college.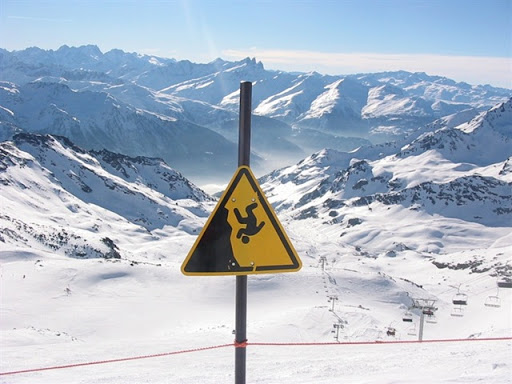 (The French have the some of the best ski signs out there)
But today we still have a blast free skiing (no racing gates) all over the place.  In some ways free skiing is more fun than racing because you just get to go wherever you want, whenever you want.  It's like the thrill of a steep bike decent, except at about 60-65mph.
My brother and I take a trip every winter over to France to kick it up a notch and drop some serious vertical (upwards of 8,000 feet per run) – which is always tons of fun.  Unfortunately with living in DC, there aren't many ski options that make for quick (and cheap) day trips.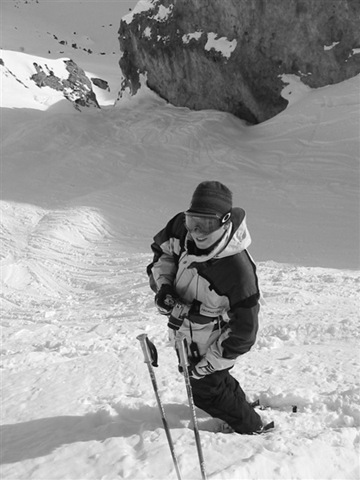 (Me, halfway down a fun descent at Courchevel)
Of course the best way to get jazzed up about skiing is the annual Warren Miller films that are shown in late fall around the country.  Below is the trailer from this years movie, and a link to find the showing closest to you.  If you've never seen one – then you've definitely got to grab some friends and check one out.  Usually they're shown a few places one or two nights in a given city.
Now that I'm doing triathlons, I'm not exactly sure how I'm going to get my swim workout in at 3,000 feet up the side of a mountain in the middle of the winter.  Could be a wee bit difficult.  Biking on ice in the French Alps also might pose a challenge.