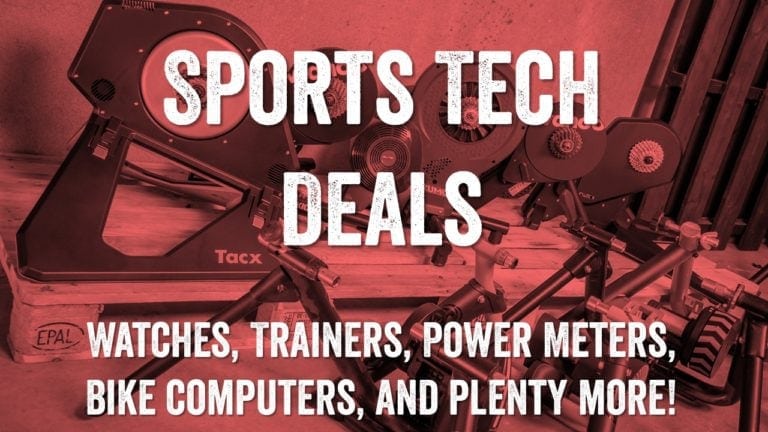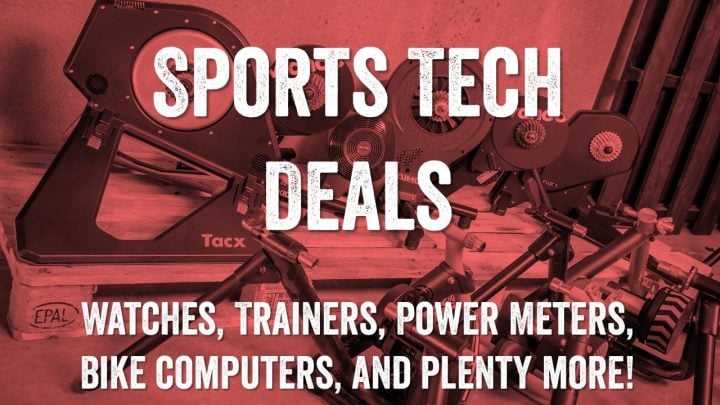 Here's a constantly updated page for the best sports tech deals out there. I've categorized them roughly by logical groups, along with some random stuff at the end.
20% Deal Heads-up: Both the 20% off deals for both Clever Training & REI require you do a one-time join of their VIP program. In the case of REI that's $20, whereas Clever Training is $5. Clever Training donates that to the Girls On the Run Charity. Either retailer supports the site here. Enjoy!
Cycling Gear & Trainers:

Got a bike? Then this section is for you.  Everything from bike computers to bike lights to trainers, it's all here.  I won't generally be adding things like brake cables or bike seats here, but if I find a good deal on a cassette to stack on that new direct drive trainer you just bought, I'll probably list it here.
Reminder: The 20% off deals listed below require a one-time REI Membership ($20) or Clever Training VIP Membership ($5). This is primarily due to manufacturer restrictions on discounting.
| | Product | Sale Price | Amazon | Clever Training | Other site | Sale Notes |
| --- | --- | --- | --- | --- | --- | --- |
| | Elite Drivo II Smart Trainer - Normally $1,199 ($300 off!) | $899 | N/A | Clever Training | | This is roughly like a clearance event. Not technically, but effectively. Still a very solid trainer though. |
| | Elite Sterzo Steering Wheel Block - Normally $69 | $55 | N/A | Clever Training | | Clever Training 20% sale, use code SPRING20 |
| | Elite Suito Smart Trainer - Normally $799 | $639 | N/A | Clever Training | | Clever Training 20% sale, use code SPRING20 |
| | Kinetic R1 Smart Trainer with Motion - 30% off | $670 | Amazon | Clever Training | N/A | Now, if you don't mind a bit of noise, and a bit of inaccuracy in the power data - then this is a steal for this trainer . Definitely the lowest price we've seen it to date. But, read the review first. |
| | Wahoo ELEMNT ROAM - $50 Rebate (norm $379) | $329 | N/A | Clever Training | Rebate Form | Note, you still have to pay full price, but then on April 30th you can submit in you rebate form. Honestly, the least favorite type of sale out there. But hey, if you were going to buy one anyway - then woot! Just remember to put in a calendar reminder to submit the form! |
| | Wahoo KICKR + CLIMB Bundle - $200 off! | $1,599 | N/A | Clever Training | | This is a simple bundle of the Wahoo KICKR 2018 + the KICKR CLIMB, for $1,599 (versus the normal cost of $1,799). |
Watches & Wearables:

This covers anything you can wear that's watch-like or activity band-like, including sensors.  Generally speaking, you'll mostly find deals here that are on things I've written about in the past.  So you won't find a deal on some random non-sports tech watch here, or on socks.  Unless the socks have some crazy sensor or something in them.
Action Cameras & Drones:

Wanna record it?  No better way than an action camera.  Anything that's action camera related or drone related you'll find here.  That's especially true of action camera mounts, which are often found for great deals around the holidays.  Same goes with drone and drone accessories.  Usually a great time to pick up an extra battery or extra props.
| | Product | Sale Price | Amazon | Clever Training | Other site | Sale Notes |
| --- | --- | --- | --- | --- | --- | --- |
| | GoPro Hero 8 Black Bundles (norm $399+) | $349-$359 | Amazon | Clever Training | GoPro Fav Link | ⚡ There's some great deals in here. The base GoPro Hero 8 Black is down to $349, but many retailers for $10-$20 more are adding in a crapton of accessories you'll buy anyway like extra batteries, the shorty stick, etc... I've linked to a collection of them, my personal fav is linked in the second link, and has two extra GoPro battires, a 64GB microSD card, and then a USB card reader. |
Other Sports & Fitness:

Anything else that's sports and fitness related that I think is interesting will be here.  It may not be super techy – but it's stuff that most readers will be using in pursuit of their running/cycling/swimming/hiking/whatever.
There are no deals currently.
DCR's Random Gadget List

This is basically the mostly totally unrelated gadgets and things I think are cool deals that I've likely bought one or five of (you can never have too many, right)?  Some of it's probably photography stuff.  Some of it's random stuff like chargers and battery packs that I use daily, fun camera gear I use to make videos like sliders and turntables, and well…just random things you'll find around the DCR Cave.  It's all random…but it's all awesome randomness!
There are no deals currently.