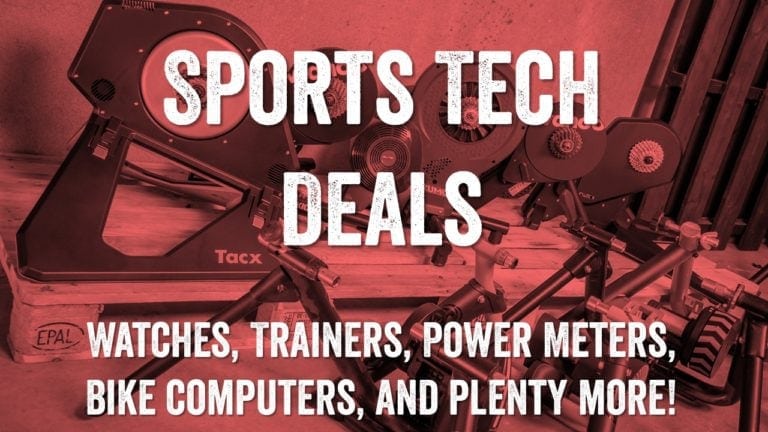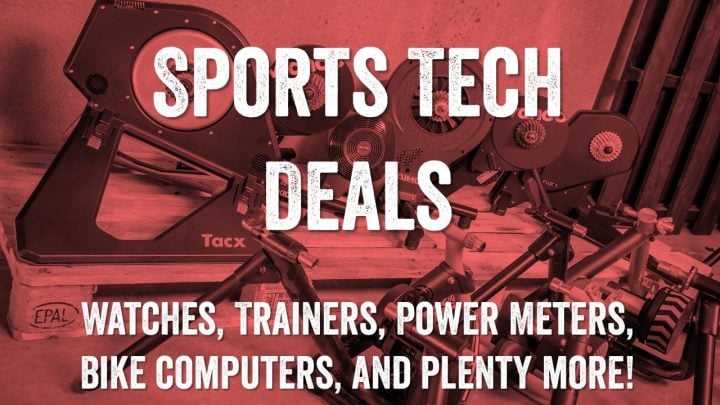 Here's a constantly updated page for the best sports tech deals out there. I've categorized them roughly by logical groups, along with some random stuff at the end.
Watches & Wearables:

This covers anything you can wear that's watch-like or activity band-like, including sensors.  Generally speaking, you'll mostly find deals here that are on things I've written about in the past.  So you won't find a deal on some random non-sports tech watch here, or on socks.  Unless the socks have some crazy sensor or something in them.
| | Product | Sale Price | Amazon | Clever Training | Sale Notes |
| --- | --- | --- | --- | --- | --- |
| | Garmin Venu GPS Smartwatch - $100 off! | $299 | Amazon | Clever Training | This is a very solid deal on this, and brings us back to Black Friday pricing. Now technically speaking this both a sale and a price reduction. Garmin has officially lowered the MAP price of Venu to $349 (from $399), and then there's $50 off sale atop that. Either way, this is in a much more price-appropriate ballpark for this watch. |
| | Polar Ignite GPS - Normally $229 | $179 | Amazon | Clever Training | This is a very solid deal for this unit, and about the lowest we've seen it. Note that the price varies slightly based on the exact color band you select. But either way, it's a great deal. |
Cycling Gear & Trainers:

Got a bike? Then this section is for you.  Everything from bike computers to bike lights to trainers, it's all here.  I won't generally be adding things like brake cables or bike seats here, but if I find a good deal on a cassette to stack on that new direct drive trainer you just bought, I'll probably list it here.
| | Product | Sale Price | Amazon | Clever Training | Sale Notes |
| --- | --- | --- | --- | --- | --- |
| | All Pioneer Power Meters & Bike Computer Gear Clearance! | 40% off | Amazon | Clever Training | This is a Pioneer-wide clearance deal for everything power meter and cycling computer from them, following the acquisition by Shimano this past week. Note that Pioneer (as well as Shimano) have stated that warranties/etc will remain in place, as well as support. So risk-wise this is super-low risk. There are some challenges with the 8000 & 9100 based cranksets and accuracy, but Pioneer has options that don't include those cranksets. Note that Clever Training doesn't have a ton of extra inventory here, so most of this stuff won't last very long. |
| | CycleOps Hammer (Original) - $200 off | $599 | N/A | Clever Training | This is a solid deal if you don't mind the slight racket that the original CycleOps Hammer makes. Note that basically there's virtually no feature differences between the H1/H2/H3 - just different colors of paint and on the H3, a different belt that makes it quieter. They're already running near identical firmware (the original Hammer got a big firmware update Aug 2019 to bring them all inline). |
| | Elite Direto X Smart Trainer - Normally $899 | $799 | Amazon | Clever Training | This is a solid deal for this trainer, and aside from generic 20% deals we saw over Black Friday, this is probably one of the better deals out there. The 'bonus' to Direto X is that I've seen virtually no issues with it in terms of early teething bits like the Elite Suito. |
| | Tacx NEO 2 Smart | $1,199 | Amazon | Clever Training | ⚡ This is a great deal, especially considering there's such little difference between the NEO 2 and the NEO 2T. We saw this deal back in the fall, and it looks like Tacx found another pile of original NEO 2's to clearance out. Note: This might not show as available yet, keep hittin' refresh! |
Action Cameras & Drones:

Wanna record it?  No better way than an action camera.  Anything that's action camera related or drone related you'll find here.  That's especially true of action camera mounts, which are often found for great deals around the holidays.  Same goes with drone and drone accessories.  Usually a great time to pick up an extra battery or extra props.
| | Product | Sale Price | Amazon | Sale Notes |
| --- | --- | --- | --- | --- |
| | DJI OSMO Action (Action Cam) - Normally $329 | $279 | Amazon | ⚡ This is by far the lowest price we've seen on the DJI OSMO Action, and it's a very strong first contender from DJI to compete with the Hero 7 Black (realistically, except for the dual-screen, it simply doesn't compete with the Hero 8). I really like a lot of elements on the OSMO Action, but especially the dual-screen. Check out my full review for comparative thoughts. While I would have said that maybe we'd see a new OSMO Action sometime this spring (an annual refresh cycling). The closure of DJI in China due to Coronovirus has pretty much killed any hopes for that anytime soon. |
Other Sports & Fitness:

Anything else that's sports and fitness related that I think is interesting will be here.  It may not be super techy – but it's stuff that most readers will be using in pursuit of their running/cycling/swimming/hiking/whatever.
There are no deals currently.
DCR's Random Gadget List

This is basically the mostly totally unrelated gadgets and things I think are cool deals that I've likely bought one or five of (you can never have too many, right)?  Some of it's probably photography stuff.  Some of it's random stuff like chargers and battery packs that I use daily, fun camera gear I use to make videos like sliders and turntables, and well…just random things you'll find around the DCR Cave.  It's all random…but it's all awesome randomness!
There are no deals currently.