The last stage of the 2023 Women's Tour de France wrapped up with plenty of sports tech and other tidbits to check out. In the above video I walk through all the team bus/technical areas to see what's floating around, plus follow some riders out to the starting line to show how it all works.  Meanwhile, down below I've got the full inventory of smart trainers from the team this year, including a surprise or two. And don't forget yesterday's post with the GPS bike computers and power meters, plus other tech tidbits.
First though, this was one of the coolest Tour de France time trial stages for fans, at least in terms of fan access. For example, last year's time trial on the men's side in Copenhagen, the course/route was unquestionably better – however, the teams were all basically secured in a fan no-go zone. Thus, while you could see the riders on the course, you couldn't get/see anywhere near them for the hours before they raced (individually). Here, not only was the area accessible – it was wide open with no media credentials required (save a handful of areas near the actual start line – and even that could have been accessed simply from the opposite side of where I stood).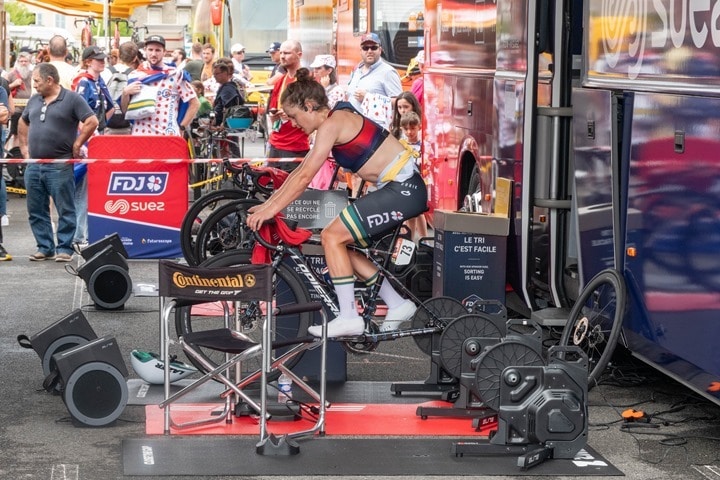 Meanwhile, on the smart trainer front, this was actually not the first stage the ladies used the trainers. The day prior, for the rather short Tourmelet stage, virtually all the teams did a brief warm-up on the trainers. It's one of the few times you get to see an entire team on smart trainers at once, save for the team time trials (which have become more rare in recent years).  Else, the riders are mostly on individually, as their start times are dictated by their current placement within the overall race (with first place going last).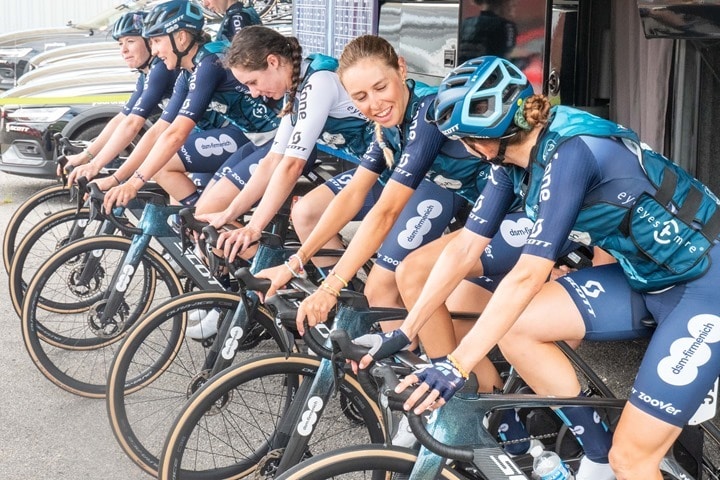 In any case, here's where things stood:
UCI WorldTeams:
Canyon-SRAM Racing: Elite Suito
EF Education-TIBCO-SVB: Wahoo ROLLR (they also had Wahoo KICKRs if needed)
FDJ Suez: Elite Suito
Fenix-Deceuninck: Zwift Hub
Human Powered Health: Wahoo KICKR V5
Israel-Premier Tech Roland: Elite Suito
Lidl Trek: Wahoo KICKR V5
Liv Racing TeqFind: Tacx Neo 2T
Movistar Team: Elite Suito
Team DSM Firmenich: Elite Suito
Team Jayco AlUla: Elite Suito
Jumbo Visma: Tacx NEO 2T
SD Worx: Tacx NEO 2T and Tacx Roller
UAE Team ADQ: Wahoo KICKR V5
Uno-X Pro Cycling Team: Tacx Neo 2T
UCI ProTeams:
AG Insurance – Soudal Quick-Step Team: Tacx Neo 2T
Arkea Women: Elite Suito-T
Ceratizit-WNT Pro Cycling: Wahoo KICKR V5
Cofidis: Elite Suito
Coop-Hitec Products: Wahoo KICKR V5
Lifeplus Wahoo: Wahoo KICKR V5
St Michel-Mavic-Auber93: Elite Suito (unbranded special edition)
Thus leaving the hardware totals as such:
Elite: 9 Teams
Garmin/Tacx: 5 teams
Wahoo: 7 Teams
Zwift: 1 teams
A couple of notables I picked up:
First, Team EF seemingly exclusively used the Wahoo ROLLR. While I don't think this trainer makes a lot of sense for most consumers, it makes a TON of sense for a TT warm-up scenario, especially where you've got disc wheels that may be indexed slightly differently than a normal cassette on a direct drive trainer. In fact, in the video you see me talking about Team EF and their ROLLRs, and then I turned right around and saw a different team having indexing issues on a trainer.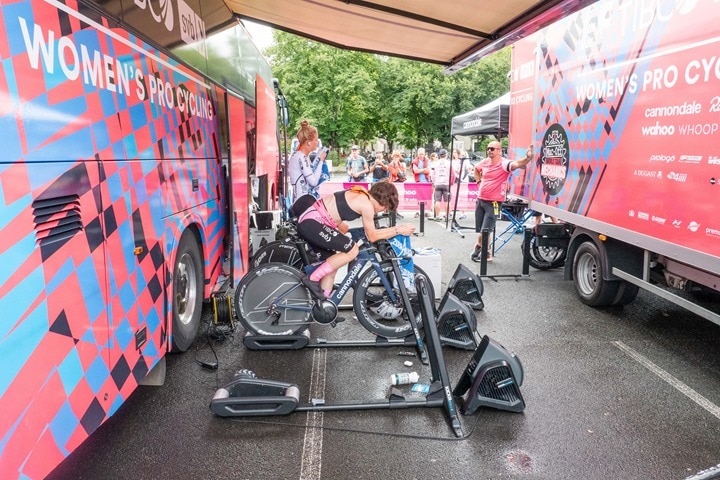 Second, Team Biscuit (St Michel-Mavic-Auber93), was running unskinned Elite Suito's. Meaning, they had removed all the decals from them and then added some other sponsored decals. In checking with Elite, they aren't actually an Elite-sponsored team. Instead, they simply bought them at retail, spent what I'm guessing was a silly amount of time/effort to remove the Elite labeling, and then stuck new labels on it. Given how rarely these smart trainers are used (and even more rarely shown in media), that seems a bit overkill for me. But hey, you do you. Or, they do they.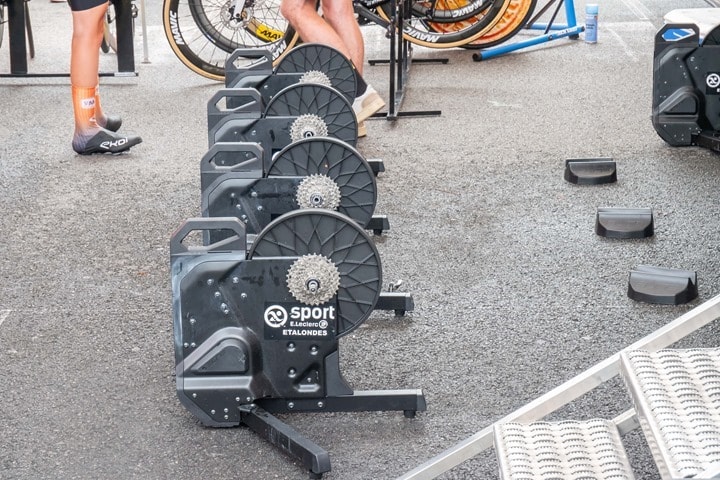 Third, we saw one rider with SD Worx deciding to forgo the Tacx NEO 2T to ride rollers. I'm assuming she just prefers rollers – it's not at all uncommon in the pro peloton to see riders prefer that over a static trainer. Interestingly, she didn't ride her TT bike on it, but rather her road bike. Video of that up in the…well..video. Instead, here's some Tacx NEO 2T's, with the ANT+ ID labeled on various sides for easy pairing: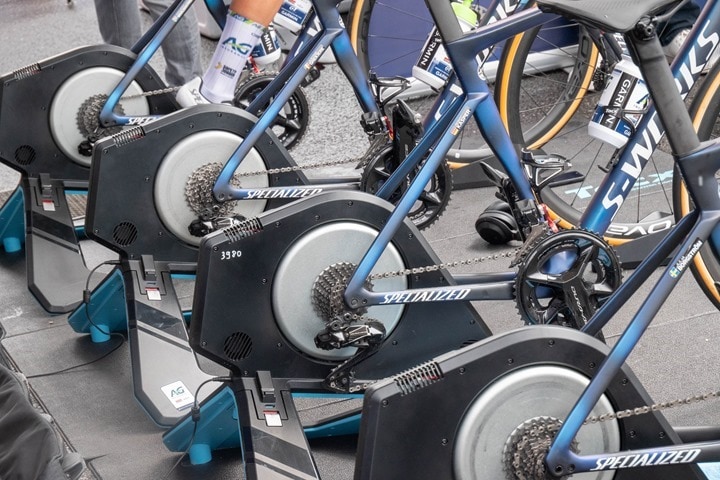 Fourth, on the teams that were sponsored by Zwift, they were actually riding Zwift structured workouts as their warm-up. I wasn't at all expecting that. What's even more interesting is that some teams are sponsored by Zwift inclusive of hardware (the Zwift Hub smart trainer), but some teams are sponsored by Zwift for the software/platform side. In that case you had some teams running Zwift on Zwift Hubs, and some teams running Zwift on Elite Diretos.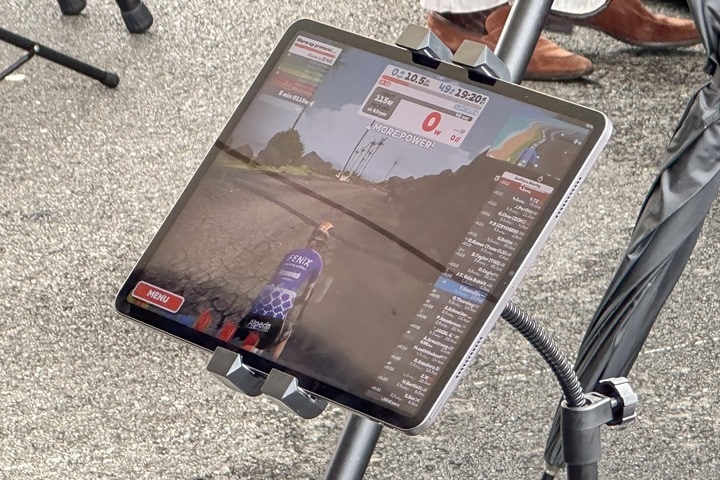 Lastly, with Team Biscuit having already established itself as going the extra mile, they did it again with this rear disc wheel. If there was ever great advertising for Stages power meters, this is it (also, in and of itself notable that Stages had some extra logos on the frame – which is super logical given the brand is near impossible to see otherwise). But again, Biscuit for the win: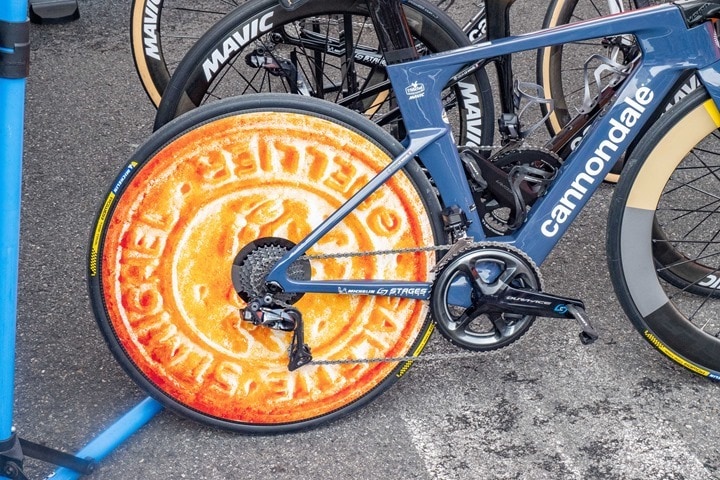 With that, check out the video for the rest of the smart trainer goodness – I hit up I think almost every team in the video.
Ultimately, it's awesome to see how far women's cycling and sponsorships have come in the last few years. I know I keep harping on that, but it's such a big part of the women's cycling story, as it is for any professional sports. For the most part, professional sports don't exist as an economy without sponsorships – especially cycling. We saw that 4-5+ years ago when the equipment and gear seen on the women's side was haphazard at best. Now, we've got full coverage on almost every component, and a race that's drawing in fans (both hardcore and casual) to watch and enjoy.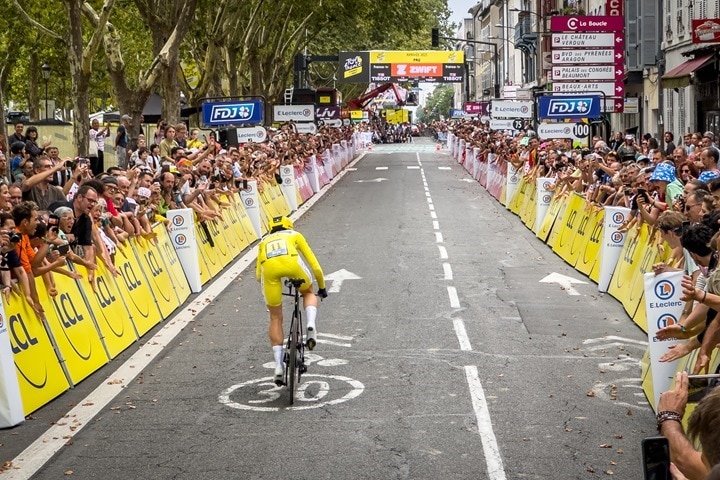 Looking forward to next year's event!