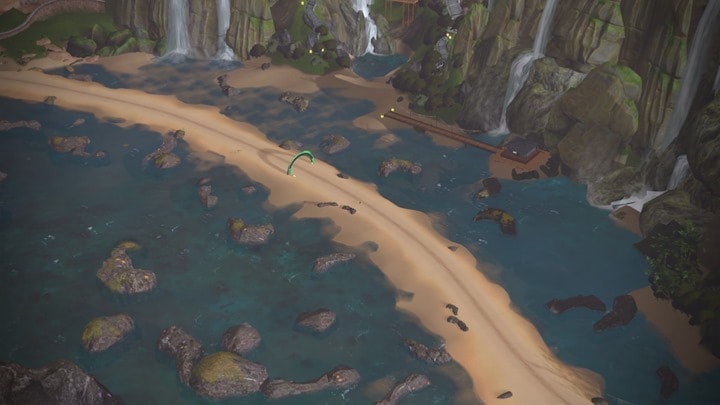 Consider this post a Zwift potpourri of updates. Depending on your time zone on this planet, last night Zwift rolled out a new update that adds a bunch of new pavement (and dirt..and sand) to the platform, while also bringing back some past features. Further, they've outlined a bit of an update plan for getting the newly released Apple TV 2022 fully supported.
Let's dive into it.
General Zwift Update: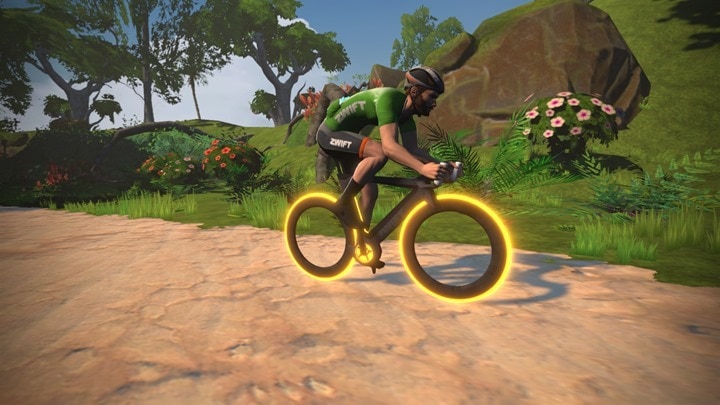 While the big ticket item in this Zwift update is the new roads, it also contains a few other notables. Here's the quick hit list:
– Brings back 'Join a Zwift': As a reminder, this got whacked a while back with the new home screen UI, but it has now returned (within the new home screen UI). You'll see your favorited Zwift peeps at the top of the list, followed by Pro and Verified Zwifters. Unrelated, at present, there is no Zwift Blue Verified but not Verified program costing $8/month.
– HoloReplay Updates: In last month's update, HoloReplay was released, which are essentially ghosts of your past rides. Previously these excluded solo workouts and races, now those are included. However, group workouts and meetups are still excluded due to rubber banding.
– Pace Partners are now called RoboPacers: Ummm….ok….noted.
– Improved Apple TV remote on Training Plan and Save Screens: I haven't had a chance to try this out, but I presume Zwift either made an actual software feature fix here, or they just lit the Apple TV remote on fire, roasted marshmallows, and called it good.
– Last Club is automatically saved: Finally! Previously it'd reset itself to empty each time, which meant that my likelihood of actually changing it at the end of each ride was approximately zero. That's roughly the same percentage as me getting around to mentioning or doing something with the Zwift DCRAINMAKER club I created a long time ago.
– No more holographic animals: Sadly, these have disappeared. Officially the release notes say "Fixed issue where pedestrians and animals would appear holographic", though frankly, that sounds more like a feature removal to me than a 'Fixed'. Personally, I'd love to see more holographic bears chasing Zwift runners.
Ok, that is all.
Apple TV 4K 2022 Upcoming Updates: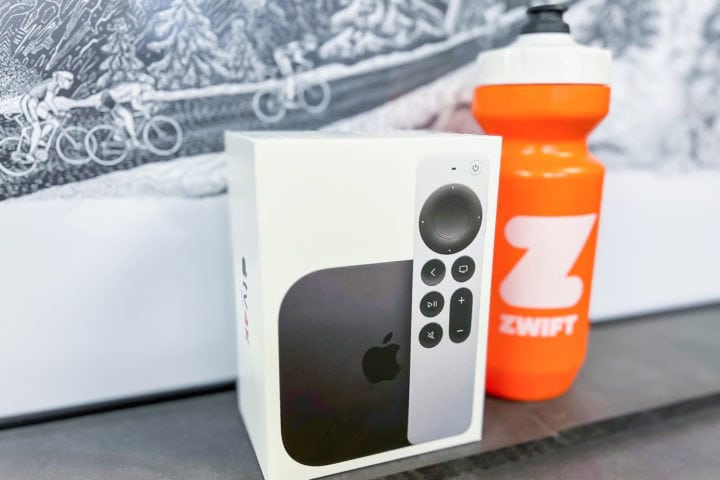 Back in October, Apple announced their latest Apple TV 4K edition, which offers a significant bump in processor and graphics performance (up to 50% faster CPU, and 30% faster GPU), while actually being substantially cheaper than previous editions. The base unit now costs $129 (versus $179 previously). As many of you know, I do the vast majority of my Zwifting on Apple TV, because it's generally the easiest and most efficient/stable way to Zwift. The 'just works factor' is exceptionally high, while concurrently being the least expensive way to use Zwift. It doesn't require any other Apple device in your household. While other indoor cycling platforms have added Apple TV support (Rouvy, RGT, etc…), Zwift has been around the longest in this realm.
Some might remember the last time Apple released a new Apple TV version, back in spring 2021. When they do so, Zwift usually runs on the new hardware, but isn't optimized for it. When Zwift opens, it internally checks what hardware it's on, and then loads the appropriate graphics settings for it. In the case of brand new hardware, when Zwift does that internal check, the answer it gets back is basically "Bunny Pancake", and thus, Zwift doesn't know what that hardware is yet, so the resulting experience can range from 'Same as before' to 'Worse than before'.
The point of that being that each time we basically have to wait for Zwift to get the hardware, test it, figure out what the real power/potential is, and then release an updated graphics profile. That typically happens by the next Zwift update cycle, assuming said cycle is 2-4 weeks out. However, there is good news to be reported.
Zwift has already been working since the release of the latest edition Apple TV to get it fully supported. It sounds like things are going well there, and they're aiming to have initial support for it in the next Zwift update (assuming no last-minute snags). It also sounds like this might be a multi-phased approach to getting some quick hit wins immediately, and then starting to take advantage of the hardware more deeply in following updates.
Once that update happens, I'll do some side-by-side testing to show you how things have changed. Either way, if you're buying a new Apple TV unit, definitely buy the new variant over the old one. First, it's more powerful. Second, it's often cheaper (or at worst, $30 more expensive, which given the future proofing, I'd spend the $30). Third, it's got other new features that are useful on the home theater/etc side. And fourth, the remote now charges with USB-C versus Lightning, which might be appealing to some.
Oh, and if you're wondering which variant to buy (there are two, one is $129 with 64GB storage, the other is $149 with 128GB storage), the three differences are: The higher-end model has built-in Gigabit Ethernet, can act as a Thread hub (home automation stuff), and has more storage. That's it. None of those features matter to Zwift (or any other cycling app), unless you specifically have deeply problematic WiFi issues at your home, in which case Ethernet might help you out instead of WiFi.
Riding Urukazi: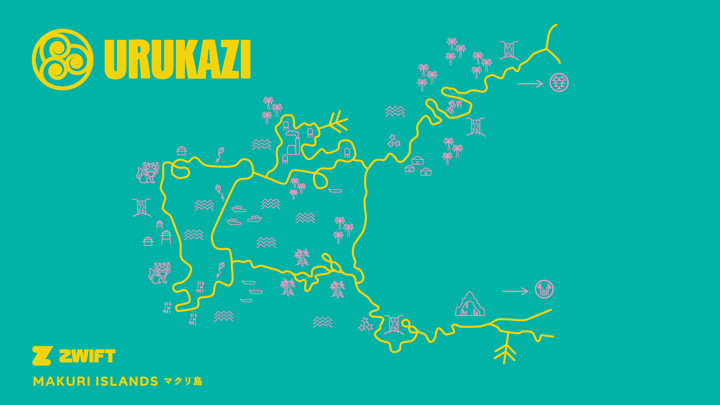 Next up, we've got the new roads. Though, it's more than just roads, it's also gravel, and even some hardpack sand sections. I gave this a whirl last night shortly before release, heading out on empty roads. Which, is about the only time I'll ever nab the green jersey.
In case you're trying to figure out how to pronounce and say this new area, here's what Zwift has to say:
"Urukazi (woo-roo-kah-zi) is the combination of two Okinawan words – "uru" means "shore," and "kazi" means "breeze." The combination of the two words is meant to evoke the serene, untouched character of the Southern Japanese archipelago. On the roads of Urukazi, you'll find a Zwifty interpretation of those islands' scenery as you ride pavement, gravel, and a new type of surface not yet found anywhere else on Zwift."
Alternatively, if you're still a bit unsure on what this all means, basically you're on jungle-ish islands with some temples and a random industrial area, and a few bridges connecting it all. Also, you do some riding on what I presume to be hardpack sand. I can't entirely tell if it's hardpack, but my bike didn't sink in, and my graphics card isn't fancy enough to show individual grains of sand.
I've listed all the new 'Routes' below, but keep in mind in Zwift parlance, routes overlap, so that doesn't equate straight to new roadways/trails. And some of those routes start from areas previously in the game, getting you to Urukazi. In my case, I did the Island Outskirts route, since that's totally new stuff, and a nice loop. The Urukazi update adds about 22KM of 'roads', while in total, the larger Makuri map now has 40mi/64km of 'roads' in it.
For your benefit I took an excessive number of screenshots below. These were on a Windows PC, since that's the beta build I had access to (I note that, since I just finished talking about Apple TV, and didn't want you thinking they were on that, for better or worse). I actually really liked this route. It has elements from other places in Zwift, yet still enough new little tidbits to feel…well…new. Go forth and enjoy the gallery:
With your picture tour complete, here's the official listing of routes:
Mech Isle Loop
Take a lap around this short industrial loop.
Distance: 2.5 mi // 4 km, Elevation Gain: 127 ft // 38.7m
Bridges and Boardwalks
Explore the biggest island in Urukazi.
Distance: 3.9 mi // 6.3 km, Elevation Gain, 195 ft // 59.5m
Island Hopper
Visit all of the islands of Urukazi in a single lap.
Distance: 11.2 mi // 18 km, Elevation Gain, 421.6 ft // 128.5m
Fine and Sandy
Explore mangroves and sandy beaches on this off-road loop.
Distance: 6.5 mi // 10.6 km, Elevation Gain, 253 ft // 77.1m
Island Outskirts
Race around the outskirts of Urukazi
Distance: 7 mi // 11.3 km, Elevation Gain, 295 ft // 90.1m
Makuri 40
Feel the burn on this 40 km loop around Makuri
Distance: 24.9 mi // 40 km, Elevation Gain: 1006 ft // 306.6m
Country to Coastal
Cruise open fields to open oceans
Distance: 20.7 mi // 33.4 km, Elevation Gain: 899 ft // 274m
Turf N Surf
A race from city streets to sandy beaches
Distance:  15.3 mi // 24.6 km, Elevation Gain: 642 ft // 195.8m
—
With that, thanks for reading!
Found This Post Useful? Support The Site!
At the end of the day, I'm an athlete just like you looking for the most detail possible on a new purchase. These posts generally take a lot of time to put together, so if you're shopping for the Apple TV 4K 64GB WiFi (2022) or Apple TV 4K 128GB WiFi+Ethernet (2022) or any other accessory items, please consider using the affiliate links below! As an Amazon Associate I earn from qualifying purchases. It doesn't cost you anything extra, but your purchases help support this website a lot. Even more, if you shop with TPC (The Pro's Closet), you'll save $40 on purchases over $200 with coupon code DCRAIN40! The Pro's Closet has been a long-time partner of the site here - including sponsoring videos like my cargo bike race, as well as just being an awesome Colorado-based company full of good humans. Check them out with the links below and the DCRAIN40 coupon!
And of course – you can always sign-up to be a DCR Supporter! That gets you an ad-free DCR, access to the DCR Quarantine Corner video series packed with behind the scenes tidbits...and it also makes you awesome. And being awesome is what it's all about!