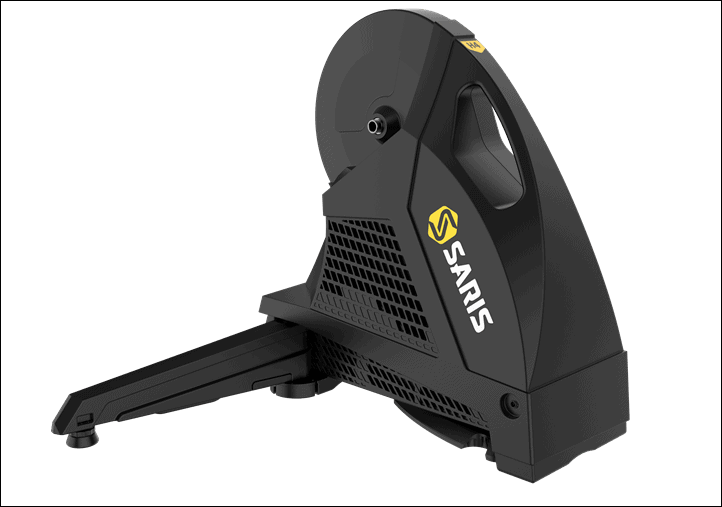 Today is apparently new-trainer day, with Saris joining in on announcing a new smart trainer, their H4. This new unit follows in the footsteps of the previous Hammer namesake trainers, most recently the Saris H3 from 2019. This new H4 trainer is mostly a modest upgrade in terms of features, designed to keep the Saris direct drive unit competitive within the mid to high-end trainer market. The big ticket items are increased accuracy, increased incline/wattage, and full 12-speed cassette support.
Now, while I've got a test trainer somewhere on the way, FedEx hasn't quite arrived yet (well, he's arrived a lot of times the past week, and given all the heavy packages coming in, he's probably displeased with me at the moment). But till then, this is just a quick placeholder announcement post outlining what's changed. Once I've got the usual slate of test rides on the new Saris H4, I'll drop a full in-depth review like always.
The Specs & Changes:
First up, let's dive into the core specs:
– Direct drive trainer: This means you remove your rear wheel
– Flywheel: It has a flywheel weight of 9kg/20 pounds
– Cassette: Compatible with 8/9/10/11/12 speed cassettes from SRAM and Shimano, XD/XDR & Microspline freehubs sold separately.
– Sound: Quiet, but not silent – same as Saris H3
– Handle: The unit has a built-in handle, and can fold the legs
– Protocol Compatibility: ANT+ FE-C, ANT+ Power, Bluetooth Smart Trainer Control, Bluetooth Smart Power (everything you need)
– App Compatibility: Every app out there basically (Zwift, TrainerRoad, Rouvy, RGT, The Sufferfest, Kinomap, etc…)
– Skewer Compatibility: All the skewers and adapters you could ask for: Road 130mm, 135mm, 142x12mm, 148x12mm
– Max Incline: 25% simulated grade
– Max Wattage: 2,300 watts resistance
– Stated Accuracy: +/-1.0%
– Power Cable Required: Yes, power block compatible with 100-240v
– Weight: 21.3kg/47lbs
– Pricing and Availability: $999USD, on sale on Saris.com tomorrow Sept 7th.
Of course, it's probably handy to outline what's changed from the existing H3:
1) Now supports 12-speed road bikes, whereas the previous H3 didn't
2) Increased claimed accuracy to +/- 1.0 (was +/- 2.0%)
3) Increased simulated gradient from 20% to 25%
4) Increased wattage resistance from 2,000w to 2,300w
5) Saris says they've also improved cadence accuracy
6) Changed color scheme back to a yellow accented one (from grey/black accents)
These are some pretty solid specs for an update version. Sure, it doesn't have a new external case/shell – it looks the same as before, but I'll take better specs/features over a new shell design any day.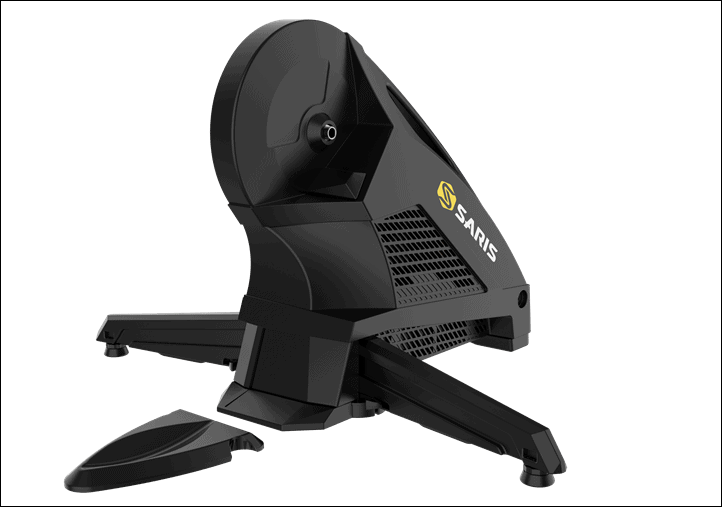 Core things I'll be looking at once I get to riding it in the DCR Cave are:
1) Is power accuracy maintained at the same level as before?
2) Does it maintain its previous "King of ERG Mode" title?
3) Any problems with any of my 12sp bikes?
And then beyond that, ensuring that the trainer continues using all the existing protocols/standards as their previous units, which were ANT+/Bluetooth Smart fully compatible across the board with any app you wanted.
As far as the King of ERG Mode title, I and many others have found that the Saris H3 (and previous units) is arguably the best trainer when it comes to structured workouts in how gracefully and cleanly it changes resistance levels, and then holds those levels. For whatever reason, almost every other trainer on the market struggles in some way here, even if they're just minor struggles.
For folks that might live in TrainerRoad or primarily just do structured workouts, maintaining that title could be a key purchasing reason – especially if coming from a louder/older version of the Saris Hammer series (like the original Hammer).
Wrap-Up: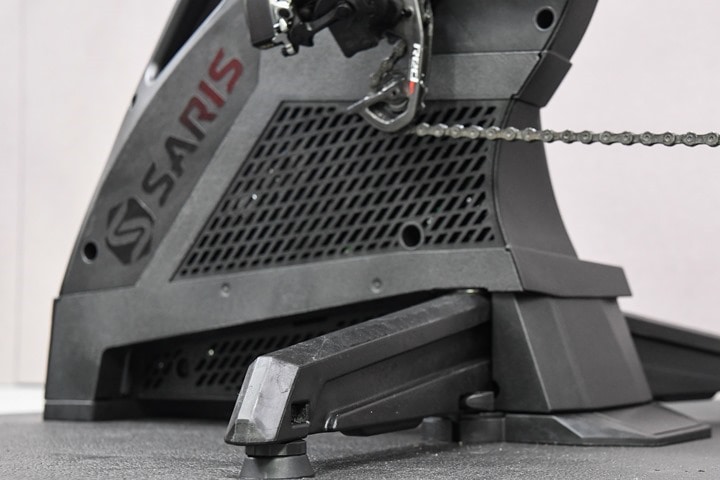 (Pictured above, the Saris H3 in my previous testing, which shares the same external body/design)
The Saris H3 was definitely due for an update, and these specs combined with this price will help keep the new Saris H4 in the conversation. While the sales of high-end trainers have slumped over the past 12 months (because everyone that bought/wanted a high-end trainer did so in the past 3 years), companies are setting themselves up for a new wave of bike owners to ideally join the indoor cycling fray this winter. The H4 basically makes itself performance spec-competitive with Elite/Wahoo/Tacx, but at a slightly lower price than those. That pricing gap is fair, since new trainers from those other companies have added features non-performance features like multi-channel Bluetooth Smart (Elite/Wahoo), rocking feet (Elite/Tacx/Wahoo), or integration with riser systems (Elite/Wahoo). Plus a smattering of other features.
Saris says they're keeping the existing H3 in the lineup with an official price of $799, though frankly, I suspect we'll continue to see it offered for crazy-pants prices like we have the last few weeks down to sub-$400. That clearance of their glut of inventory is in line with their ongoing sale of the company itself. While Saris hasn't made any public comments about the sale since early July, I can see from public court filings that some sale hearings are scheduled in a few weeks. While the specifics of those hearings aren't super clear from the filings, that'd be roughly in line with their plans to sell the company within 60 days of the late June announcement.
You'll remember at the time, Saris noted that a slew of issues (including chipset lead times), led to the delays of future product launches. While unnamed at the time, that did indeed include this new Saris H4. Still, until a final sale of the company is announced/clarified, I could see how some people might be hesitant to order the new H4. Hopefully, by the time I get my test rides in for a full in-depth review, the details of the sale will be clear. Plus, it's unlikely Saris would go forth with a new product announcement right now unless they had an agreement from the prospective buyer.
In any case, I'm looking forward to seeing the dust settle – both on this trainer, and the company plans. It's good to see more high-spec options at slightly lower prices than the existing $1,200+ trainers. Stay tuned for more soon!
With that, thanks for reading!