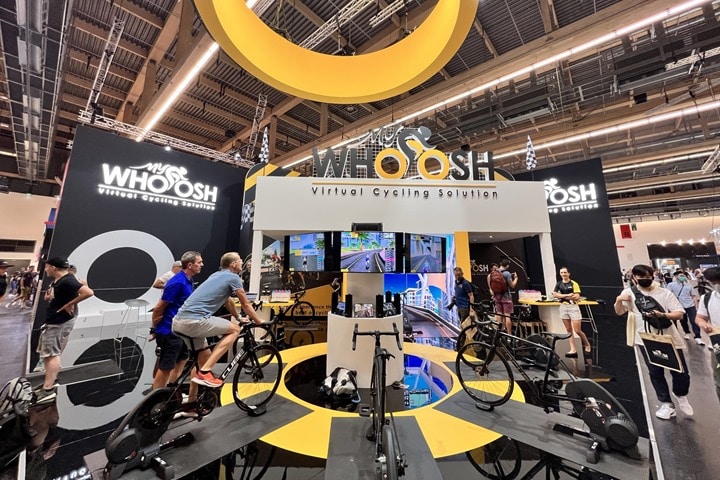 This year at Eurobike, the MyWhoosh stand was the largest indoor training stand app at Eurobike. Granted, it was also kinda the only one, given that Zwift didn't show up, and others like TrainerRoad have never shown at Eurobike. Nonetheless, whether or not they were the only entrant into this contest is besides the point, their booth had easily the coolest booth gimmick I've ever seen, which was full LED floor/wall thing that wrapped around you with their app inside of it.
Look, I don't really know how to explain this booth within a booth well, so here's a simple 25-second video I shot at Eurobike:
Point being, MyWhoosh (no relation to Whoop, or Burger King's Whopper) had a giant booth with tons of screens, tons of trainers, lots of fancy bikes, and practically nobody riding them. All likely because almost nobody had heard of MyWhoosh before Eurobike. So, I volunteered myself to find out WTF MyWhoosh was.
This quest involved four pieces:
A) Trying out the virtual LED panel thing like any other proper Instagram Influencer
B) Having a discussion with "Their Peeps" in the fancy upper-level Meetings Only portion of their booth
C) Actually just downloading the app and trying it myself in my shed last night
D) Getting lost in government/corporate holdings statements across all corners of the internet
Having now checked off those four pieces, I shall present my findings to you. Oh, and in case you're new around here – I just write about sports tech and call it like it is. If something is stupid, I'm gonna say it. And if something is awesome, I'm gonna say it too. I also probably say the "Quiet Parts" out loud too. I'm not sponsored by any company I review/etc, and if you find this stuff useful, you can become a DCR Supporter, which gets you access to behind-the-scenes videos and plenty more. With that – let's begin!
The General Concept: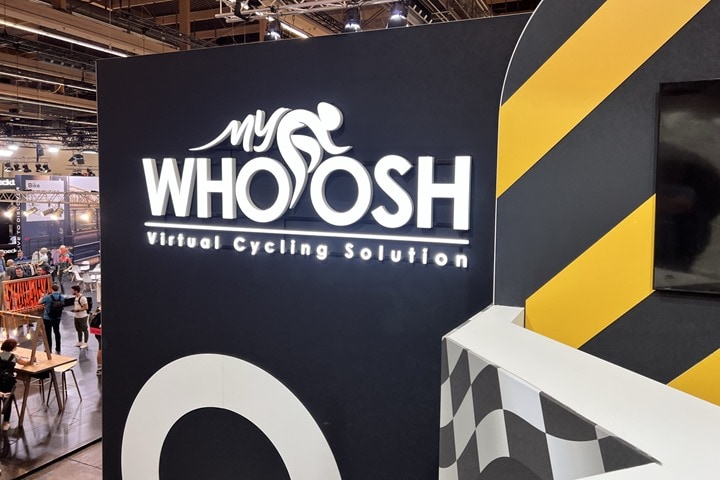 MyWhoosh is an indoor cycling app that offers virtual worlds, training plans, one-off workouts, and the ability to race against others. The platform is based in the UAE, and has a partnership with Team UAE Emirates (the pro cycling team). While MyWhoosh gets skittish around their investors, the simplified version is the lead/primary investor is the government of the UAE (United Arab Emirates), just like it is for Team UAE Emirates and countless other sport/tourism efforts. Their CEO is Akhtar Saeed Hashmi, also the CEO of numerous UAE entities including Royal Technology Services (RTS) and Mauqah Technology. RTS is a subsidiary of The Royal Group, that is ultimately headed by Sheikh Tahnoon bin Zayed Al Nahyan, the son of the founder of the UAE. This holdings group is responsible for some $26 billion worth of assets, as part of the UAE's International Holdings Group (IHC).
These lines are key to understanding the technical and non-technical goals that MyWhoosh has. At this stage, those two aspects are inseparable. And the result of these roots drives the decisions they make – be it the worlds they've designed, the bikes they select, and the training plans they build. Their stated goal is to increase physical fitness and sports activity within the UAE.
In the interest of achieving that goal, the platform is entirely free for now. It isn't clear what, if any, monetization goals the company has. In the spirit of spending money, the company even has some large prize purchases for races – upwards of $75K/month in prize money.
To date, the company has primarily targeted cyclists in the Middle East, focusing specifically on the UAE (the biggest cities of which are Dubai and Abu Dhabi), Bahrain, Qatar, and Saudi Arabia. As such, the company has developed two worlds to cater to those groups:
A) AlUla: This is a city in Saudi Arabia, for which MyWhoosh has built numerous routes stepping from, mostly with a desert theme.
B) Arabia: These routes are primarily based in a blend of Bahrain and the UAE, and include areas like Dubai and landmarks like the famed Burj Khalifa tower.
Each of those worlds has plenty of routes to choose from, as you can see below. There are routes stretching upwards of 50km, and as short as 4.9km.
In talking with MyWhoosh at Eurobike though, they noted that routes with less sand are on the way. They're planning a Colombia-focused world/routes addition in November, followed by worlds in Australia and Belgium. The company said they have a rather strong contingent of riders in Colombia today.
From a platform standpoint, the app is currently available on iOS/iPadOS, Android, and Windows. Next up will be an M1/M2 Mac edition, followed by Apple TV. There aren't exact timeframes for either of those though. On the Windows side, the specs are actually a bit high for what are often people's leftover computers, though it ran on my two-year-old $249 iPad just fine.
Arguably, the masterpiece of MyWhoosh isn't the virtual worlds, but actually its training plans/platforms. These are put together by a familiar name in pro cycling circles, Kevin Poulton, who is a former Zwift employee, previous head coach of WorldTour team Katusha Alpecin, as well as coach to pro cyclists like Caleb Ewan, Alex Dowsett, and Mat Hayman. Once you crack this tab open, it's clear it's done by a coach.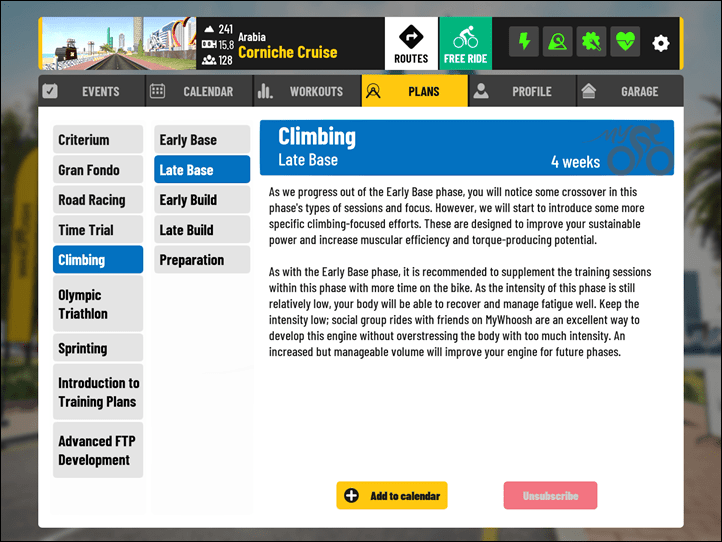 The platform has two intertwined components here. First is the training calendar, which allows you to overlay training plans and individual workouts, with details like training load displayed to the right.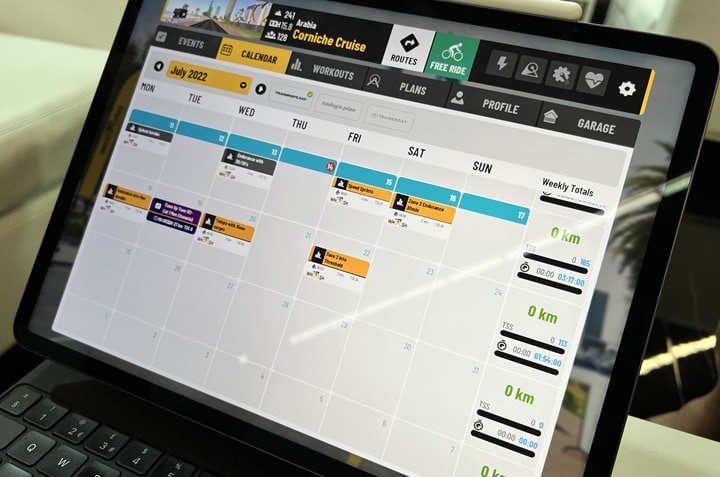 And the second is the training plans, and then the structured workouts they contain. Within the training plans each has the various build components, but perhaps most interestingly even allows you to start a training plan at a specific phase. Meaning, if you decide to do a race in 6 weeks, you can jump right in half-way through a training plan, skipping the earlier phases if you've already got that foundation. You can also of course just pick any given workout from within these, which are organized fairly well, and easily show each component.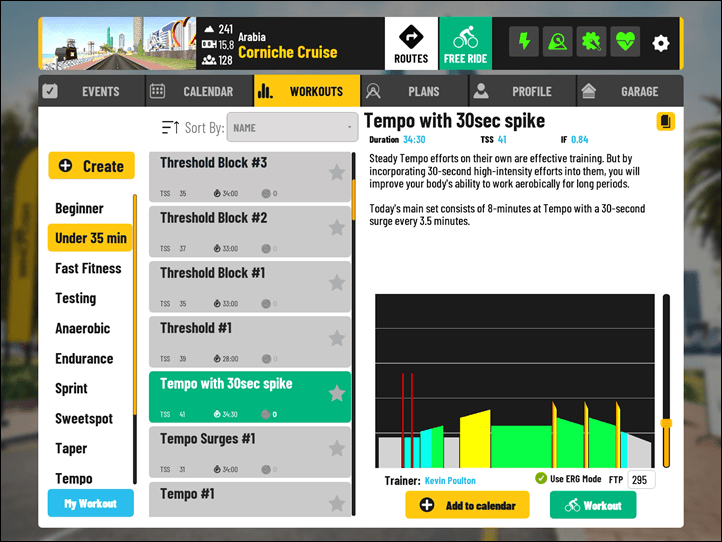 Further, if you've got TrainingPeaks, Today's Plan, or TrainerDay – you can even import your workouts into MyWhoosh and onto the training calendar. That's pretty cool, especially when you remember the platform is free.
In terms of racing and group riding, there were group rides set to start when I jumped on. I couldn't easily figure out how many people had joined an existing group ride, or were slated to join an upcoming one. Some of them showed total allowable participants, but it wasn't consistent across the UI. Either way, point being, that exists.
A big push for MyWhoosh is around racing and price purses. We see another Zwift alumni there, Jacob Fraser, who led Zwift's esports realm, and continues that focus at MyWhoosh. The company has a weekly racing series, called the Sunday Race Club, with a monthly prize purse of $96,000. MyWhoosh says they've got a bunch of different automatic performance verification pieces in place, including leveraging heart rate data, power data, historical data, and simply whether or not a human can actually put out that effort. Plus, hopefully down the road, automatic dual-power recording as shown in the menus.
As with Zwift, racing can be a component of the platform – but it doesn't tend to be used by the majority of users (group rides yes, races less so). And so while MyWhoosh (like Zwift) is throwing a lot of money in those realms, it often feels like most of it is for show/pride, rather than for the benefit of the majority of users.
Finally, there is a garage where you can tweak your kit to numerous jerseys and numerous bikes. Assuming of course you want a Colnago bike. Because that's the only bike brand you can choose from. But hey, if you have to be forced to use a single brand – go big!
With that, I chose the default bike and default kit, and go to it
My First Ride: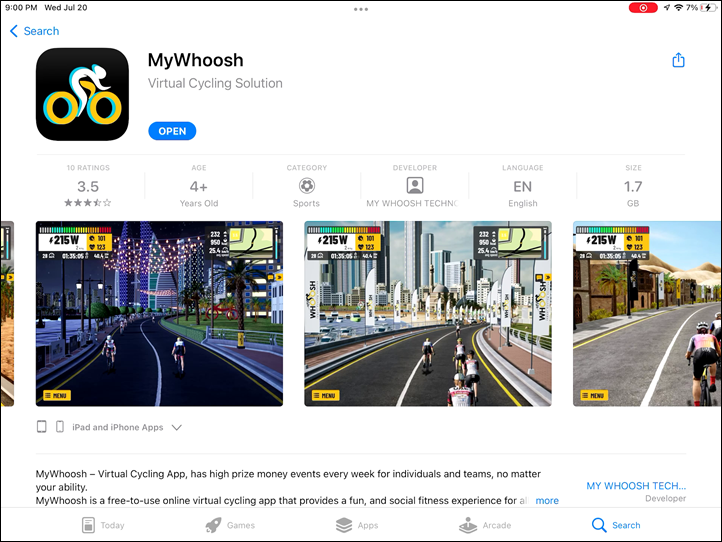 For last night's ride, I poked around a bit first trying to decide what to do. At the time I jumped on the platform, it showed roughly 500 people actively online. For context, I cracked open the Zwift companion app, and it showed just under 5,000 people online. It was around 9PM Amsterdam-time, so a bit late in the evening for most riders in the Middle East (11PM), where MyWhoosh has historically focused. Thus, I'm actually impressed it had that many people on then.
First up was the pairing screen, to pair up my smart trainer. In my case, I had my older Tacx NEO 2 that I'd be using, along with the new HRM-PRO Plus chest strap. I did pairing via Bluetooth, and had no problems getting everything paired quickly.
Interestingly, if you poke around that menu a bit, there's a dual power recording option they say is coming soon. This is something that many people (as well as numerous racing organizations, and even a research paper on Zwift cheating), have begged Zwift to implement). So Kudos to MyWhoosh for at least hinting it might be coming. And if you look above, it also seems to imply there is Wahoo Direct Connect support too (the icon next to Bluetooth).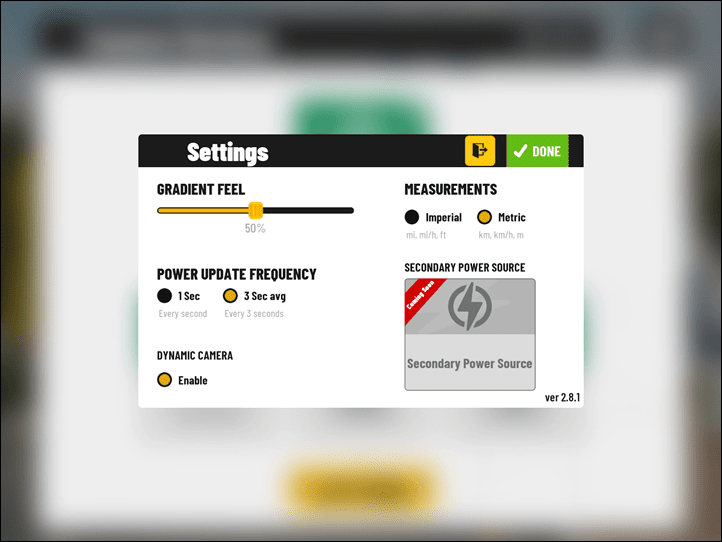 Once paired up, I could choose my world that I'd be riding in. I poked around for a while, and ultimately decided on something that included Dubai. I've been to Dubai more times than I could count, so I'd at least be able to judge the feel a bit.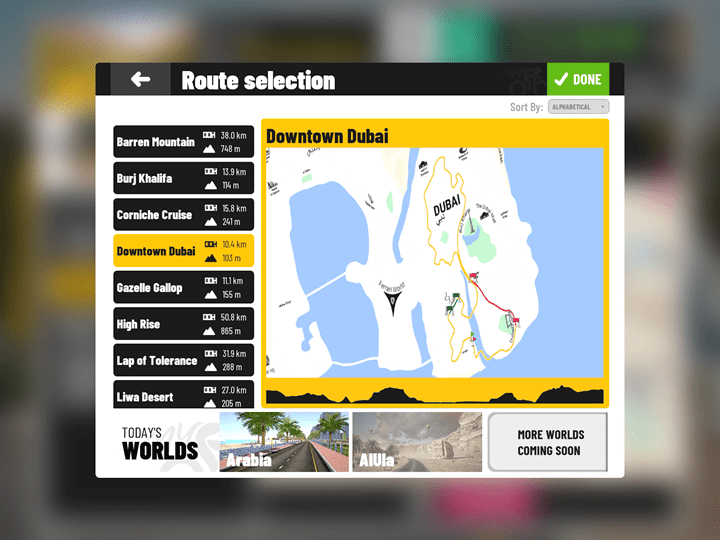 Then, given MyWhoosh has heavily focused on the structured training piece, I decided to give that a whirl for this ride. I went in and out of numerous options for structured workouts, and went with this one here:
I adjusted my FTP accordingly after this screenshot, though, it didn't seem to 'stick' when I opened up the workout a moment later via adding it to the calendar, reverting back to a default setting. No biggie, you can easily adjust the FTP value here and it scales immediately.
With that, I was off and cooking. On the whole, the user interface was pretty easy to understand for a first ride. Likewise, the trainer responded accordingly to the commands sent to it, and my sensors all seemed to cooperate as well.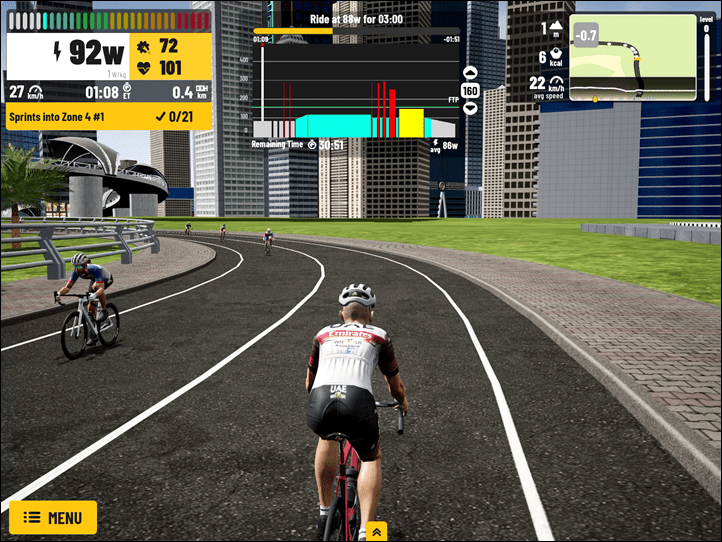 As you approach each segment in the workout, it is a virtual gate of sorts like Zwift does, indicating a new chunk of the workout is coming up next.
With any new platform, there's a learning curve. But, I think this first-ride is also the best possible scenario for companies to take feedback and incorporate changes, before a rider just gets used to things 'being the way they are'. Most of my changes would be that the text in the workout builder is both duplicated in some areas, too small in others, and non-useful in the last section.
Take for example the text in the yellow box on the side that says "Sprints into Zone 4 #1". This is actually the name of the workout. That's fine, but because it has multiple numbers in it, and is the largest written chunk on the screen, you visually keep looking at that thinking it's telling you which interval or such you're on. But it's not. It's just telling you the name of the workout. I'm not sure this is needed here. The actual guidance is the tiny white text at the upper center of the screen, which as you can see in this photo is hard to read against the transparent background.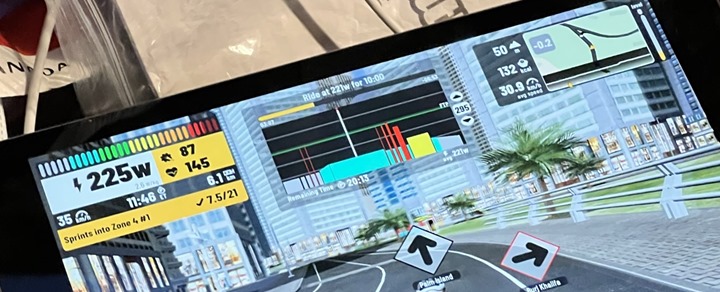 Similarly, there's a random line that extends straight-up in the middle of each chunk of the workout in the little workout overview up top. Logically, you'd think this is showing you the place within the workout chunk, but in reality, it's just a static pointer that stays in the middle the entire time, no matter where you are in the workout. I'd suggest this gets ditched, and use some color shading or such instead. Again, this is mostly aimed at helpful feedback from someone doing a workout for the first time. I poked around at the settings some, but didn't see any obvious ways to change much here.
In terms of graphics, I was running a 2-year-old iPad, which, I think is probably par for the course for most people. They don't have Apple TV yet, else I'd have used that. The graphics were fine, but nothing visually stunning. The buildings felt mostly repetitive, and aside from specific landmarks, were all kinda a blur. To be fair, that's not that unlike Dubai itself. Or even Zwift in certain worlds.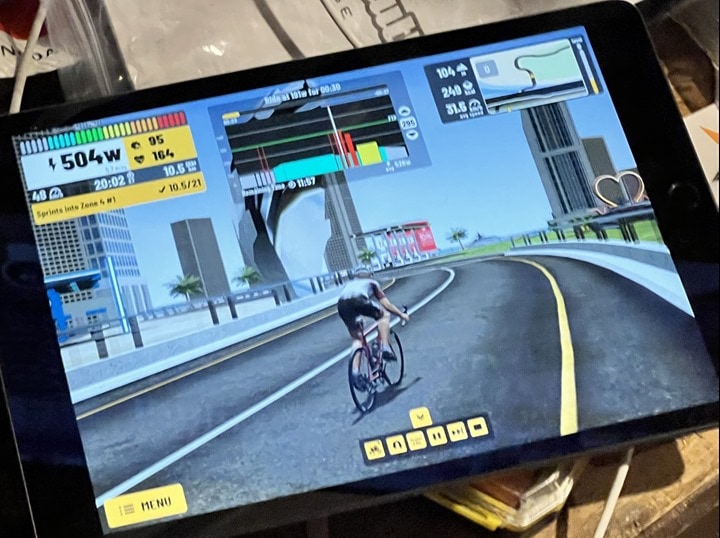 I do like the numerous camera options that were available, albeit the button on the iPad for changing said camera views was the smallest button known to mankind. Once my fingers became sweaty, it was an iffy proposition at best. But, MyWhoosh has an automatic camera changing option that can just keep scrolling slowly through the 10+ camera views. It's cool.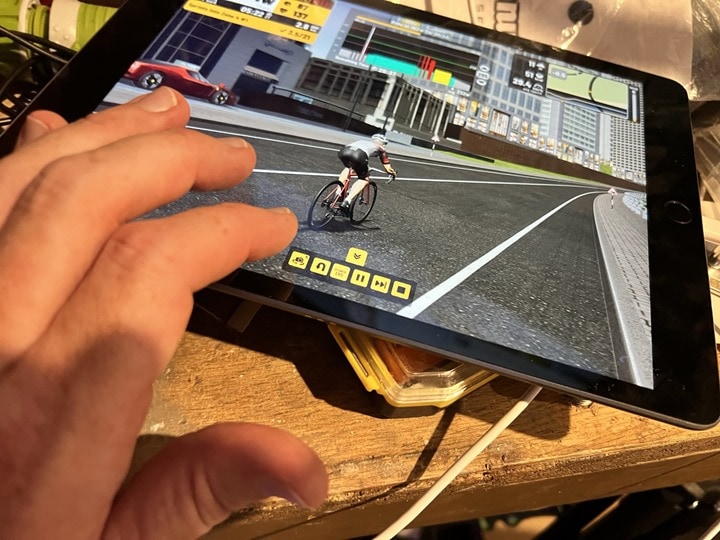 Now, with 25 seconds or so left in my ride, my iPad went kaput and ran out of battery. Apparently the newly purchased battery bank just couldn't keep up with things in real-time. Obviously, that's my fault. However unfortunately, the app lost all my ride data. Unlike most other platforms that can recover all but the final few seconds of a workout, this was unable. Upon the iPad powering back up, there was no evidence that I had ever started a ride, let alone nearly completed it. Hopefully, that's something they can address down the road.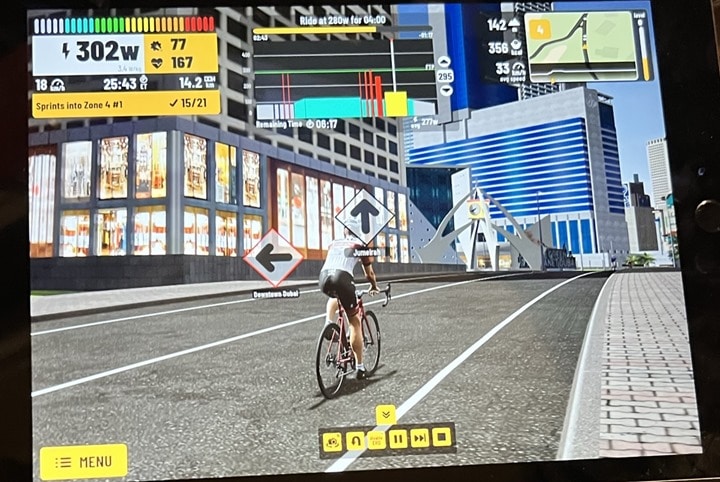 Had I completed it, it would have pushed the ride to my Strava and TrainingPeaks accounts as I had set up, and it would have also marked off my TSS in the MyWhoosh calendar inside the app. This calendar feature is something that most other virtual-cycling apps (with worlds) are lacking, so it's a nice touch.
Wrap-Up: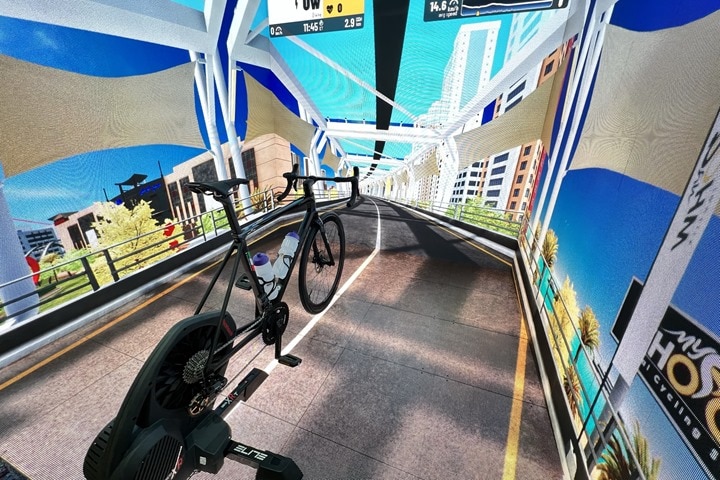 First, let's look at the technical aspects. As a platform, MyWhoosh does a lot of the fundamentals quite well. From a first-use standpoint, it easily paired up to my sensors, and I was able to get riding quickly and easily. There's a boatload of structured training options, which seem well designed and clearly targeted at focused training. And for those that already have their own structured training plan in one of the big training platforms, this is a literal easy-button to having those workouts automatically control your smart trainer, pacing you through the sets.
Looking at the worlds and graphics, it's OK, but wasn't really earth-shattering to me. It felt roughly on par with the indoor trainer industry today. There are things you can nitpick in terms of realism on each platform, and things that each platform does well. This doesn't stand out to me one way or the other. Given how much each of these two worlds looks like each other today, there isn't a ton of variety. It'll be cool to see them open up the Colombia, Australia, and Belgium worlds/routes and see how things look then. While Zwift gets plenty of criticism for its graphics (often deservedly so), they have managed to find a balance between top-end looks and something people can actually run on their computers.
Next, there's the business aspects. Just as I often discuss the business realities of companies like Zwift or TrainerRoad, I'm going to do so here as well. MyWhoosh's biggest challenge right now is actually not technical, nor the lack of people on the platform. Nor is it trying to launch at the same point in which the entire indoor training industry has hit rock-bottom. Instead, its biggest challenge is going to be trying to court a Western audience. It's going to be trying to convince people to invest time and energy in a training platform, even a free one, that might disappear tomorrow simply because the singular funding stream disappears after a bureaucratic change of heart.
And I don't have a solution for that (for either MyWhoosh or consumers). Having more competition in the space though is great for consumers. And in this case specifically, having more competition that's willing to throw someone else's money at something to develop features is great for consumers too. Heck, maybe as a result, Zwift will start taking their training plans/calendars seriously. Or, maybe not. Again, I don't know.
But what I do know is that in many ways, this is kinda like a Kickstarter project. I'd treat it as such, even if you aren't paying for anything. Enjoy the platform if you want, but also understand that with such an opaque funding stream and massive expenses, it's entirely plausible it might just disappear.
With that – thanks for reading!