Back a few months ago, Strava teased an upcoming Tour de France hub that'll allow you to track riders, stages, segments, and more – for both the men's and women's races this year. Today, that new hub launches ahead of the Tour de France starting next week. Albeit, since riders haven't done the riding thing yet, you won't quite see all the data goodness till after finishing those first few stages.
There are essentially a few core sections to this whole thing, which is in a new hub within the app, really the first time we've seen anything like this to my knowledge. In short, there is:
A) Complete listing of all stages: This includes the exact Stage routes and the ability to zoom in on any portion of the map, including in 3D view
B) Consolidated pro rider upload page: For riders that upload to Strava (which, is the majority of them), you'll be able to find the riders activity file and do whatever it is that you normally do when it shows up in your feed
C) Consolidated list of key stage Strava Segments: Strava has gone through and highlighted a handful of key Strava Segments on each stage (from what would otherwise be thousands and thousands of Segments). So you can see how the riders do on that, as well as perhaps compare it to your own efforts if you've ridden it in real life.
D) Various Strava Challenges: Strava has also created challenges around time, distance, and elevation that you can partake in. Or, you can just do like every other proper cyclist and sit on the couch and yell at your TV instead.
Now as noted, this all launches today, and assuming you've updated your Strava app recently, you should start seeing this at the top of the Feed, or you can click on this link here to get right into it (from the mobile app). Doing so brings you to this page below, which on the top shows the overall route, and then down below has some of the challenges, as well a link to the Tour de France Femmes avec Zwift (the 8-day variant for the women that starts later in July).
Clicking to explore the Stages, you'll be brought to Stage 1, where you can browse the Stage in either regular map view, or 3D map view.  Down below is an 'official' segment, which I presume just means the curated one for that section. Given Stage 1 is a time-trial stage and simply a short 13km circuit around Copenhagen, they didn't exactly have a lot of options for 'proper' Strava Segments. As you can see, this one is 0.7km long at 0.2% incline.
(The Tour starts in Demark this year for the first few days, before going to France, then sauntering into Belgium for a short bit, then back to France, then dipping into Switzerland for a few stages, before finally going back to France and staying put.)
If you tap the 'All' button, you'll see a listing of all Stages. First the men's and then the women's stages (since that's the date order):
You can then tap on any given Stage for the same details as before, this time I selected the July 14th Alpe d'Huez stage (Stage 12), which looks much cooler in the app, and has the three major climbs of the day (Col de la Croix de Fer, Col du Galibier, and Alpe d'Huez). That should be an epic race day, appropriate also being Bastille Day (La fête nationale française).
All of this is pretty cool. About the only caveat is that as someone living in Europe, I don't see any easy way to tap on these routes and create a normal Strava route from it that I can ride. Obviously, these routes exist somewhere as proper Strava Routes, but it'd be great for Strava to stick a list somewhere (or, perhaps it's somewhere but just not findable). Countless people ride these routes during the Tour de France (usually morning of, day before/after).
Again, these are all obviously pulling from just a Strava Route ID, and it'd be great to have said listing of those route ID's (also, it may surprise you to learn that getting the *precise* TdF routes ahead of time is actually really challenging, most of the time this is only really available in the final days via various media/press packets, and not actually published anywhere in a public way – so if Strava puts these somewhere logical, that'd be awesome).
(Speaking of lists, Strava actually used to have a consolidated Top Cycling & Top Running routes for many cities on a simple blog page. But with their newish insta-routing rollouts, they've sadly redirected all those pages to a generic marketing page. Those Top 10 route pages were awesome, and I often used them in a number of cities, as they were legit human-curated completed with photos and more. Here was the page for the Amsterdam routes, you can still find it in the Internet Way Back Machine from last fall though. What's silly is that Strava is/was the dominant result for all these cities before they redirected these, which they'll ultimately lose to other pages.)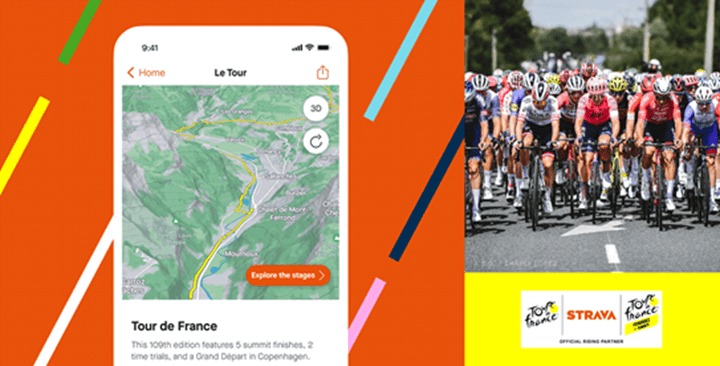 In any case, I'm looking forward to seeing how this all works once the riders start pedaling. I don't expect the data to be that exciting after the first day, given the shortness of the Stage, and the fact that it's a time trial stage. But, once we get into the main stages, it should be pretty interesting – especially if they have the vast majority of the Peloton onboard.
Back in March when they announced this, they noted that last year "72% of the men's peloton and 68% of the women's peloton were on Strava." and that "This year, we expect it to be universal" – hopefully that's the case. And, hopefully, after a few days of this going live, we'll see other athletes jump onboard as well.
Certainly, it behooves riders to get themselves onboarded into the list, since that in turn means more people will see their accounts, which in turn draws more attention to their sponsors, which in turn is what makes professional cycling ultimately tick. Just like any other professional sport.
With that, certainly more to come from the Tour de France next week, stay tuned!