As is the case when signing up for most races, you usually think it's a good idea. In hindsight, about 75% of the way through said race, you usually regret your life choices.
When I signed up for the cargo bike race, there wasn't a lot of information. Aside from knowing the starting location and time, it wasn't clear how long said race would be, or what the rules would be. All I knew was that electric cargo bikes were allowed, and perhaps encouraged. This probably should have been my first clue that significant pain and suffering would lie ahead. After all, if something sounds too good to be true – it probably is.
And thus, my first introduction to cargo bike racing in the Netherlands. This event was put on by a combination of Ride Out and Rondes van Amsterdam. It included kids races, adult regular crit races, and yes…a cargo bike race.
I had seen various Instagram snippets of cargo bike races elsewhere in Europe, but in most cases, those races were usually using more lightweight messenger-style cargo bikes, rather than the 45KG/100lbs beasts that are everyday cargo bikes intended for transporting children, Christmas Tree's, and BBQ's. Whereas this race was all about the everyday Mom or Dad pedaling up to the starting line and racing for what we'd assumed would be a relatively short distance.
I was wrong. We were all wrong.
We being all of the racers, since none of us seemed to know ahead of time, and all of us seemed to assume this was like a 1-2 lap sort of rodeo. Also, in this case, 'we' includes The Girl, seen here as well: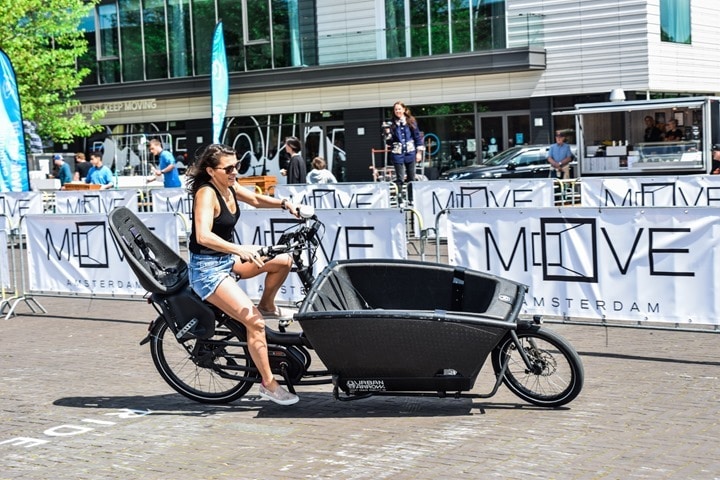 (Both this and the main thumbnail photo taken by Bernadette Zevenhuizen)
As it would turn out, this race was a nearly 30-minute affair with my average heart rate at almost 180bpm, and average wattage closing in on 300w. And how do I know that it was 300w? Well, I fitted power meter pedals to the cargo bike, of course. Then I added some $20 snap-in flat inserts atop that to keep things easy to pedal in regular street shoes (And since so many of you asked when I first showed this: Here's the LOOK Keo variant, Shimano SPD-SL variant, and SPD variants):
But of course, all those details are up in the video, along with plenty of hilarity. This is one of those things (pain and suffering) that's just better experienced on video. Or, on Strava.
Enjoy!