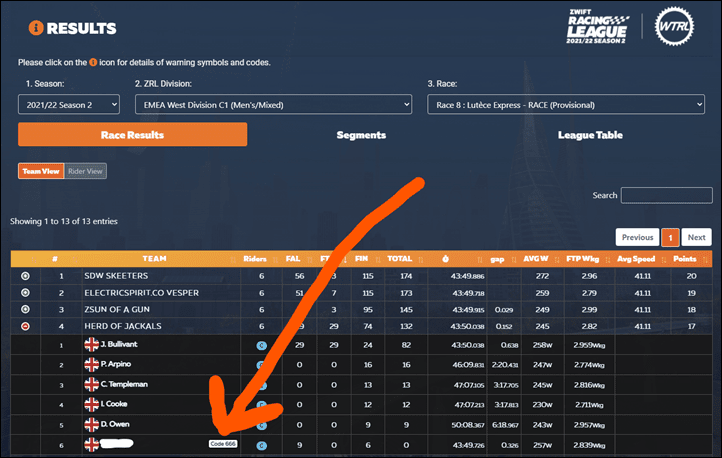 Well, that didn't take long. Zwift's official race partner, WTRL, has seemingly disqualified their first individual for using the recently published mid-race weight-changing cheat. The individual cheated last night during Race 8 of this season's WTRL Zwift Racing League event. He was competing in the EMEA West Division, C1 (Men's/Mixed), as part of a team. While the rider was disqualified, the team he was competing with was not, and the leader of said team made a statement on Facebook apologizing for said rider.
For those not caught-up yet on this whole absolutely splendid kerfuffle, last week a cheat was widely disclosed that allows someone to change their weight mid-race using the Zwift companion app, such as to shed weight during a climb. However, as long as that person changed their weight back to the original weight by the end of the race, then nothing was flagged. Zwift ultimately responded on Saturday, saying that they're actively working on implementing a fix to block this.
What's fascinating here is that someone actually bothered to use this cheat, despite the fact that both Zwift and WTRL said they were now actively monitoring for it, and in WTRL's case, even said that they've been monitoring for it for over a year now (albeit, without disqualifications or even noting it).
Interestingly, the exact wording here in the definition codes seems to indicate that in order for someone to be considered cheating, they have to "beneficially" update their weight (making themselves lighter). Thus the implication is that if you make yourself heavier (thus, it's harder for you), it's OK. Though, I'd think that would be difficult too – since on a stage that finishes downhill, making yourself heavier would actually be beneficial. Either way, I thought it was a notable distinction.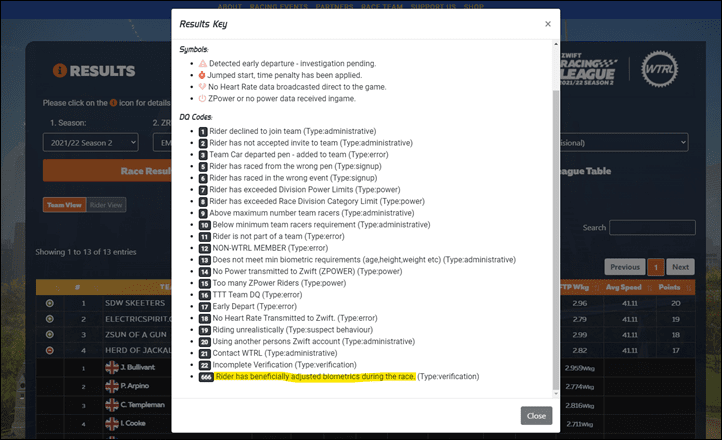 As part of this disqualification, the rider was listed in the recent incident not just as disqualified, but with DQ code 666. An ironic code to give for sure, given all the numbers that WTRL would have at its disposal. You can see the DQ code displayed below. In this case, I've used White-Out to remove the offender's name. I don't know this person, but I also don't see any reason to have this site be grounds for lynching CAT C weeknight racing riders, no matter their ills.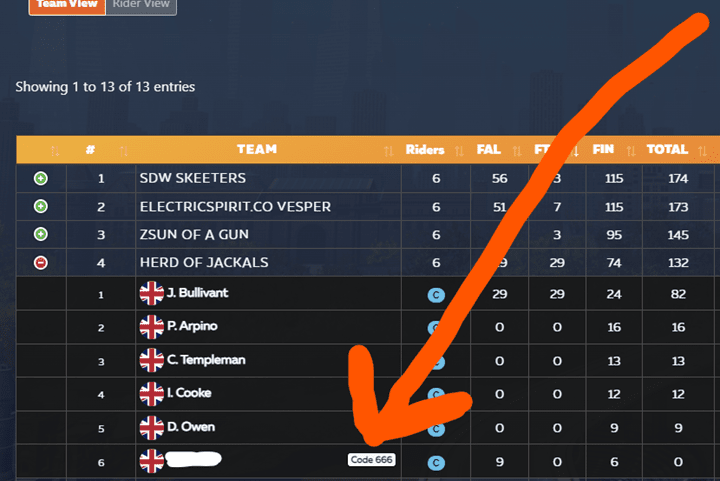 In terms of what happens to the White-Out rider next? Well, to begin, Zwift Power has pulled the rider from the race results (not even listed as a DQ).
Then I asked Zwift, who first noted that they are seeing some riders actively 'testing' this over the last few days, and have been monitoring it. In terms of penalties for this particular cheat,  Zwift's Chris Snook said:
"As you can imagine the disciplinary process is something that is being discussed. There is an element of human discretion involved in the process but a user could expect to receive an email containing a warning from Zwift. Repeat offenses following such a warning would result in a shadowban for a minimum of a week."
Though, the usefulness of this particular cheat will likely be short-lived, as Zwift says they're hoping to have a fix in place this week, thus blocking the cheat.
With that, thanks for reading. And thanks to DCR reader Erin for pointing this one out!