Today GoPro announced the new GoPro Volta Battery+Remote Grip, which is basically a selfie-stick that includes both of those features together, combined with a small pile of other integrated features. In addition, they also announced the new GoPro Hero 10 Creator Edition, which is a kit including the Volta and other accessories (see my very efficient review video here on that).
I've been using the GoPro Volta for a few weeks now in my production workflow, and figured I'd pull together my thoughts on how it all works, and where it'll fit into my arsenal of gear going forward. It's a unique piece that has a strong use case, albeit, as you'll see – not always a daily use case (at least for me).
Note that GoPro sent over a media loaner of the Volta to try out, but as usual I'll get that back to them and go out and get my own through normal retail channels. If you found this review useful, consider some of the links at the bottom, or becoming a DCR Supporter, which helps support the site and gets you great behind-the-scenes content (including some tidbits on this very review).
The Pieces:
Inside the box you've essentially got four pieces:
A) The Volta itself
B) An extra door for your GoPro that allows the USB cable to pass-through
C) A GoPro screw
D) A GoPro USB-C charging cable
It's as simple as that, here are those pieces (minus the standard-issue GoPro USB-C charging cable, cause I forgot that on my trip):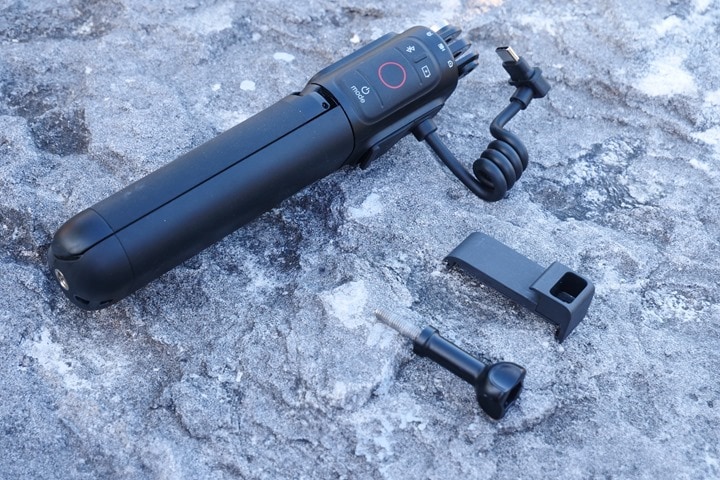 For quick size comparison, here's the Volta next to the GoPro 3-Way stick and the smaller GoPro Shorty stick: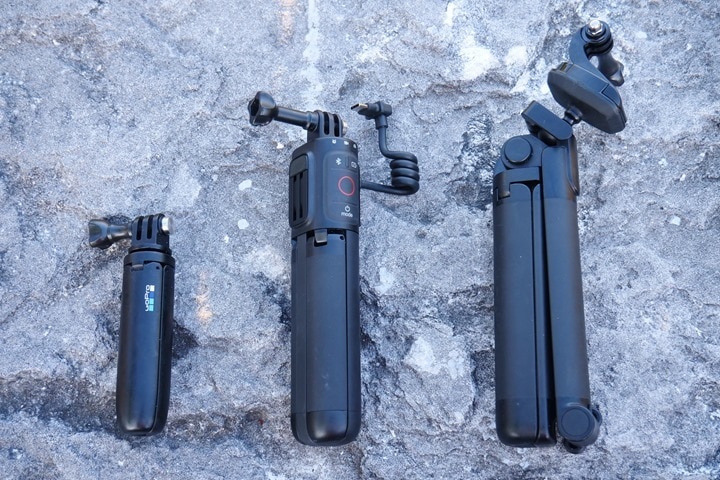 I've long used both the 3-Way and Shorty sticks. I tend to use the 3-Way for activities like cycling or where I want more reach for a wider or unique angle shot.
Whereas for the Shorty, I tend to use it for running or where I just want a tiny bit better grip on the GoPro while holding it (mainly so that my hands don't impact the mics if I'm holding the GoPro itself).
Anyways, more on that later.
Integration Aspects:
The Volta can basically be used in two core scenarios (or a combination of the two):
A) Having the Volta on-stick buttons act as a remote to control your GoPro (even if not attached)
B) Having the Volta charge and control your GoPro when the cable is attached (this includes wired control of it)
That means that you can effectively use the Volta in much the same manner as GoPro's other remotes, albeit obviously quite a bit larger. But it does give you that flexibility if you want to stick the GoPro somewhere out of shot and use the Volta to trigger it.
From a wired standpoint, you'll first grab that little door that came with the Volta (this is also the same door that's been sold separately for a while now), and pop that on (literally, just rip the other door off and then snap this in place).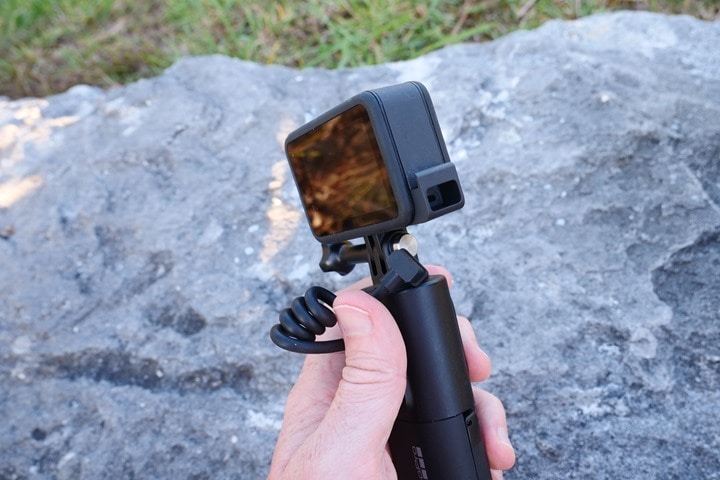 Next, simply plug it in. The Volta has a flexi/squiggly cable, and simply snaps right in:
At this moment, you've got total standard remote control over your GoPro. Press the big red button to either start/stop recording, or to take a photo (if in photo mode). And then press the mode button to change modes: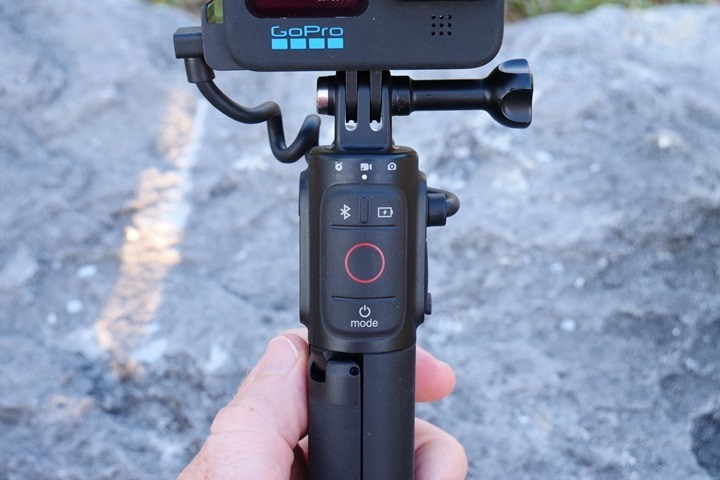 You'll notice on the top edge, there are the three mode icons (Timelapse/Video/Photo), that align to the three modes within the GoPro (and of course, each mode has multiple profiles, but those aren't accessible using the Volta buttons, you'd have to touch your GoPro itself). The small light illuminates next to each one, depending on your mode.
And then if you press the battery icon, you'll see the battery status of the Volta grip itself, in 20% increments.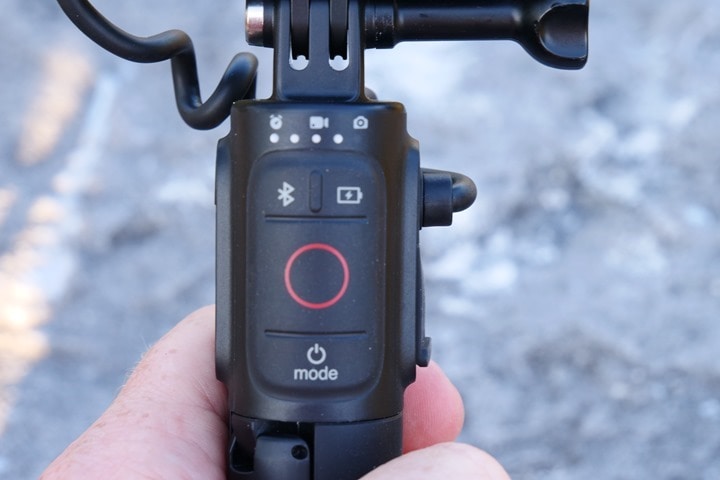 The Volta has a 4,900mAh battery in it. A standard GoPro or GoPro Enduro battery is 1,720mAh, so basically, you're filling up 2.85 battery's worth. Or simple napkin math says basically three GoPro batteries.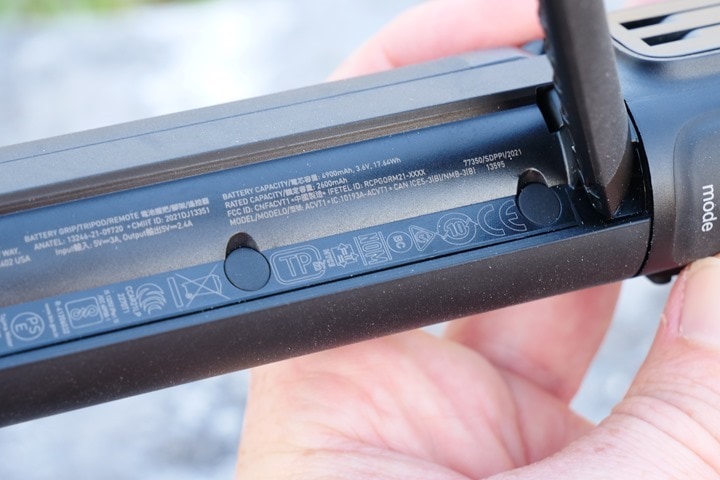 The Volta can accept a 3A/15w max input, and outputs at 2.4A/12w max. GoPro says the full charge time is 2.5hrs using a 3A charger.
Now, you can also control the GoPro from the Volta remote using Bluetooth.  Before we do that, you'll need to update the firmware on your Hero 9 or Hero 10 camera (while the Hero 8 or previous can charge from the Volta, it can't pair to it). Once you do this, and plug in the Volta, it'll automatically pair the two via Bluetooth just via the cable (for future non-cabled connections). It's pretty slick.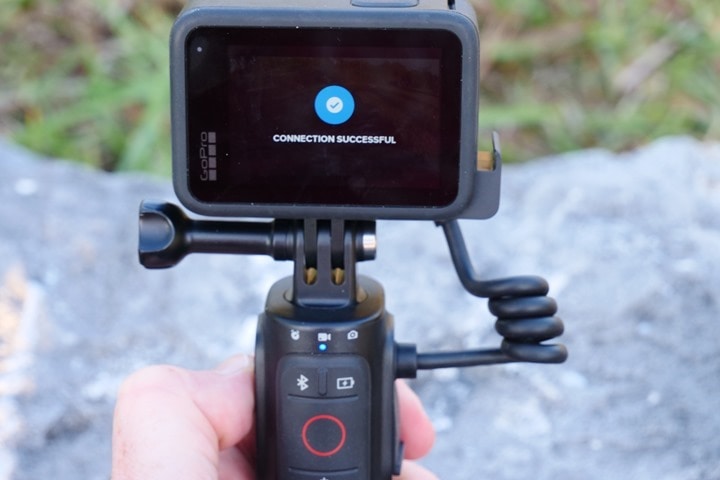 Alternatively, you can pair it the old-school way via the Bluetooth connections menu, where it'll show Volta as an option: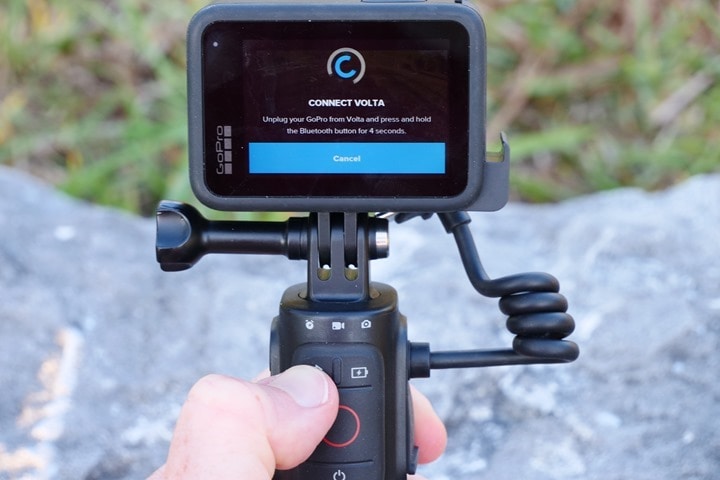 And, for non-Hero 9/10 cameras (like the GoPro Max) that don't get a firmware update, you can simply use the GoPro Remote option, and it'll pair it the same way (it just won't be called Volta on your screen, but functionality is identical).
No matter which method you want to use (wired or wireless), the controls end up being the same. They are as follows:
– Press Mode+Power to turn on your GoPro
– Press Mode to change GoPro modes (e.g. video/photo/time-lapse)
– Press the Record button to start recording
– Long-hold the Mode button to turn your GoPro off
The Volta will stay in a low-power sleep mode for up to 24hrs, and then after that, it'll go into hibernation and you've gotta press a button to wake it up.
Finally, as a fun tidbit, the Volta itself actually can have its firmware updated. The camera does it on behalf of the Volta. It'll start to update the Volta as soon as it's plugged in, assuming the battery is more than 10% charged. Presumably, this would be to add compatibility with future GoPro cameras, tweak features, or simply fix bugs.
Hardware Aspects:
When it comes to usage, obviously, its main aim is as a selfie stick you hold: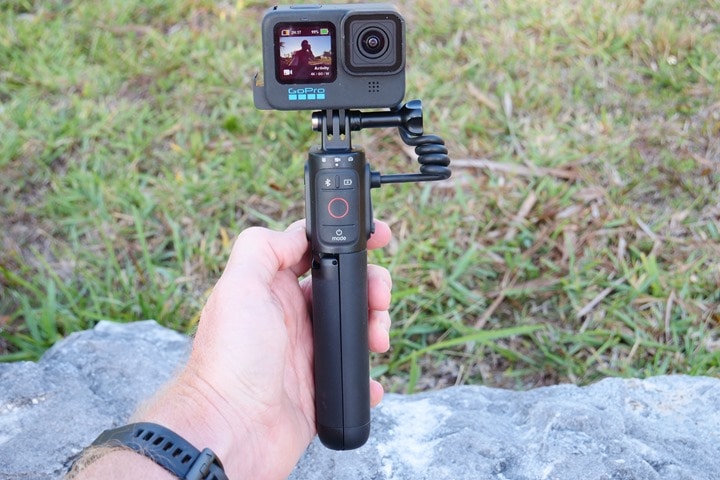 At the top there's a rotating GoPro mount, which rotates in 90° increments (see the video). it's pretty hard to rotate by hand without a GoPro attached to it, and once attached, it snaps really nicely in each rotational angle. Meaning, it's sure as heck not going to accidentally rotate unless you very forcefully impact something (in which case, the rotational angle is frankly the least of your concerns).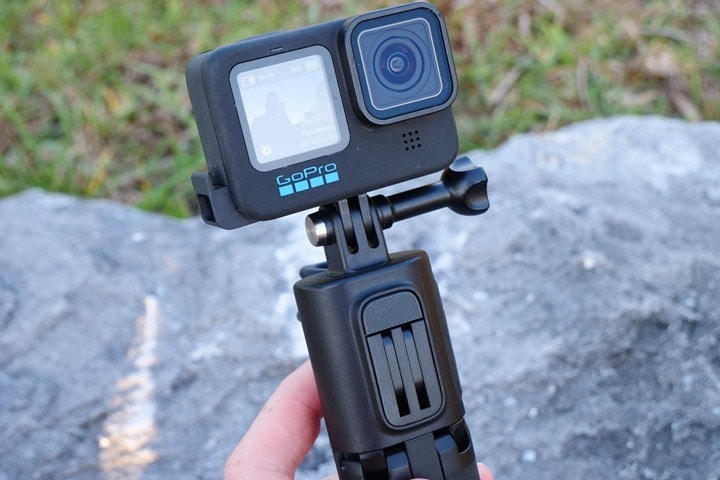 Next, if you've got one of those fancy GoPro backpacks with the GoPro holder on the strap, you can pop-out the GoPro mounting fingers out the side of the Volta. Note that you press a button to pop these out: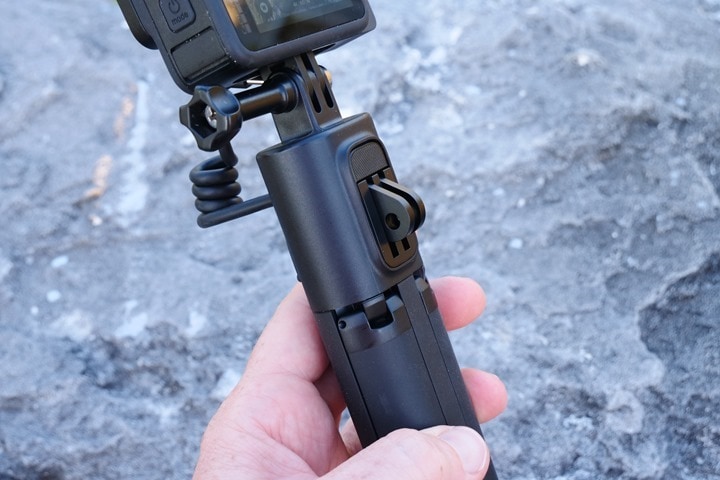 This allows you to wear it on your backpack, though there's no quick-release in that scenario, unless attached to a GoPro mounting plate like this: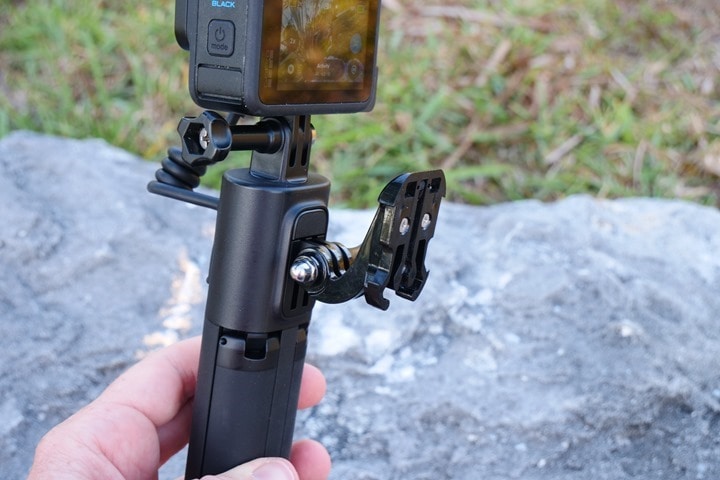 Next, it's got two legs that pop out, making a little tripod.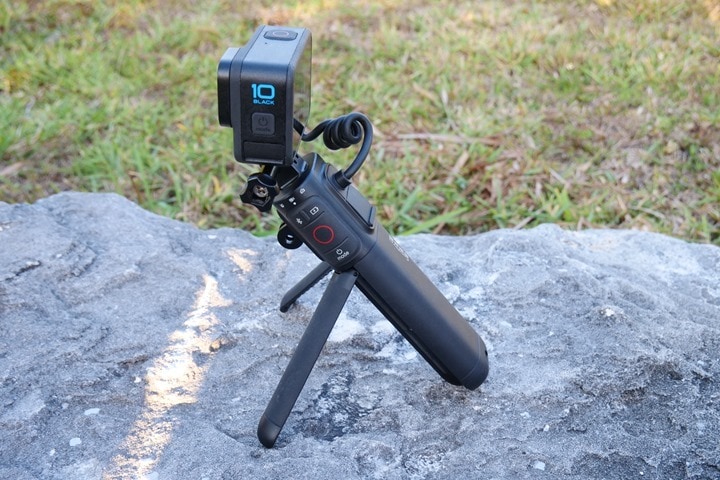 Because of the angled nature when it sits down, the height here is virtually identical to that of the Shorty Stick when fully extended: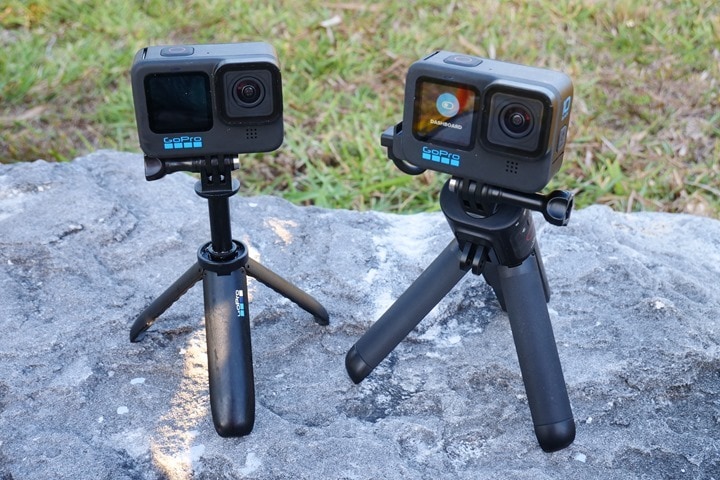 And lastly, on the bottom of the Volta is a standard tripod 1/4-20 mount, in case you want to pop this atop a taller tripod stand. And actually right next to that is a lanyard hole, in the event you have low self-confidence in your handling in sketchy scenarios capabilities. Which, is me.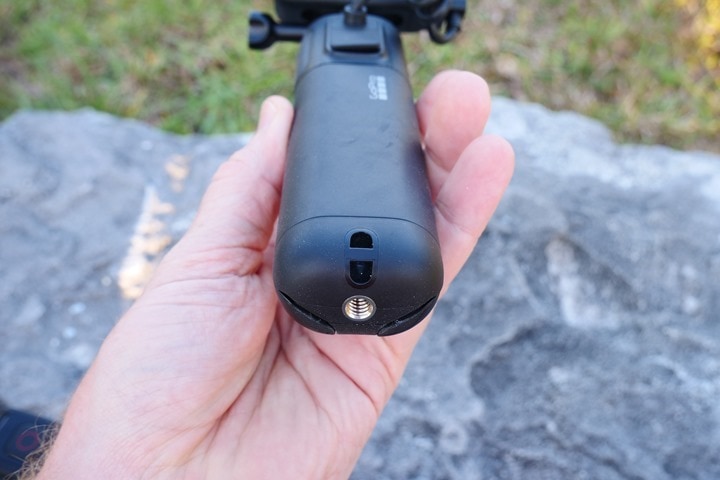 The entire Volta is water-resistant, which GoPro says keeps it happy in rain and snow, but not for dunking. Less because of the Volta itself, but more because of the USB-C port on your GoPro being exposed. This is an area that DJI does a nice job of solving with their magnetic charging port – minus the fact that said accessories have open micro-SD and USB ports, making even rain-resistance non-existent. Sigh.
In any event, that's not an issue here with the Volta: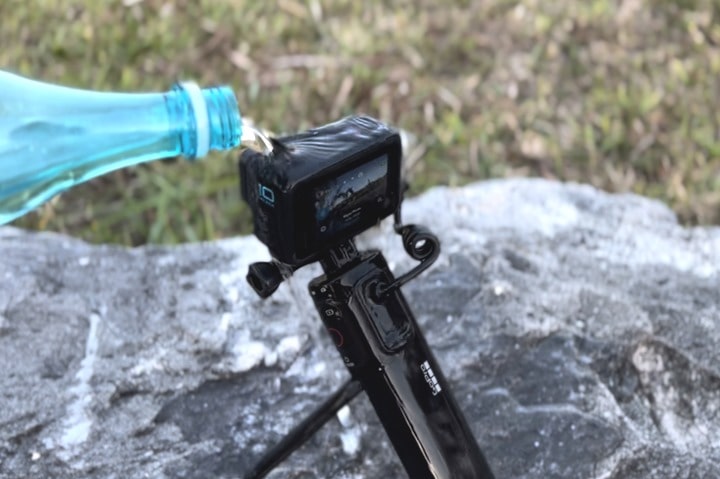 Speaking of accessories, you can easily use this with a GoPro Media Mod on your camera, and is probably how a lot of Vloggers would use it.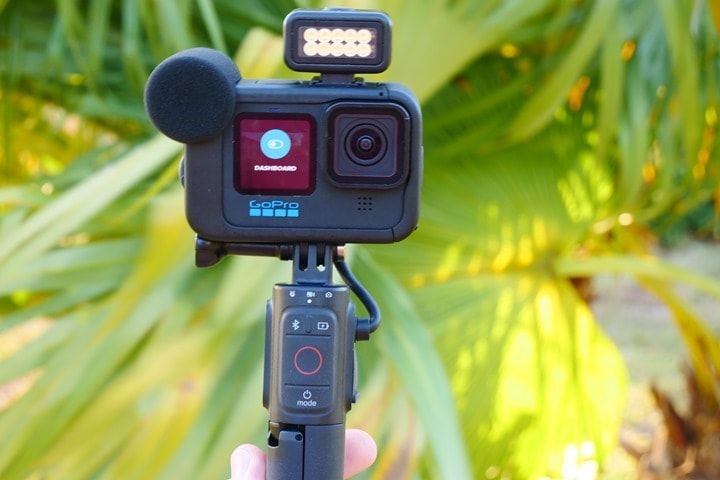 The GoPro port then plugs directly into the Media Mod instead, and powers up the whole kit.
And with the GoPro Max Lens Mod, the stick won't show up in the frame, unless you've got the stick pointed straight out (90° angle), so any normal usage is out of frame: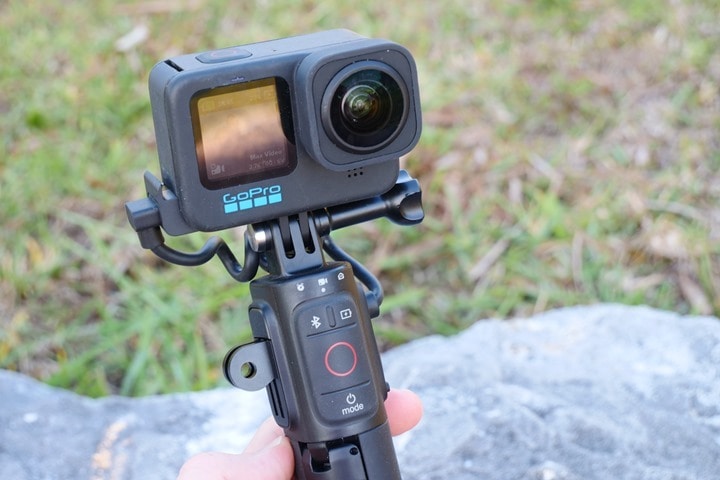 Again, practically speaking, everything here 'just works' from a GoPro compatibility standpoint, and I haven't stumbled into any weirdness.
Wrap-Up: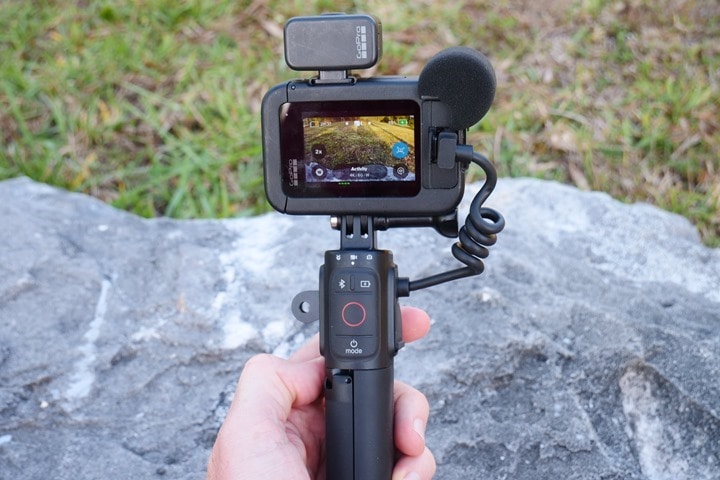 Having used this now for a few weeks, it certainly has a place in my arsenal of GoPro accessories, albeit probably not a daily spot. I use, on a daily basis, the Shorty stick, and then supplement that with the GoPro 3-Way at least weekly. In terms of weight, the Volta is basically a wash between the GoPro 3-Way (the 3-Way is 264g, the Volta 248g), except without the full extension and super flexible pivot/angle options. So the scenarios where I'd use the 3-Way are ones that Volta can't accomplish.
Meanwhile, from a reach and placement standpoint, the Volta and Shorty are basically the same. Both can be held for a cleaner shot, and both can be made into little tripods, albeit, the Volta is more stable in windy conditions than the Shorty, which can easily tip over being fairly top-heavy once a GoPro is attached. The core difference though is the charging capability and remote control.
Starting with the charging side, that is indeed super useful, especially for on-the-go type vlogging, where I don't want to deal with swapping GoPro batteries out, or even holding them all. So for example, one of my recent vlog-style videos, this cycling in the Dolomites one, the Volta would have actually nailed that in not having to have multiple spare batteries floating around my jersey pockets getting wet. This is water-resistant, a pile of batteries less so.
On the buttons/remote side, again, it depends on the circumstances. For me in using GoPro cameras for a decade now, it's second nature to tap the buttons with an extended finger while holding a Shorty stick/etc. My brain doesn't even process how to do it, it's just something that happens instantly. So those actually aren't a huge benefit to me from a daily standpoint, since I personally don't constantly shoot myself.
However, if I had smaller hands (like my wife), it's certainly easier to press the Volta buttons than try and reach up and press the record or mode buttons on the camera. And there's no arguing Volta is certainly faster or easier in that scenario, even for me.
Now, I will say that price-wise, at $91USD if a GoPro subscriber (which, I suspect most people buying this are – or $129 if not), it's not a horrible price. The unit basically includes three batteries and a remote on it, with a variant of a GoPro 3-way. All those things combined together cost far more than this, so, while there's always a GoPro premium for accessories, I don't think this is outlandish.
Point of all this is, my usage of it will mostly be limited to days I think I might be tight on battery, and don't want to deal with charging or bringing a bunch of batteries. So like I started out – it'll be in my collection of top-drawer GoPro accessories going forward, just not a daily driver. But I can understand if you vlog every day, this would likely quicky become a daily driver – especially when combined with other GoPro bits like the Media Mod.
With that, thanks for reading!