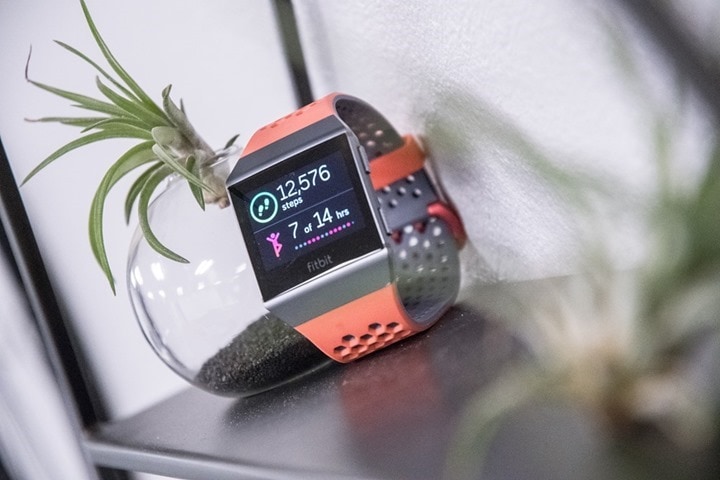 Fitbit has announced a recall of their older Ionic GPS smartwatch, due to situations where the battery can overheat and cause burn injuries. The Ionic was introduced back in 2017, which was really their first smartwatch to support a 3rd party app platform as well as on-watch payments and on-watch music streaming services. It was a massive step forward for the company, setting their watch platform stage for the next half-decade. Their previous smartwatch was the Fitbit Blaze.
The company, in conjunction with the Consumer Protection Safety Commission (CPSC) says there are cases where the battery can overheat, and can cause burns. The CPSC says they've received 115 reports in the US (plus 59 internationally) over the battery overheating. Within that, 78 of those reports in the US include third-degree burns, with four reports of second-degree burns. Additionally, 40 burn injuries were reported internationally.
In a statement, Fitbit says:
"Customer safety is always Fitbit's top priority and out of an abundance of caution, we are conducting a voluntary recall of Fitbit Ionic smartwatches. We received a very limited number of injury reports – the totals in the CPSC announcement represent less than 0.01% of units sold – of the battery in Fitbit Ionic smartwatches overheating, posing a burn hazard. These incidents are very rare and this voluntary recall does not impact other Fitbit smartwatches or trackers."
Fitbit ceased making the Ionic two years ago in 2020, but is offering a refund of $299USD, plus a discount of 40% off select Fitbit devices. You do not need to actively be using the Fitbit Ionic to receive these. The company says they sold approximately "1 million" Fitbit Ionic devices in the US, and then another 693,000 internationally. Which…is substantially less than I would have expected.
Fitbit has a dedicated page to the recall here, which answers pretty much every question you can think of. Starting with the most important – which is that Fitbit says you should stop using the Fitbit Ionic (in the event you're still using it). Fitbit says this recall doesn't impact any other devices. The Fitbit Ionic looks like the above photo, but on the back of it, it'll say FB503 – which is the Fitbit Ionic model number.
The company says in the FAQs that you don't need to be actively using the Fitbit Ionic to partake in the recall, saying:
"Ionic users, including inactive users, are eligible for a refund. For further information on how to receive a refund, visit our refund registration page. After starting the refund process, you'll also receive information on how to access a special discount on select Fitbit devices, bands, and services, if available in your region, for a limited time.
So obviously, if you've got one sitting around in a drawer, then now's a good time to dig it out. The $299USD refund is enough to cover basically every Fitbit device the company makes today. Their highest-end unit, the Fitbit Sense, is $299USD – so it easily covers that, plus you've got a 40% discount code atop that. The discount code is also applicable for certain bands/straps/accessories as well.
On that recall page, they also have all the international numbers and contact points as well, so this isn't limited to just a US recall – it's valid for all countries. Obviously, watches don't discriminate and only burn certain countries.
It's worth noting that this is hardly the first time we've seen a watch recall due to overheating batteries. In fact, we saw one just a few months ago with COROS recalling certain watches due to overheating batteries. In that case, they didn't involve the CPSC, so we don't know how significant or widespread the problem was.
And of course, more widely than just smartwatches, overheating batteries have long been a tech issue. Remember Samsung's massive overheat and catch fire nightmare? Or, the entire hoverboard situation? Or heck, even the Boeing 787 battery saga. This isn't the first, and won't be the last time we hear of battery issues.
On the bright side, five years later, many people have probably moved on from the Ionic – saving both potential burns, as well as gifting your wallet $300.
With that, thanks for reading!