Not only do we have a 5 Random Things again this week, but it's even got skiing, cycling, and running. Plus – tidbits about postmen, as well as beer photos. What more could you ask for in a weekend roundup?
1) Skiing in Amsterdam
Now, technically speaking, this skiing is actually just outside of Amsterdam – and not in Amsterdam proper. But hey, the town of Velsen-Zuid won't mind too much. Plus, SnowWorld themselves calls their location "SnowWorld Amsterdam".
In any case, with the older kids on school holiday this past week we decided to hit the slopes. Except, not the slopes down south in the Alps or such, but instead, just 20 minutes away in the town you've never heard of. Welcome to Snow World: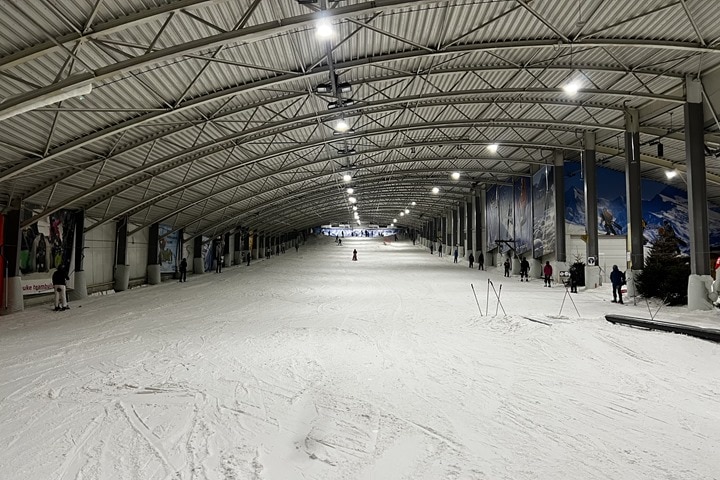 Of course, being a bright warm and sunny day, the snow was actually inside: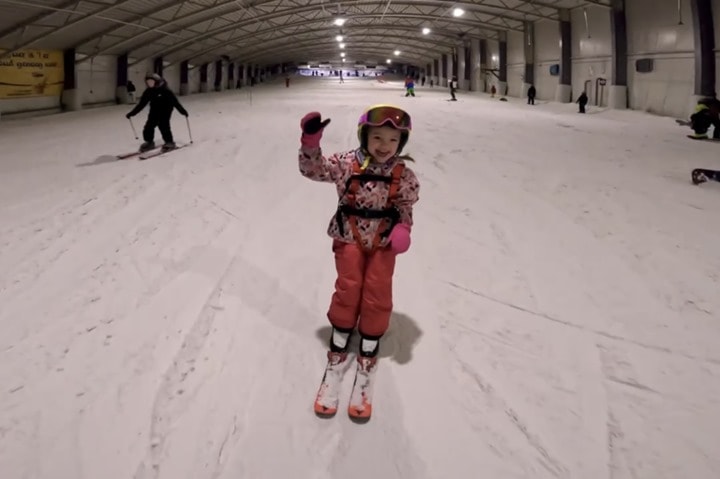 We went for a few hours to let the kids ski to the best of their non-skiing abilities. Given it's been two years since they skied (for the first time), things were a bit rough. We had looked at spending this past week at some ski mountain, but finding availability for kids ski schools was slim to none (mostly none), and with everyone eager to ski this winter after most slopes were closed last winter, accommodations were also non-existent.
Still, we had fun: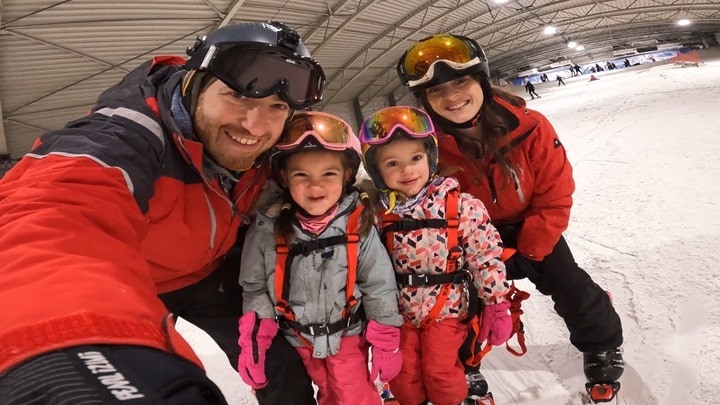 The ski boot rental return guys though? Probably less so: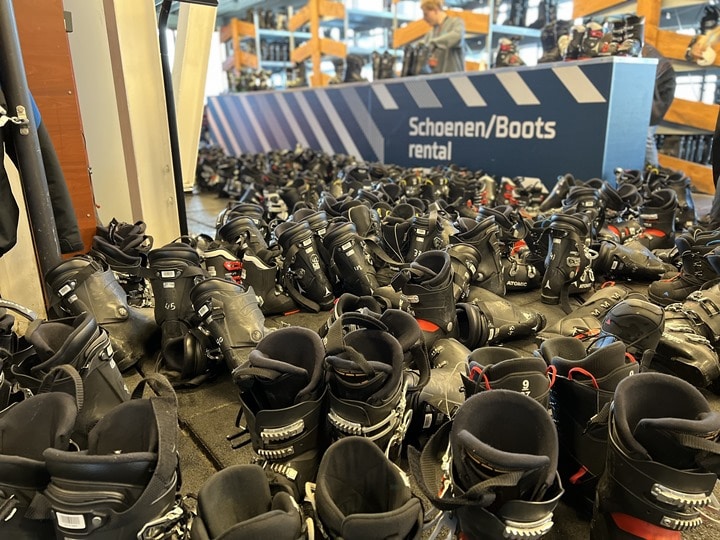 The littlest peanut stayed in daycare for the day, else we as adults would have been outnumbered – namely in the category of attaching children to the platter lifts. Our two oldest can seemingly get on said left, but departing it is still 'tricky business'. Plus there's a strong chance they'll fall at some point and get dragged halfway up the hill by it. Obviously, they just need practice on it. And ideally, on a quieter/calmer day, we'll go back and do it again. The folks at the front desk essentially said any day of the year other than the day we were there, is a quiet day.
(Also, if you want some old-school DCR Blog fun, here's a post from 14 years ago, where my brother and I bought some cheap suits and skied in Dubai's indoor skiing mountain. Oh, plus outdoor snowboarding on sand dunes. You're welcome for that distraction.)
2) New Kid's Bike via PostNL
This past week, the middle Peanut got a new (larger) bike. It's exactly the same as her previous bike, except, just the next size up. More notable than the bike itself, is the delivery process. We ordered it online from one of the Dutch bike shops, and PostNL (the national postal system) then delivered it. When our PostNL guy arrived at the door, his singular question was whether or not we wanted him to attach the pedals for us. Photo below from our Nestcam.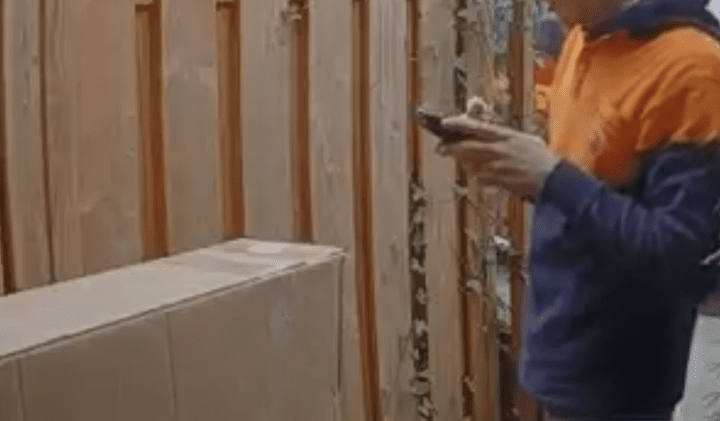 I think it's amazing that in the Netherlands when you order a bike, your postman is trained and equipped to attach your bike pedals. Inversely, it was somewhat astounding how big of a box this bike came in. For a child's bike, it was actually larger than any bike box I've ever received as an adult. Here it is, in front of our Urban Arrow cargo bike – almost the entire length of that, and as tall as it: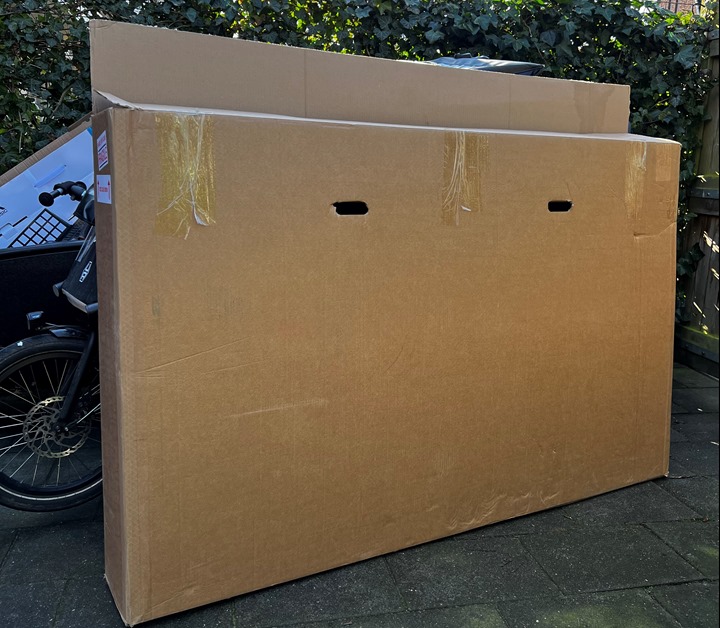 However, inside they had pre-assembled the handlebars and such, which means it no longer fit in the box it came in, and thus her little box was inside the giant big box.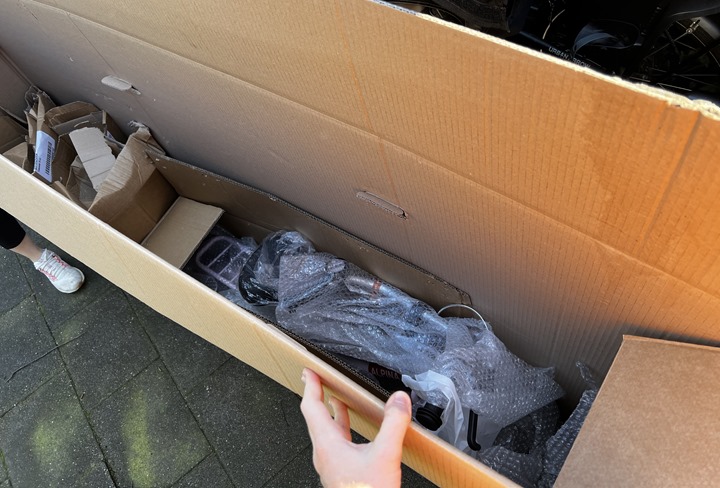 True enough the only thing I had to do was attach the pedals, and then simply tighten the single bolt to keep the handlebars straight. She was happily chasing around her older sister a short bit later.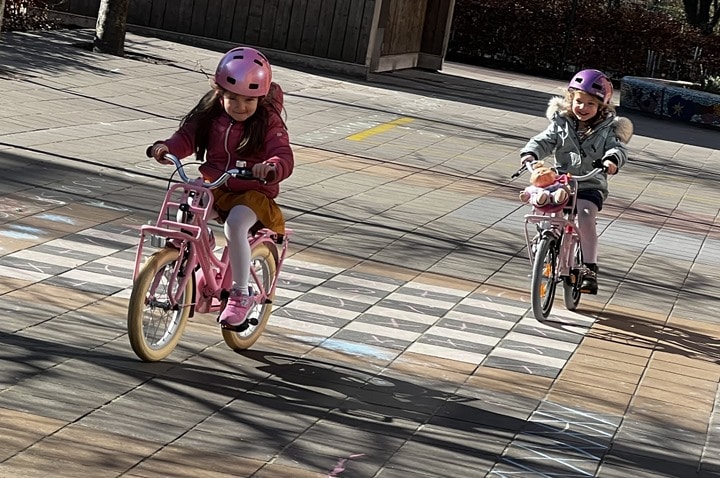 And yes, 'baby' (as always) was strapped to the front of the bike too.
3) Evening Trainer Rides:
In general, I cycle through the three main trainer platforms I use (TrainerRoad, Zwift, Peloton), each week. Usually just based on a blend of what I feel like doing at that moment, combined with anything I might need to test. In this case, while I was gathering some data behind the scenes on a few things, I was mostly just aiming for a nice sustained workout. So, TrainerRoad it was: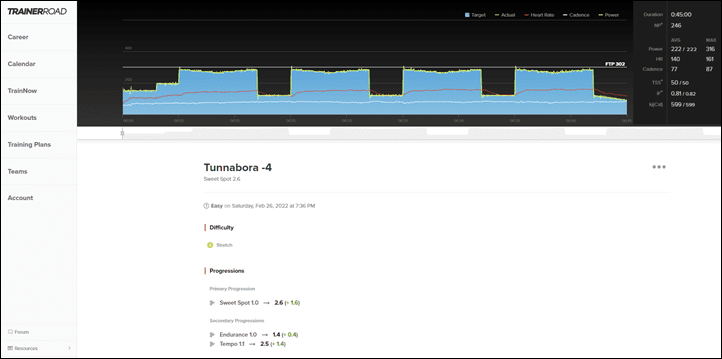 I had briefly turned on the UCI Esports World Championships on Zwift, but ultimately ended up watching random things on YouTube, while I simply pedaled through the workout. I usually leave the shed lights off at night, and just let the glow of the Tacx NEO 2 illuminate things.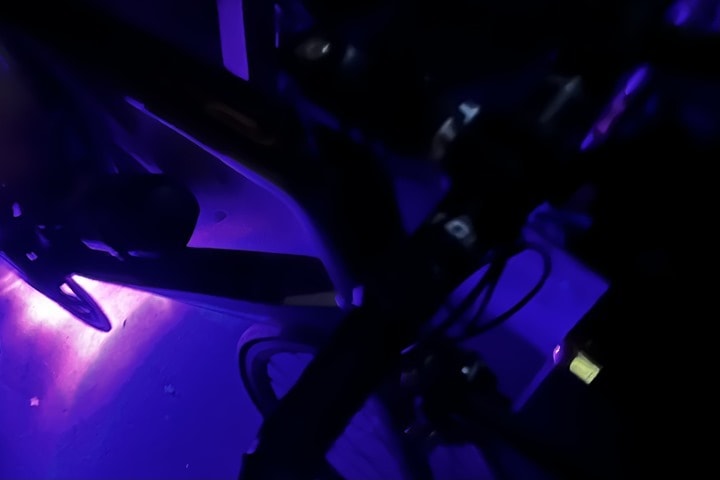 The workout was probably again too easy. While TrainerRoad's new AI FTP thingy recently bumped up my FTP value to 302w (with me doing nothing, which is great), part of the challenge is that if I'm only doing perhaps 1-2 rides a week on the platform, it doesn't really have a great dataset about me. Or more specifically, it actually does – since it also gets all my outdoor/other rides, but at present it doesn't consider/account for those rides. So in this case, it had marked that workout ahead of time as a "Stretch", which in my mind assumes it'd be moderately difficult.
And since someone will invariably ask, Xert does peg me at a higher FTP (322w) – using both inside and outside data, but that actually seems probably a touch too high. I suspect the real answer is somewhere in the middle. And yes, in theory, I could just take an FTP or ramp test, but, I could also equally just go outside and enjoy today's warm and sunny weather for a ride. Which…is what I plan to do.
3) Quarantine Corner Filming
After my trainer ride, and The Girl's Peloton ride, we transitioned back to the shed to film the latest episode of the DCR Quarantine Corner. This time around we cover all the behind-the-scenes bits and thoughts on recent reviews including the Wahoo ROLLR, Wahoo POWRLINK ZERO, that sweet new trainer desk, sound testing, and the giant Zwift cheating debacle. Plus tidbits on riding the Urban Arrow through the giant windstorms last week.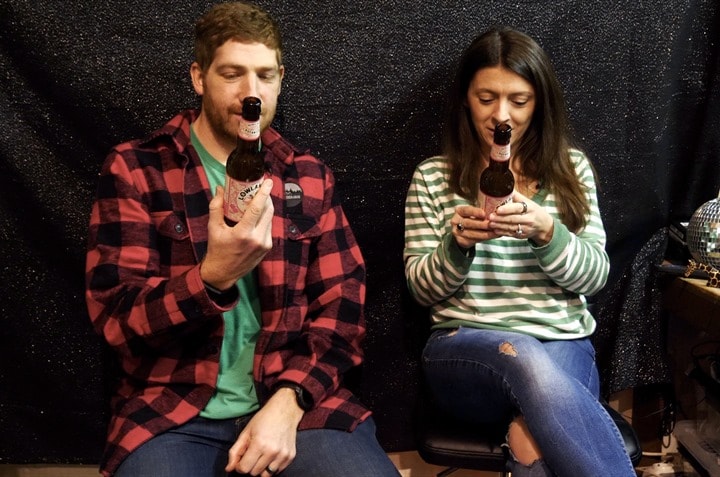 DCR Supporters will find that episode up a bit later today in the usual spot (and an e-mail about it too). If you're not a DCR Supporter, you can get access to that episode, plus all the previous ones here by signing up. And, it gets you an ad-free DCR!
4) The Mundane
Lest you think the entire weekend is fun cycling, skiing, and running – in reality, The Girl and I spent countless hours cleaning said shed of waaaaay too much junk that had piled up. And then I spent many more hours pressure-washing far too many surfaces around the backyard, from moss-covered slippery AF tiles/pavers to other moss-covered items. Welcome to a wet and dreary last summer/fall/winter that led to waaaaay more moss build-up than usual.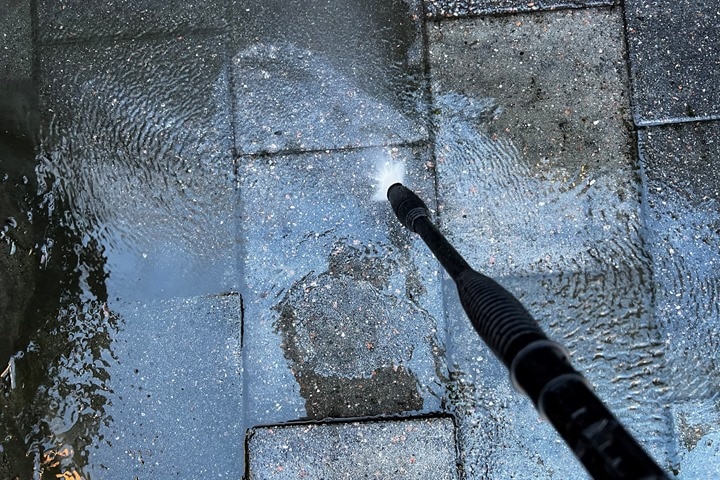 Like I said, I've got all the same boring list of things to do as you. Albeit…not gonna lie…a pressure washer is kinda fun.
5) Sun and Run
While it was a bit breezy on Sunday, the sun was strong, so out I went out for a simple 10KM run. Nothing crazy, no intervals, and only a single watch. For realz! I mean, sure, I did have extra HR sensors on, but just one watch folks!
Given the winds, I went through the forest instead, since that'd provide a bit more protection than going out into the farmlands or along the Amstel river, where there are approximately zero trees to provide wind buffer. Of course, I did have to include some lakeside section, since it's one of the nicest parts of the Bos that is very infrequently visited.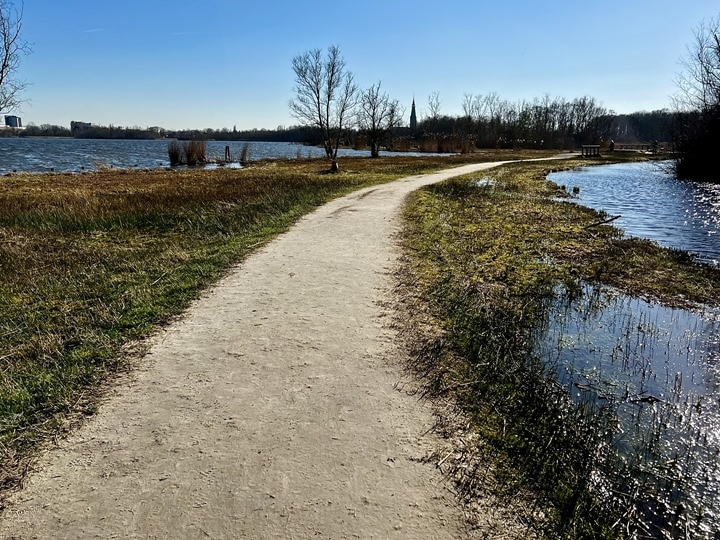 At the end, the Instinct 2 basically shrugged at me: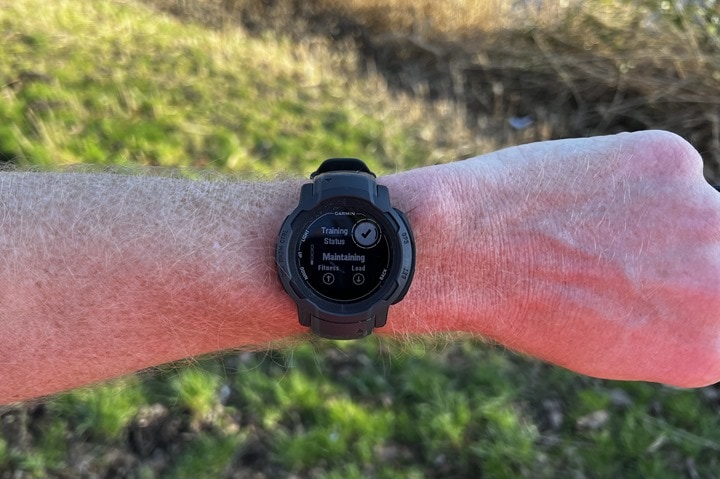 This will probably be the last week on that watch, not because anything is wrong with it. But because it's found its place in life.
Given the stability issues I had leading up to launch (and even slightly past launch), I wanted to see if Garmin was addressing those in subsequent firmware updates. I think there have been 4-5 updates in the past two weeks (or at least, beta updates, not sure offhand about production updates). These have aimed to address many (if not I think all) of the concerns I had. And at present, I haven't had any crashes on this unit recently. In fact, I think all of the issues I was concerned with have been raised – save for the waypoint limiter one, which I haven't dug into again yet (and I believe that's requiring a more complex fix).
Anyways, somewhat as I suspect, the Instinct 2 series was probably about 2-3 weeks away from being 'ready' when it launched. And, here we are about 2-3 weeks later, and things seem largely smoothed out (again, at least on the most recent beta drop over the weekend – whereas production is a few days prior/older at 6.16).
–
With that – I'm headed out for a ride in the sun! More new bike tech has arrived. Actually, entire bikes have arrived. Perhaps some tidbits on Instagram later today.
Thanks for reading!