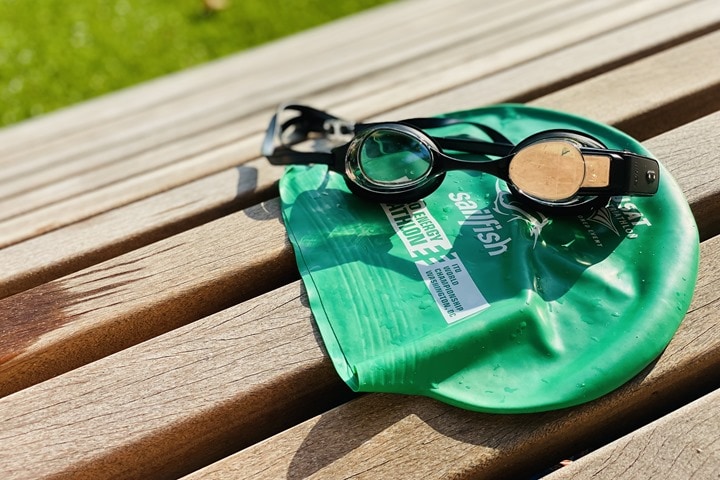 FORM has just announced structured workout support for their heads-up display swimming goggles. This marks the second major summer update for the goggles, which last summer got openwater swim support added (when paired with a Garmin or Apple Watch).
This new feature lets you pick workouts from a library of structured workouts, and then have the goggles walk you through each step, noting the specified intensity and stroke information – all in real-time. This feature is available for all FORM swim goggles (meaning, no new hardware here). However, there's a catch: It's not free. Instead, it'll require a monthly (or annual) subscription, which is $19.99/month, or $14.99/month if billed annually (at $179/year). However, the company is offering a free 30-day trial to give things a whirl.
We're gonna set that detail aside for the moment, but most certainly come back to it later in the post. In the meantime, let's dive into how it works technically from my swim yesterday with it.
How it Works:
First up is that you'll get your goggles and app all updated. That only takes a minute or two, and is just like normal. Once that's done, the app will give you a heads-up about the new features:
Along the bottom you'll see a new tab for 'Workouts'. This is where you can sift through all the workouts. They've got a variety of categories and filters. Everything from a newly added section to the FORM favorites, and skill development:
Or, if you select 'All Workouts', you can then filter by another bucket of categories:
When you crack open a workout on the app it'll show the details of the workout, including any pool toys needed.
If there's a drill section, it'll also include further details and a video of how to do that particular drill. This is good stuff, and well thought through:
From there, you can select to add a workout to your goggles. Up to 5 workouts can be stored on the goggles at once. I added a few for the limited time I was allotted at the pool:
With that, it was off to the pool I went. Now, taking picture of the inside of the display of goggles is darn-near impossible in bright sunlight given the way the display is. The good news is that FORM has a superimposed video from which I can steal/make screenshots and explain how it actually works. As I've said in the past, the clarity/overlay of what you see on these screenshots does actually match what you see in real-life. It's crispy.
So when you power on the unit it'll show a new 'Workouts' menu. You'll tap that, and then you can select the specific workout you want: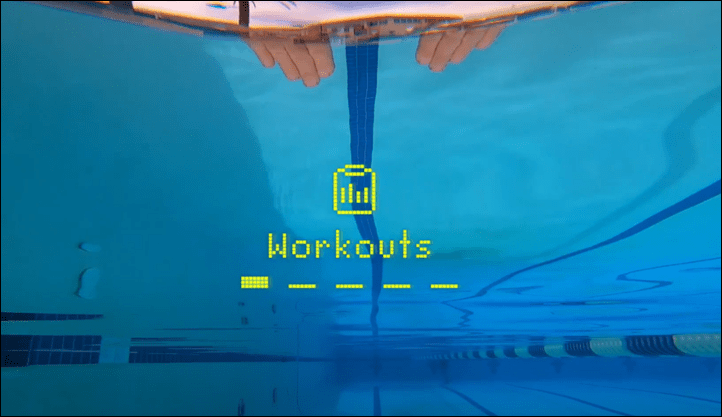 Once you've loaded up the workout, it'll tell you what to do for each step. Along the bottom you'll see a progress bar too for the total workout. You can see your time up top, and how much distance you've done down below.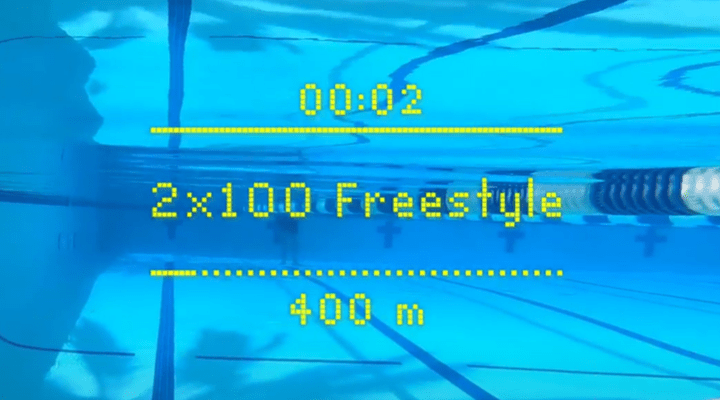 For example, in my workouts yesterday, it was mostly distance-based sets (e.g. 400m, 300m, etc…). It'd count-down as I went through the set, and then as I approached the end of each set, it'd tell me it was the last length.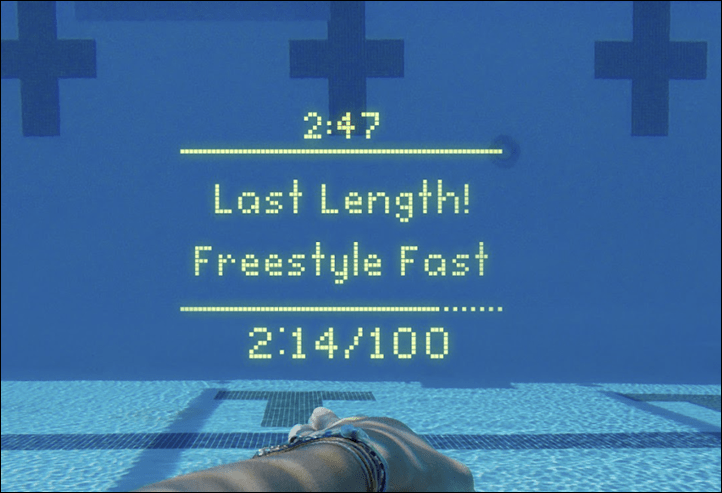 For these sets that had no defined rest period duration, I'd then press the front button when I was ready to do the next one.
However, some 50's I did at the end did have defined rest durations on them. The goggle would then count-down, which you can see below 'Rest for 4', is actually saying 'Rest for 4…3….2…1…Go!'. And then off you go.
All of this works great. About the only mistake I made was the very first set my very first time, I didn't realize I had a break coming up. So I just assumed I'd be going from my warm-up straight into my next set. Thus, I kept swimming. The goggles weren't really impressed. They just ignored me and waited to tell me the next steps. Though they did actually record the correct distance, which I can see afterwards.
Speaking of which, post-swim I can see my lazy-pool workout dodging 15 other people in my lane (not kidding), shown on the app. I can then tap it to see more details. Also, note that it displays the exact workout name I swam (titled "4, 3, 2, 1…'):
And of course, all this then gets pushed to Strava as well, though, it would be cool if it pushed the exact workout name/title, like TrainerRoad/Peloton does. Right now it just pushes a workout graph: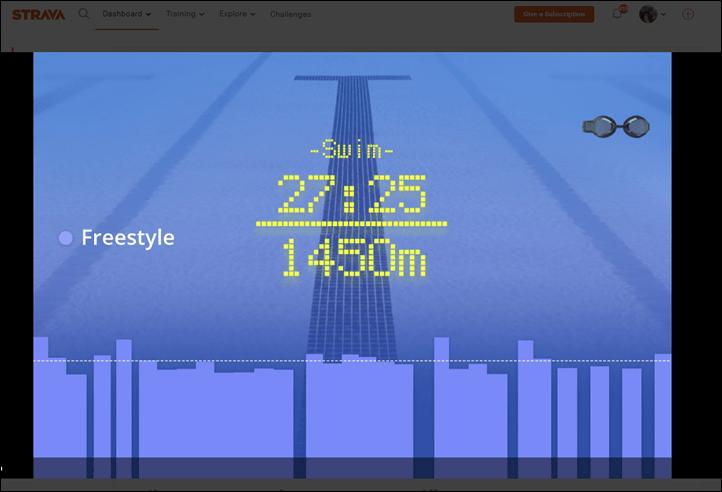 And with that, that's all there is to know. Note that there isn't the ability to schedule workouts, nor any sort of training plan/system. It's purely loading one-off workouts. Though, I've gotta believe longer-term having swim plans would be in the cards. Still, it works super well, and was silly-easy to use.
Wrap-Up: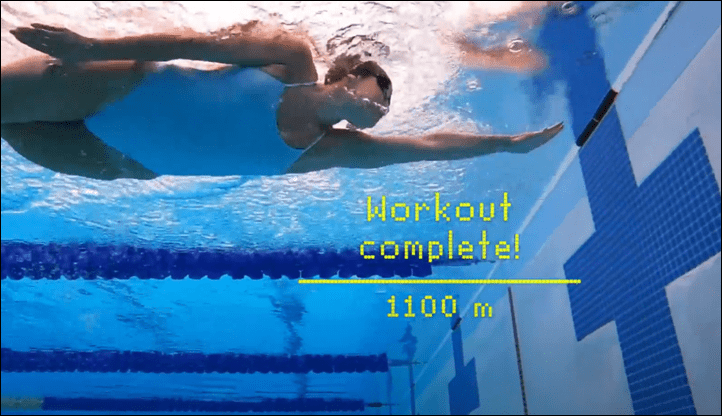 There's no doubt that everyone is likely thinking the same thing: $20/month (or $15/month annually) is a steep price to pay for swim workouts. That's at the upper end of monthly fitness subscription service pricing, and in most of those other cases, the platforms tend to have multiple sports, far more details around the guided components (such as video or step by step text background), and often also have calendars and post-workout feedback. For the most part, FORM has none of that. And that also ignores the fact that virtually every wearable device I know has structured workout support on it for free, whereas it's the plans/workouts themselves that cost money. FORM doesn't allow you to import workouts from TrainingPeaks or such. Thus, I think they overshot on pricing here. I'd have guessed $9.99/month (or $7.99 if annually) would have been more appropriate.
But then again, I've also said that FORM's swim goggles seemed to be priced steeply at $199 given their features for a relatively small market size.  Yet they're still around two years later – with generally good reviews across the board. Of course, that just tells us that people who made the decision to buy are happy, but doesn't tell us about the people that didn't buy because it was priced too high.
Setting aside pricing though, the feature technically worked great. Perhaps almost too great. When I overshot on my first set, it acted like a salty old coach and just ignored me till I realized my sins. It just patiently waited for me to come back to the wall before we began again. I kinda had to laugh, as my watch was like "You be swimmin', I be happy!". Whereas FORM was all "Dumbass, I'm not talking to you till you get back to the wall."
And once I got the hang of it after the first set, and understood how it was going to hand out each portion, it was spot-on. I liked the overall workout progress bar at the bottom. And there's certainly more than enough workouts in the library to keep me busy for quite some time. It takes the most ardent Instagram scrollers to find the bottom of the list of 'All Workouts' in the app. Of course, there's filters for those too – so you can get rid of the things that you aren't going to swim.
Thus ultimately, while I'm not a fan of the price, I am a fan of the technical implementation of it – and the ease of use. All of that worked great.
With that – thanks for reading!
Found This Post Useful? Support The Site!
At the end of the day, I'm an athlete just like you looking for the most detail possible on a new purchase. These posts generally take a lot of time to put together, so if you're shopping for the FORM Swim Goggles (with heads-up display) or any other accessory items, please consider using the affiliate links below! As an Amazon Associate I earn from qualifying purchases. It doesn't cost you anything extra, but your purchases help support this website a lot. Even more, if you shop with TPC (The Pro's Closet), you'll save $40 on purchases over $200 with coupon code DCRAIN40! The Pro's Closet has been a long-time partner of the site here - including sponsoring videos like my cargo bike race, as well as just being an awesome Colorado-based company full of good humans. Check them out with the links below and the DCRAIN40 coupon!
And of course – you can always sign-up to be a DCR Supporter! That gets you an ad-free DCR, access to the DCR Quarantine Corner video series packed with behind the scenes tidbits...and it also makes you awesome. And being awesome is what it's all about!