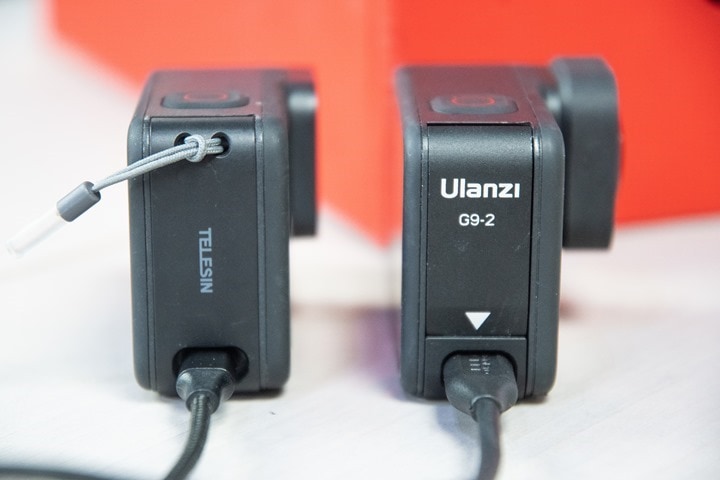 This is a super quick post just for the handful of you that are into action cam stuffs but who might not also subscribe to the DC Rainmaker YouTube channel. Because, that's where most of my action/cam drone stuff ends up!
The default/stock GoPro Hero 8 & Hero 9 battery doors are designed perfectly….if you hate doors. Literally, it's the only thing I truly dislike on the Hero 8/9 cameras. They're miserable to try and open in the cold with your fingernails, and then atop that, you can't charge the unit at the same time since the battery door keeps the battery and SD card closed up. Without the battery door being closed, your SD card and internals are fully exposed to the elements.  I often plug my GoPro in, both to have really long record times, as well as at night when offloading footage to GoPro's cloud service. While you can simply open the door for the nightly uploads, I find it's easy for it to fall off and leave behind. Whereas if trying to charge on the go, the door will fall off – which is less than ideal at speed.
But last year I found a solution. It was a small 3rd party battery door that had a charging port in it. The price ranged between $7-$17, depending on Amazon tidal patterns. I've also seen it cheaper occasionally too, and it's available in both the US and Europe. However, the Hero 8 and Hero 9 battery doors are different widths, thus, we needed a new door. This time I found two options – one from Telesin and one from Ulanzi. I bought both.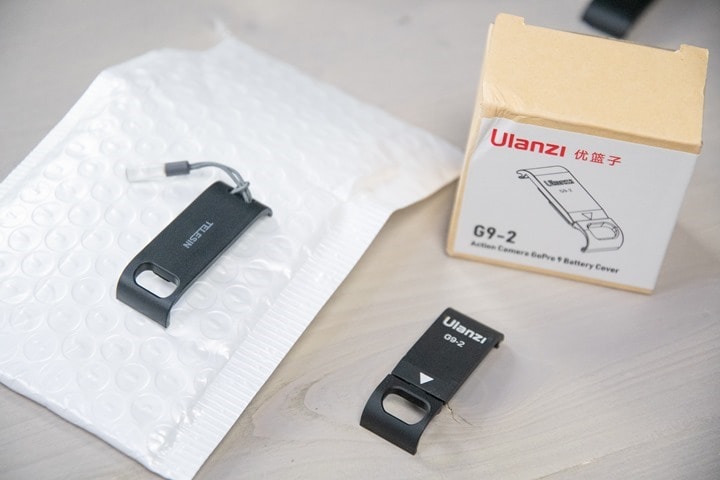 The battery door replaces that of the GoPro, and the Ulanzi one is made of aluminum while the Telesin one is plastic. It's got a single hole at the bottom for you to stick your grubby hands and your USB-C cable through to charge your GoPro.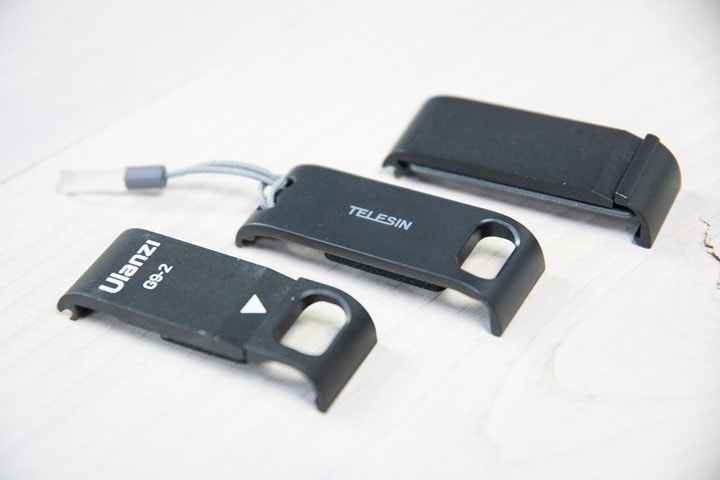 The Ulanzi door completely 'locks' once snapped in, just like the GoPro one. Here it is side by side next to the GoPro one. Btw – the reason you can't just drill a hole in the side of the GoPro one is that the spot where you'd have to drill the hole is where the moving latch mechanism is, internal to the door, so you'd basically destroy the ability for the door to stay on your GoPro…defeating the purpose of having a door.
Meanwhile, the Telesin one just pops in place without any moving parts. It's then removed by yanking the pull string.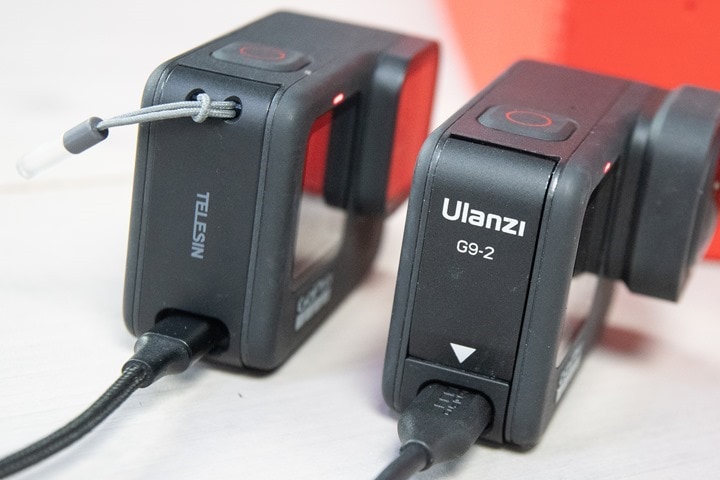 However, given there's a giant hole in the side of both of these, your GoPro is *NOT WATERPROOF* with this port door installed. Which, is probably fine for most people, since you're likely looking to just use it to charge your GoPro, or provide long-term power to it. So you were already set up for a non-watery situation given the electrical cord anyway. I've been using it for a bit more than a month now, including in light rain, sweaty situations, and bumpy rides including off-road, no issues.
From a build quality standpoint, I was worried last year with the Hero 8 door (Ulanzi) that it wouldn't last. But it turns out I was wrong. It was on my GoPro daily, getting tossed around and beat up 1-2 times a day, and it held up just fine the entire year. The Hero 9 door seems slightly more refined in the build quality (namely the fit). So I wouldn't expect any difference there.
My only concern with the Telesin door is that I worry I'd catch that pull-string on something in action, and rip it out mid-ride or whatever. Thus, I'll stick to using the Ulanzi door for most activities, since the prices aren't really that much different in the grand scheme of things.
In any case, that's my quick review of it. A few more details up in the video above, including some action shots and a bit of a teaser on a video I'm working on for (hopefully) next week.
With that – thanks for reading!
(Like the last edition of this little battery door review (which was for the Hero 8), I don't plan a secondary full crazy-long written review, because, well, it's a 3cm piece of metal that has a hole in it. And, try as I might, this type of content simply does a heck of a lot better on YouTube. Thus, press the play button above for the 6-minute video. Yup, I actually managed to keep it to 6 minutes.)
Found This Post Useful? Support The Site!
Hopefully you found this review useful. At the end of the day, I'm an athlete just like you looking for the most detail possible on a new purchase – so my review is written from the standpoint of how I used the device. The reviews generally take a lot of hours to put together, so it's a fair bit of work (and labor of love). As you probably noticed by looking below, I also take time to answer all the questions posted in the comments – and there's quite a bit of detail in there as well.
If you're shopping for the GoPro Hero 9/10 Black Charging Port (Ulanzi G9-2) or any other accessory items, please consider using the affiliate links below! As an Amazon Associate I earn from qualifying purchases. It doesn't cost you anything extra, but your purchases help support this website a lot. Even more, if you shop with TPC (The Pro's Closet), you'll save $40 on purchases over $200 with coupon code DCRAIN40! The Pro's Closet has been a long-time partner of the site here - including sponsoring videos like my cargo bike race, as well as just being an awesome Colorado-based company full of good humans. Check them out with the links below and the DCRAIN40 coupon!
Here's a few other variants or sibling products that are worth considering:
These are my favorite action cam accessories that I use day in and day out across all the action cams. They just work dependably, and are my go-tos!
And of course – you can always sign-up to be a DCR Supporter! That gets you an ad-free DCR, access to the DCR Quarantine Corner video series packed with behind the scenes tidbits...and it also makes you awesome. And being awesome is what it's all about!
Thanks for reading! And as always, feel free to post comments or questions in the comments section below, I'll be happy to try and answer them as quickly as possible. And lastly, if you felt this review was useful – I always appreciate feedback in the comments below. Thanks!