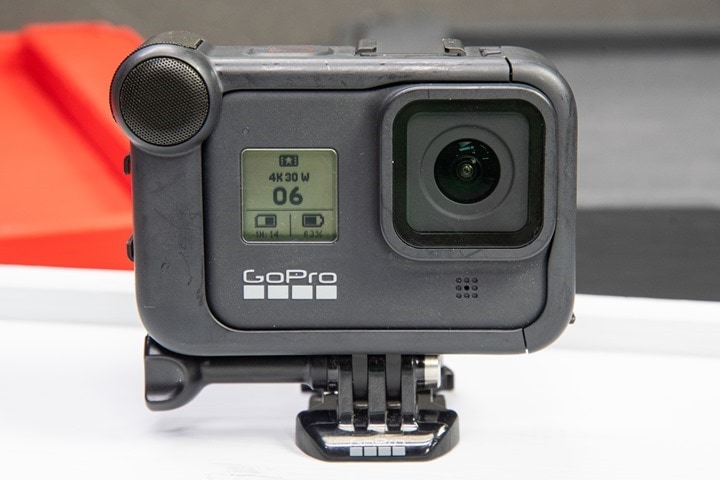 The GoPro Media Mod is finally shipping, some four months after GoPro first announced it back in early October alongside the Hero 8 Black. The Media Mod is part of GoPro's strategy to compete with slightly higher-end vlogging setups, offering both a shotgun mic built into it, but also a standard 3.5mm mic port on the side. Additionally, the Media Mod has two cold-shoe mounts and an HDMI port. The idea being to give you the flexibility to use higher-end microphones and other audio/video gear, but then switch back quickly to being a full-fledged action camera in a few moments.
Of course, this $79 accessory is essentially adding back in some features that were removed from the Hero 8. It does indeed add those features back in quite well (certainly better than before), but you're now paying for things you used to have previously included with the product. It also makes the unit non-waterproof while attached. So it won't be for everyone.
Still, I've been using one for nearly a month now – including shooting various videos on/with it. I've got a pretty good feel for what works really well, and what things I'm less than excited about. You can dive into all of that goodness down below. Or, you can just hit play on the video here. It's a video accessory after all:
Oh, and once I'm done with it here I'll send my media loaner unit back to GoPro and go out and get my own. Just the way I roll. If you found this review useful you can hit up the links at the end of the post to help support the site.
The Basics: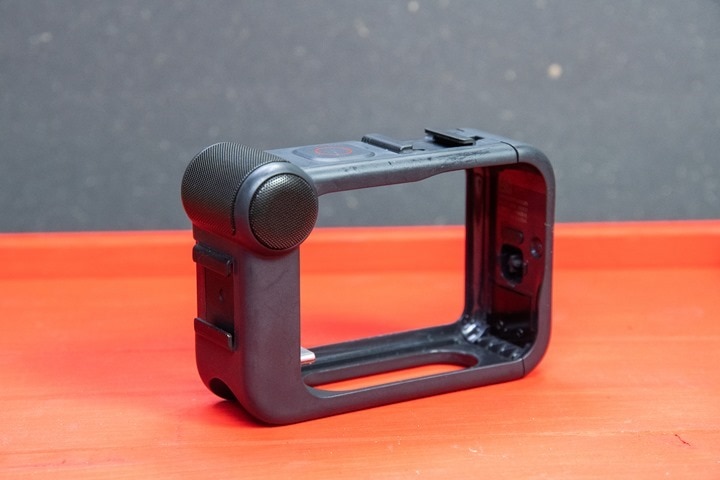 The GoPro Media Mod is essentially a clamshell for your Hero 8 Black. Note, it will not physically work on any other GoPro cameras, since it depends on the exact (and different) placements of the USB power port, battery door design, and other aspects of the Hero 8 Black. Again, it won't work on a GoPro Hero 7, Hero 6, or Hero anything else.
In case you're wondering about the weight, it comes in at 50g on the dot with my battle-scarred scale: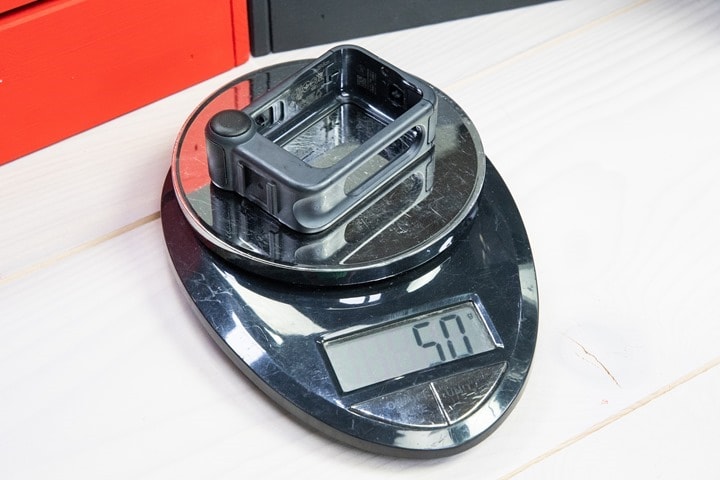 In order to use the Media Mod you'll start by removing your Hero 8 battery door. Put this somewhere you won't forget. Remember, the Hero 8 Black will no longer be waterproof when the Media Mod is installed. Sure, it's mostly fine for light rain, but dear god, do not go swimming with it. The battery compartment is totally opened in this setup: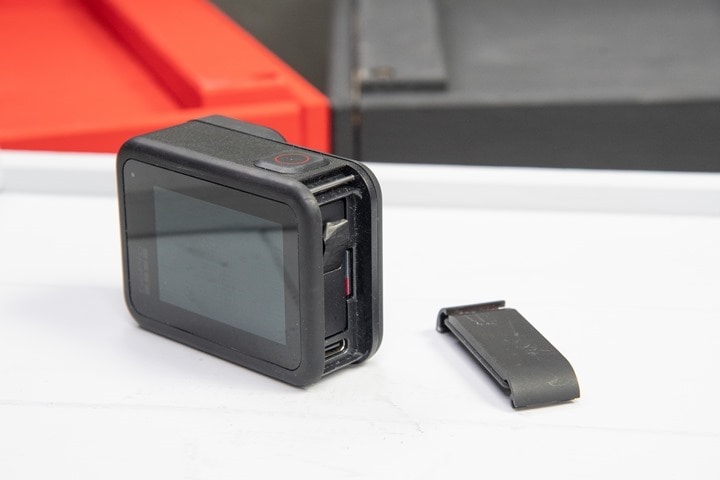 Next, after ensuring that the GoPro mount piece is folded up, go ahead and slide the GoPro into the case. It only fits one way, which is such that the USB-C port will interlock with the USB-connector on the Hero 8 Black.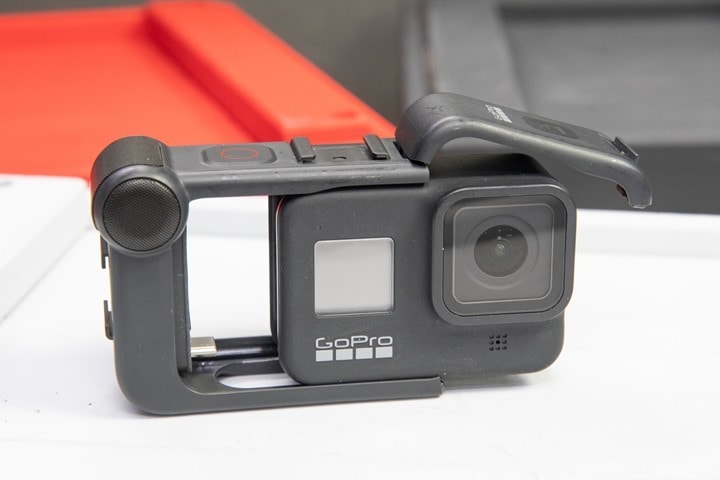 Then, simply close and lock the door shut. Once locked it's just as secure as the normal door (heck, I'd even say a little better actually). But again, it's not waterproof. Next, fold out the mount and attach it to a standard GoPro mount of your choice.
Here's a Pro Tip for you: Notice how the groove at the bottom of the Media Mod only goes to one direction? This is the direction you should put the screw in from. Sure, you can technically screw it from either side, but this makes it easier to get the screw all the way in.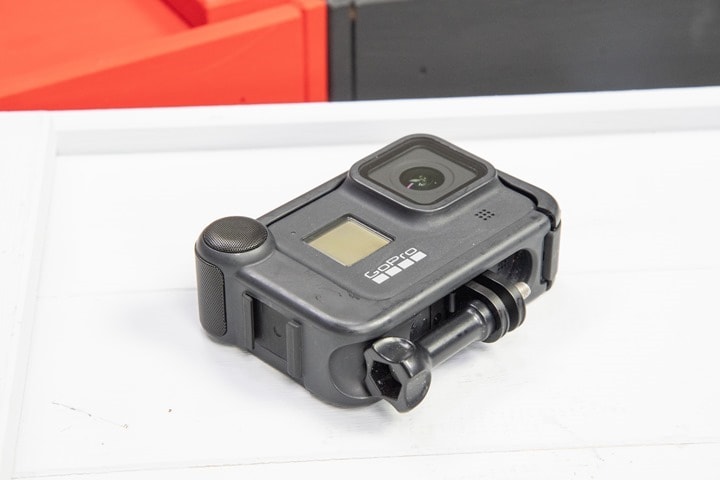 For the most part this groove thing is fine, however it's worth noting that *all* GoPro base mounts actually mount the other direction if properly oriented. In other words, GoPro apparently didn't look at their own mounts when designing this. Or, they did and just said 'shrug'. I'm not sure. Again, it hasn't been a huge blocker – just an annoyance. See below how the mount the camera is on has the silver end-cap on the right side, versus all other previous GoPro mounts have the silver end-cap on the left side.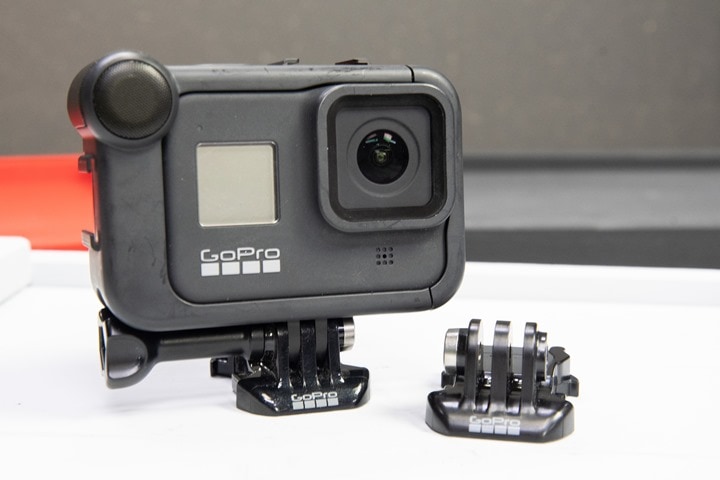 The other annoyance is that you have to basically disassemble everything anytime you want to change a battery or SD card. Sure, the underlying GoPro Hero 8 Battery cover design was already miserable (and really the only part of the Hero 8 I truly hate). But this just layers a pile of crappy atop that since now you've got one more thing to undo – since you can't remove the GoPro without first taking it off the mount, because the mounting system blocks removal from the frame.
Speaking of battery power – the GoPro Media Mod will consume additional power from the Hero 8 Black since it doesn't have its own battery. I haven't found exact specs for the battery hit, but it hasn't impacted me too much. I'm mostly shooting things in 4K/30 or 4K/60 Linear at high bit-rate, so I'm already in the hole on battery life as it is. A few extra percent hasn't made any tangible difference to me for my use cases.
Finally, on the form factor, you'll notice it added those two cold-shoe ports. One on the top, and one on the side. These are for mounting any standard accessories you can think of.
For example, the GoPro Light Mod being one (full standalone review on that here), but also secondary microphones or anything else with a cold-shoe mount design (which is a lot of stuff).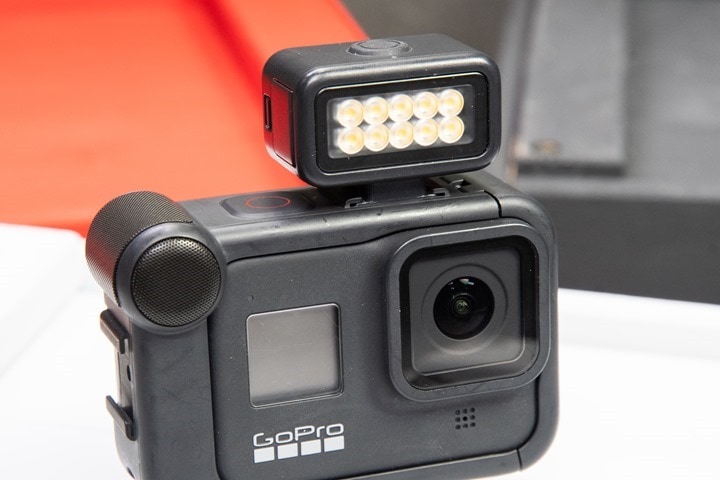 In my case I used it both with the Light Mod, but also some microphones as I'll show below in the next section.
And last but not least, you can charge the entire setup (meaning, your GoPro) using the USB-C port on the outside. This is one major benefit to the Media Mod design, is that it has an externally accessible USB-C port for constant power-on charging if you want it: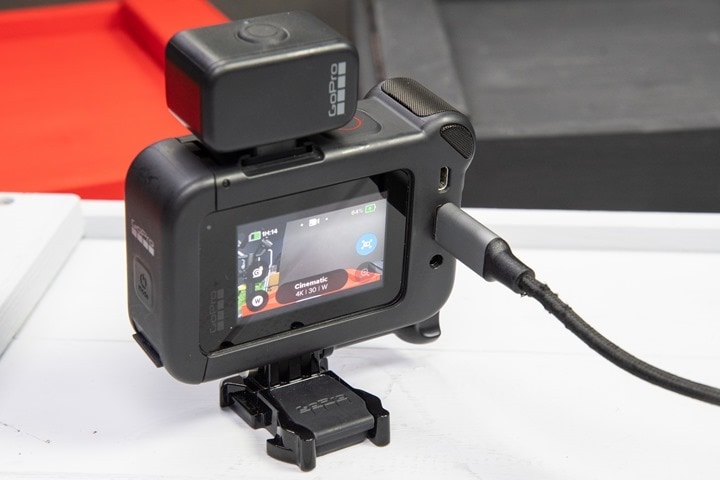 Next to that is the micro-HDMI port as well as the 3.5mm audio port. We'll get into those in just a moment.
Microphone & Audio Modes: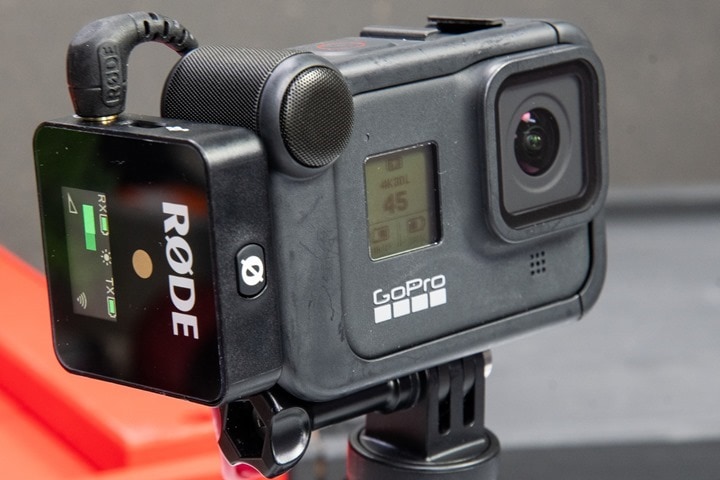 I suspect the reason for the vast majority of people buying the Media Mod is for the 3.5mm mic port. Or at least the internet would say so (and I'd believe them). However, we'll start with the onboard shotgun mic. But we'll be brief, because…umm…it's not awesome.
This mic is what you see in the upper corner of the unit. It's primarily designed to capture audio directionally, primarily from the front (you facing the camera lens), but there's also a rear mic for recording from behind the camera (such as when you point it at something else).
By default when the Media Mod is attached the GoPro will automatically use the Media Mod microphone, and in particular in a 'Front' configuration. This means that it's primarily using audio facing forward. It disables the other three microphones on the GoPro itself (because they would be partially blocked/muffled by the Media Mod case). You can see this setup option in the menu, which is customizable and available in every video preset: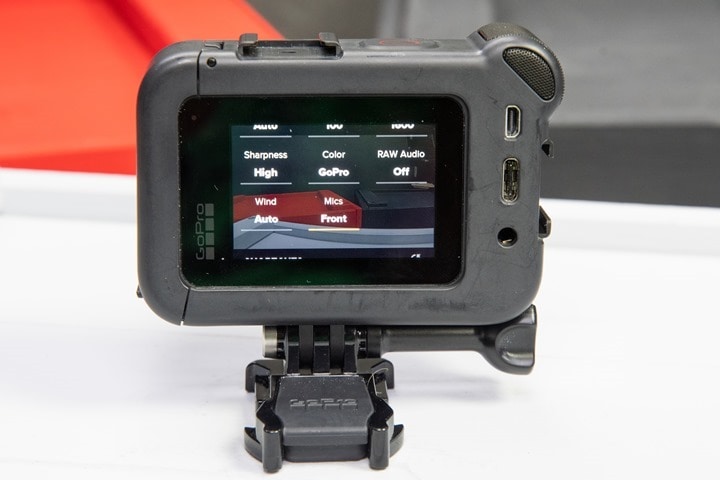 This allows you to customize different presets with different Media Mod microphone settings. There are three shotgun mic settings:
A) Front: Prioritizes directional audio in front of the camera
B) Back: Prioritizes directional audio from behind the camera
C) Stereo: uses both front and rear audio, but not good for any wind
Once you unplug the Media Mod, the normal preset settings return to whatever you had them set prior to plugging in the media mod. So you can see that here: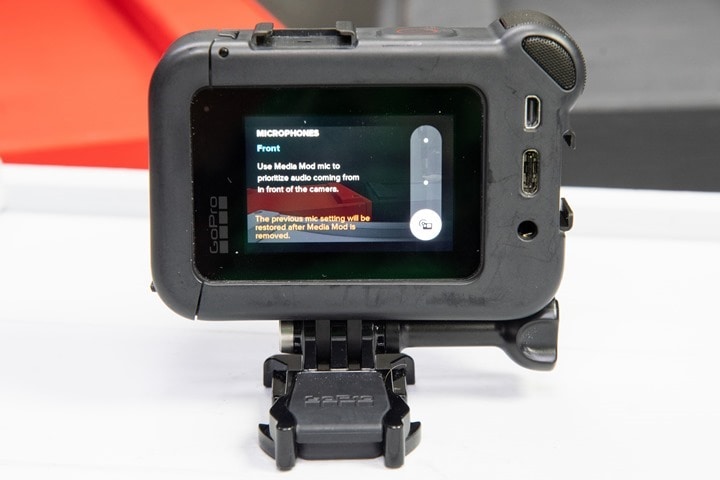 Now, I covered the audio quality in the video up above. But in short, it's…blah. I just don't hear any appreciable difference here between the GoPro Hero 8 Black's normal microphone setup and this. Sometimes it's slightly better, sometimes slightly worse, and sometimes just different. Again, I've included a bunch of samples in the upper video, but here's one I didn't include while cycling:
That said, it's possible to use this in a vlogging scenario – and I did exactly that at the Tour Down Under last week, using it to both face myself as well as then turn the camera around and face something else. In this case the environment was extremely loud (nearby loudspeakers of the race). I didn't use a mic for this, and I'd say the audio was OK-ish. I don't think a native GoPro Hero 8 Black mic array would have been any better. Here's a short clip from that still unpublished video:
Obviously, the correct setup here would have been to use a microphone with it. Which, is what I did the next day for a similar (also still unpublished) walk-through. So let's talk about that.
On the back is that 3.5mm adapter for a microphone. That's what everyone is excited about.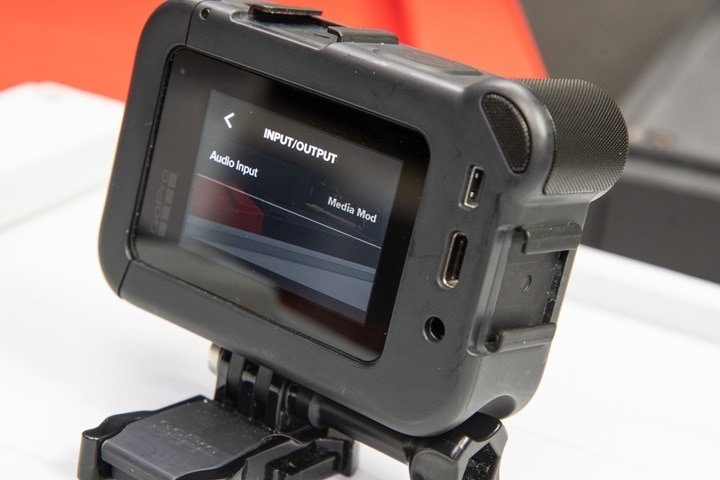 In my case, I used three different microphones to test with. I suppose technically four depending on how you classify the Rode Wireless Go (since it also has a mic in it). To start, I went ahead and plugged the Rode into the 3.5mm port, and then I attached it to the side cold-shoe mount.
In my case, the Rode Wireless Go is basically a wireless lav system. For what I do (sports stuff), this is the best possible setup because I need something wind-proof (and this mic works well while riding along at 20MPH/30KPH), but also that I can place off to the side and still get audio even when I'm not right in front of the camera. But you do you, the whole point of the Media Mod design is that you can use any mic you want.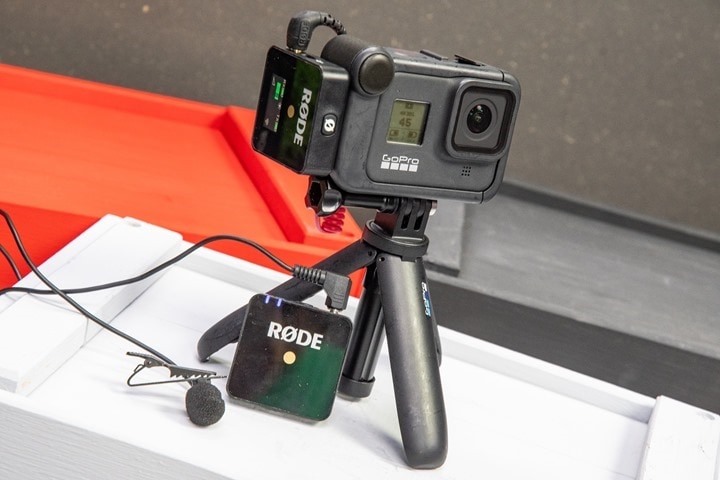 Once you've got your microphone plugged in, you'll want to ensure the microphone type is selected correctly within the GoPro settings. These are located by swiping down from the top, then go into Preference > Input/Output and choosing 'Audio Input'. It's here that you'll see these options: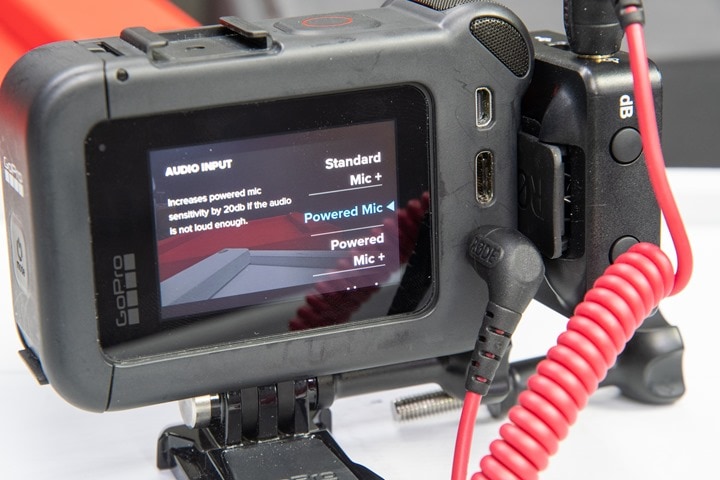 Here's a handy table to know which is which, from the Media Mod manual:

In my case the Rode Wireless Go is a powered mic, so I selected that from the menu. Also, I can control the output on the Rode itself, so I didn't choose the Mic+ option, otherwise that would have likely been too much volume. However, if you need that, the 'Mic+' option for either powered or unpowered would have bumped it up by 20dB.
Then, I went out and recorded. And, it worked perfectly fine – exactly what I'd expect. Here's a little snippet from that video, again, at the start of a race where there were loudspeakers everywhere blasting all sorts of craziness. It's exactly the type of scenario you'd use a mic in. Sure, a shotgun mic pointed at me would have been technically more ideal – but also not practical for what I was doing constantly turning the camera around to point out specific items up close. My setup was functionally more ideal.
Note that the per-GoPro video preset options still remain here. So, for example, you can still customize that for more audio control. This includes creating separate audio tracks RAW audio tracks with low/med/high processing – just as always: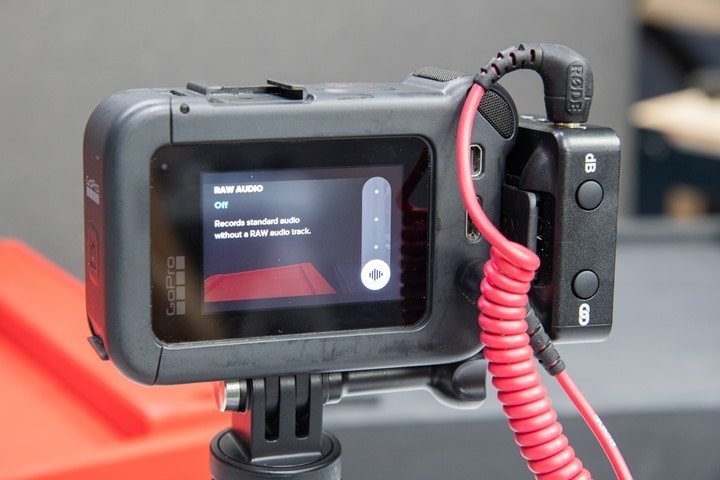 I also tried the Media Mod with two non-powered mics. The first was the Rode VideoMicro and the second just a simple lav mic, the Squid. I normally use the Squid mic for all my videos (including the one here at the top) connected to a separate audio recorder.
In the case of the Video Micro, with the dead-cat installed it's a giant fluffy beast, and gets in the way of the picture. I'm sure you could trim it or configure a different dead cat, but that video issue aside – it worked just fine.
In the case of just using a plugged-in lav mic, the Squid, that worked great, and is easier than the entire Rode wireless setup. It's probably what I'd use when I didn't need to go very far from the GoPro (such as at a convention where I'm hand-holding the camera).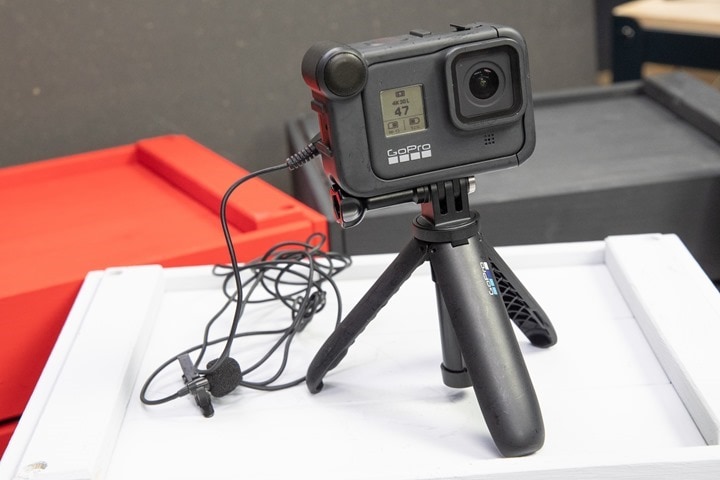 I've included both of those audio samples within the main video up top.
Overall from an audio standpoint, I'd say the included shot-gun mic isn't worth much. However, the 3.5mm port is valuable and well-executed for my audio needs. Granted, you're spending $79 to just get a 3.5mm port whereby DJI offers a small USB-C audio accessory for their camera for $39. Note, because there is no USB-C to 3.5mm audio standard, none of these are compatible with each other (really, I've tried, they don't work). On the flip side, that DJI accessory adapter, while functional, isn't terribly awesome stability-wise for action scenarios because of the way it sticks out quite a bit. Nor does it solve where to mount a mic.
The GoPro case enclosure while heavier, does make it silly-easy to mount a mic and plug it in, in a way that you can do action sport with no problem.
HDMI Connectivity:
For this last section we'll briefly talk about the HDMI port on the side. The Media Mod includes a micro-HDMI port, rather than a full-size one. So you'll need to ensure you've got a micro-HDMI to HDMI cable (or adapter) if you're going to use it to plug into a larger TV screen. Here's an example of one on Amazon. I happened to use a Belkin one, because that's what I pulled from my drawer of random cables. Just get whatever cable makes the most sense price-wise.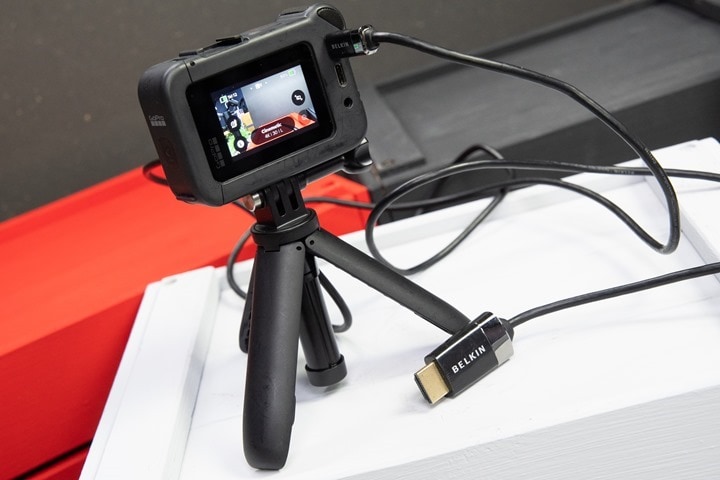 The micro-HDMI port is on the back, just above the USB-C port. This port used to be present on past GoPro action cameras, but was removed on the Hero 8 Black.
The Media Mod has three modes for the HDMI port, which are accessible in the same Input/Output menu as the mic settings earlier. However, it won't be super obvious to you that these three modes exist. At least not at first. When you plug in your GoPro to the cable and then to the TV, the back of the GoPro actually turns off, and then shows a small AirPlay-like icon on the front screen:
Down at the bottom of the screen is where you can control things. There's the familiar gallery icon, and then an eye icon. That eye icon is how you toggle between the two monitor/live recording modes.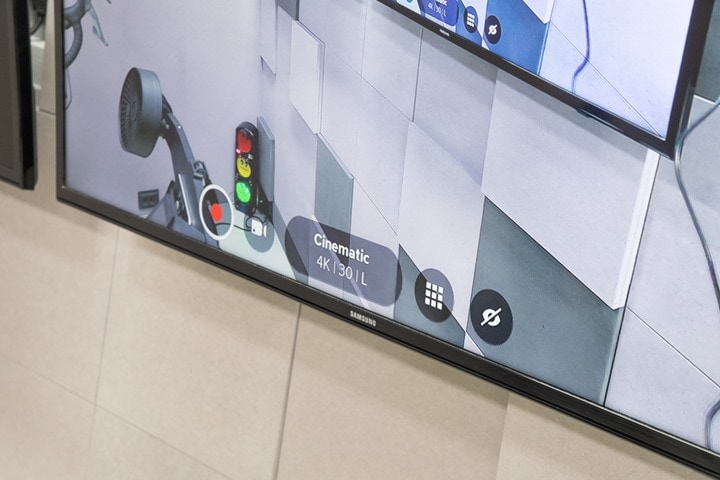 There's technically three modes on the Media Mod for HDMI connectivity, they are as follows:
Media: This is for playing back videos on your TV. It'll play back at full 4K resolution up to 30FPS
Monitor: This allows you to see what your GoPro is seeing in real-time, but with camera info overlaid atop it (so menus and such). This is a max of 1440p for 4:3 content, and 1080p for 16:9 content.
Live: This is just like monitor, but without any menu/overlay stuff. It has the same limitations of 1440p for 4:3 and 1080p for 16:9.
Note that these max resolutions don't impact recording however, so you can actually still record at 4K even when outputting at 1080p. For example, you can see that here where I'm showing the clip properties and you can see the TV is showing what the GoPro is showing live, while recording. You can see the cable going to the TV from the GoPro I'm holding. I know, that's confusing. Sorry.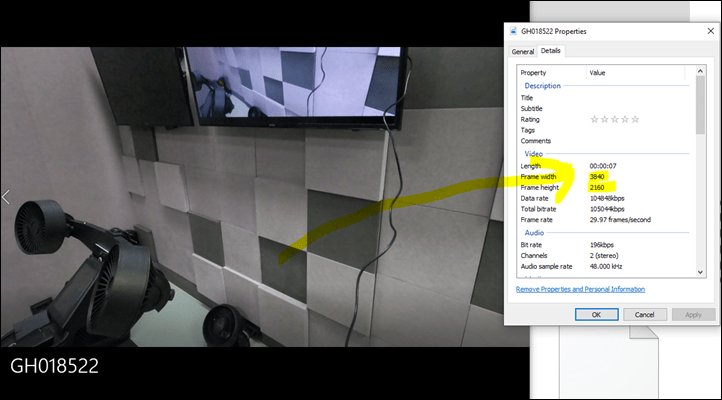 The main scenario here would be to use this camera in live-streaming type scenarios as a secondary camera. I've actually done that a few times in live streams, by setting up a GoPro with a different/unique angle – such as a wide-angle shot of the studio. I just use a Elgato CamLink to pull the footage in via OBS. However, in my limited testing of this functionality with the Media Mod, it appears to introduce an audio/video sync issue. That is to say, the audio and video from the GoPro aren't in sync when in recording mode. Which, sucks. I validated this with a regular TV connection too – and the results were the same.
Luckily, I do it so rarely it doesn't really matter a ton to me – but it's frustrating it just doesn't work. But if you just want to playback what you've recorded on your GoPro, then you'll still get the full 4K output. The Hero 7 had the same 4K support for playback, however it had a limited recording output of 720p versus the 1080p here. So that bit is technically an upgrade.
Wrap-Up: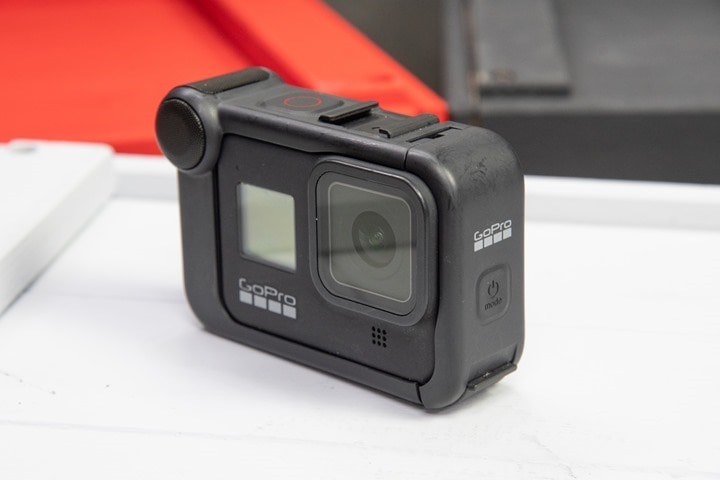 The GoPro Media Mod is a mixed bag, and your opinion of the accessory will largely depend on what you intend to use it for. If your desires center entirely around the 3.5mm input, then you'll likely be quite pleased with the more streamlined option compared to the clunky adapter GoPro has previously had for years. Especially with the cold-shoe mounts. It works pretty darn well.
If however you were looking forward to that built-in shotgun mic, then you'll be disappointed. It's just not that good, and I think in certain situations actually worse than GoPro's reasonably good Hero 8 audio for most action scenarios. Yes, the shotgun mic was supposed to be more for non-action scenarios, but it's an action cam after all. And it doesn't seem to help much in either scenario. Additionally, the HDMI output seemed flaky at best in my setup. Perhaps your TV will Netflix GoPro and Chill better than mine, but the experience was mostly unusable.
Despite my continued annoyances with the entire battery access/door/etc on both the Hero 8 and the Media Mod (it's just cumbersome to use even in a studio, let alone on a cold and snowy day) – the Media Mod setup for certain applications is spot-on for what I need mic-wise. Specifically for me being able to shoot around race start/finish lines in Linear mode with an external lav mic is huge. Sure you can pull this off with smaller mirrorless cameras, but the usable shot ratio in time-squeezed environments goes down quickly.
For these scenarios, there's no more perfect 'Run and Gun' setup in terms of knowing my image quality will be spot-on and also knowing the GoPro app has the efficiency behind it to get my video files in full resolution off the camera (with mic-audio on it already) and into mobile editing workflow. Sure, the entire Media Mod may be a mixed bag, but the parts I need specifically actually fit my specific needs. The parts that mostly underperform, I wouldn't have used much anyway.
Hope this helps!

Found This Post Useful? Support The Site!
Hopefully you found this review useful. At the end of the day, I'm an athlete just like you looking for the most detail possible on a new purchase – so my review is written from the standpoint of how I used the device. The reviews generally take a lot of hours to put together, so it's a fair bit of work (and labor of love). As you probably noticed by looking below, I also take time to answer all the questions posted in the comments – and there's quite a bit of detail in there as well.
If you're shopping for the GoPro Media Mod (GoPro 8 Compatible) or any other accessory items, please consider using the affiliate links below! As an Amazon Associate I earn from qualifying purchases. It doesn't cost you anything extra, but your purchases help support this website a lot. Even more, if you use Backcountry.com or Competitive Cyclist with coupon code DCRAINMAKER, first time users save 15% on applicable products! Or, with TPC (The Pro's Closet), you'll save $40 on purchases over $200 with coupon code DCRAIN40!
Here's a few other variants or sibling products that are worth considering:
And of course – you can always sign-up to be a DCR Supporter! That gets you an ad-free DCR, access to the DCR Quarantine Corner video series packed with behind the scenes tidbits...and it also makes you awesome. And being awesome is what it's all about!
Thanks for reading! And as always, feel free to post comments or questions in the comments section below, I'll be happy to try and answer them as quickly as possible. And lastly, if you felt this review was useful – I always appreciate feedback in the comments below. Thanks!