Phew – it's been a whirlwind last 10 days! Flying to Australia for the Tour Down Under (with more posts to come, especially some cool behind the scenes bits on tech), and then now just getting back home this morning. However, rather than just fly straight back we made a weekend stopover in Singapore, our connection point. Singapore is one of our favorite cities on earth for the variety (and price) of food. Plus, the weather would actually be nice and warm. Here's what we were up to!
1) Leaving Australia and the TDU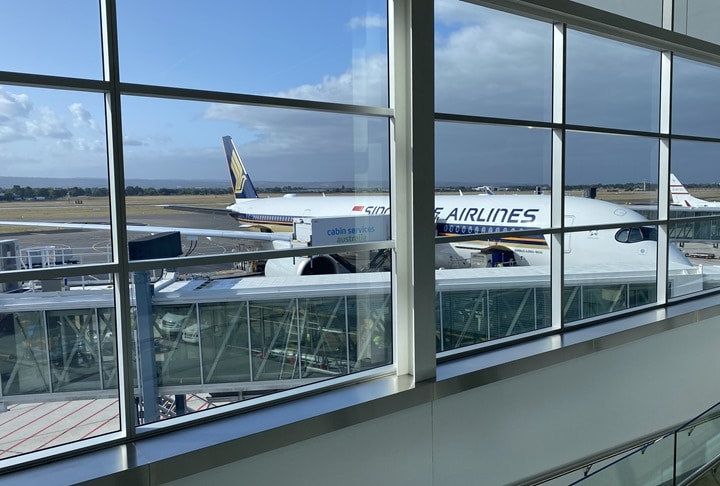 After a week in Australia it was time to say goodbye. While the Tour Down under wouldn't finish for another few days, from the perspective of the tech bits I cover, it had run its course. Plus, we had dumplings to eat.
The flight from Adelaide to Singapore is a touch over 6 hours, with ours leaving mid-morning and arriving mid-afternoon with the time zone change. Of course, the bigger trick isn't the flight but packing up all the cycling and tech gear that was spewed across the Airbnb that we shared with GPLama and crew. Figuring out whose GoPro was whose, and making sure all the cables (and diapers) were with their proper owners.
After dropping off the rental car at the airport, I noticed the Adelaide airport even has a bike repair station in the parking garage – right next to a bike storage spot. Nice!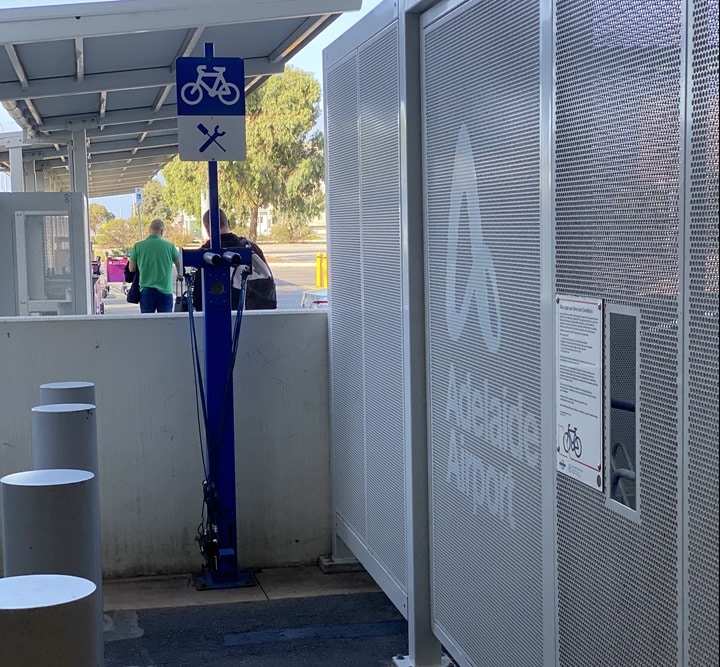 As for Lama, we'll catch back up again at the Sea Otter bike show in April, where I suspect we'll see some good cycling announcements this year. Plus, of course, suckering in DesFit too for that!
2) Dim Sum and More Dim Sum
As always, Singapore Airlines was quick and efficient with luggage delivery, and barely an hour after landing we were already at our hotel in town. That meant only one thing: Time to start eating.
Though, it was a bit early for that. I mean, early to go get Dim Sum for proper dinner. So I spent a bit of time at the hotel gym working through the details of the new running and heart rate broadcasting over Bluetooth Smart metrics for the Garmin FR245/945, while P3 got a nap. P1 and P2 stayed at home for this trip, spending time with the grandparents.
Then…then it was time for dim sum!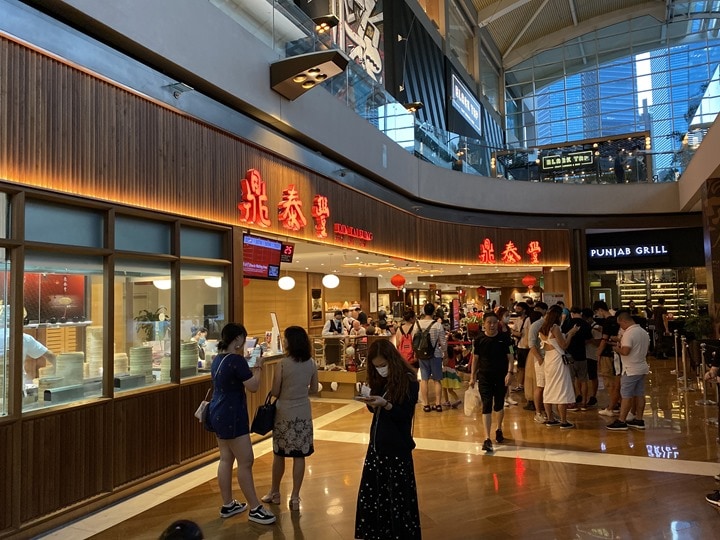 We love Din Tai Fung. Sure, they're a chain – but if you ask most people for a good warm-up option in Singapore, that's gonna be on their list.
And we ordered a disturbing amount of food. But it's so good!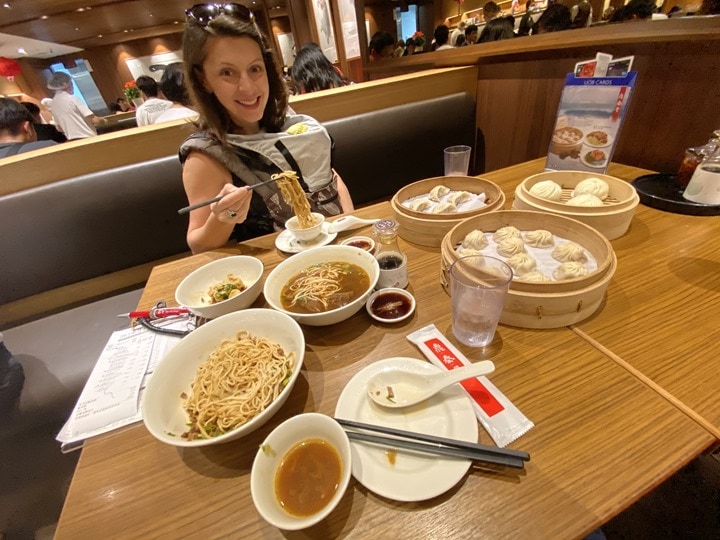 Afterwards, we walked a long time around Singapore. Because, that's what you do when you eat enough dim sum for half an airplane.
3) A Singapore Runaround
We went out Sunday morning for a nice run around the Marina Sands area of Singapore. We had P3 in the stroller rockin' her first official run. This isn't our usual running stroller, but rather the same double-chaired stroller that I ran the race in last year. It's also what we tend to travel with (the BOB running stroller is just too impractical for us to travel with).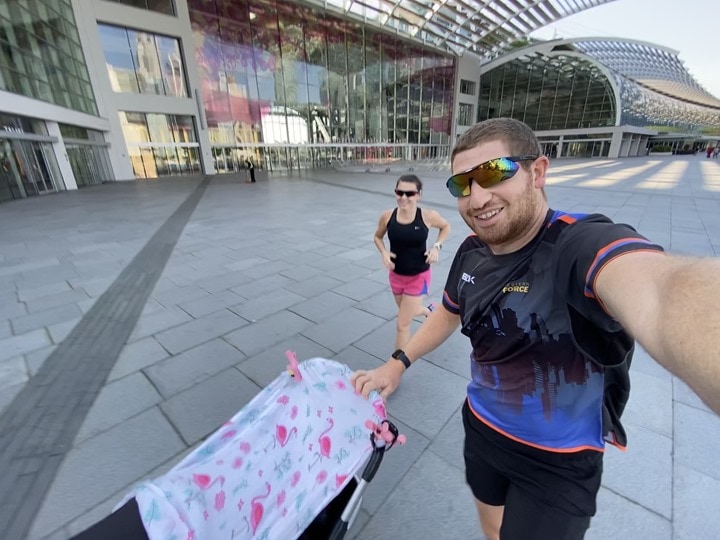 Our route was simplistic, along the water next to Marina Bay Sands. It was quiet this morning (likely due to the Chinese New Year), and the temps were pretty decent too!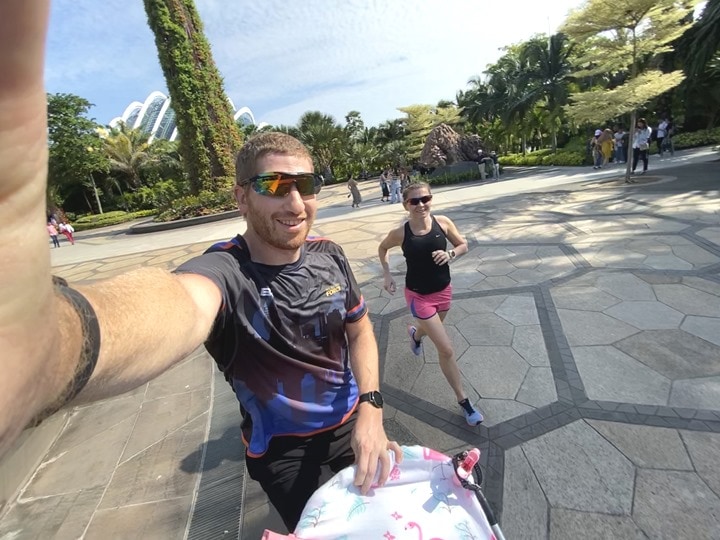 P3 didn't last very long. Heck, she barely made it about 60 seconds into the run before the motion put her to sleep: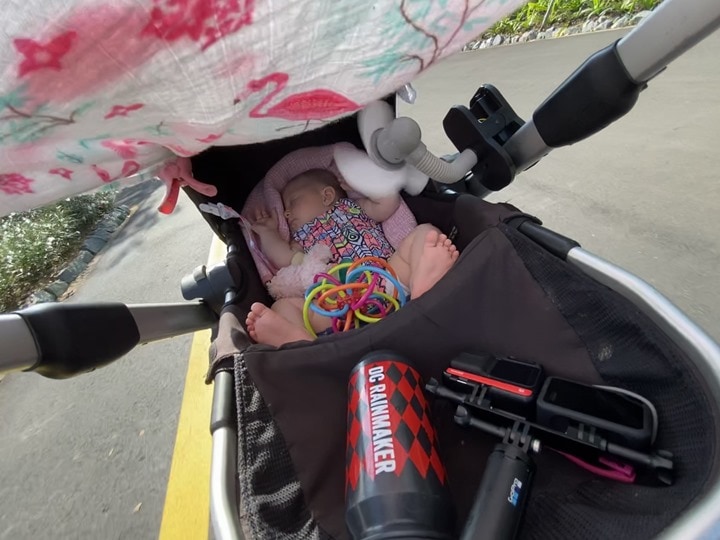 We ran down to a bridge crossing the water. Interestingly, this is the same bridge we started a running race on some 7-8 years ago during another weekend stopover in Singapore. That's a fun race report time capsule for ya (also, we look about 15 years old then).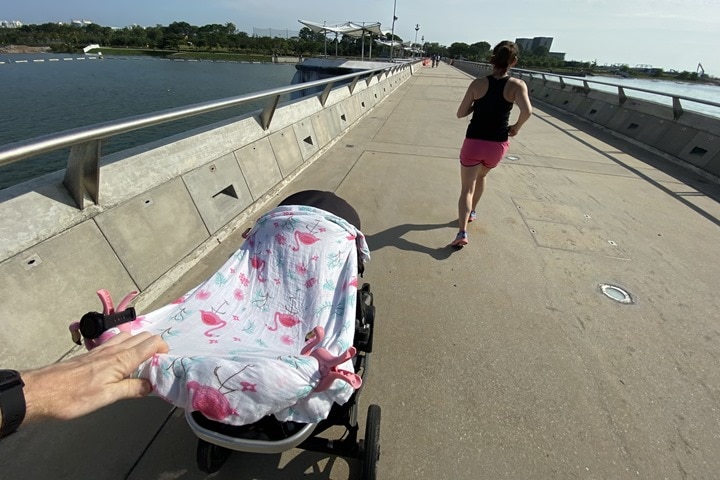 Good run, nothing too long, finishing back up at the same place we started: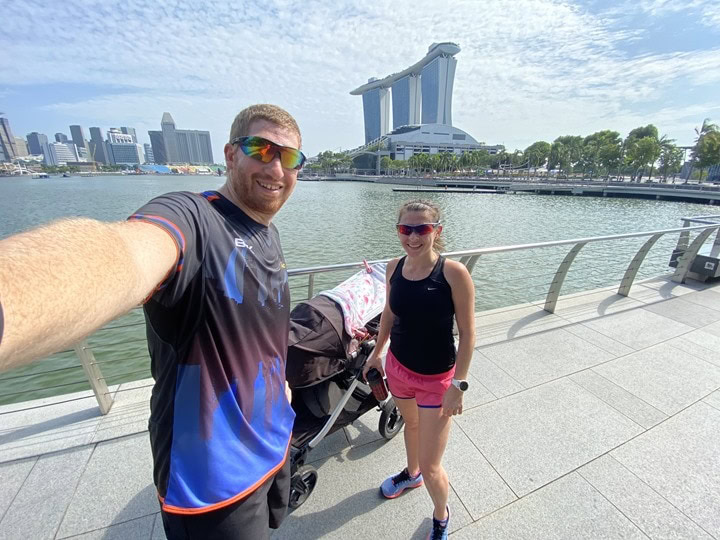 Afterwards, we went to the hawker stalls for proper nutrition. I forgot to take a picture. So here's (umm…some of) what we had the day before.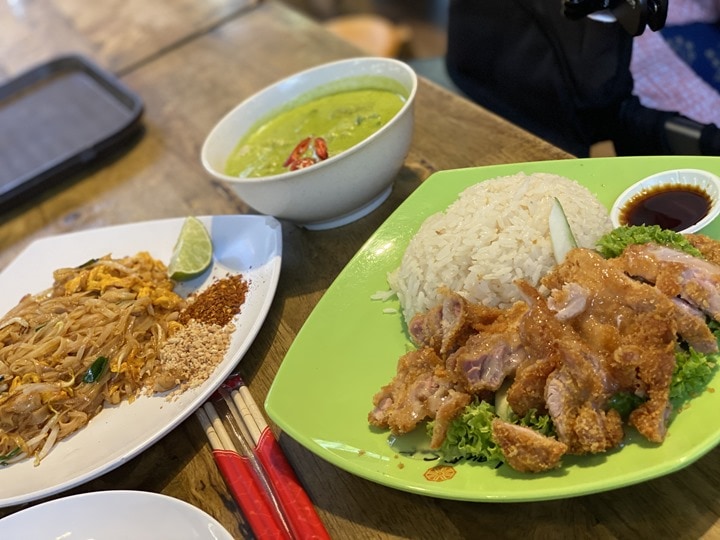 This was actually the third time we'd gone to these hawker stalls on this trip. Yes, third. For example, we went at midnight earlier that day to get some satay:
Which, are awesome of course. 70 cents each (or about 50 cents USD). And the peanut dipping sauce is free! So good!
4) Action Cam Testing
I was doing a bunch of testing with the Insta360 One R action cam system with the 5.3K 1" sensor. I don't think I've written a post on it yet, but I did do a YouTube video on it. I was capturing some more footage across a few scenarios from sunny to night, running to pool. Got it all! You can even see the cameras sitting in the stroller: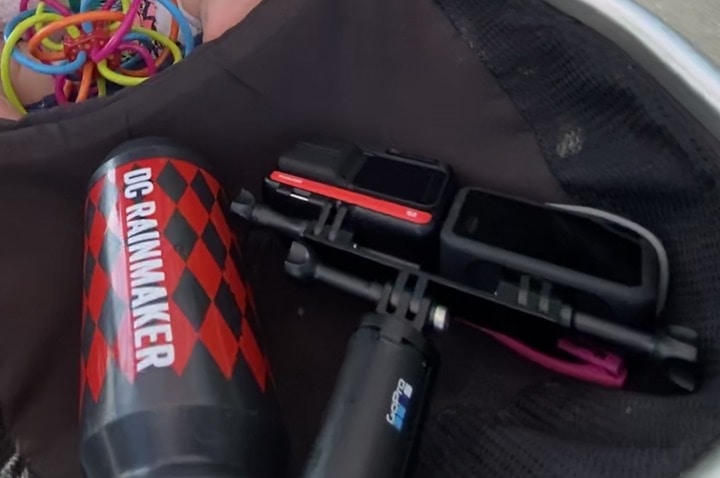 I also had some ND Filter stuff I was doing with the GoPro Hero 8 too, as well as some GoPro Media Mod testing. I suspect you won't see the ND filter testing here on the site, since honestly it just doesn't do well here. But I will likely publish the GoPro Media Mod bits, since that does tend to do better.
Here's a quick still photo taken, hand-held, side by side between a GoPro Hero 8 Black and an Insta360 One R 1" module. I have actual video footage too, but I'm too lazy to get it all aligned at this second.
Both above/below, the GoPro image is the one to the left. They were both taken at the exact same second, though each camera has slight delays on how quickly it processes that button press.
Ultimately, I just got tons of comparison footage and audio across all the cameras I had. As always, it'll take longer to sift through it all and create side by side comparisons than it will to actually shoot it. It's one of the things I've tried to get better with in terms of my workflow: I take too much video comparison content sometimes that's duplicate in nature (which just means more stuff to sift through). So I try to limit it to 1 or 2 recordings of the same scene/scenario so I don't end up with 10 running clips in Singapore to figure out which is which. Especially when looking at the massive file sizes for 5.3K footage!
5) Back home to Amsterdam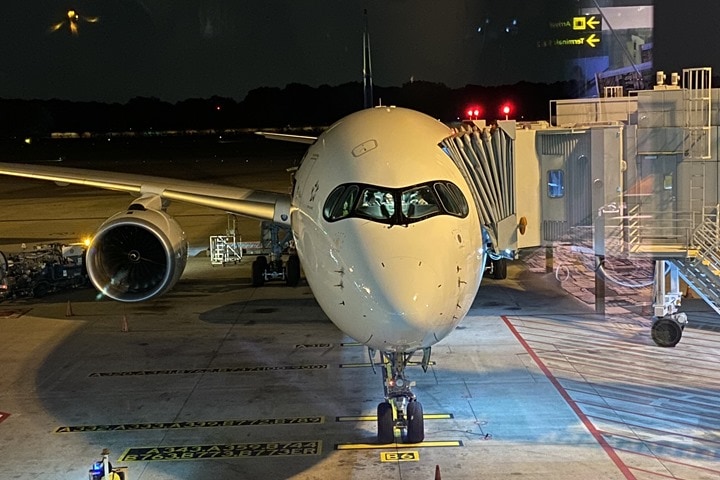 Finally, it was time to leave Singapore. Our flight was at 11:55PM on Sunday, and would fly for just under 14 hours non-stop to Amsterdam, ultimately landing at 6:55AM Monday morning.
We'd leave nice and toasty warm Singapore, to arrive back to 3°C Amsterdam with driving rains. Ahh yes, home.
With that – thanks for reading! Should have a good week of sports tech things coming up over the next few days across a variety of topics, not just limited to cycling this week.
Good times ahead!