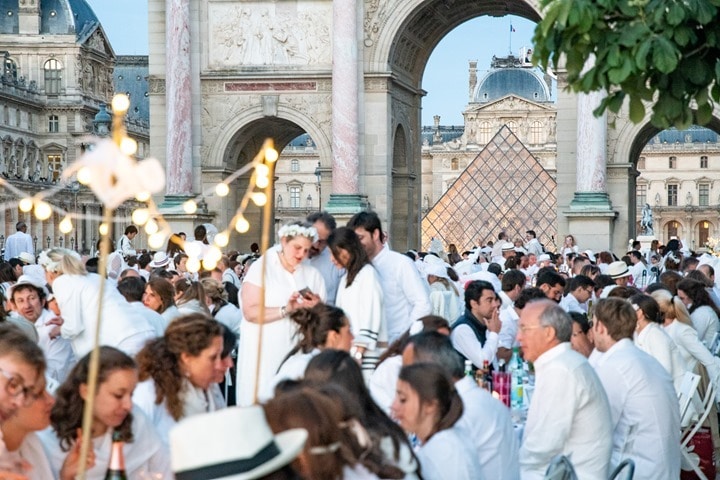 For the past half a decade, we've attended Dîner en Blanc in Paris. And almost every year I've posted about it. Perhaps more for me than for you. This year will be no different. And despite us no longer living in Paris, we still make the (relatively short) trek down to The City of Light for what is always our favorite night of the year.
The event is invite only, and varies in size from 10,000 to 20,000 people. Unlike buying tickets to a concert online, the key here is being invited by a past DeB organizing attendee, which is how we got our invites years ago. And also unlike buying tickets to an event, there's virtually no cost. Save a whopping 2.50EUR. Oh, and finally – unlike a concert, you don't know where the event is until minutes beforehand when you'll receive a text of where to go.
With that, a bit of a recap of the night.
Getting Ready:
In a highly unusual moment for us, we were actually early to our meeting spot. See, you don't actually meet at the final location you'll be dining. Instead, at noon the day of, you're given a street address to meet that evening. That address is usually a 5-15 minute walk away from the venue. And it's often a bar or café that you can start your pre-game festivities at.
This year however was a bit different. We'd be pre-gaming with a street length's worth of art galleries that were opened for an unrelated event that night. If you've ever wandered the streets near Musée d'Orsay, you'll find gallery after gallery of expensive works of art (of all mediums). That's where we were.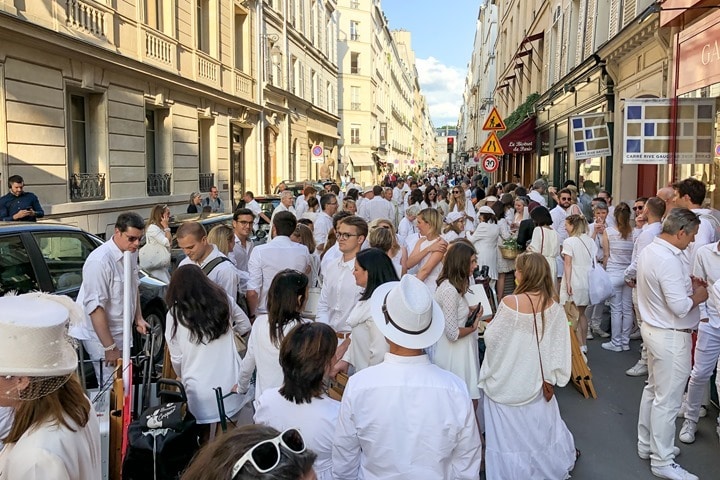 Of note was there was a small champagne truck there, giving out free glasses of champagne. It wasn't too shabby either. Obviously, we consumed some of that.
Gratuit, duh.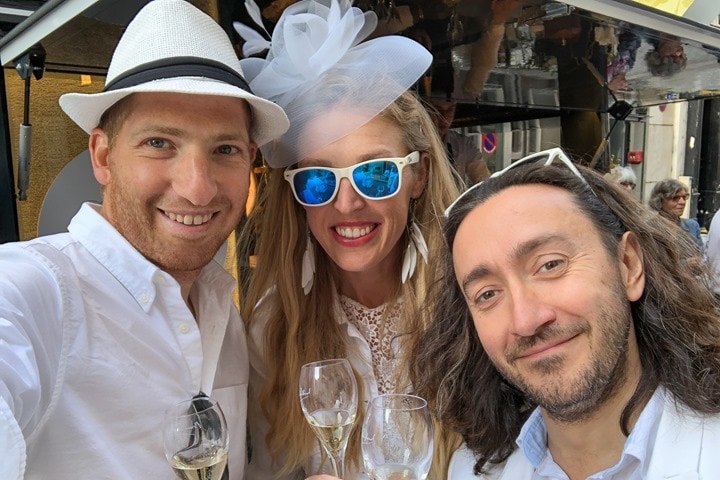 Around 8:30 it was time to get our group together for the great migration across the River Seine. We'd received word of our spot in the Tuileries, and it was time to make the trek, complete with all our gear.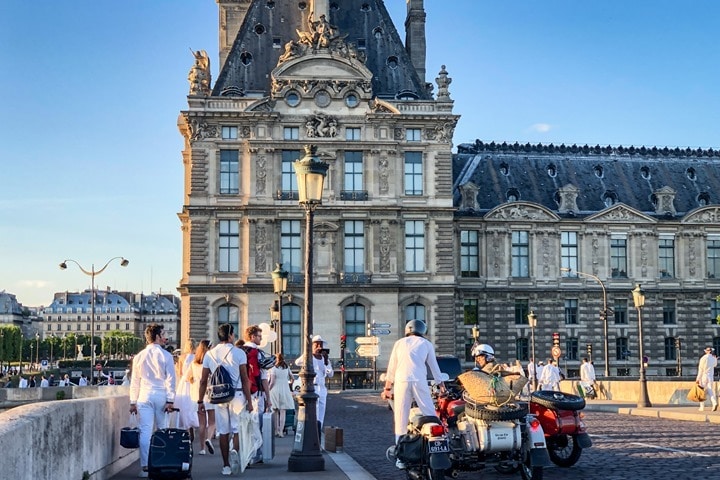 See, the point of Dîner en Blanc is to take everything with you. This isn't some catered event. You bring your table, chairs, white tablecloth, candles, flowers & vases, plates and everything else you'd need for a multi-course fancy meal. Yes, including separate champagne flutes, wine glasses, and water glasses. Pom' de Pain ce n'est pas.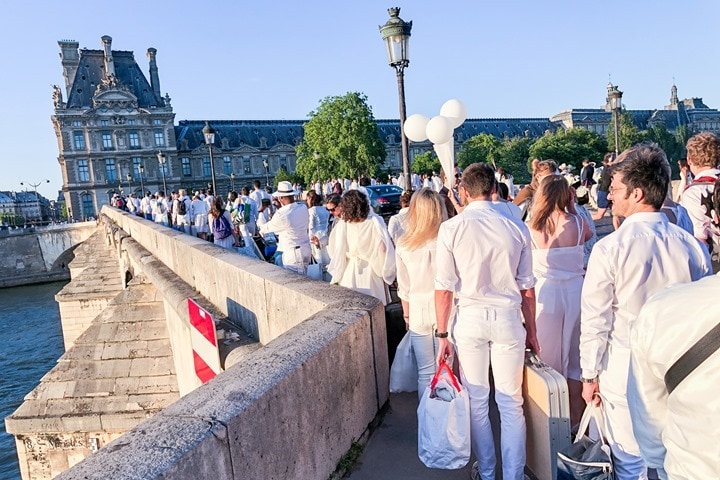 Except one problem: Half our herd got locked out.
See, many people often speculate exactly how much coordination really occurs between the city of Paris and Dîner en Blanc. After all, you are 'randomly' showing up with 10,000+ people. Yes, it's technically a flash mob, but is it really? It's always kinda assumed there's a bit of quiet confirmation between the two parties that happens here behind the scenes.
This year illustrated that's just your imagination. It's as legit as it gets.
After about half of the crowd got into the Tuileries (which is a large garden  that locks up at night), the security guards rolled the gigantic cast iron gates closed, blocking us from getting in, and those inside from getting out. You can actually see the portion that got in, just beyond the fountain in the photo below.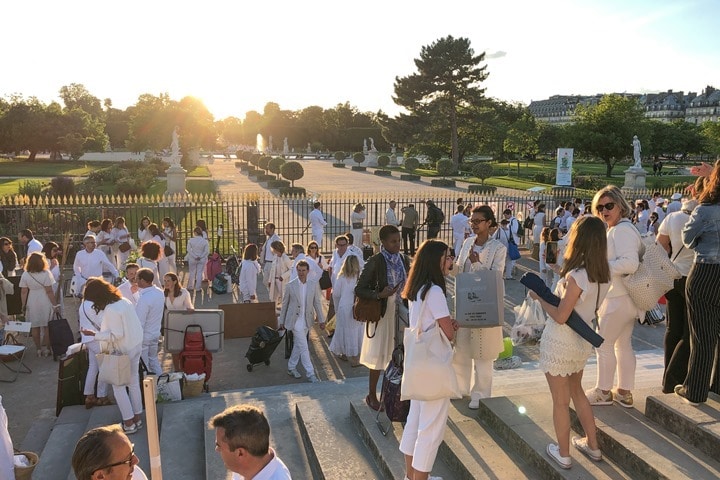 Fear not: Plan B. There's always a Plan B.
And in this case, Plan B was simply setting up (with order and architectural table drawings that'd make any CAD user proud) in the gardens of the Louvre, which don't lock at night.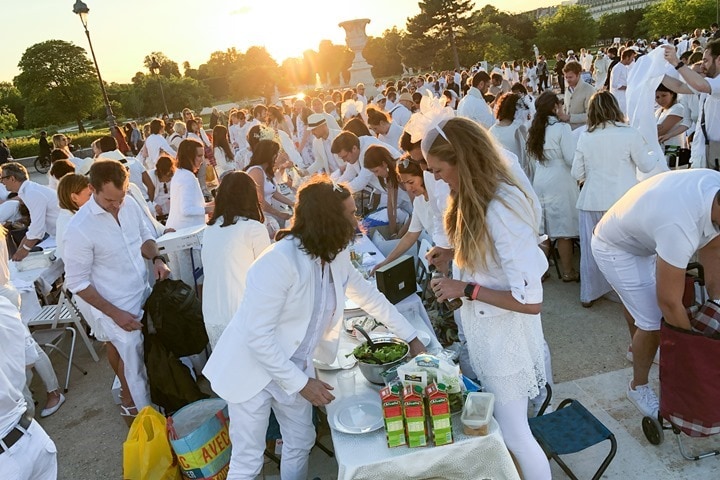 Once it was confirmed that was our spot, we got to work setting things up (and the folks in the Tuileries would eventually get the boot, joining us as well). The process takes about 10-15 minutes as people unpack everything and get it all sorted into as close to a Michelin starred establishment as you're going to find two people can drag on their backs.
Food & Party: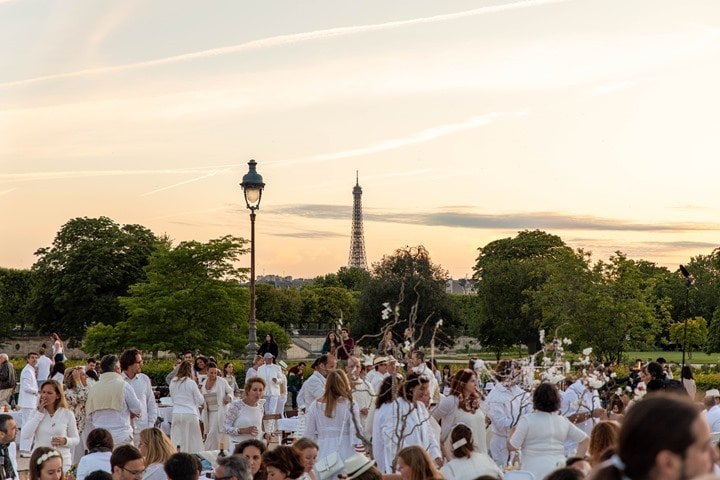 With the setup behind us, it was time to crack open the Champagne and start passing around the food (and wine…and more champagne):
That even included this amazing bread that had our team name (Team Food Society) on it (look, we had to have a team name, and none of us could come up with anything more creative a few years back, so…yeah, it stuck).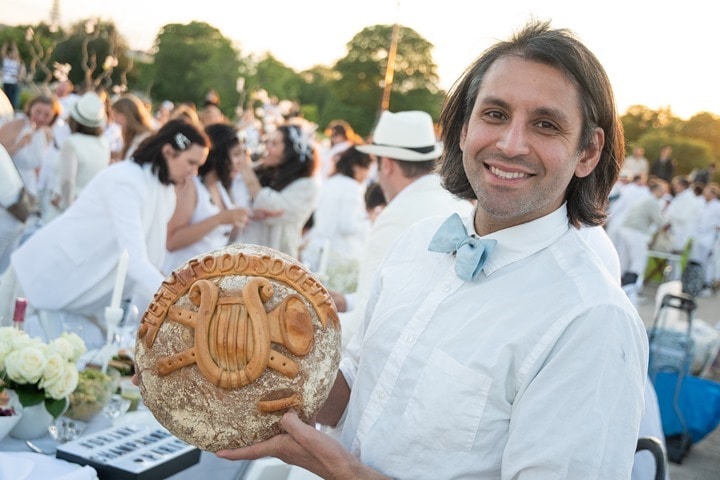 As always seems to be the case, there's usually too much food. The idea is to make a dish and then share it around, which certainly happens. But our specific group of attendees (Team Food Society), are pretty food obsessed, and take pride in self catering the best plates! As well, we all collectively forget how much talking and wandering you end up doing, so you don't quite eat as much as you might elsewhere.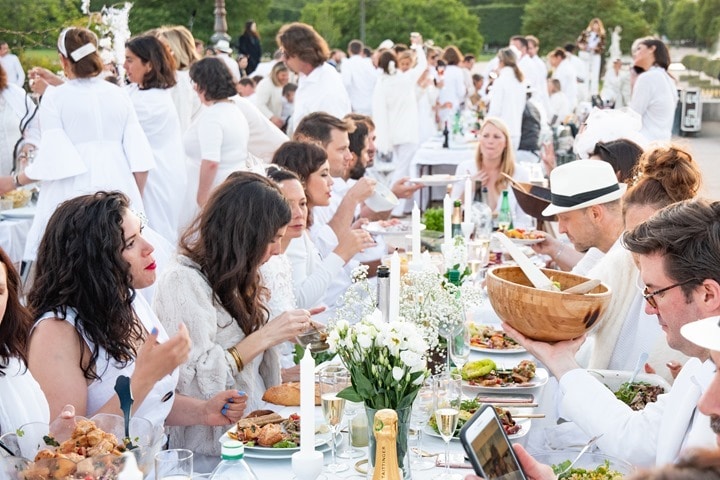 Speaking of wandering – part of the allure of the event is people watching, and just catching up with friends in other social circles that you rarely see. There are a number of people in Paris that I pretty much only see once or twice a year (even before we moved), save for some sort of specific meeting/appointment. Like our realtor, some restaurateurs we know, and so on. So a quick catch-up here is always good. Or, you can just watch the scene float by.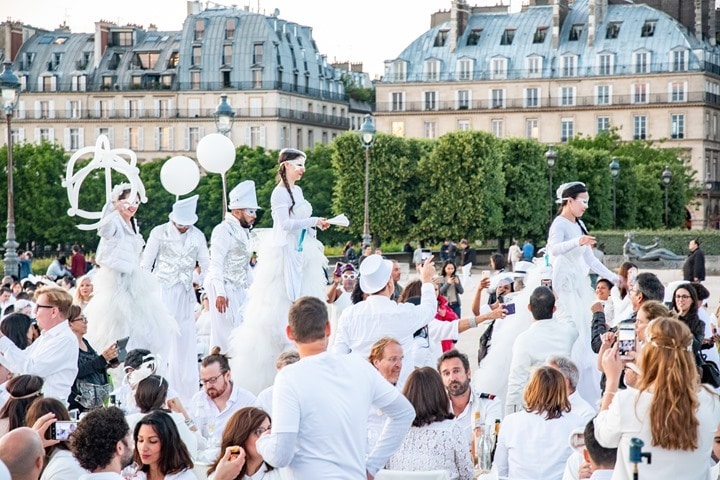 Around 9:30PM or so there's the ceremonial napkin twirl, which is why you need to have cloth napkins. None of that paper napkin stuff. Also, in case you didn't notice, we also have ceramic plates, real silverware, and glasses. No disposable stuff permitted.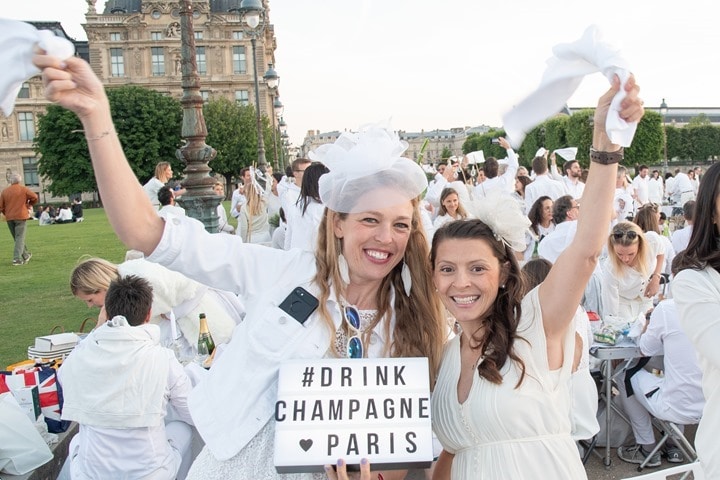 After which it's back to more eating and drinking, and catching up with friends.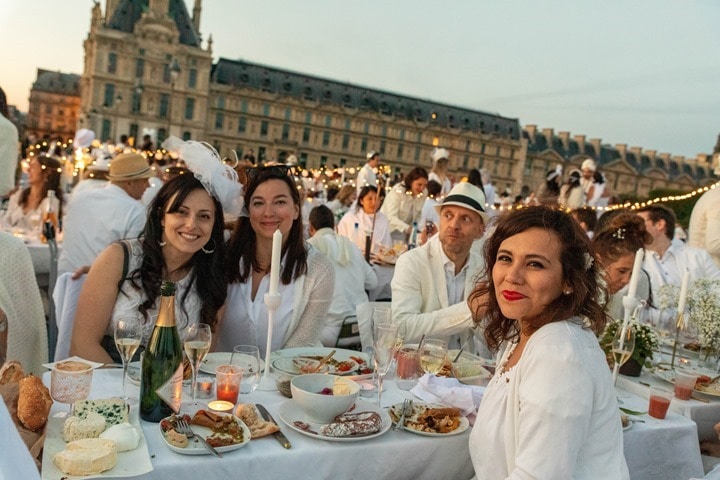 Then later at 11PM there's the sparklers. The organizers cover the cost of these, and then pass them down to 'team' leaders, who in turn get them to everybody. One per person, in one giant sparkler lighting festivus: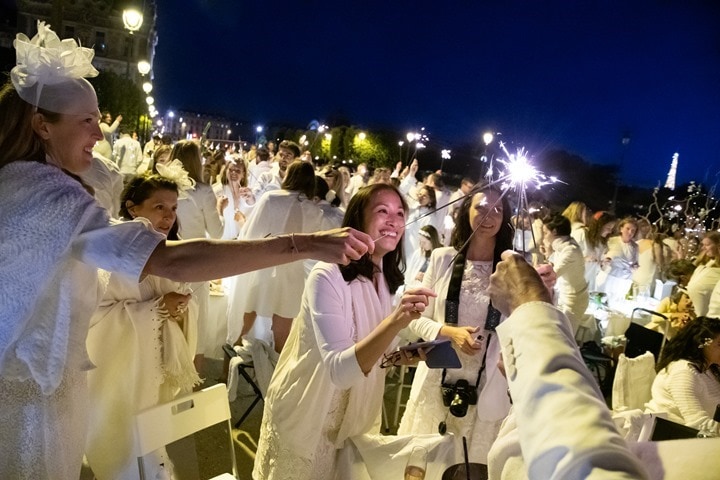 I can't remember if I mentioned the champagne…or wine, yet. It happens.
I'm not terribly certain on where the #DrinkChampagneParis light-up sign came from, or how it ended up on our table, but it became a photogenic hit!
After that the music kicks into high gear. Both roaming bands as well as makeshift DJ's setup. No electricity is provided onsite, so people temporarily drag in whatever they need.
In our case though, we mostly just relaxed and enjoyed the evening. It was a bit chillier than most DeB's we've been to. But hey…no rain!
And if you'd prefer to avoid being seen dancing in public, you can simply keep on drinking champagne and chatting with friends. And I suppose you could transition to wine. Though, I personally ensured our champagne didn't go to waste. After all, nobody wants that to happen.
P.S. – Thanks to David for a few of the photos in here. My partner in photo creation crime.
Disappearing into the night:
At midnight, Cinderella's clock chimes and people disappear into the night. And if done correctly, nothing is left behind. No bags of garbage nor random bits of baguette. It should be a clean slate, save perhaps a few melting ice cubes.  First of course is clearing out all the remaining food and dishes. Each table is required to bring two garbage bags for exactly this purpose.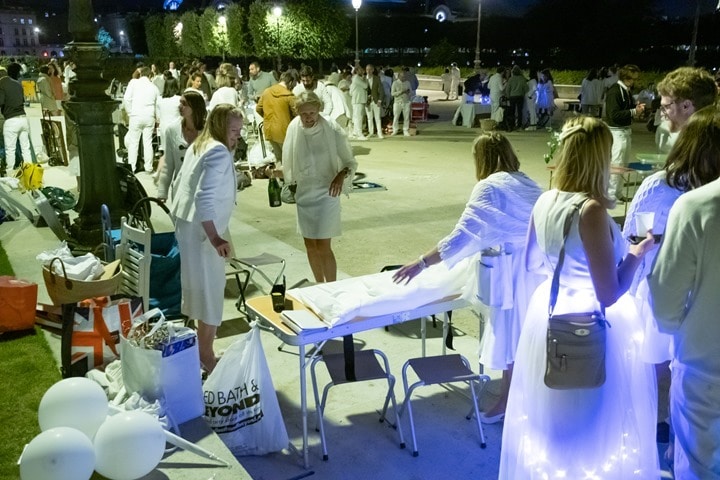 Then you'll deconstruct your tables. In the event you got super fancy with elaborate lighting structures, that means those gotta come down too. Given you're likely 6+ Champagne glasses into the night by now, you're probably regretting your desire to upstand your neighbors about now.
And finally, you'll double-check the ground near you to validate there's no bits of plastic or other things left. Usually the dark spots are where water or ice cubes are helping to hydrate the earth.
And that's it. In our case, by the time we finished helping other organizers clean up and ensure the site was spotless it was closing in on 2AM. But it's definitely worth it. The event has a reputation for ensuring the venue is left nicer than it was upon arrival.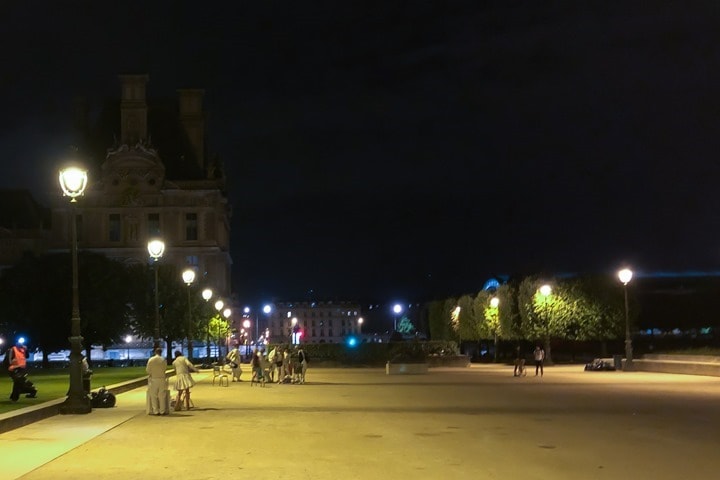 With that – thanks to Roger once again, and thanks for reading, and see y'all next year!
And wanna to take a look back at some past ones? Ask no further! Here's the previous Dîner en Blanc goodness: 2017 (incredible at city hall), 2016 (complete with video!), 2015 (near the Louvre!), and 2014 (on the bridges)! And since you're probably wondering – I never ended up getting a 2018 post out, but here's a photo of our group of amazing gals from last year: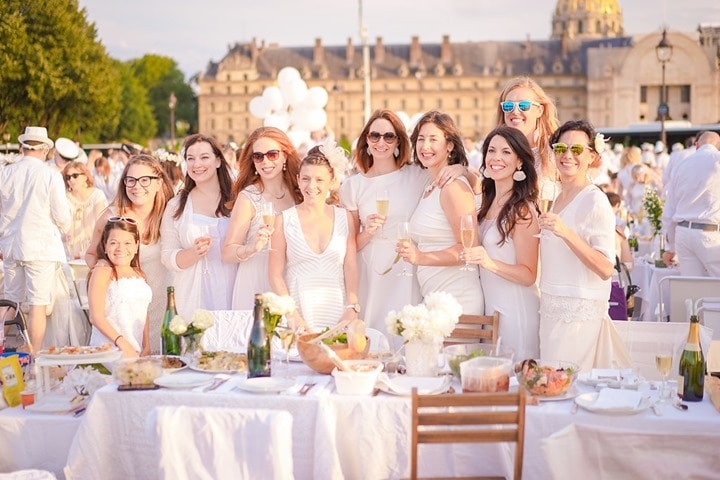 Oh, fear not, back to sports tech stuff tomorrow.