It was a hot one this weekend! 'Perfect' to do a triathlon, and spent most of the time outdoors. Here's a quick look at what I was up to.
1) Swim Time
Friday afternoon (which was sorta a weekend bridge holiday in the Netherlands and much of Europe), The Girl and I headed swimming. We went to De Mirandabad, the same sprawling pool/water park complex we've been taking the kids to lately. Except this time it was for legit lap swimming. I'd be headed outdoors to the 50m outdoor pool, while The Girl stayed inside in the warmer 25m indoor pool.
Unfortunately the facility doesn't appear to allow pictures to be taken on premise (assuming I've translated the 23 'no camera' signs correctly), so here's a picture of the facility from Google Maps: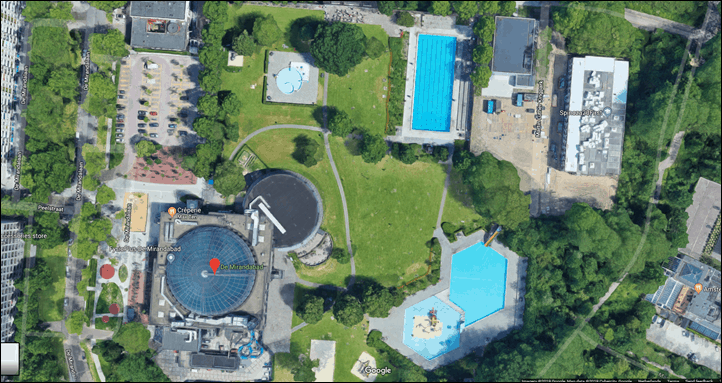 For me the swim was part device testing, and part just pool time. Obviously adding a lone swim day 48 hours prior to a triathlon isn't going to significantly (or even insignificantly) change the result of that swim. But, it was a nice sunny day and I figured my arms could use some memory assistance.
And like I said, I had some stuff to test.
It really is a stunning facility though – and only about 8-10 minutes from the DCR Studio. I'd love to know if folks have other favorite nearby outdoor lap pools. Even better if they are ones I can actually take photos at.
2) A Visit to Delft:
Saturday we rented a car sharing car, Fetch. It's basically like a Zipcar. They're electric plug-in cars that are sprinkled about the city, you simply use your smartphone to unlock it. We had discovered a different car share service last year, then that service went out of business. Hopefully this one lasts longer. We do miss our old trusty Autolib from Paris.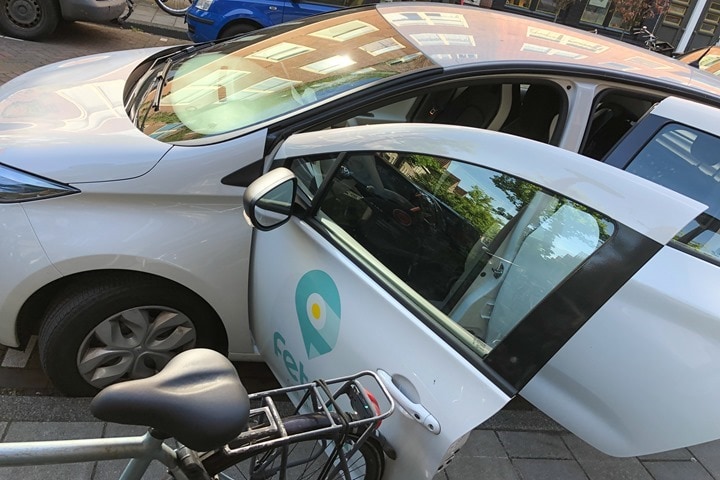 I can at least confirm that this car is perfectly good at keeping the car cool enough for proper cupcake transportation: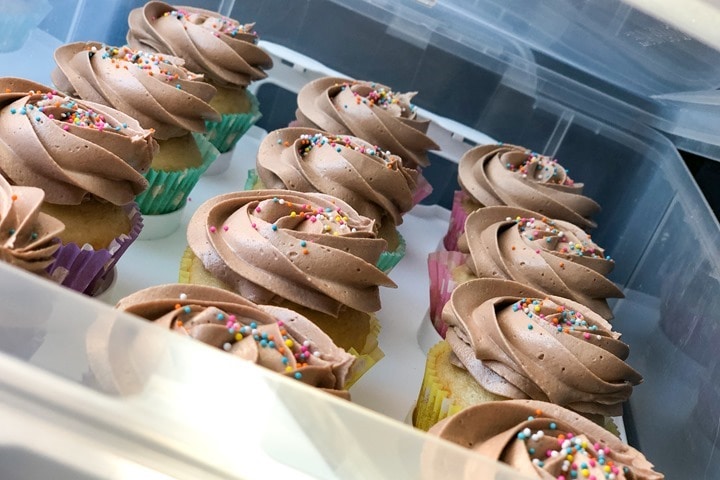 In any case, we were going down to Delft, about a 30 or so minute drive away depending on traffic, for a friend's 4th birthday. It was a great warm day (but not yet crazy hot). First we spent a few hours in the park with the kiddos, there were a few families in attendance  running and riding around.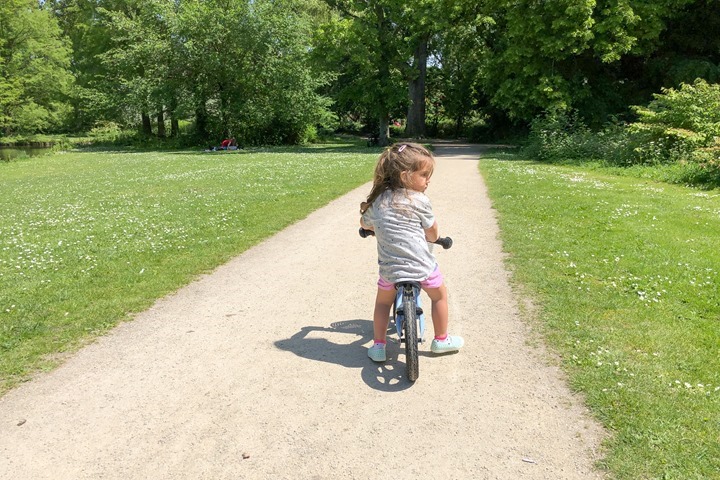 And then afterwards we walked into the city center of the picturesque little town for lunch.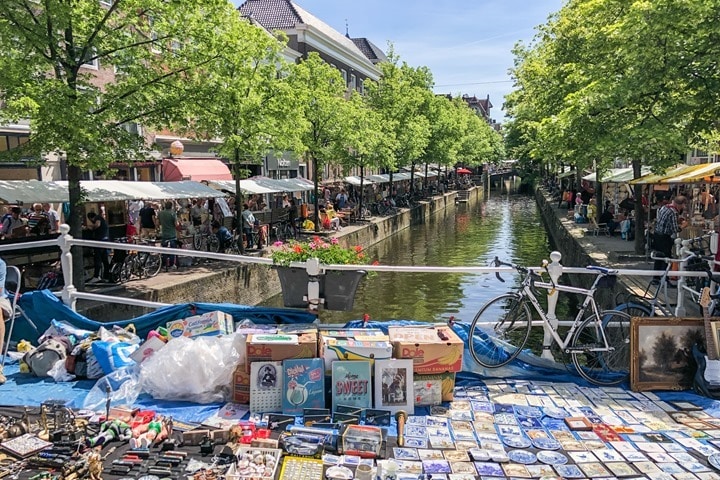 We didn't do much in the way of tourist stuff there, since the focus was on hanging out with our friends and their kids.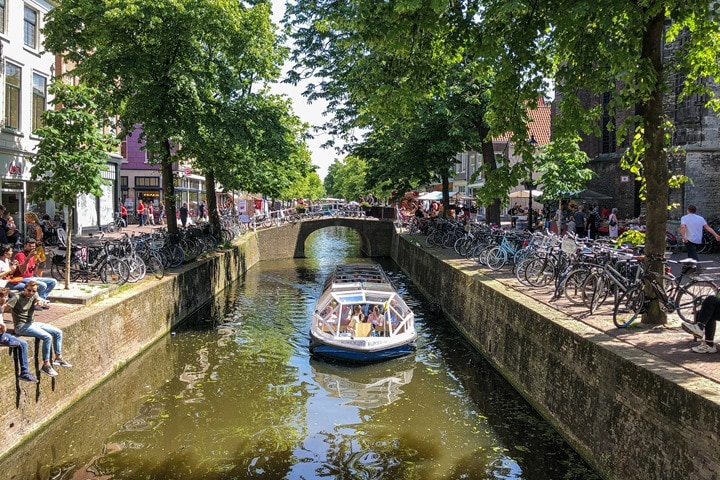 And once we got to mid-afternoon with a bunch of tired toddlers, the goal was extracting ourselves from the town before meltdowns occurred. With or without ice cream. I think we still owe The Peanut some ice cream, come to think of it.
3) Making sure my tri bike still worked
Saturday night after getting back from Delft I headed down to the DCR Cave to put my Cervelo P3C triathlon bike through some quick validations. Mostly, I wanted to validate that it still worked. I hadn't ridden it since last fall when I was doing some aero testing bits, and I wasn't quite sure about the state of the bike.
I had purposefully added air to the tires on Friday, to see how well they held. While it was slightly lower than I wanted (just barely), it wasn't enough to make me want to swap out the tubes. What could go wrong in a 30-minute sprint tri anyway? But, I did throw spare tubes in my bag just in case I changed my mind.
I then cleaned up the chain/shifting a bit, and swapped out the yellow Ikea AAA batteries in the PowerTap P1 pedals that were still on the bike for new yellow Ikea AAA batteries. One of these days I'll buy the fancier ones. Today was not that day. Then I got my head units and watches all paired up.
I'd be using three units for the race: Garmin MARQ Athlete, COROS VERTIX, and an Edge 830. I choose the Edge 830 instead of the Edge 530 because it was sitting on the table next to me and my Edge 530 was tucked somewhere in my backpack. Seriously folks, that's usually how it goes.
After that, I headed out for a quick test ride around the rowing basin and forest area before making my way back home. Nothing fancy or long – about 10-15 minutes in total.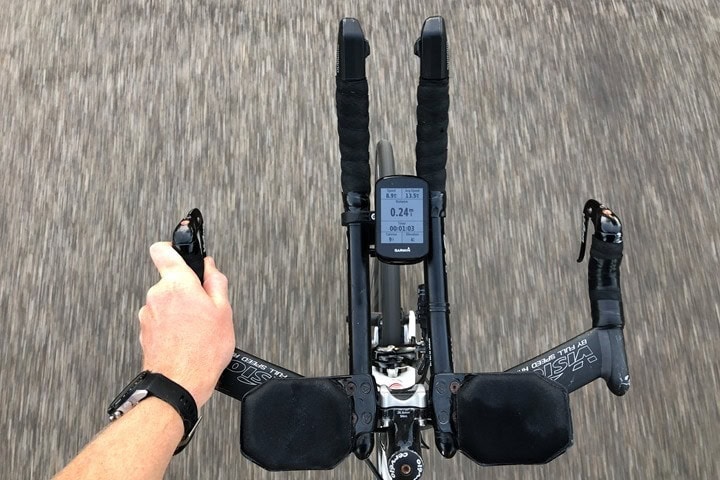 I was basically making sure stuff like brakes/shifting/pedaling all worked, as well as transmission of power. All of that stuff checked out fine. Steering was perhaps a bit stiff and could use some love, but not enough to want to dive into that adventure at 8PM the night before. Maybe I'll drop-off the bike next week at the shop to get all cleaned up.
With that, I was good to go!
4) Raced TRI HLMRMEER Triathlon: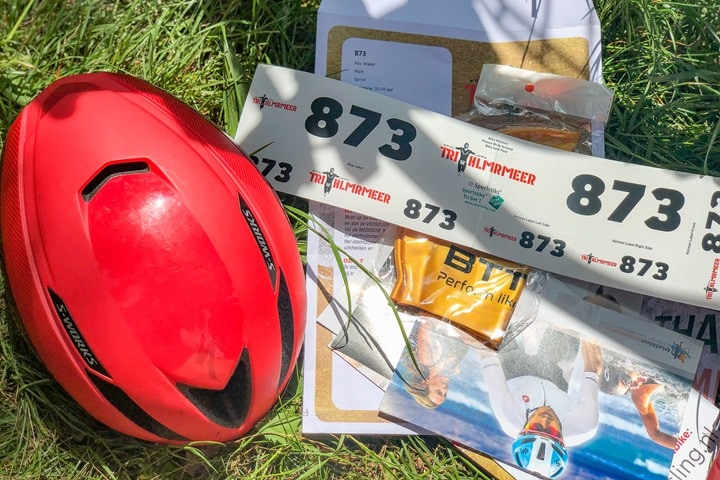 Last week I semi-randomly signed-up for a local triathlon on the other side of the airport from us. In fact, the airport was actually part of the appeal. The bike course route went right next to one of the major runways, where airplanes would be taking off or landing. It was cool stuff. I prepared by doing almost no training.
In fact, The Peanut trained more than I did. We read the below book I bought last year, multiple times these past few days. She was ready.
(Side Note: Searching for 'Daddy Tries' on Amazon brings up some rather unexpected results. I dare you.)
I'll be posting a race report on Tuesday or Wednesday, depending on when I finish writing about my frustrations related to the below (and other weekend issues).
Congrats Garmin, you made a $1,500 multisport GPS watch that managed to record a full 34 yards of the swim from today's multisport race. Your copycat competitor at less than half the price on the other wrist had at least something to show for it. pic.twitter.com/QOH1NZwtr3

— Ray Maker (@dcrainmakerblog) June 2, 2019
Also, my start was at 2:15PM. And it was the hottest day since last summer in a spring that hasn't seen temperatures above indoor room temps yet. Totally awesome.
5) New DCR Analyzer Feature Added: Battery Burn
Now for one last thing that happened over the weekend – a new feature to the DCR Analyzer. This is the software I use in all my reviews to graph comparison data. It's definitely not designed to be a training log like TrainingPeaks or such, but is used to compare files from products. Be it GPS data, or sensor data like power/HR/cadence/etc… Custom fields like running efficiency metrics and that stuff too.
But we didn't have battery life. And as I continue to march on my various battery life testing bits, I wanted a good way to represent what was going on here. Not just for crazy long 20-40hr battery life tests, but actually just for day to day testing. Now I can get a good idea for what rough battery level burn rates look like on different settings. Here's how it looks when loaded:

You'll see the data points plotted automatically in the graph. The way devices record this data varies a little bit. In some cases the devices record it on a set time schedule (e.g. every 10 minutes). Whereas in other cases the devices record each time the percentage change (e.g. from 62% to 61%). No matter the method, we just plot it.
Next, we'll do some 3rd grade math and figure out the average battery burn rate at the bottom. This gives you a rough glanceable gauge to look at when doing comparisons. Keep in mind that lots of things impact battery life – most notable being backlight. If you've got backlight on, it'll slaughter your battery life. Other things like GPS type can impact it too – with GLONASS & GALILEO usually adding about a 10-15% hit. Same goes for having the map page up the entire time on mapping-capable units. Or music running on music wearables. And so on.
Right now the only devices that we know of that record battery data are Garmin and Wahoo devices (to .FIT files). However, I'd love to see both Polar and Suunto add it in, as well as COROS. Especially in the case of COROS and Suunto with significantly higher claimed battery lives. I'd love to be able to easily plot/prove that out.
In any case, I think it's super cool and an awesome way while I'm testing units to get a rough idea of how battery is performing day after day, without having to manually track the start/end battery levels on a notepad.
—
With that – thanks for reading, and have a great week ahead!