Ahh yes, finally getting some re-warmth into the springtime weather here in Amsterdam. Not a massive amount of warmth, but I'll take any bit I can get. Here's what I was up to this weekend, with family in town as well.
1) Zwifting the Giro…Twice: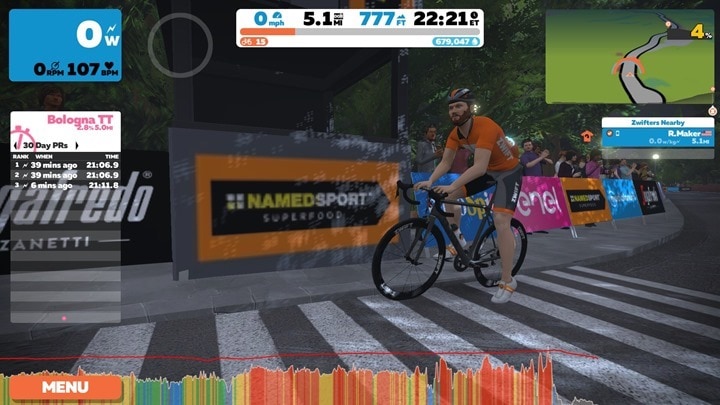 First up my path to the weekend was getting my Zwift-on for the new Giro d'Italia course. It'd probably be funny to know which posts/videos take the longest and which ones are the quickest. This was one that I thought would be super efficient. After all, the course is only 8KM long. I'd setup a camera, film a quick intro, then get on my bike record my screen, shoot a closer, then do some fancy-dancy editing later and condense things down a bit.
Oh god how I was wrong.
This ended up being an all day project. I got to the end of Friday and was like: Where the eff did my day go?
See, usually for regular Zwifting I use Apple TV. Except, with pre-release versions- they don't arrive via Apple TV. Instead, they come via Mac or PC builds. Which is fine, because I prefer to do Zwift-related recordings on my iMac 5K, since it simply looks prettier.  Except this time there was only a PC build available. No biggie, though these days I don't have any awesome-sauce Windows boxes. I have my laptop, and a pile of older laptops doing odd-jobs, but nothing that screams gaming rig.
No biggie, it is what it is – my laptop can hold its own, and looks like what the majority of you are riding on anyway.
In order to fail-safe myself, I usually record everything on another box. So I output HDMI from my Windows laptop over to a MacBook, which records everything via the Elgato Camlink 4K capture adapters.  I do this because it saves precious performance overhead, and because if something goes wrong on the Windows box, all is not lost.
Except, this series of things then happened:
A) My Windows box refused to output over HDMI without flicker, once Zwift started the game
B) I spent 2-3 hours troubleshooting that
C) Turns out, it was a bad driver on my Windows box
D) Finally, get this cooking, start recording on my Mac
E) Ride Giro course, finish, and film closer
F) Approx. 32 seconds later, my Mac crashes. Entire screen recording is lost
G) A lot of swearing occurs
H) I've got no choice…ride again.
I) I ride again, 21 minutes and 12 seconds later, I finish.
J) I notice DSLR camera stopped recording at some point
K) More swearing
L) Discover it only lost the last 60-90 seconds of my climb. Ponder doing it a 3rd time
M) Never mind. Fine, whatever, really nobody cares about watching me anyways.
Wait, how is now like 3:30PM? I haven't even started editing yet, let alone writing a post and all the photo stuff that comes with that.
Speaking of things that are over-schedule – this single item in the 5 Random Things. Here's the video, in case you missed it:
Don't even get me started on the audio….
2) National Windmill Weekend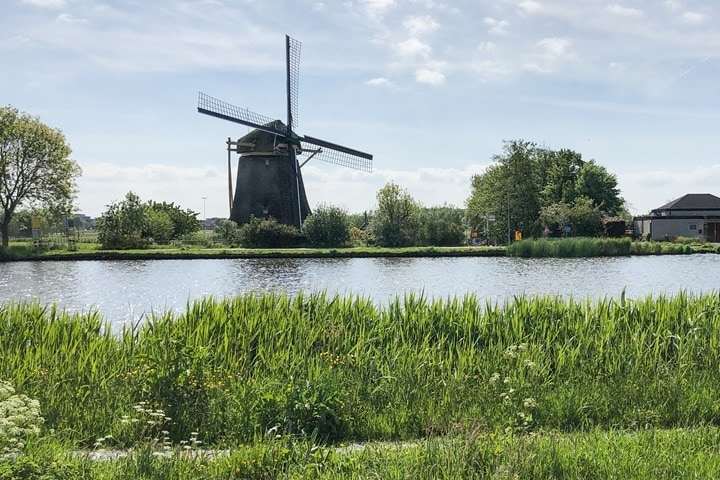 This weekend was National Windmill weekend in the Netherlands, where certain windmills were holding various festivities and special access things. Our windmills were not. And by 'our', I mean the two scenic ones closest to us that we can easily frequent.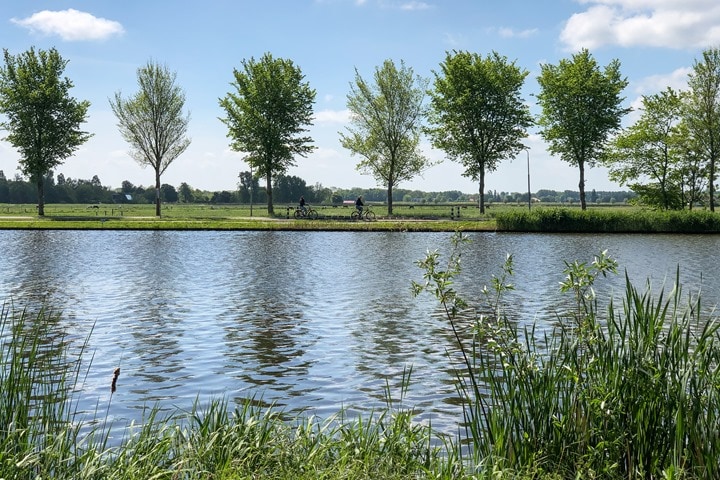 Still, it was good enough an excuse to pedal a bunch of miles merely to see windmills. With my parents in town we loaded the cargo bike with the kiddos, and then set off across the countryside.
We passed two windmills along the way, and of course stopped for a picture. Not taking a picture on National Windmill weekend would be like not getting a doughnut on national doughnut day. Just wrong.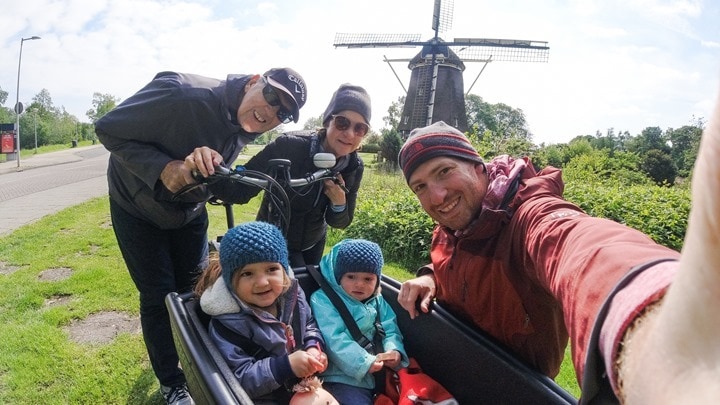 Speaking of doughnuts, at the turnaround point of our ride, we stopped at a small bakery that I've ridden by countless times before. Yet I'd never even noticed it on prior trips. Turns out, it's quite good!
Which means that any hope I had for future rides to create a calorie deficient outing have now gone out the window. Oh, and they also sell ice cream too. I mean, just so you know.
3) Saturday Night Live…Sorta.
Saturday Night after the sun set, and the kids were in bed, I escaped to go partying out on the town. And by partying, I mean: I pedaled around by myself and got some product testing done. Mostly in the pretty areas, around the Museumplein, and around the canals a bit. Found myself some good cobblestones, and some nice night scenes.  Oh, here's a pretty picture along the way: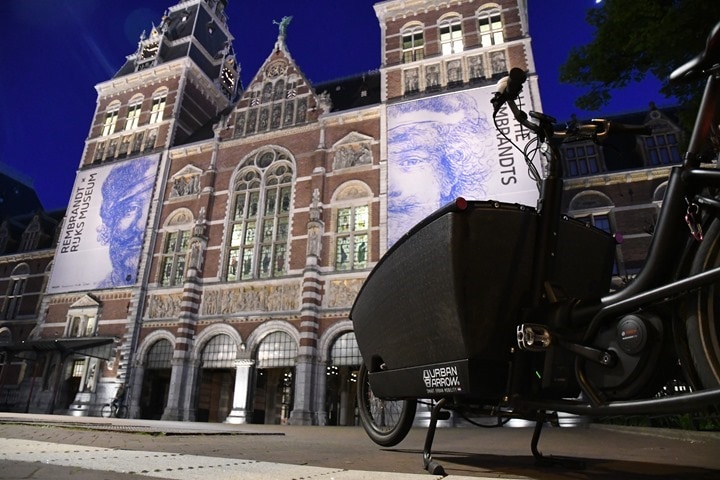 It was a surprisingly nice night. I always enjoy night wanderings by bike – be it in Amsterdam or Paris, and even (parts of) Washington DC. Just something peaceful about it. More later, soon.
4) Bike Parking for Boats:
Sunday afternoon we went down for a canal boat ride with my parents, the kiddos, and some friends in town. Of course, we arrived via bike. The boats that we were boarding left from near Central Station, so it was easiest to just park in the vast parking garages there.  For regulars to Amsterdam, you'll likely have seen these countless times before: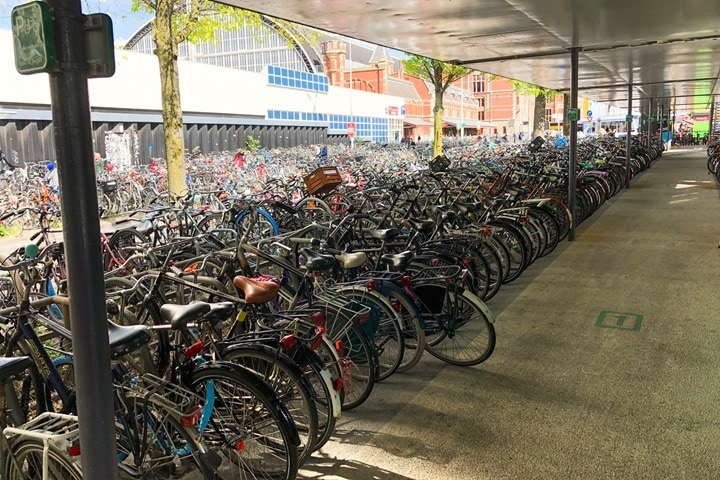 But for first-timers, they're always astounded. Of course, there are much prettier bike parking spots elsewhere in the city or country, and in fact, Amsterdam is building some sort of under-canal bike parking facility at Central Station with construction recently started. Looking forward to trying it out!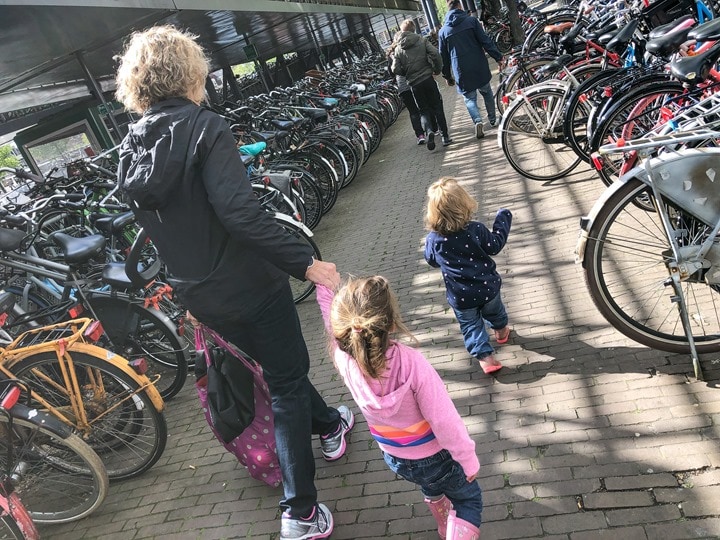 While we ride our bikes everywhere, including often past Central Station, for the most part I use other train stations in Amsterdam when going elsewhere, since we live on the southwest side of the city. About the only time I ride to Central Station and actually park a bike there is when I take The Peanut to a pancake place on the water next to the station.
5) Flight to Finland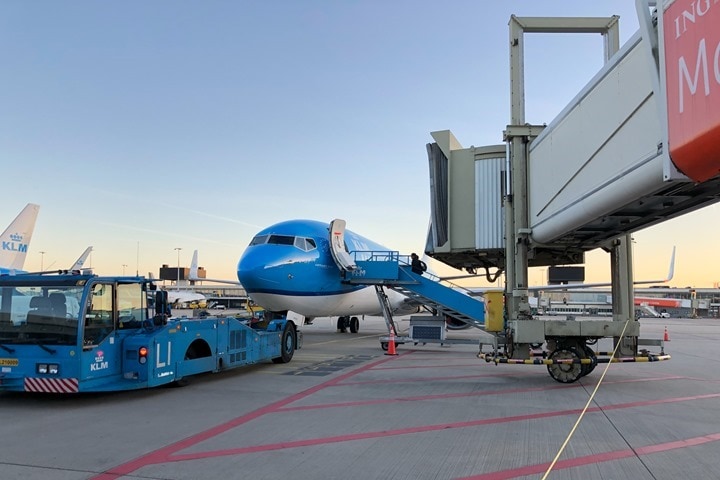 Finally, I wrapped up my weekend with a flight up to Helsinki. In fact, that's where I'm writing this very item from. Below me about 15,000ft or so is Finland, and we're almost to the point I have to put my laptop away. Close.
I'll be in Helsinki till Tuesday, where I'm speaking on Monday at the FirstBeat Summit, and actually prior to that visiting with one of the Finnish wearable companies. Tuesday I'll wrap up some review stuff I need to do in an environment that works better than the flatlands of Amsterdam, before jetting back home. Quick and tidy. Hopefully.
With that – stay tuned to the site this week, I think we've got solid daily goodness dropping. Well, not think – I know we do. If we don't, then I've fallen off the boat. Except Friday. I don't think anything tech-wise happens on Friday, but then again – maybe life will change. Actually, I hope not. I want to sleep then.
Thanks for reading!