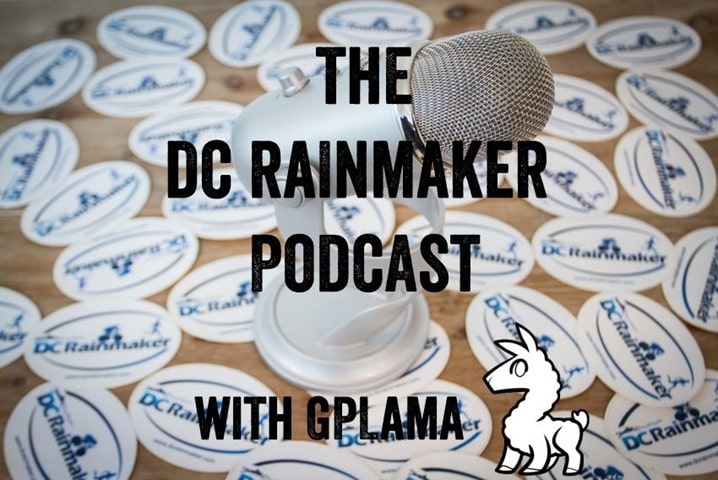 That's right folks, you may have seen the tidbits or nuggets here and there – but I'm happy to report the DC Rainmaker Podcast is back in full steam, and now back on more platforms than ever before!
For those unfamiliar, the podcast started about four years ago, then with Ben of TRS Radio. However, after a couple years our ability to schedule anything went out the window, and we took an extended vacation…for two years. Fear not – Ben and I still text inappropriate things back and forth, but our time zones and other work/life schedules made it tricky to record together consistently.
But over the last 6 or so months I've been chatting with Shane Miller (of GPLAMA) about possibly starting it back up again – and after lots of discussion on what to name it, we gave up and just started recording episodes.  Eventually we'll figure out a better name, and hopefully along with it a better cover image.
We published our first episode a little over a week ago, and then dropped our second one late last week. You can expect our third later this week. Our plan is weekly episodes, with probably a few special ones tossed in here and there.  The focus is anything sports tech – be it running, cycling, action cams, drones, or even how professional cyclists could learn how to step on a weight scale and read the numbers. We've got you covered (or them). We'll also likely have some guests on occasionally.  The episodes are about 45-60 minutes on average. Longer if Shane and I find another bucket of Haribo, shorter if we ride for 5 hours on the Stelvio again.
The format is a bit different than before, this time focusing on the week's tech topics, but drawing in the concepts behind some questions that people ask (rather than the recorded questions of the previous episodes). We think that gives us a bit more flexibility to really drill down into certain topics, rather than trying to blast through a pile of questions each hour.
You can find us in all the usual spots:
A) iTunes: If you've got an Apple device, we're there!
B) Google Play Music: Yup, we're here too (and on Google Podcasts app)
C) Spotify: Of course we're on Spotify now – you can even cache it on your wearable too!
D) RSS Feed: Follow along using the direct RSS feed
And, you can simply listen anytime you'd like on the site's player (just dcrainmaker.com/podcast).  The last two episodes (65/66) are the ones Shane and I recorded.
Oh – and if you've got a wearable that supports loading music/podcast onto – go forth (and shoot us your best pic of it via Twitter)! Here's the DCR Podcast on a Garmin watch via Spotify. If I can detangle the next box of unsorted cables at the Cave, I might even charge up the Polar M600 which now supports Spotify (and of course Google Music) too! And if I get really ambitious I might even get a threesome Apple Watch/Garmin/Polar watch podcast pic. Unfortunately, my long-ago ordered Samsung Galaxy Active is still pending Samsung delivering it by last Friday as promised (it hasn't even shipped yet). So no foursome tonight folks.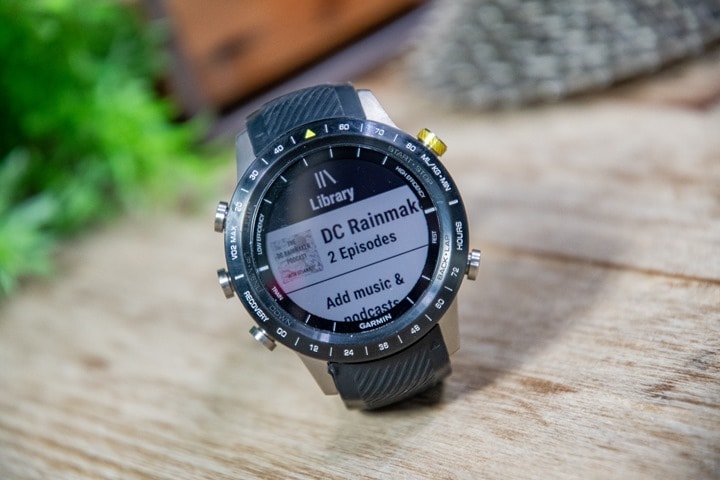 And of course – if you've got witty names for the podcast – we're all ears!
Enjoy, and thanks for reading listening!