Finally, one of the most wanted features is now live in Zwift as of this morning.
If you've got yourself a Mac or PC and Zwift, you can now select which world (map) you're going to ride that day. As long as that choice matches the guest map calendar of course. See, today's update allows you to always ride Watopia (aka Zwift Island), and then also ride a secondary map du jour. The map of the day will rotate per the calendar, just like before. Except Watopia won't be listed on that calendar, since it's available every day.
The update rolled out to Windows and Mac as of this morning, though it sounds like the iOS and Android versions are working their way through their respective app store approval processes. Zwift is saying we should see those in the next few days.  Once you've got your computer updated, here's how it works.
After pairing up your sensors you'll be given the option to choose your specific world up top (below the heading 'World Choice'). On the left you'll have Watopia, and then on the right you'll have the guest world of the day. It's silly simple: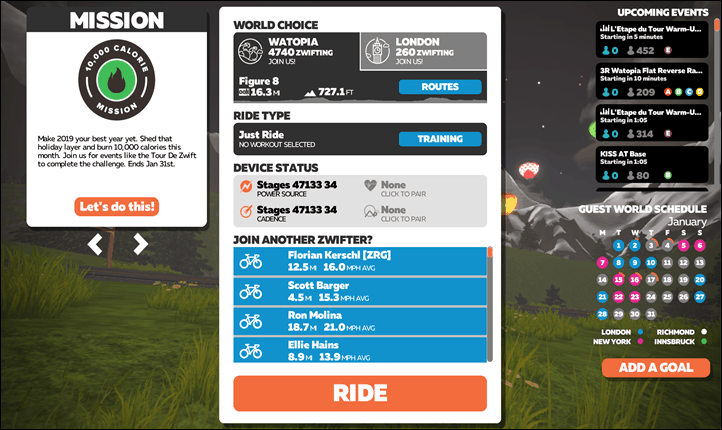 Once you've made your selection, you can then choose any route within that world. To the left below you can see the Watopia route selections if left on Watopia, and to the right you can see the London choices once I selected that.
The 'guest worlds' are listed on the calendar on the sidebar as well: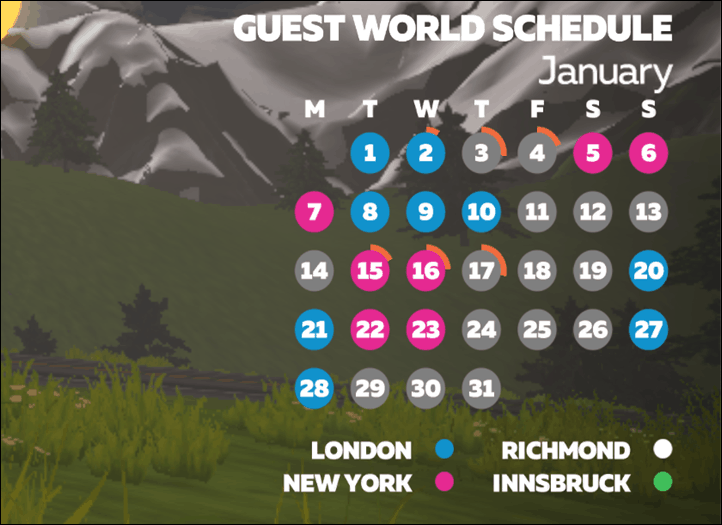 After that you press 'Go' and you're off and Zwifting in that world.
The next question you might have is whether or not the old-school world hack still works. Yup indeed! If you've made that tweak to your settings files, then you'll see your preferred (hacked) world on the left side (in my case Innsbruck), along with the guest map on the right side (in today's case – London).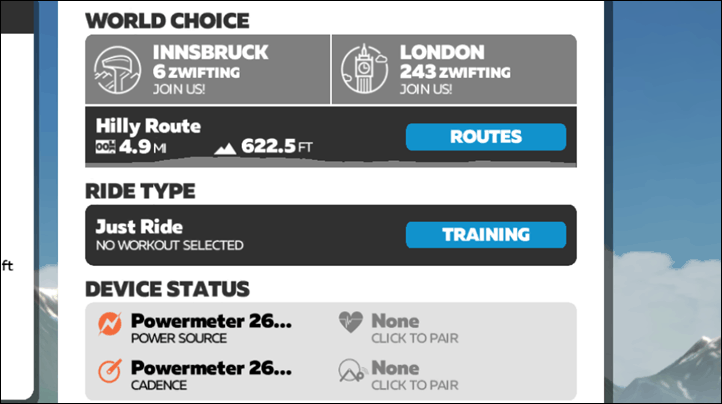 This is especially handy for the 6 of you that are hard-core Richmond folks and want all Richmond, all the time!
Ultimately, I think this is a fair balance, and actually what I've been advocating for now for a few years. Having basically two courses each day. Given I generally prefer Watopia over most other courses, this gives me the option to ride something else when I want to – without having to deal with the world hack (which is especially cumbersome on mobile platforms).  I suspect eventually we'll see Zwift allow that guest map to be whatever you want, probably once they ensure that user levels reach a certain number to maintain 'interesting' quantities of users on the maps.
After all, one of the (many) reasons that Zwift has succeeded where other online cycling platforms have failed is because there are actually other people on the maps when you go and ride them. Whereas if you went on some other platforms back in the day and you'd see only five people – it wasn't exactly the same.
It'll also be interesting once Zwift gets the iOS and Android apps released, to see what users actually prefer. For example if you looked at the stats above showing a mere ~250 people using London, that doesn't really account for all the iOS/Android people (or even desktop people) that haven't updated and are just running today's world which happened to be Watopia (in fact, Watopia will remain on the calendar a bit longer to alleviate this exact non-updated person scenario).
And finally, while there was talk (just a few months ago in fact) of some sort of airport between worlds, that didn't seem to make the cut. I suspect Zwift realized that broke far too many things downstream, specifically with training platforms like Strava, TrainingPeaks, and countless others – unless one split the .FIT files. Else those platforms would assume you rode thousands of miles between something like Watopia (in the Pacific Ocean) and London, due to the way industry standards work for recording of cycling ride data.
In any case – I'll keep today's post short (it's Friday after all), and let ya get on with your day. Just don't forget to give your computer a few extra minutes tonight to get Zwift updated, before you jump in on that race.
Have a good weekend ahead, and thanks for reading!