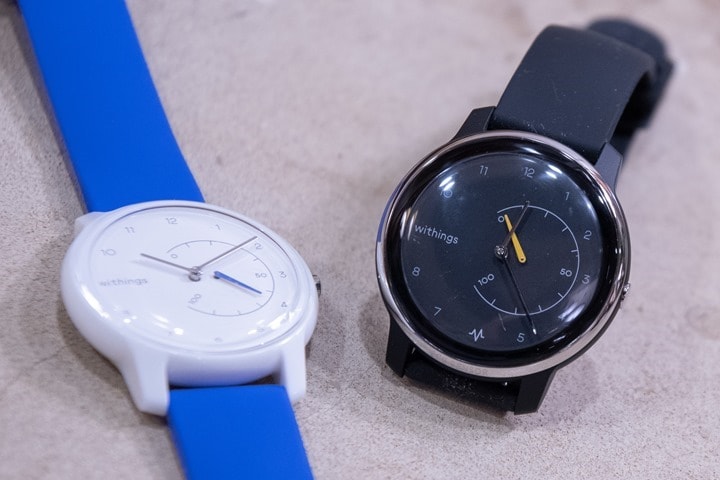 It seems that Withings finally has its mojo back.
After they were bought by Nokia, they entered what was more or less the dark ages for the company. We saw little to no innovation, and in fact, moving backwards in some product areas. It simply wasn't a good fit.
However, last year Withings bought themselves back. Or rather, Withings original founder bought the company back from Nokia. And, it seems like they're on the right course again.
Here at CES 2019 they announced a small pile of devices, including two new activity trackers and one blood pressure monitor.  But, for this post I'm going to just focus on the new $129 Move ECG activity tracker that sports, as the name implies, ECG functionality. In effect, doing the exact same thing that Apple just rolled out to their $400 Series 4 watches last month. This would be an FDA approved ECG medical device (though, the nuances of that are a bit messy as we saw with Apple). Withings is using the same exact program/class as Apple is.
In any case, if you want to see it all in one tidy 3-minute video (seriously, when do I ever manage to keep it within 3 minutes?!?), then view on below:
Otherwise, on with an equally tidy post.
How it works: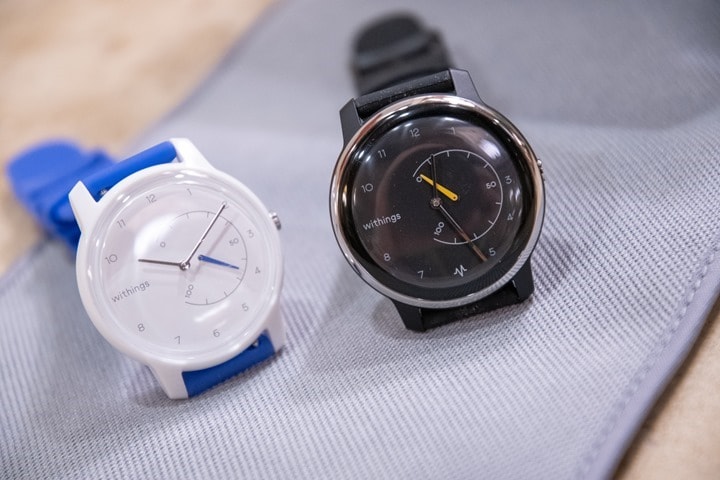 For those familiar with the Withings lineup of activity trackers, the goal of them has long been to look like a regular analog watch. While internally they've got all the smarts of a fancy Fitbit, externally they appear like normal watches of yesteryear. The company started off with expensive Swiss-made $400 units, but over time moved down to more affordable watches in the low $100 range. With CES 2019 they drop that price even further with the basic Withings Move, which comes in at $69. They come in a large pile of colors as seen below.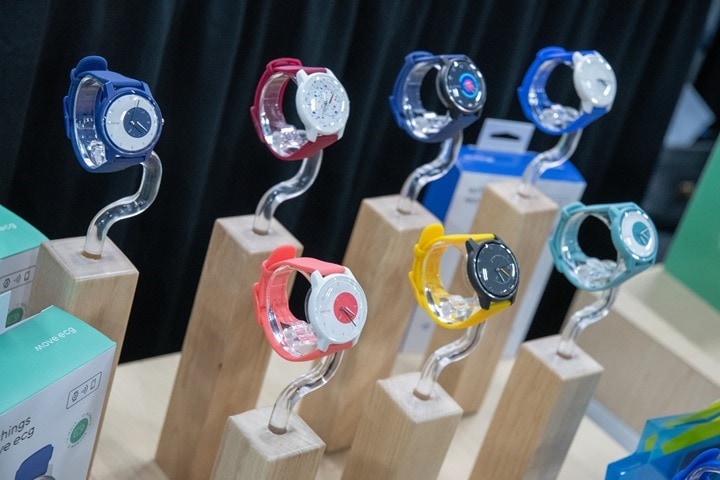 It tracks sleep, steps, allows you to specify a goal for activity, and has automatic workout recognition too.  Additionally, it can be paired up to a smartphone to record GPS workouts, by pressing a button on the watch (though, you can't see any stats on the watch from that GPS track). Oh, and it's water resistant to 50 meters and has an 18 month (yes, month) battery life.
Not to mention that unlike Garmin, Fitbit, and Apple, the company even has a smart sleep alarm using vibration alerts on your wrist that are based on the optimal moment in your sleep phase. It's all pretty cool for any activity tracker below $200, let alone one for $69. Note that there's no optical HR at that price point (Withings has other watches that do that). Oh, and it ships February 5th, 2019.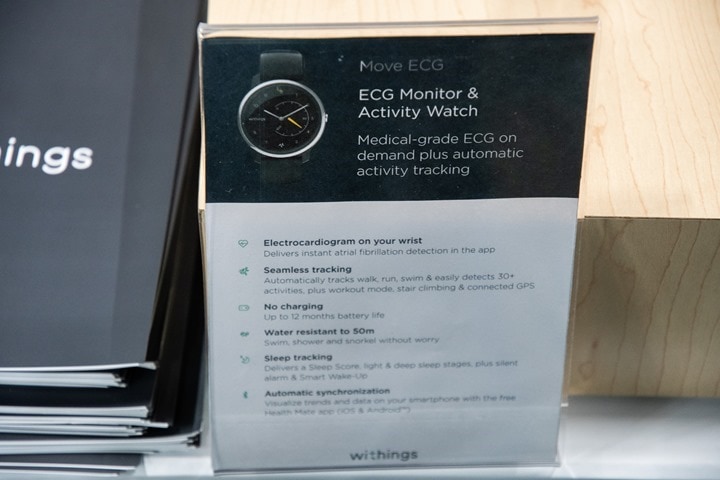 But that's not what this post is about. It's about the ECG bits. For that, you'll need the also announced Withings Move ECG. It's just like the Withings Move but with a TLA after its name, and a nifty coin-sized chunk of electrocardiogram goodness inset into the back of the device: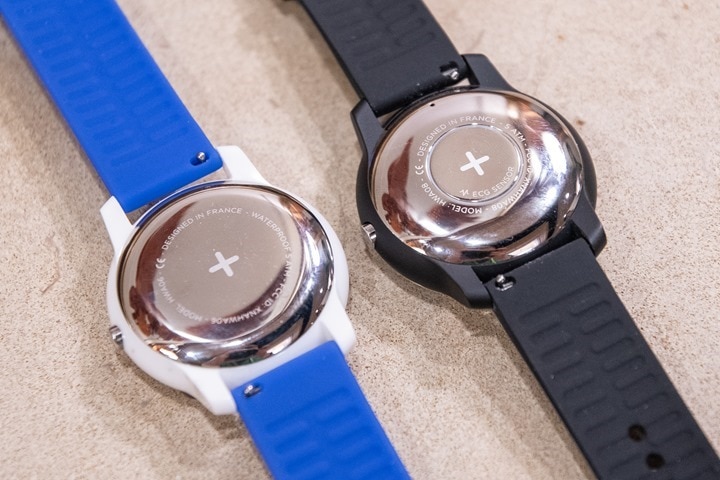 Above are both the Withings Move and Move ECG side by side. You can see the Move to the left doesn't have that secondary disc on the underside of the watch, while the Move ECG does.
To obtain an ECG reading you've got one and a half options. You can open up the app to view the process in real-time, or, you can do it sans-app whenever you want and it'll sync to the app later on for viewing. So, same core function, but slightly different ways of viewing things.
If you've got the app open, all you need to do is to take your other hand and place two fingers on the edge of the watch. This completes the circuit, so to speak, and the watch will start a 20-second countdown, during which time it's taking a reading: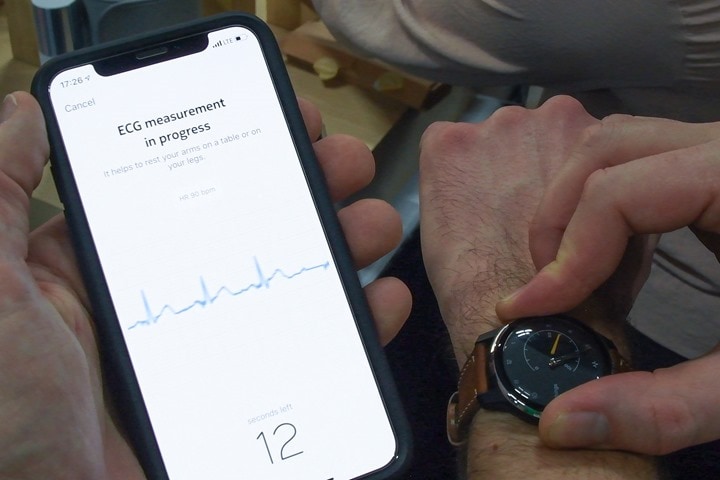 After the reading is complete you can play back the reading, as well as get a diagnosis message at the top of the screen indicating whether you should go see a doctor.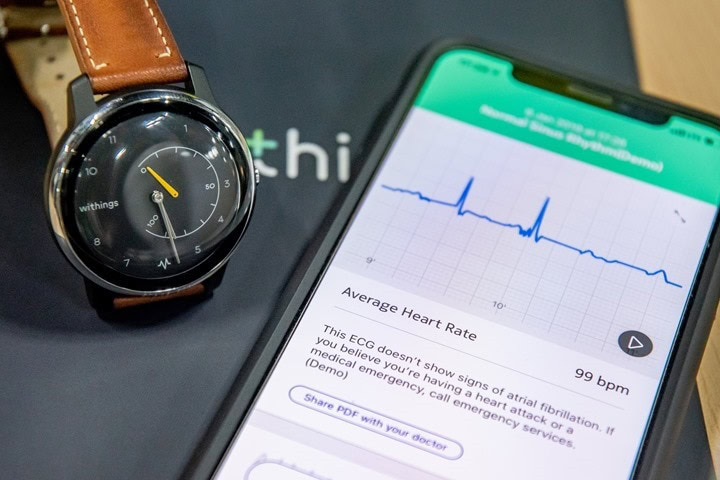 Additionally, you can send the ECG via PDF to your doctor (or other interested person). Essentially, it's exactly as Apple offers, but at 1/3rd the price.
Right now the Move ECG variant won't start shipping until Q2 2019. From talking to Withings, that sounds like a mid-Q2 type of timeframe, but they say it'll be heavily dependent on FDA certification, more so than their own internal timelines.  Additionally, for European audiences (since Withings is a Parisian based company), they'll be obtaining the EU equivalence of this, which they believe they'll be able to do within that same timeframe.
Going forward: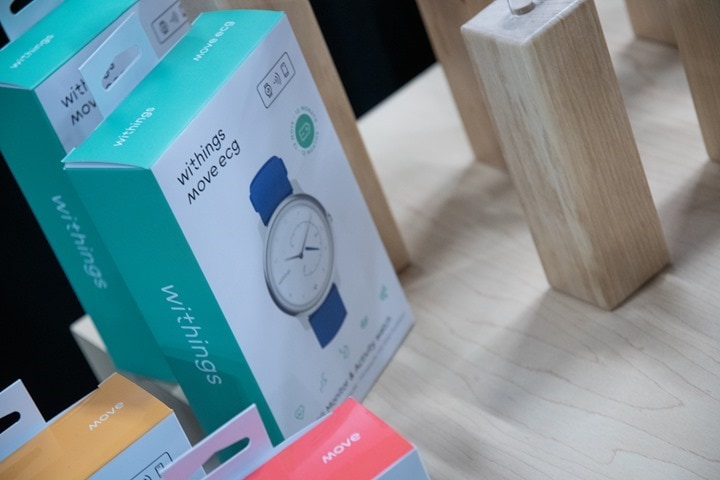 I'm impressed by this move, and even more by the price point. And not just of the Move ECG at $129, but also of the Move at $69. I've gotta believe folks at Fitbit and Garmin are doing a double-take on that. I think most were hoping to see some minor announcements by the company at CES this year, but didn't expect some legit competitive options.
The challenge Withings will have though is getting back into the market. When Nokia bought them out they were atop their game. Not just from a product development standpoint, but also arguably more important aspects like retailer depth/availability, as well as even silly things like media relations.  A few years down the road and many retailers have stopped carrying their products, and many relationships in the media landscape have faded as people moved on. They're going to have to rebuild those in order to be successful as a company.
Not to mention the larger activity tracker marketplace has evolved too. It hasn't decreased, but it's far more competitive than it was when Withings first started. Still, I think what they showed here is that they didn't come into the market with another blah overpriced product. Both of these wearable entrants are exceedingly well priced (perhaps too well in fact), and have unique features at their respective price points – significantly undercutting the competition.
It's a good start, and hopefully it pays off for them. I'll be looking forward to testing both Move variants (as well as clearing out some other Withings device backlogged items in my pile) over the next few months.
With that – thanks for reading!
–
Follow along on Twitter for all the latest news from CES 2019, plus subscribe on YouTube where I'll be putting out more content than usual from CES this year!