It's once again hot and steamy in Amsterdam, but thankfully this weekend wasn't too bad. Here's what I was up to in the DCR realm.
1) Testing out The Girl's New Bike
The weekend was kick-started by going for a ride with The Girl and her new bike. Of course, you'll have to wait to read all about the bike itself from her, which will likely be delivered in tomorrow's DCR Newsletter (you can sign-up here if you've been missing out somehow).  She writes that piece of literary genius each week, summing up the DCR arena as a whole (seriously, she's on like more than a dozen consecutive weeks!).
In any case, we went for a bit of a wander together on our respective road bikes. Nothing super far, just enough to break in the bike and sort through any fit issues that might come up when spending 45 or so minutes in the saddle (versus inside a bike shop). Here's a pic from her Instagram feed from the day prior.
All in all, everything was good!
In case you're wondering on the tech side – I outfitted her bike with a spare pair of Favero Assioma pedals. She had her Fenix 5S on her wrist, but wanted a head-unit as well, so I placed an Edge 520 Plus on there for now.  She broadcasted HR from the Fenix 5S to the Edge 520 Plus via ANT+.
2) Afternoon on the river
After our ride The Girl had a conference call to attend to, and then following that we headed back out on bikes. Err…bike. She was in the basket and I was driving. We went to a secret spot alongside the river to relax and swim for a couple hours.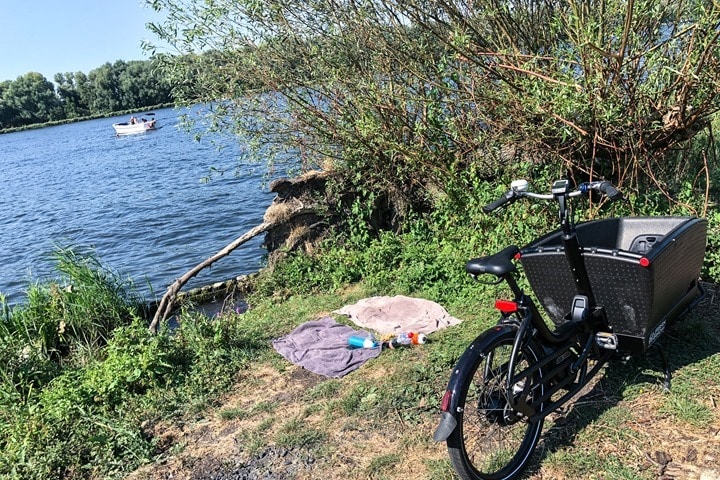 It's not terribly far from the DCR Studio – perhaps a 5-7 minute pedal.  Though, the trick is navigating the cows. Which also can have big horns. I'm not sure on the exact breed of cows, but I wouldn't want to pick a fight. Thankfully, none were around today.  So it was just us and the river…and the boats passing by occasionally.
Did I mention how much we love living in Amsterdam?
3) Off to the all the windmills!
Saturday morning we packed up the clan and headed out of town. This included both Peanuts and Lucy….all in one bike.  I had wanted to visit this small town about 25KM outside of Amsterdam for a while now, as it has a boatload of windmills. A bit touristy, perhaps, but that's OK. By road bike it isn't very far, but by a packed cargo bike into a headwind that seemingly has to stop every 12 minutes to sort out a Cheerio or toy overboard incident? That's a bit different.
No prob-Llama, we've got this!
Actually, first, we navigated through the streets of Amsterdam just ahead of the Canal Pride parade. While we'd loved to have watched it, doing so with the little ones…they'd have lost it. Big crowds are not The Peanut 1's idea of a fun day. Peanut 2 however, she loves everything about crowds. Correction she just loves everything.
We made it to Central Station and then boarded one of the free bike/passenger ferries. They leave about every 3-4 minutes, and only take about 2-3 minutes to cross the waterway.  Quick and efficient!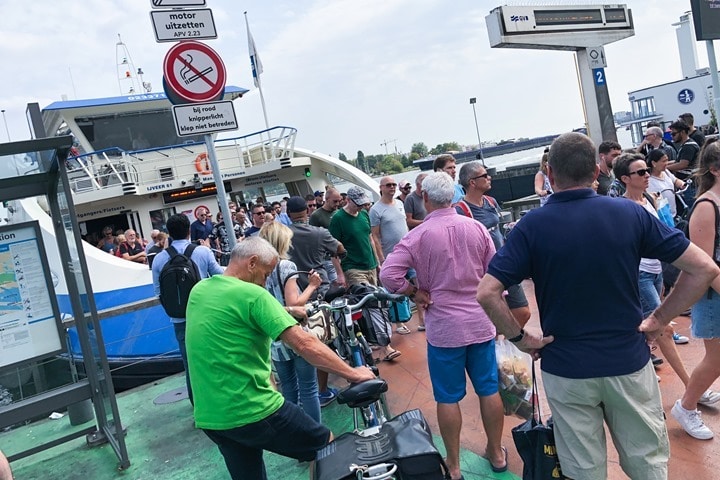 Within a few minutes of pedaling off the boat, we were out in farmland – enjoying the ride!  I've now logged about 700KM pedaling this cargo bike, and definitely love it.  But it's a very different type of pedaling than a road bike, especially with e-assist.  In my case, I was using a blend of no-assist and the lowest assist mode. Partially because of battery life problems (it wouldn't make the road trip in the higher settings), and partially because for sustained pedaling I find it a bit easier to have no-assist once up to speed.  Just feels smoother sometimes.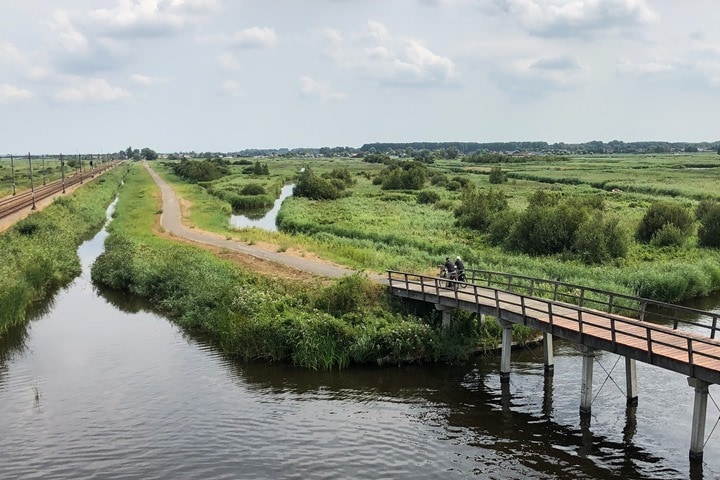 In any case, 18 stops on the side of the farm paths later, we arrived: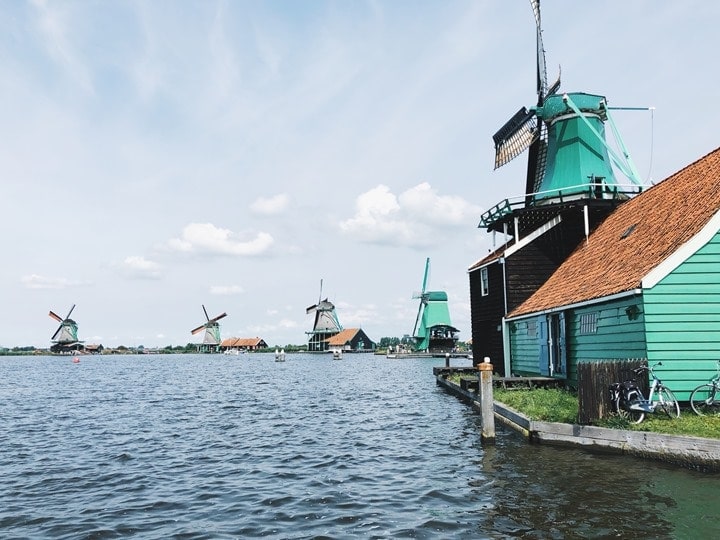 We stayed for a bit to grab some pie…and beer…because why not?
Then we peddled on back. This time we had the rare tail-wind and were flying along! Not only that, both the kiddos fell asleep, so this was essentially a non-stop flight home. It was fantastic, I did the vast majority of it sans-assist, since I could actually go faster that way (as otherwise the motor cuts out at 25KPH and you lose some of the gearing to go faster than it once enabled).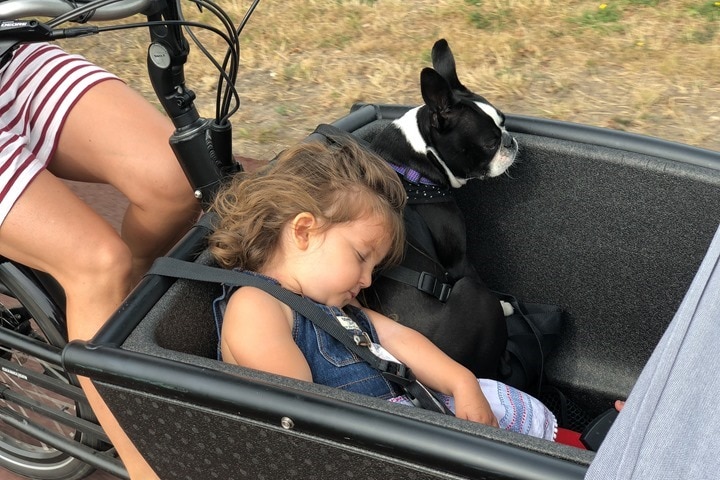 Good times in the countryside for sure.
4) Saturday Night Date night!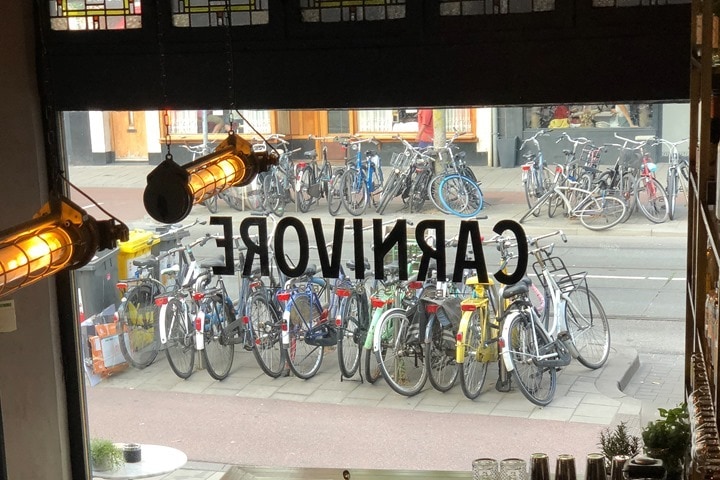 Later on that night The Girl and I had date-night. Usually this is on a weekday, but our babysitter cancelled on us at the last minute. So it got shifted to Saturday.  We had walked to one of our favorite local spots – Ron's Gastrobar – but lacking a reservation it was all full.  So instead we went another hundred meters away to a BBQ place we've been meaning to try – Carnivore – and gave it a whirl.
That was a bad idea.
I don't usually write bad food reviews here. Nor do I bother with TripAdvisor or Yelp or whatever, but man…there was so much fail here it was astounding.  They only serve BBQ, in what's ostensibly designed to emulate the American South. Things like BBQ ribs, cornbread, mac & cheese, etc… The décor is upscale – a touch trendy. All's fine there.  Both of us got the beef ribs, as the server noted they'd "be falling off the bone". The plate was ~23EUR each, plus we got a side of Mac & Cheese.  For Amsterdam, these are expensive prices (for American BBQ standards, they're astronomical…but we're not in America, so it is what it is).
Anyway…the food. I didn't even take a picture it was so disappointing.
1) The Beef: The portion of ribs (two singular ribs) was approximately the size a small phone in width/length. Like, iPhone 5 sized, not the Plus of today.  It did not fall off the bone, and in fact required significant knife pressure to remove from the bone. It was dry and only had decent flavor near the edges.
2) The Coleslaw: While the taste was fine – the portion of coleslaw should NOT exceed that of the size of the ribs. I had twice as much coleslaw as ribs. No kidding, two iPhone's worth. What am I supposed to do with this much coleslaw?
3) The Cornbread: It was a tiny mini-cupcake sized (not regular cupcake sized) piece of cornbread that had been re-microwaved 18 times.  Mind you, we waited 42 minutes from ordering to receiving our food. There was only one other couple in there that had already received their food. It was thick, dry, flavorless, and chewy. In that 42 minutes one could easily have tossed batter in a pan and made fresh cornbread, or simply cut the cornbread from a sheet pan of it made sometime this week.  I frankly have never had cornbread screwed up this badly, even by school cafeterias in the US.
4) The Mac & Cheese: What da fuq? Here, let me explain. Take a bowl of fully functional mac and cheese. Now, put it in a blender. Then turn it on, and then blend it up. You'll get something that's roughly akin to nacho cheese sauce in texture. That's what I got. Just a bowl of mush. I can't even say that it had been re-microwaved 18 times, because I think we were closer to 24 or 26 times.  As The Girl will attest to, I can normally eat anything if I'm hungry. I had half a spoon full of this gross mush and pushed it aside.
I was so sad. The Girl was soooo sad.
We had hoped for amazing BBQ just a few blocks away, but all I got was a pile of disappointment in the form of sloppy-seconds mac & cheese.
On the bright side, we drank a bunch of beer to drown away the sorrows…and then went up atop a roof to watch a movie:

The Post was the movie – very solid!
5) Sandbagging it
Finally, I wrapped up my Sunday with moving a crapton of sand. 450KG of it to be precise. 6 times. As part of my pizza-oven to-do list, getting a pile of sand for a portion of the kids' area (under some artificial grass) was on the list.
So me and the cargo bike got to work making the approximate 2KM journey each direction to the hardware store, loading up 25KG (55lbs) sand-bags onto a cart, then paying a whopping 6.70EUR (total, for 6 bags) before unloading them into the bike, pedaling home, unloading them to the front door. Then moving them to the backyard…then moving them again in the backyard.  Then repeating the entire process again twice more for two more loads for a total of 18 sandbags.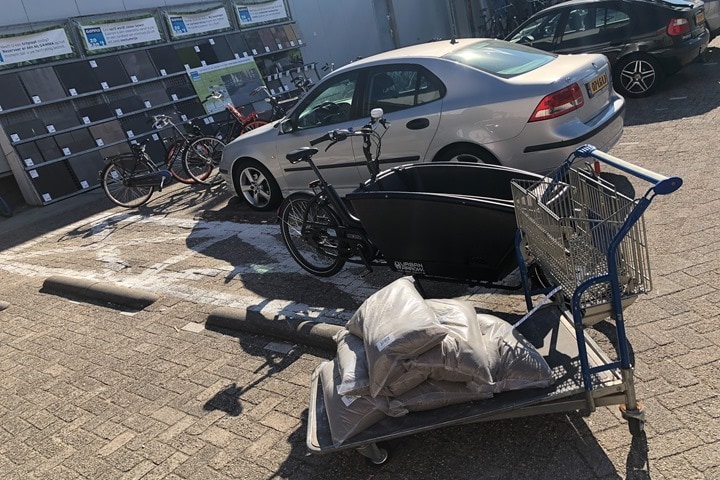 I'm not entirely sure the bike was designed to handle 150KG of cargo weight per load (plus my weight). I didn't ask questions I may not have wanted answers to. Certainly getting up to speed was a bit slower, and the wheels were feeling pretty low-rider-esque.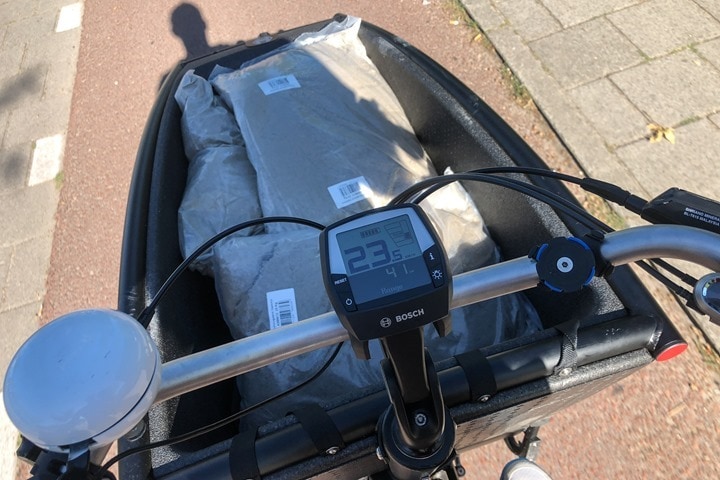 Unfortunately, I still need to do some more trips. It wasn't enough sand. Sigh.
///
P.S. – Pizza Oven Update: For those that were wondering after last week's edition, The Girl gave 'her side' of the story in the newsletter last week – in case you missed it. You can hit it up in the archives here.
With that – thanks for reading and have a great week ahead!