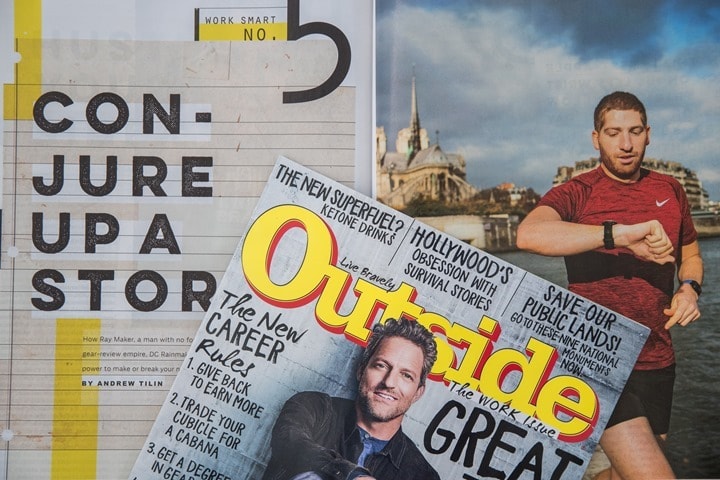 It was 13 months (to the day) prior to the Outside Magazine article being published in print (and then yesterday, a month later online) that I got my first e-mail from the author, Andrew Tilin. He had wanted to chat a bit about doing a piece on me and what DC Rainmaker was all about.  I was in Australia at the time, and a handful of days later we had our first chat via phone at 12:30AM my time, well over an hour's worth of discussion covering everything from what high school I went to, to my first job as a paperboy.
Over the course of the next 14 months we'd share 129 e-mails, plenty more phone calls and texts, one transatlantic trip, a run, a few bike rides, and a bowl of ramen.  Ultimately as much as he got to know me, I got to know Andrew. And that's as important a part of this story as any other.  But first, a bit more backstory.
As with any piece from a reputable journalist, you never quite know 100% what their specific angle is.  Sure, I had a rough idea of the general gist of the piece on me, which was aimed at fitting into their 'Work issue', highlighting people in the outdoor industry that made their passions their life.  But I had no control over the piece, nor any insight into the words on the paper.  I could only continue answering the endless stream of questions and follow-up questions.
Of course, I was hardly the only person being talked to.  Andrew called friends, family, past co-workers, industry people I knew…and those I didn't.  He even got contact info for DCR readers that visited the DCR Cave during his week-long job-shadow of me.  Most of those conversations lasted upwards of an hour from what I hear.  The breadth of detail he had rivaled only the best online stalkers.  Though in some ways his job was made easier by one simple fact: I'd spent the last decade documenting it online here.
Last fall he made a trip to visit me and the 'DCR Empire' in Paris.  In reality, the empire is merely the DCR Cave, which as he notes is the cross between a Radio Shack and a 24 Hour Fitness. An impressively fairly apt description.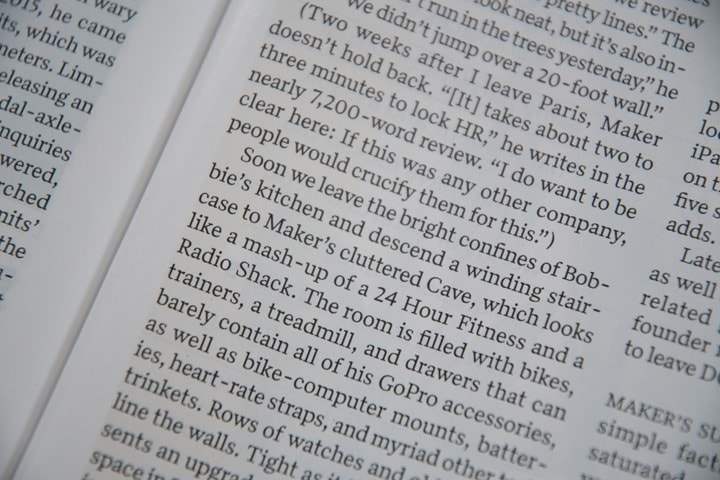 For that week he spent all day chasing me around as a job shadow of sorts. Sitting next to me as I wrote reviews, answered questions, and did the generally mundane typical office computer administrivia that most of my days encompass.  He also stood by as I shot unboxing photos for products (he was there for this Coros Omni helmet), as well as shooting YouTube videos.  And he got to have fun chasing around UPS, FedEx and La Poste around town on Velib bikes.
Plus of course, we went for runs and rides.  As an avid cyclist, we headed out to the palace of Versailles, on an astonishingly beautiful fall day.  Even cooler was us stumbling onto a newly converted road to bike path along the river on the way back.  This is Andrew on the outbound, and then on the return riding along the newly paved path:
As with many visitors, I take them on a bit of a 'best of' route with all the major sights around town.  You can see our full Strava ride and route here.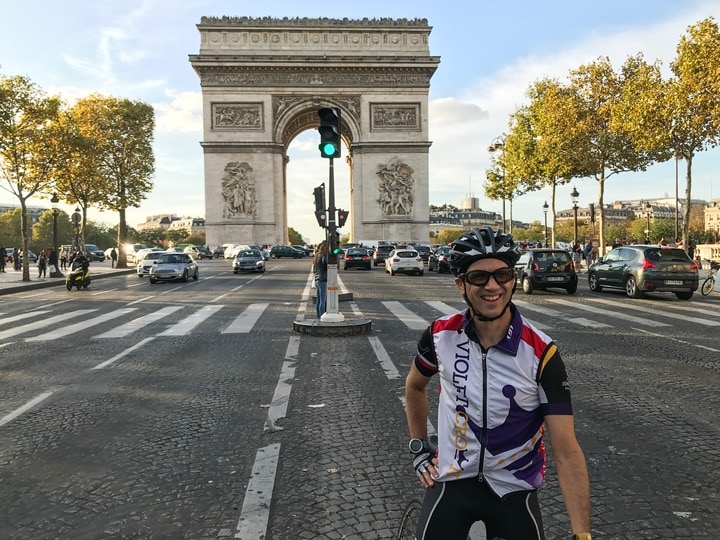 As one might expect, when you spend a week with a person looking over your shoulder at every e-mail you write, you end up getting to know them a bit.  We chatted about his kids, as well as mine (at the time my second daughter was still a few weeks away).  I got to know him as a person and what made him tick.  After all, he had written one of the most well known pieces on doping in cycling by taking testosterone supplements to document their impact.  As analytical about sports gadgets as I am, he was about understanding the people and subjects he wrote about.  He visited our apartment one night, playing on our floor with our 1-year old daughter and chatting with The Girl.  To our daughter, he effectively played the part of an uncle – happily handing back and forth whatever toys she gathered for him. Of course, always the journalist he was, all the while grabbing tidbits and quotes.
After he left we had more follow-up calls, and then later in November, Outside hired a local photographer that's done sports work to get shots of me in a variety of situations.  Shot on Thanksgiving morning, this included running, cycling, as well as in the DCR Cave.  Like most photo shoots, it was mostly just a lot of back and forth in the same spot.  Here's my Strava track for the combined run and ride photos.  You'll note I went back and forth over and over again on the bridge and quai…for 5 kilometers of these little 100m stretches:

And then we went inside for all assortment of shots.  Be it more portrait shots that made the magazine, to many other shots like me shooting an unboxing video or weighing gadgets inside.  I think we spent an hour in the DCR Cave getting photos.  Keep in mind, the DCR Cave isn't bigger than most master bedrooms.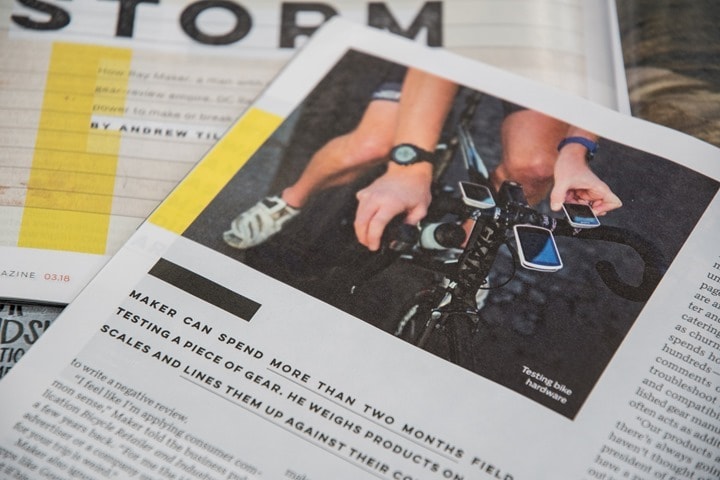 Continuing into December I'd get further follow-up questions from Andrew, confirmations of various tidbits, but you could see from the questions that most were minor double-checking type things. Validating the finer points of items.  And then shortly thereafter I had a call with an Outside Magazine fact checker where we spent another hour going through countless bits of information for validation.
He wasn't reading the article to me, but rather asking me questions (non yes or no) and looking for my answers to match whatever was apparently written.  In some cases, I sent over proof or screenshots of various things (I.e. site stats, comment number, etc…).
And then from there it was mostly silence. That was until the middle of February that I saw a picture on a friends Instagram story showing me in Outside Magazine. And thus it was published on magazine stands, ironically it took a few days until I actually was able to read it – given there were no hard-copies available in Australia, where I am currently, and the digital version didn't hit for a bit longer.
Unfortunately, that's not where this story ends. Two days later Andrew was out doing what he and his friends loved doing: Riding his bike.  It was a foggy Saturday February morning in Austin, TX on a group ride when Andrew got a flat tire. He did as he had done countless times before and pulled off the side of the road to fix the tire. Moments later a truck driver hydroplaned on the slick pavement, hit another vehicle, and then subsequently struck Andrew, killing him and injuring another.
Unknowingly, I replied to a text Andrew had sent me, a mere hour after the incident. I never heard back.
I didn't find out until the next day when a DCR reader and close friend of Andrew's sent me a note.  My reaction was identical to that of the Bicycling Magazine editors. I just sat stunned and silent. The Girl as well, as she too had gotten to know Andrew during our stay.
I can't say I knew Andrew as well as his countless friends, and coworkers across the industry. I was lucky enough to spend a week with him running around and riding in one of the most amazing cities in the world.  The Girl and I were lucky enough to spend dinner with him and his partner Shellie, talking about our families and sports.  And lucky enough to simply get to know a man who advocated for bicycle safety and fairness in our sport.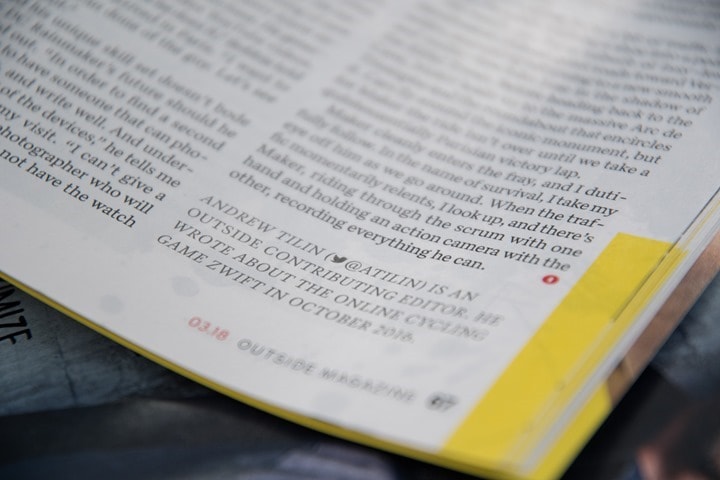 Thus thank you Andrew, for this incredibly well-written article, the time I got to spend with you, and the impact you've had on others. You'll be missed.