While it was a bit cooler this weekend in this little section of Australia I'm in, it's still a heck of a lot warmer than the rest of Europe – so I consider that a win! Here's what I was up to!
1) Signed up for the Fremantle Triathlon next weekend
Since we've got one more weekend here in Australia, I've signed up for the Fremantle Triathlon which is held next weekend in…Fremantle. There are other tris next weekend, one of which is probably a cooler course, but it's also a multi-hour drive. Whereas the Fremantle tri is like a 5 minute pedal from where we're staying.

It's a sprint triathlon, albeit one of those ones where somehow the run is 4.5KM instead of 5KM, and the bike has six loops. I'll likely be skipping a wetsuit, namely since I didn't bring a wetsuit with me (it's only 400m, and the water really isn't that cold anyway).
Still, it'll be fun, and I'm looking forward to it. I tend to do reasonably well in sprint tris.  And what's to lose – it's only a few minutes away?
Plus, this segues nicely into triathlons for the rest of the year back in Europe once we arrive home. Sorta like an early season warm-up of sorts.  Now I just gotta figure out what those races will be!
2) Noodles and more noodles
I think I'm most excited about heading to Singapore next week for the week…because of all the noodles. Sure, there's that Michelin Star restaurant where you can get a meal for $2, and certainly we'll go there (though, I expect to be a bit disappointed merely because expectations are so high).  But there's just so many street food stalls and similar spots with excellent Asian food that we can't wait to eat.  I'm not sure we have enough meals during the week to eat at as many as we'd like, but we're going to give it a run for its money.
Until then though, we've been making frequent visits to the Fremantle market when it's open on the weekends, mostly for the ramen shop and the Korean place – both are excellent.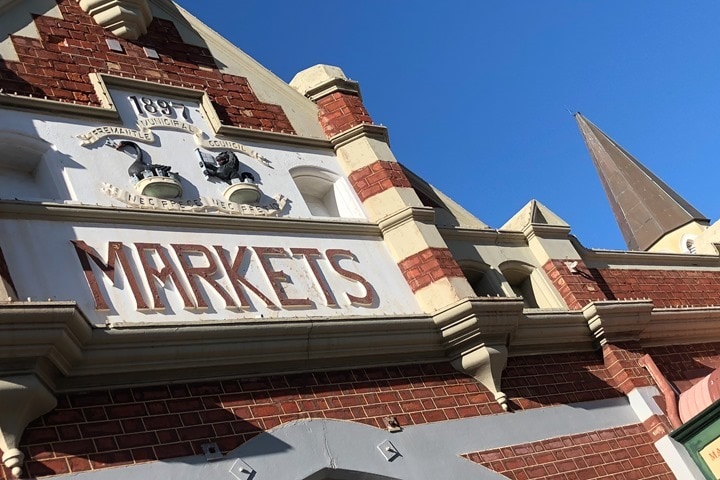 I think we had ramen twice this weekend, including one instance where I drove down just before they closed and after the kids went to bed to pick up ramen to go.  And then again on Sunday afternoon with the kids (The Peanut loved it!).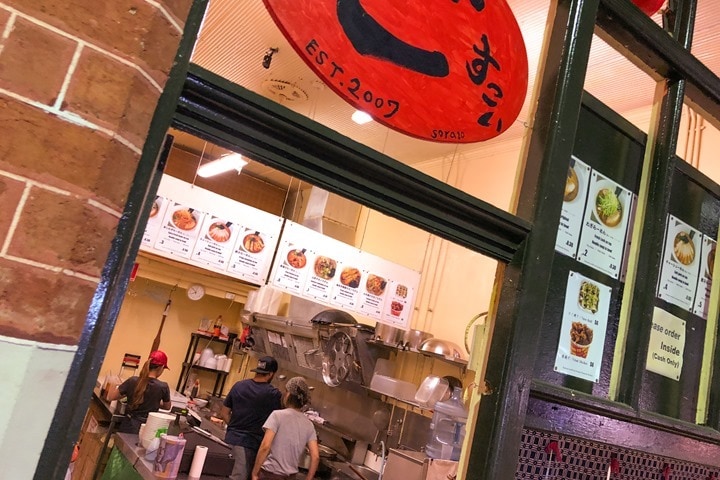 One of our favorite restaurants back in Paris is a ramen spot oddly enough.  So if folks have suggestions for ramen spots in Singapore – we're all ears. Or any spots for that matter. The more noodles the better.
3) Sunday Beach Ride
Sunday mid-day when the kiddos went down for a nap I escaped out for a couple hour ride.  Nothing fancy or too long, but just enough to enjoy riding up the coastline for a bit: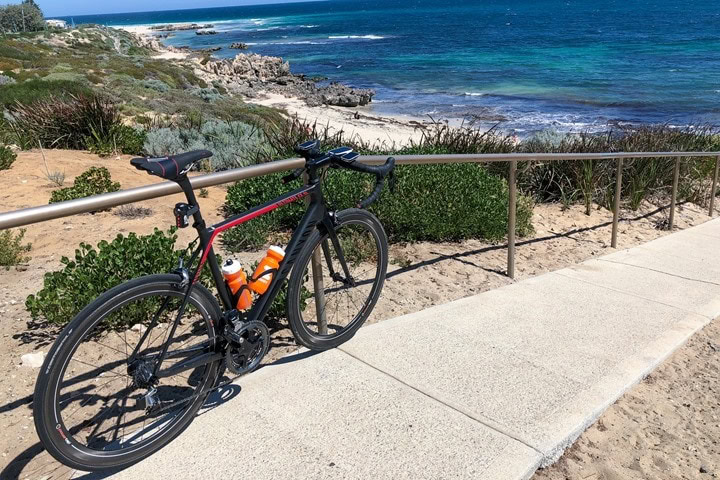 I generally like this route, though there was some sort of arts festival in one of the towns along the way, which meant an immense amount of pedestrian traffic on the road I was cycling on.  And while I've actually found Australian drivers fairly courteous to cyclists on the whole, I've found Australian pedestrians completely oblivious to them.  Seriously, almost all of my near-craps here have been with random pedestrians darting out to cross the roadway where no such crosswalk exists, and where I was usually at a pretty good clip.  Like your crazy-ass magpie birds or what-not.
Thankfully, no pie laden birds have attacked me yet. No worries though, I'll deal with a few crazy birds if I can keep riding along places like this: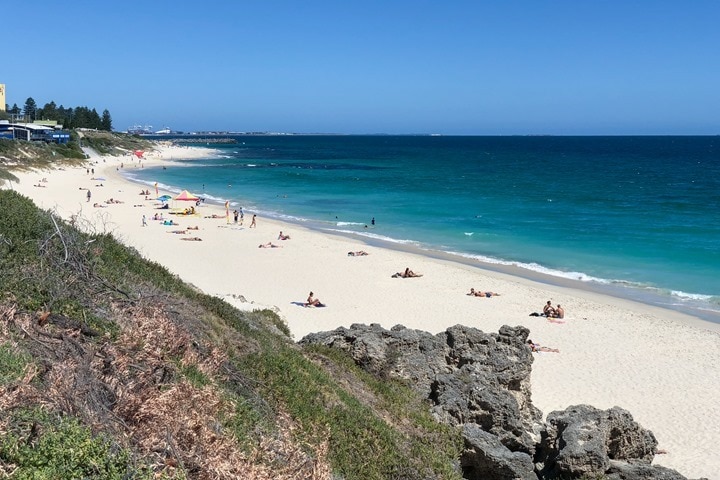 And this: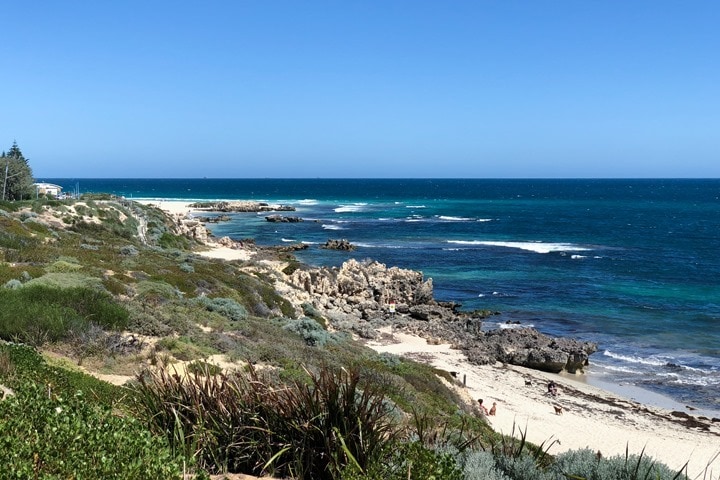 Why do I have to leave again?
Oh – and from a tech standpoint, running the Shimano power meter versus a Vector 3 and PowerTap G3. Plus I've got both the new Cycliq Fly6 CE and Fly12 CE recording too (and paired up to the Edge 1030).
4) A few quick shots at the beach
It's funny how much time getting a single shot (either photo or video) can take.  Not in terms of the actual taking of the shot, but getting to the locale/etc…
I needed a quick snippet of b-roll for a GoPro accessories video I just published (I wrote a post with a bit more detail you'll see in a day or so), and somehow didn't have it in my arsenal (or rather, couldn't find it easily).  So we took a detour from an afternoon in Fremantle to head briefly to the beach: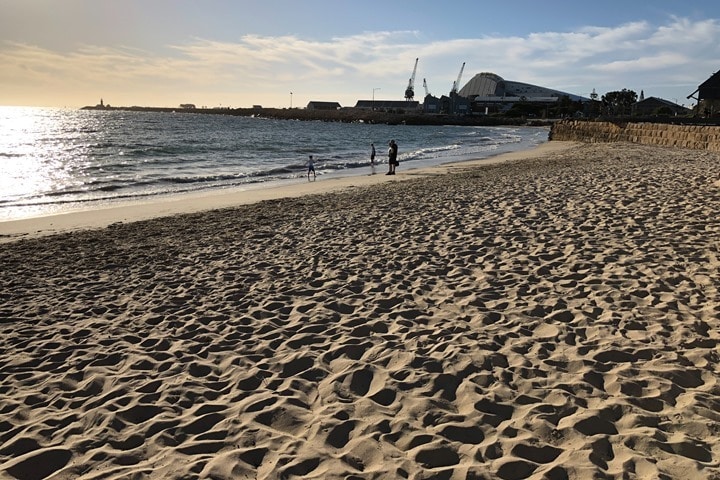 But don't worry, I didn't go to the beach entirely for just a single 3-second shot of b-roll.  Turns out there was ice cream there too.  So The Peanut and I got some: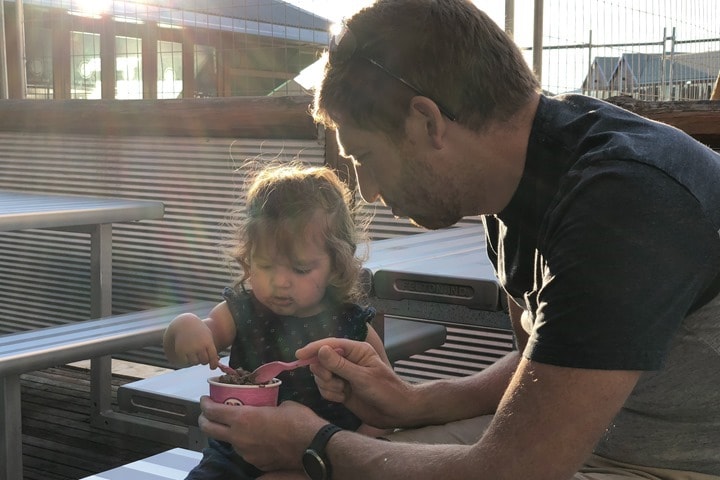 See…two birds with one stone. Work and ice cream. Quite the pairing.
5) Sunday night trainer tests
When I look at my total time expenditure on things for the site, a lot of it goes to answering comments and e-mails.  But a surprising amount goes to items like this tidbit, which is a quick validation test for a manufacturer on something that isn't working right. Sometimes it's for a production product, and sometimes for a pre-prod product.  But usually, it's some element of troubleshooting or trying to figure out what's wrong.
And thus I found myself inside of TrainerRoad troubleshooting a specific trainer that wasn't working properly in Zwift or TrainerRoad via Bluetooth Smart.  So I was using ANT+ FE-C on TR instead to validate some responsiveness and connectivity failure challenges I was having.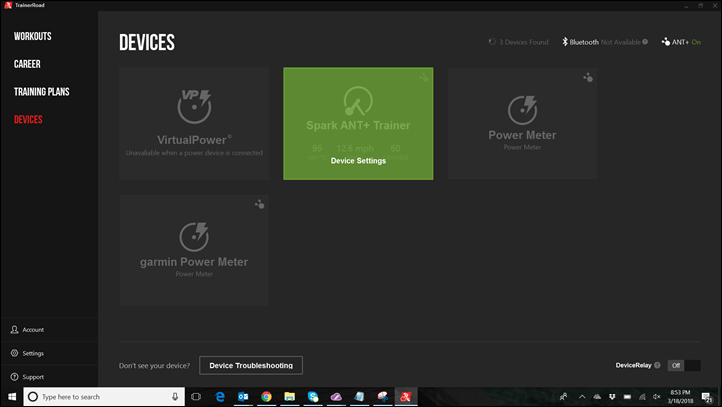 My first test succeeded via ANT+, and the trainer didn't drop the connection.  But then dinner happened so I waited till the next morning to test responsiveness. The result: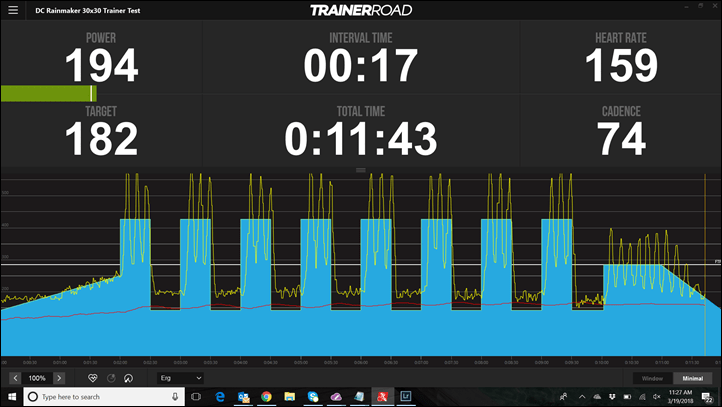 Of course, all-in this is likely the 3rd or 4th time I've been trying to address various issues on this specific trainer.  Hopefully though things will get sorted out.
—
With that – thanks for reading!