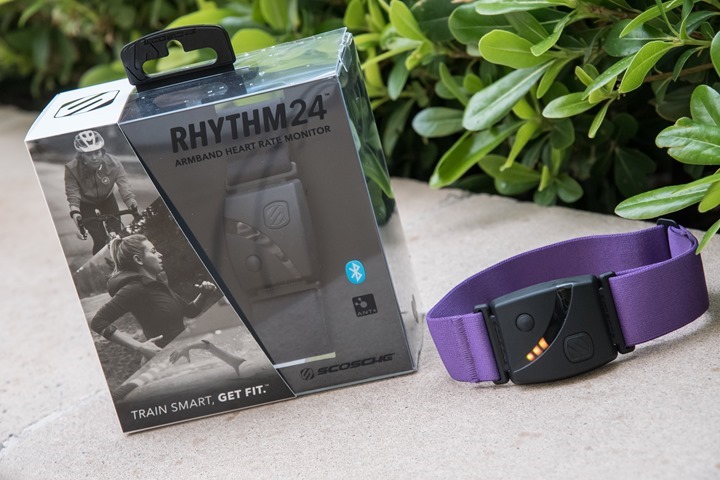 I initially thought of just titling this post "Scosche's New Rhythm24 Optical HR Band", but in reality, that doesn't begin to capture what they're doing with the new Rhythm24.  Because almost everything they've added is about things beyond the optical HR sensor.  They've jammed NFC in there, onboard memory, cycling cadence, swimming support, tripled the battery, and much more.
No doubt, the original Scosche Rhythm+ has been mind-bogglingly popular because of its incredible accuracy, as well as being cross-platform with dual ANT+/Bluetooth Smart.  It's the optical HR sensor band that you can put up against virtually anything and come away winning the accuracy war every time.  But it was also getting a bit long in the tooth.  The battery life was a downer, at only 6-10 hours depending on how old your unit was, and it lacked some of the newer functions found in other optical HR sensors – like storage.
All of which Scosche aims to change with the new Rhythm24.  Note that while this unit is being announced today (and you can also place pre-orders now), it won't be shipping till later this spring (late April).  So keep that in mind for any purchasing decisions.
Also note, that this isn't a review.  I've had a prototype/beta/something unit in my hands for about 72 hours, barely enough time for a few workouts squeezed in between the jam-packed CES schedule. Further, given it's early beta, a bunch of pieces aren't yet complete.  Note that as usual, when I'm done with this loaner beta unit I'll send it back like normal and go out and get my own through normal retail channels.  You can help support the site here by hitting up some of the links at the bottom of the post.
Now before we go too far, here's a hands-on video that summarizes it all!
With that, let's dive into it!
What's new: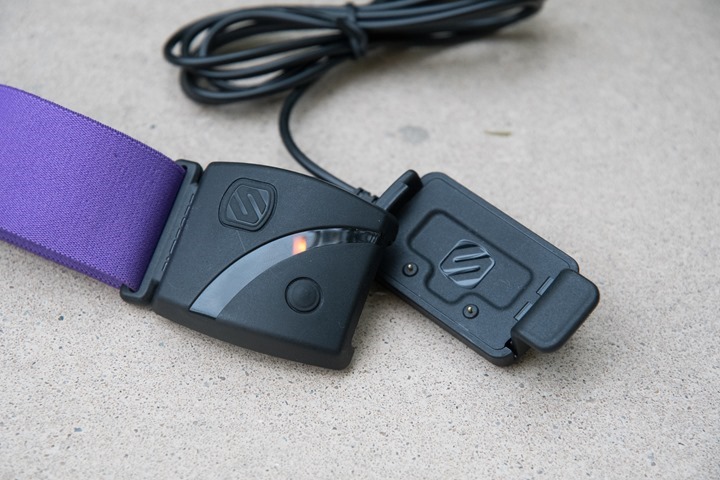 It's funny, these days we expect a heart rate sensor to do so much more than just be a heart rate sensor.  Sure, we want it accurate, but we also assume it'll have other features.  Be it storage for saving a workout when a watch isn't nearby to capture the data, or perhaps the ability to track running cadence/pace.  Maybe even to have LEDs to show you heart rate zones, or to track aspects while swimming.  All are things we've come to expect.
It's somewhat ironic that despite lacking all those things originally, the previous Rhythm+ did enormously well because of the accuracy pieces.  Thus proving that in some cases, accuracy wins all.
With the Rhythm24, Scosche is going back to the same optical sensor well, and using the same provider – Valencell for the optical HR sensor.  That worked out pretty well for them last time, so no reason to change what's not broken.  Though, it's now a new sensor.  Valencell rightly pointed out that the previous sensor in the Rhythm+ is from 2012 (!), whereas the sensor in the Rhythm24 is now their latest gen.  They noted that "since then we've upgraded the MCU for lower power consumption, upgraded the LEDs in the sensor, made countless improvements to the signal processing algorithms, and made the firmware field upgradeable for future enhancements".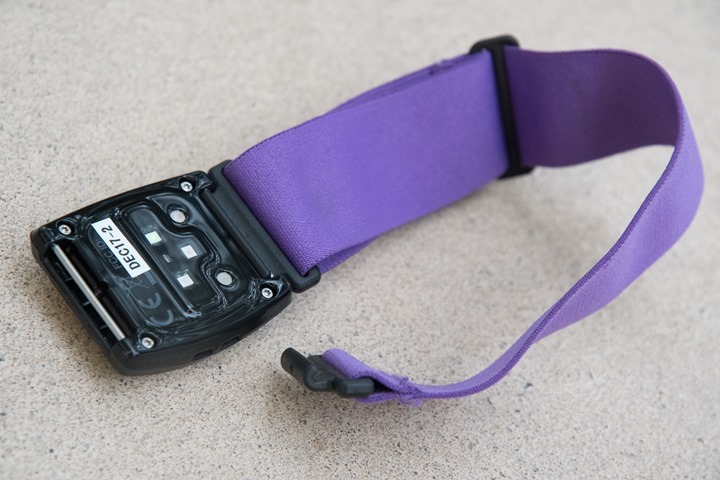 Previously though that limited them to about 6-10 hours of battery life, whereas now with the Rhythm24 they've got 24 hours of battery life (in 1-second broadcasting/recording mode).  Scosche notes that the 24 hours is really more of a 'minimum bar' for them than the glass ceiling.  They've got more work they want to do both in terms of improvements to battery life (since they aren't quite yet at that portion of the development phase), as well as giving users options around tweaking some of the settings for different scenarios.  Still, part of the improvement in battery life comes from Valencell and their more updated sensor.
Atop of that, there's LED lights to now see battery status, something you didn't previously have (aside from telling you it was dead):
The LEDs can also be used to show HR zones, which are configured through the app. At present, there's no customization of the actual HR zones (it just uses a template), but it sounds like perhaps by shipping that'll work out.
Then there's the move to two buttons.  One larger button for powering it on, and another multi-mode button for changing sports, turning on recording, and other functions.  Unlike the previous generation Rhythm+, these thankfully don't turn on so easily accidentally.
Here's a super quick look at the button guide:

Next, the unit contains onboard memory. This allows it to store data even when a watch might not be around.  This can be useful for sports where watches aren't often permitted (like soccer/football), or even in other cases, like swimming where someone may not want a chest strap or may find an optical HR sensor on the wrist less accurate.  But here's the nifty trick: The unit will adhere to the ANT+ FIT file transfer standard, which means that your existing Garmin watch can actually download the data after the fact.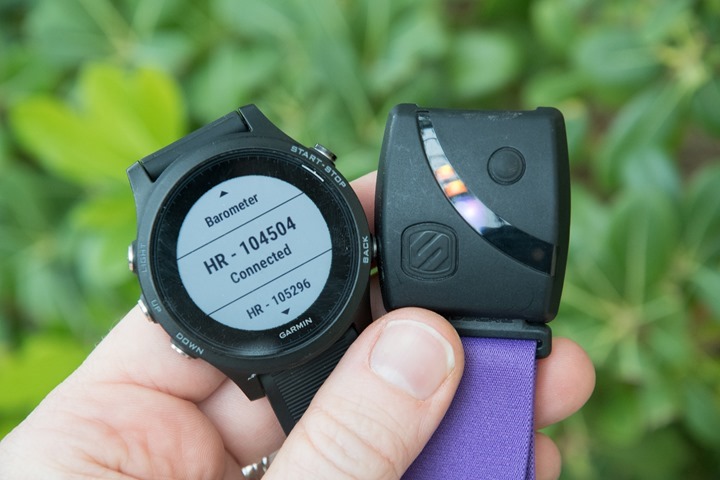 A little-known fact is that when Garmin's swim-friendly watches download data from their swimming HR straps (HRM-TRI/HRM-SWIM), they actually do so over common standards.  Any vendor can support this nearly decade-old standard for transferring the HR data over.  So Scosche is doing that.  And thus, you'd be able to take something like a FR920XT, wear the Scosche Rhythm24 during a swim, and it'll properly ask to download from that strap after the swim (assuming the planets align as planned).  At this point in the beta though, that feature isn't yet implemented on the Rhythm24.
For these and many other pieces, Scosche is working with NPE (North Pole Engineering) on the protocol side.  They're known in the industry as one of the deepest groups on ANT+/BLE.  They develop the NPE WASP and NPE CABLE that many companies in the sports tech industry use for their own testing.  Thus, they know many of the 'special quirks' that exist in the industry in making this kind of stuff look seamless to users.  I'm personally pretty excited about that.
Speaking of standards, the unit also transmits out on the following standards:
ANT+ Heart Rate: Obviously
ANT+ Running Stride & Cadence: To pair to a watch as a 'footpod', or to pair to Zwift
ANT+ Cycling Cadence: To pair to a bike computer as a cycling cadence sensor
Bluetooth Smart Heart Rate: Again, obviously
Bluetooth Smart Running Speed/Cadence: Same as ANT+, just Bluetooth Smart
Bluetooth Smart Cycling Cadence: Also same as ANT+, just Bluetooth Smart
In addition, the unit will transmit heart rate variability information, though, that's primarily designed to be used at rest and not in a workout.  It's a mode you can toggle within the app settings.  Next, during swimming, the unit changes the algorithm a bit, enabling better accuracy.  It doesn't record things like stroke, distance, or pace.  But instead, the mode toggle is all about telling the algorithm that what you're doing isn't likely running.
As part of the workout storage, the mobile app will allow you to download those workouts after the fact.  It supports swimming, cycling, running, and gym modes, as well as triathlon modes.  In the triathlon mode you'll use that smaller button to switch between the sports, and the colored LEDs will ensure that you've got yourself in the correct sport.
Next, the unit includes NFC A-Tag.  What's A-Tag you ask? No, it's not part of the A-Team (though, I suppose that might be debatable).  Instead, it's targeted primarily at gyms and such to allow the unit to interact with various gym equipment pieces, like a treadmill or other machinery.  So this is different from regular NFC used for contactless payments.  Not same-same.  This isn't really something aimed at you to use in your home, but really for larger gyms.
Finally, and for lack of anywhere else to plop it, the unit is IP68 waterproofed, which means that it's waterproof for immersion up to 1 meter – which is totally fine for swimming. And the strap? Re-designed to use little snap modules that are impossible to accidentally pull off when worn (due to the locking mechanism), but easy to remove when not worn.  This also should resolve the issue of the Velcro getting caught on everything.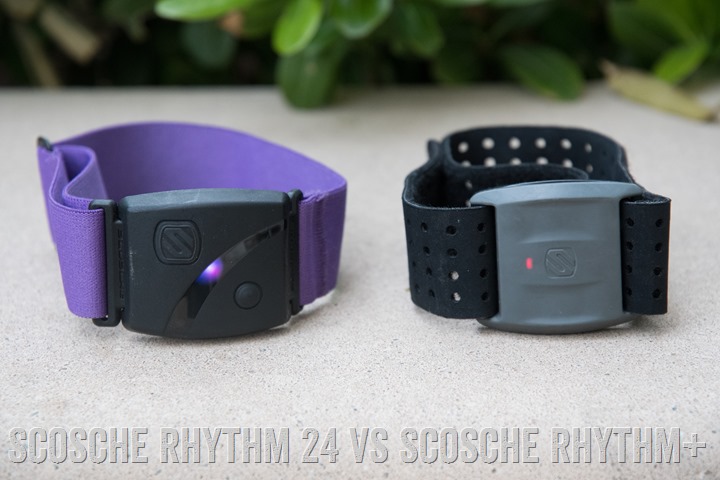 Last but not least, the price for the new Scosche Rhythm24 is $99, versus the $79 for the previous models.  This is a bit pricier than Wahoo's new TICKR FIT or Polar OH-1 ($79), but simply put, it contains more features than those (see table down below).
First Run:
So let's take this thing out for a run, shall we?  On today's run I went all-in on new optical sensors, or just new sensors in general.  I had, of course, the Rhythm24 on me (upper left arm), then the new Wahoo TICKR FIT (lower left arm), then Polar OH-1 (upper right arm), and finally a Wahoo TICKR-X on my chest.  And from a watch standpoint I had the Garmin FR645 (right wrist), then the Suunto Spartan Trainer (left wrist).  And, sitting atop a treadmill to help record some of the HR data I also had a FR620 (connected to the TICKR FIT), another Suunto Spartan Trainer (connected to TICKR-X), Descent MK-1 (connected to Polar OH-1), and a FR935 (connected to Scosche). Holy balls!  That gives me the following HR data streams:
1) Scosche Rhythm24: Upper left arm
2) Wahoo TICKR FIT: Lower left arm
3) Polar OH-1: Upper right arm
4) Wahoo TICKR-X: Chest strap
5) Garmin FR645 Optical HR Sensor: Right wrist
6) Suunto Spartan Trainer Optical HR Sensor: Left wrist
Please note that despite how many devices I have on, I'm actually super careful to have them heavily separated to not have them interfere with each other from a HR standpoint.  That can happen if you have two watches next to each other on the same wrist.  One will restrict blood flow a bit to the next, dorking with accuracy.  The excessive number of watches are because it's easier for me to normalize and then analyze data coming off a watch than saved files from each HR sensor.  In fact, the data from this run is actually a treadmill run, so I just set all of the 'collecting' watches on the treadmill.
Oh – and wait – don't forget that the Scosche Rhythm24, as well as the Garmin FR645, are both in beta.  The Scosche more early beta, the FR645 more late beta.  As such, things may get better or worse before they start shipping.
In any case, here's the resulting look at the run, overlaid atop each other:

Now, as with the best-laid plans, sometimes things don't work out.  And in this case, that's the HR data from the Wahoo TICKR-X chest strap, which was totally wonky (like drunk person wonky).  So, I excluded that.  I think my strap is dying.
From a workout structure standpoint, there was a 10-minute warm-up, a quick couple minute build, and then 3×2:30 at 6:00/mile, followed by 4x45s at 5:00/mile (the fastest the hotel treadmill would go).  In between for recovery, it was simply walking.
What you see left above is actually four data sources, though with smart recording on two of the watches it's hard to find a data point that shows all four signals.  Either way, to be honest, the only thing that you need to know visually is that the maroon line is the FR645 optical.  The rest are virtually all identical.
The slight differences you see with the Polar OH-1 are actually *correct* on three out of the four sprints, which is a great example of ensuring you know what the data should look like.  See, at the end those are roughly 45-second sprints.  And the OH-1 is the fastest to capture my HR declining after I stop running.  We're only talking by a couple of seconds, but I thought it was interesting.
As for the OH-1, it nailed everything here compared to the others.  Things look really really clean.  Obviously, this is only one run, but it's actually kinda a tough one to get right with the fast changes in pace – and so far so good!
(Note: The accuracy chart was created using the DCR Analyzer tool.  It allows you to compare power meters/trainers, heart rate, cadence, speed/pace, GPS tracks, and plenty more. You can use it as well for your own gadget comparisons, more details here.)
Product Comparison: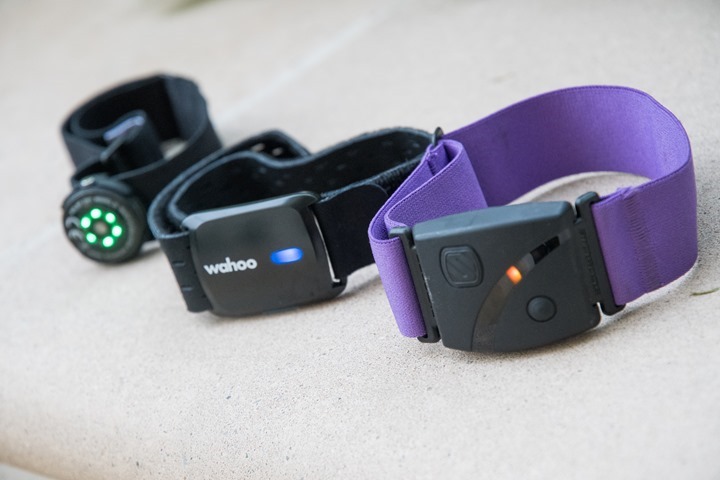 I've added the Scosche Rhythm24 into the product comparison database for heart rate sensors.  This allows you (and me) to generate comparison charts like the one below.  For the purposes of this post, I've compared it against two other optical HR sensor bands – the Polar OH-1 and Wahoo TICKR FIT.  I've excluded Mio since they announced this past fall they're getting out of the hardware game.  But you can mix and match against any HR sensors in the database here.
With that, here's how things stack up:
Function/Feature

Scosche Rhythm 24
Polar OH1
Wahoo TICKR FIT
Copyright DC Rainmaker - Updated July 27th, 2023 @ 10:46 am New Window
Price
$99
$79
$79
Product Announce Date
Jan 9th, 2018
Aug 30th, 2017
Jan 3rd, 2018
Product Availability Date
Late April 2018
Late Sept 2017
Jan 3rd, 2018
Measurement Type
Optical
Optical HR
Optical
Typical Placement
Mid/Upper Arm
Upper Arm
Mid/Upper Arm
Battery Life
24 hours+
12 hours
30 hours
Battery Type
USB rechargeable
USB Rechargeable
USB rechargeable
NFC Capable
Yes
No
No

HR Transmission

Scosche Rhythm 24
Polar OH1
Wahoo TICKR FIT
ANT+
Yes
Yes (with firmware update)
Yes
Bluetooth Smart
Yes
Yes
Yes
Dual concurrent ANT+/BLE
Yes
No
Yes
Analog for gym equipment
No
No
No
Usable HR data underwater
Depends: If on same wrist, YMMV.
No
Depends: If on same wrist, YMMV.
Bridging ANT+ to Bluetooth Smart
No
No
No
Can record activity in memory
Yes
Yes
No

Additional Data

Scosche Rhythm 24
Polar OH1
Wahoo TICKR FIT
Run Pace
Yes
No
No
Run Cadence
YEs
No
No
Run Economy/Metrics
No
No
No
Cycling Cadence
Yes
No
Cycling Power Meter Estimation
No
No
No
Valid HRV/RR data
At rest only
No
No
Configurable Sport Modes
Yes
No
No
Displays HR Zones
Yes
No
No
Requires Bluetooth Smart Phone for Configuration
Yes
No
No
Firmware Updateable
Yes
Yes
Yes
SDK For App Developers
No

App

Scosche Rhythm 24
Polar OH1
Wahoo TICKR FIT
Can show workout afterwards
No
Yes
N/A (No recording)
Can sync files/workout to 3rd party
Yes
Yes
N/A (No recording)
More Info
Link
Link
Link

Purchase

Scosche Rhythm 24
Polar OH1
Wahoo TICKR FIT
Amazon
Link
Link
Link
Backcountry.com
Link
Competitive Cyclist
Link
REI
Link
Wiggle
Link
Link
And don't forget, you can mix and match any HR sensors against each other within the product comparison database here.
Wrap-Up: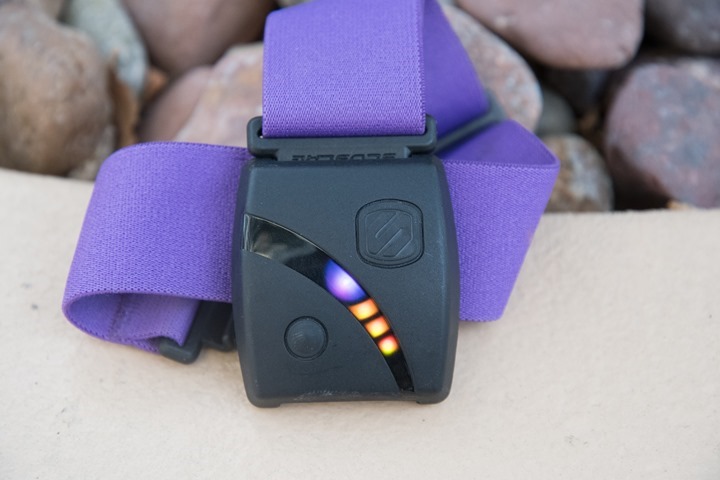 Overall, I think Scosche is well-positioned here with the new Rhythm24 strap.  Yes, it's a tiny bit more expensive than the previous one, but as long as they maintain the same high degree of accuracy as the Rhythm+ has had, then I suspect they'll continue to attract buyers, especially once you combine all the features found on the new unit.  This might be even more so the case with the ability to offload swimming HR data, sans-chest strap.  Using a chest strap for swimming is often fraught with issues (as is an optical HR sensor on your wrist).  So this could be a solution for a bunch of folks.
I'm also looking forward to seeing where they go beyond the stated specs.  With hints to areas like sleep and beyond, as well as extension of the battery life above 24 hours, they might be looking to leverage the HRV pieces in new and interesting ways not previously seen on a standalone HR sensor in the consumer realm here (most efforts are tied specifically to watches).
Still, it's about four months away from when this will ship – so that's still a long time for many people.  If you're in the market for a unit now, it's probably going to be hard to wait, especially if there's any slippage in the schedule (I think they're probably good on that actually).  Of course, for a company like Scosche, announcing at CES is the right move as it'll afford them fitness media coverage they probably wouldn't have gotten elsewhere with a standalone announcement.  Hence why they likely announced now, rather than closer.
With that – stay tuned for my full in-depth review once it starts shipping.  But since I have two beta devices, I'll likely use them longer-term over the next few months.  Much of the sensor pieces are complete based on Valencell's existing work, whereas the time in the schedule is mostly around app integration and the non-sensor pieces (I.e workout transfer, etc…).

Found This Post Useful? Support The Site!
Hopefully you found this review useful. At the end of the day, I'm an athlete just like you looking for the most detail possible on a new purchase – so my review is written from the standpoint of how I used the device. The reviews generally take a lot of hours to put together, so it's a fair bit of work (and labor of love). As you probably noticed by looking below, I also take time to answer all the questions posted in the comments – and there's quite a bit of detail in there as well.
If you're shopping for the Scosche Rhythm 24 or any other accessory items, please consider using the affiliate links below! As an Amazon Associate I earn from qualifying purchases. It doesn't cost you anything extra, but your purchases help support this website a lot. Even more, if you shop with TPC (The Pro's Closet), you'll save $40 on purchases over $200 with coupon code DCRAIN40! The Pro's Closet has been a long-time partner of the site here - including sponsoring videos like my cargo bike race, as well as just being an awesome Colorado-based company full of good humans. Check them out with the links below and the DCRAIN40 coupon!
Here's a few other variants or sibling products that are worth considering:
And of course – you can always sign-up to be a DCR Supporter! That gets you an ad-free DCR, access to the DCR Quarantine Corner video series packed with behind the scenes tidbits...and it also makes you awesome. And being awesome is what it's all about!
Thanks for reading! And as always, feel free to post comments or questions in the comments section below, I'll be happy to try and answer them as quickly as possible. And lastly, if you felt this review was useful – I always appreciate feedback in the comments below. Thanks!