Certain countries are known to have residents with exceedingly long names – in some cases 5-6 words/parts long.  Finland however, is not typically one of those countries.  But it appears that Suunto is aiming to grab that title in any way they can with their just-announced Suunto Spartan Sport Wrist HR Baro.  In this case HR happens to abbreviate 'Heart Rate', while Baro is short for barometer.
This watch builds upon the existing Suunto Spartan Sport Wrist HR unit that I reviewed this past spring.  The Suunto Spartan series is, of course, Suunto's lineup of watches that introduced last year as a successor to the Ambit series.  While it got off to a rocky start, things are definitely finding their stride – especially with the incredibly well priced Spartan Trainer that recently came out.
With today's new watch though, Suunto is aiming to take the Spartan Sport series and add in a barometer for it to display more accurate elevation data, as well as maintain the wrist-based optical HR.  This effectively aims to fill the gap on a mountain/hiking focused device that also does optical HR.
In any event – I've been using the unit now a few weeks and it's time to get right into things.
What's New and Different:
In many ways, you could sum up this entire post with: 'They added a barometric altimeter to the Suunto Spartan Sport Wrist HR', and be done with it.  And, that's probably true.  But since I have an ample supply of Starbucks Double-Shot energy drink can thingies tonight, I'm going to push on with more details.
See, there are a number of minor tweaks and differences that are worthwhile noting (compared to the basic Sport Wrist HR), many of them trickle-down effects.  So here goes:
– Gets Barometric altimeter data (duh)
– Gets FusedAlti (combined GPS and baro altitude for more precise elevation data)
– Gets altitude in daily mode (watch-face)
– Gets automatic altimeter/baro profile
– Gets storm alarm
– Battery life remains the same
– All this for a mere 1g addition to the total weight
So while yes, there is the addition of the altimeter, the impact of that is greater from a software standpoint.  Obviously, virtually everything you see above is aimed at the mountain seeker, or someone doing a lot of work with ascending/descending.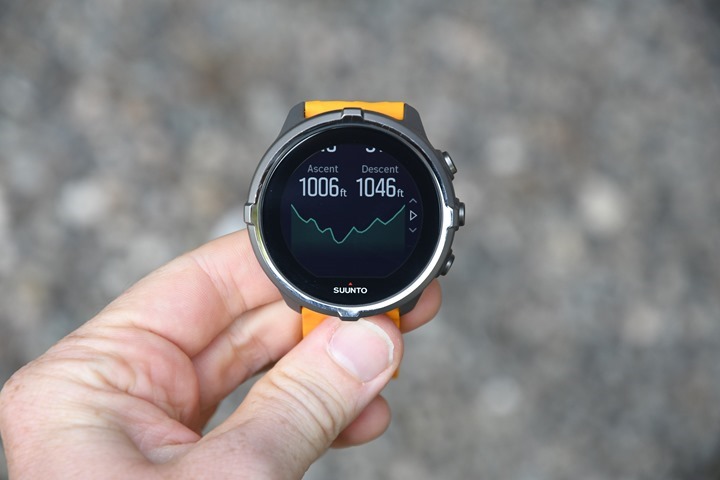 All of that previously required the 'Ultra' edition, which is not only higher priced, but also carries with it a bigger battery (significantly bigger).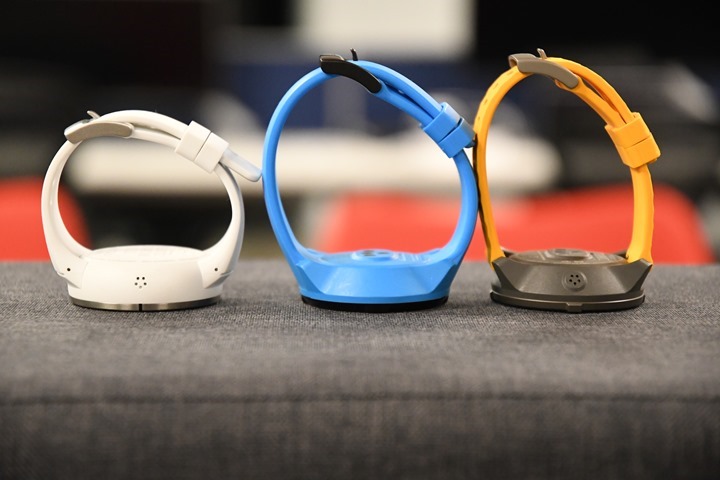 (Left to right: Spartan Ultra, Spartan Sport Wrist HR, Spartan Sport Wrist HR Baro)
Of course, the Ultra edition doesn't have an optical HR sensor, but the battery differences are massive.  Here's the lineup for the GPS modes (Best, Good, OK).  Each of these modes changes the GPS refresh rate and now includes much higher battery savings (using a firmware update coming October 17th) – up to 140hrs on the Ultra now!
Note that they don't change the heart rate or cadence recording rates, which are always updated at 1-second intervals:
Suunto Spartan Ultra: 18hrs/35hrs/140hrs
Suunto Spartan Sport: 10hrs/25hrs/80hrs
Suunto Spartan Sport Wrist HR: 10hrs/20hrs/40hrs
Suunto Spartan Sport Wrist HR Baro: 10hrs/20hrs/40hrs
Suunto Spartan Sport Trainer Wrist HR: 10hrs/16hrs/30hrs
So as you can see, the battery life hit of the Baro is nil, though it will set ya back an additional $50 over the base Sport Wrist HR edition.  Speaking of which, here's how the lineup currently sits:
Suunto Spartan Ultra: $699+
Suunto Spartan Sport: $399
Suunto Spartan Sport Wrist HR: $499
Suunto Spartan Sport Wrist HR Baro: $549
Suunto Spartan Sport Trainer Wrist HR: $279
One of the things to keep in mind here is that Suunto's GPS-based elevation does tend to be exceedingly good, so much so that the use cases for a barometric altimeter for many people tends to be slimmer than back in the old days when GPS altimeter data was rougher (or on other competitors devices where it's rougher or entirely useless altogether…lookin' at you, FR735XT).
As such, I wouldn't necessarily shy away from the cheaper Sport Trainer Wrist HR, in fact – it continues to be my favorite out of the entire lineup of Suunto Spartan units.  Partially for the size, partially for the price, and partially for the accuracy I see.  Which, is a great time to segue into the next section.
Finally – for lack of anywhere else to stick it, the Spartan units that have a barometric altimeter will get a new ski mode that displays the length of runs, number/counter of runs, vertical descent, and maximum speed during the descent. All that comes within the October 17th firmware update.
Early Accuracy Testing: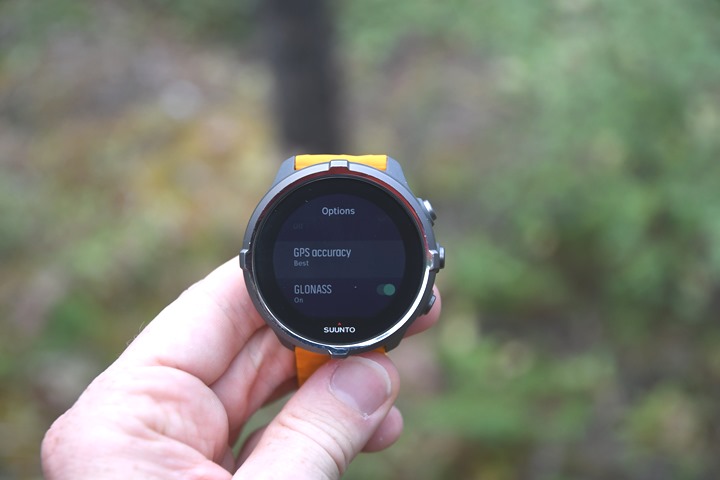 In having the watch the last few weeks I've been getting in sporadic workouts with it.  Given that last week was Interbike, and this week is the ANT+ Symposium, my workouts are kinda wonky and all over the place – literally.  I've got runs and rides with it in Paris, Amsterdam, Las Vegas, and Reno.  And now I'm up in Canada.
Further, note that while the hardware is final, the software is considered beta.  So likely we'll see some tweaks between now and October 17th when it starts shipping.
Thus first, let's start with the HR sensor. In the case of this watch, that's pretty darn unlikely since the exact optical HR sensor package from Valencell hasn't changed, nor has the exterior of the unit.
But what I've come to see is that accuracy of optical HR in the Suunto lineup seems to vary between the larger Suunto Sport series and the smaller Suunto Trainer.  To summarize this entire upcoming section: The smaller (and cheaper) Trainer series seems to have much better accuracy than the Sport series, despite having identical sensor packages.
Why?
Well, size.
The larger the watch, the more it bounces on the wrist while running – no matter how tight you make it.  With the Suunto Spartan Sport/Ultra series being larger, heavier, and more top-heavy, this exaggerates the problem compared with the small and lightweight Trainer variants (or compared to the less top-heavy Garmin Fenix5/FR935 options).
To demonstrate this a bit, here are a few runs.  The first in Paris where it struggled at the beginning to track HR (despite standing around and waiting for satellite lock):

And again it did the same in Reno during those initial few minutes, followed by cadence-lock spikes later during the harder intervals:

Yet there were cases where it seemed to nail it, like this run in Amsterdam which showed very consistent HR accuracy:

Next, let's look at the GPS accuracy.  I'm not sure what's going on here, and neither is Suunto.  But they're taking a look at it.  In short, during running workouts, it seems to struggle, while cycling seems fine.  Even in cases when the cycling terrain is FAR more difficult than the running terrain.  For example, this run last night with it in Reno, whereby there's nothing above me.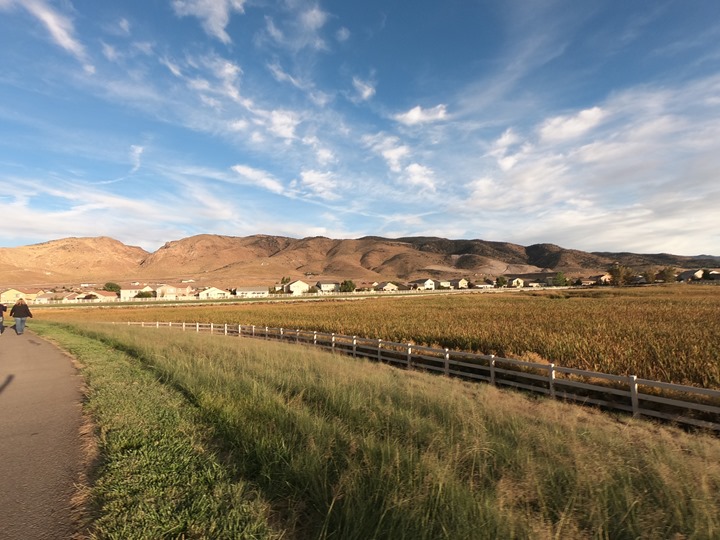 ///UPDATE: Suunto believes they have found the issue in my GPS data, which is related to GLONASS:
"The GLONASS option is intended to be used in big cities where high buildings both block the sky and generate signal reflections from walls. GLONASS brings more visible satellites on the sky and the SirfStarV chip has an offset correction algorithm used together with GLONASS for correcting for reflections from buildings. It has however turned out in our tests that this correction algorithm actually takes you off track when running on normal trails. That's why our generic recommendation has been NOT to use GLONASS unless you really are running between buildings."
I haven't seen this recommendation previously by any company, though it does roughly match what you'll see throughout the rest of my post with my data.  Note, that I've left the rest of the post as-is with the data seen.///
It's out on the flats with virtually no trees at all, just simple bike paths around a pond to the right there (that loop):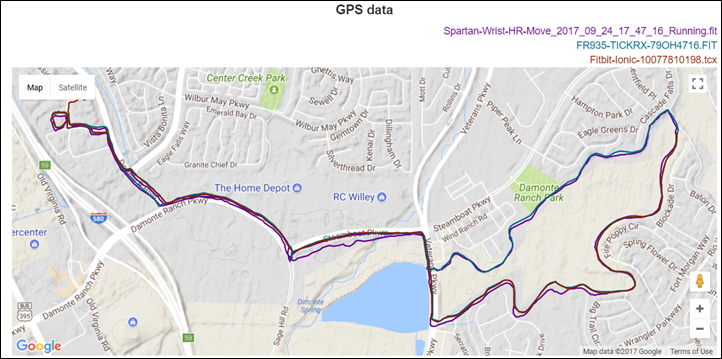 You can see it's all over the place.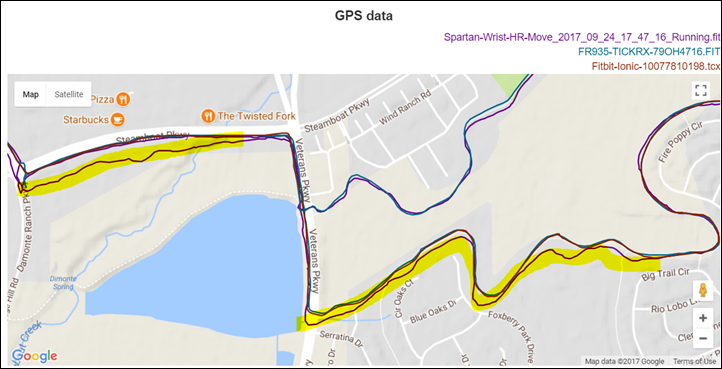 The same with Amsterdam – where it would seem to offset the location randomly throughout the park.  It's the teal line you see crossing water: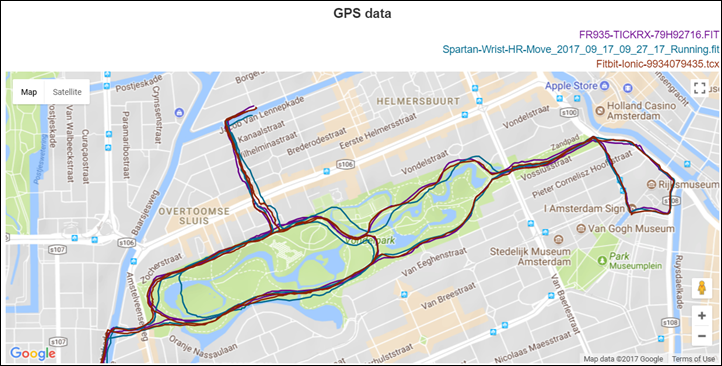 Yet mountain biking up in the mountains with snow-covered trees and mountains on the side and it had a solid track for the out and back route: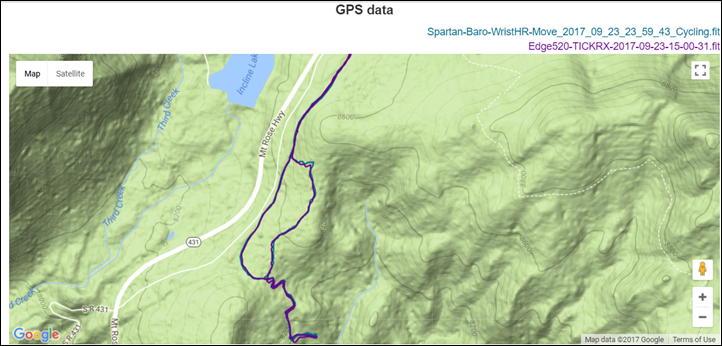 So not sure what to say on that one.  All runs were with GLONASS enabled, and 'Best' GPS accuracy.  Again, Suunto is digging into these as of this morning (since that's when I got around to loading them all into the DCR Analyzer).
So what about barometric altimeter accuracy?
Well obviously, that's why you bought this unit.  As you would expect you can either specify a reference altitude or you can use GPS to do this for you: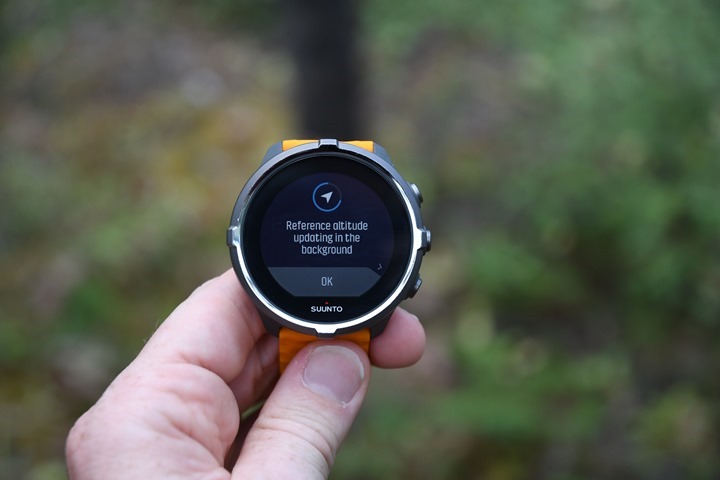 I generally would use GPS for the initial altitude, for the very simple reason that I generally don't run/ride/hike in places that always have altimeter markings sitting around at the start.  Certainly, when available it's great to cross-reference that.  But in my case, none of my workouts had those available.
To start I've got the interesting use case of Amsterdam and being technically under sea level.  The watch placed me at –96ft, which is significantly more than the –2m that's generally agreed upon for the inner core of Amsterdam.  Plus, the 'lowest' part of the entire Netherlands is only –7m.  So that's wrong.  But on the bright side, it was almost identical for my start and end points.

Plus, I learned something interesting with the above: The DCR Analyzer rejects negative elevation values, hence why I can't show you an overlay chart between the units.  Need to get that tweaked!  It looks like perhaps the Suunto unit is just as misled about being under sea level as my tools.
Here's a road ride I did in Boulder City, NV that had some elevation change to it.  What's interesting here is that the initial value altitude offset you see (~40m) between the Edge 1030 and the Spartan/Vivoactive 3.  Those two units after settling out in the first few minutes stayed locked on each other for the remainder of the ride.  The gap/difference between the units while similar did shift a bit with the gap widening on the Edge 1030 very slightly.

Now again – there was no altitude marker to know for sure which one is right or wrong 100%.  However, if I look at USGS elevation data, the starting point of my ride is listed at 801.8m.  The Suunto was at 800.2m, and the Vivoactive 3 at 795.6 and the Edge 1030 at 839.8.  Seems clear enough to me Suunto nailed this data set.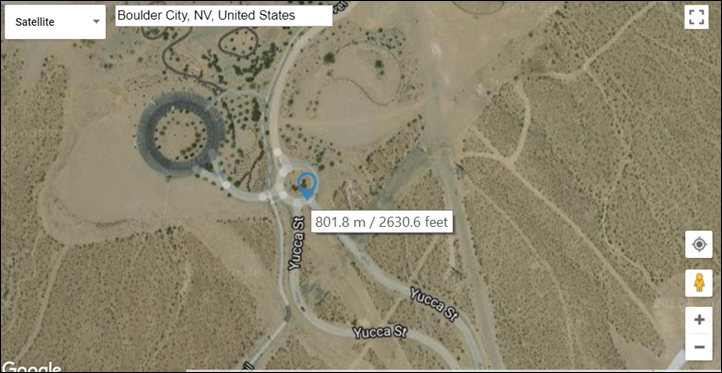 Btw, as a funny little test of how sensitive the barometer is – check out this chart below.  You can see we descended down initially, and then there's a huge flat section there in the chart.  That's where we spent 2 hours filming stuff for upcoming posts.  In this case, the Edge 520 sat on my bike mostly off to the side static, while I wore the Suunto unit on my wrist while I moved around.  I was constantly going back and forth in a small section, up and down a hill controlling camera gear.  It's neat though to see how sensitive it is to pick up this 2-8m elevation gain as I did this.  Obviously, the Edge didn't shift much because the bike was static.

This above chart has no valid comparison aspect for the center portion, but I just thought it was kinda neat geekery.
In any case – I'll be holding out final opinions on all accuracy angles until we get closer to release – but for the barometric part that's new here, it does seem to be on the ball.
(Note: All of the accuracy related charts were created using the DCR Analyzer tool.  It allows you to compare power meters/trainers, heart rate, cadence, speed/pace, GPS tracks and plenty more. You can use it as well for your own gadget comparisons, more details here.)
Wrap-up: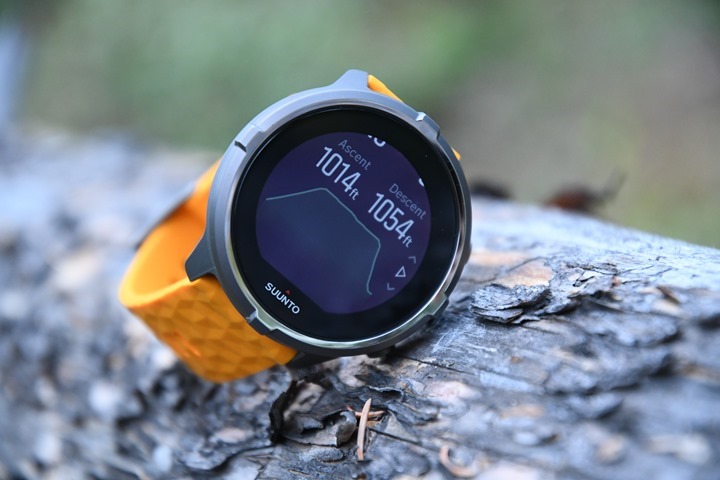 This watch is essentially two things for Suunto.  The first is a way to appease those folks looking at the Spartan Ultra series for a barometric altimeter while also wanting optical HR.  While the second is offering Suunto a slightly more wallet friendly option to consumers than the Garmin Fenix 5 series, any of which costs more than the new Spartan Sport Baro variant would.  It's priced similarly to the FR935 ($50 more actually), which also has a barometric altimeter.  Though those two watches are distinctly different in sizing and form/fashion.
The Suunto definitely has more swank factor in the design than the plastic FR935.  While inversely, some might prefer the much lighter and slimmer FR935 (almost half the weight of the Spartan Sport editions).  All of which ignores any feature or accuracy comparisons.
And a better time to make those comparisons may be down the road once they start shipping on October 17th.  Suunto has noted that more features/updates are on the way to the Spartan line-up.  Some of those will be continued catch-up features, while others will be newer innovations.  Having seen the list, I think they're on the right path here.  And of course, hopefully they can solve whatever GPS accuracy issues I'm seeing.  I'm less confident of the optical HR issues, as those seem to roughly mirror what I saw on the Sport unit this past spring (and of course, they're basically the same unit).
With that – thanks for reading!