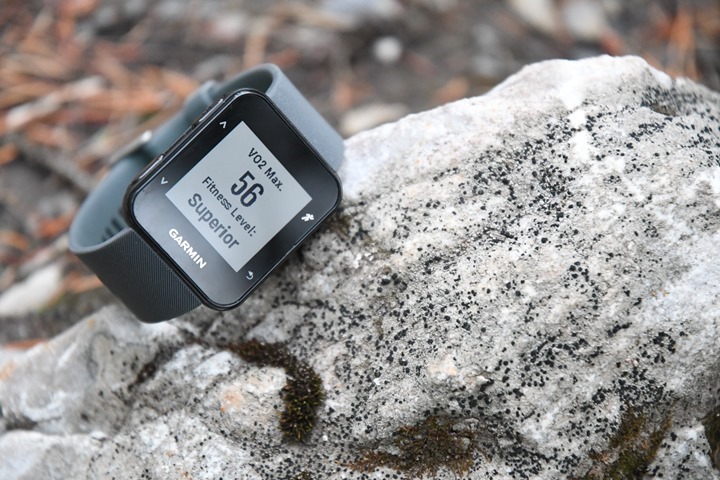 Hold on, I know what you're thinking: Didn't the Forerunner 30 come out last year?
Nope, that was the Forerunner 35.
At which point you're wondering how we're going back in numbers – but that's just how the cards fell this time. Today, Garmin announced the new Forerunner 30 GPS watch, which is currently slated only to be sold in Europe and takes the existing Forerunner 35 watch and 'streamlines' it (which is a fancy term for 'remove features').  In doing so they made it cheaper.
Note that while it's only sold in Europe, it'll work globally, as evidenced by the fact that I've used it in the US & Canada. But before we get too far ahead of ourselves, let's dive into all the details.
What's Different About It: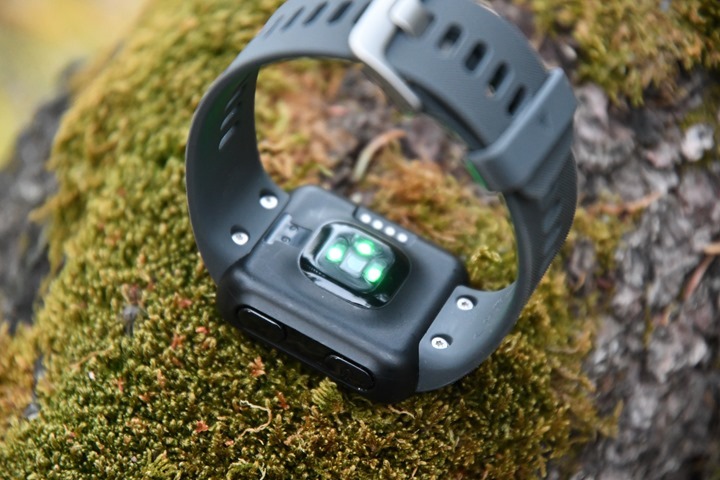 Since the theme of today's announcements seem to be centering on taking existing watches and making minor tweaks, the FR30 is doing something similar…sorta.  In the case of Suunto earlier today, they added a barometric altimeter and a bunch of altimeter related software features.  They then called it a new model at a higher price point.  Makes sense.
Whereas in the case of Garmin, they're removing a bunch of features and reducing the price point – down to €149.  Different strokes for different folks.
The core of what they did was to take the existing Forerunner 35 launched about a year ago and remove a bunch of features to make it a super-basic running GPS watch with optical HR.
So how does this differ from the FR35?  To start it's designed to compete with the TomTom Runner 3/Spark 3 series that's often found in the €100-€150 price range depending on features.
Here's what you won't find on the FR30 that was on the Forerunner 35:
– No multiple modes on watch: Just running, and only running. You cannot select cycling/walk/cardio/etc… (however, it will re-categorize it later properly on the app)
– No re-broadcasting of your HR via ANT+
– No support for sensors (not HR strap, nor footpod, not speed/cadence sensor)
– No interval mode
– No run/walk mode
– No Virtual Pacer mode
– No data field configuration from device (but you can tweak from the app)
– No watch-face configuration from device (but you can toggle between two faces from app)
– You can do GPS runs outdoors, or an indoor run
Essentially, this classic commercial best sums up the FR30:
So what do you get?
Well, you get to go for a run with three data pages, each with up to three data fields on them.  By default, these are:
Data Page 1: Distance, Time, and Pace
Data Page 2: Calories, Heart Rate
Data Page 3: Current date/time
However, you can use the app to change these (but not change them on the watch itself, like the FR35).  You can choose up to three pages, each with up to three fields.  The fields selectable are:
Distance
Timer
Pace (or Speed)
Heart Rate
Avg Pace
Lap Distance
Lap Time
Lap Pace (or Speed)
Heart Rate Zones
Cadence
Calories
None
You also do get/maintain auto lap, auto pause, and manual lap capabilities.  Further, you can change between Pace and Speed for this singular mode via the settings menu.  Note that you don't have a dedicated bike mode, but if you select run and then go riding, it'll utilize elements of MoveIQ behind the scenes to change it to a 'Bike' workout on Garmin Connect (but it'd still show 'Pace' on the watch itself unless you selected 'Speed' in the settings).
You also get/maintain VO2Max. This was recently introduced on the Forerunner 35 via a firmware update.  So that isn't ripped away from ya here, which is somewhat funny because I'd imagine the target audience for this watch is much more likely to appreciate run/walk mode than VO2Max.
And you get 24×7 heart rate tracking via the included optical HR sensor (that was also on the FR35 of course).
So what's Garmin thinking here?
Well, their hope is likely that their brand reputation will carry them further than TomTom's, despite the fact that in every possible way the TomTom Spark series is a better value for the money in terms of software features.  Priced at the same price for the optical HR version, the TomTom Spark 3/Runner 3 has far more running functionality. For example:
– Interval support
– Heart rate strap sensor support
– Multiple sport modes, including Multi-sport mode
– Basic navigation/routing
– Swimming support (measuring in a pool)
– Support for various heart rate zone profiles
– Recovery metrics
Except there's a catch here – and it's a big one:
The base TomTom Spark 3/Runner 3 doesn't include an optical HR sensor like the FR30 does.  That model (the TomTom Spark 3/Runner 3 Cardio) starts at about 50€ more at 199€.
Both brand's optical-enabled watches at their respective price points include 24×7 HR data capture, as well as of course workout heart rate data capture.
So now someone is left to choose between a more simplistic Garmin watch at €149, or a more advanced TomTom watch at €199 (or, a more advanced Garmin FR35 at that same €199).  That makes for quite the decision matrix!
Garmin's also probably taking advantage of the conflicting and constantly re-surfacing news about TomTom's impending wearables death (which TomTom's done almost nothing to help alleviate concerns on this front, unfortunately).
So this might actually turn out to be a really interesting price point for Garmin.
And again, they don't intend to take the FR30 to the US…at least not yet.  Doing so would basically undercut their own pricing too much, since unlike in Europe where there's no MAP policy (Minimum Advertised Price), the US MAP policies allow pretty strict maintenance of the various Garmin and TomTom price points – thus keeping some products priced higher.
Running with it: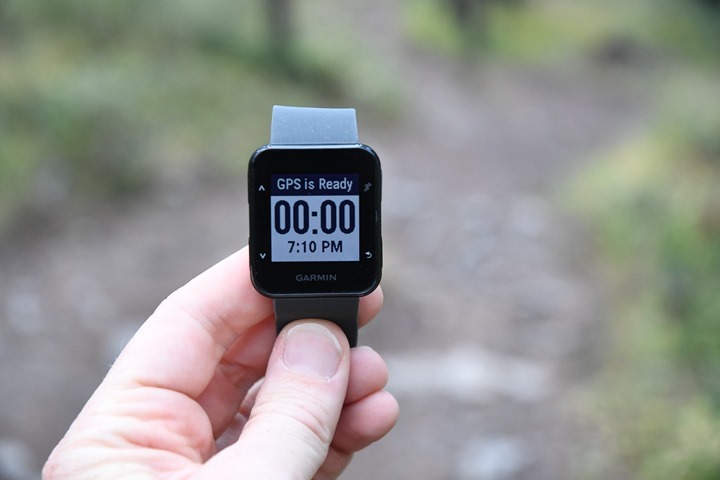 I've gotten in a few runs with the FR30 since having it, though mostly for posterity since it's identical hardware best I can tell to the FR35 (it doesn't use the new 2017 Garmin Elevate optical HR sensor with better 24×7 recording rates).  As noted above, it's simply a chopped down FR35 from a software standpoint.
Still, here's a 5K run back home in Paris around the local park, which mixes some tree cover along with a few bridge underpasses.  You can look at the full Garmin Connect activity here to see exactly what you'd get after a run.  Or, this quick screenshot below:
You'll notice you do get things like running cadence and average stride length after the fact online, as well as elevation gain/loss, but you won't get those during the run – which is to be expected at this price point.
Looking at the accuracy of things, we'll start with GPS. Here's the FR30 data overlaid with a Garmin FR935 and a Suunto Spartan Sport Wrist HR Baro unit.  The FR935 is paired to a Wahoo TICKR-X chest strap, giving us three sensors in total.  Note, you can click on that link to zoom in/around the map yourself if you want.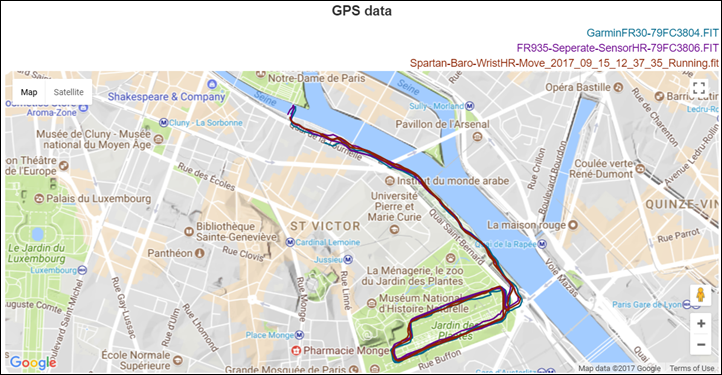 If we look at the GPS tracks above, the FR30 generally does pretty well, save for a short (perhaps 100m) section on the north side of the park where it wanders a bit.  Meanwhile, on the south side of that park the FR935 goes for a similar wander.  The Suunto didn't wander this run on GPS, but instead did so on heart rate.  The specific section the FR30 wandered in is this photo: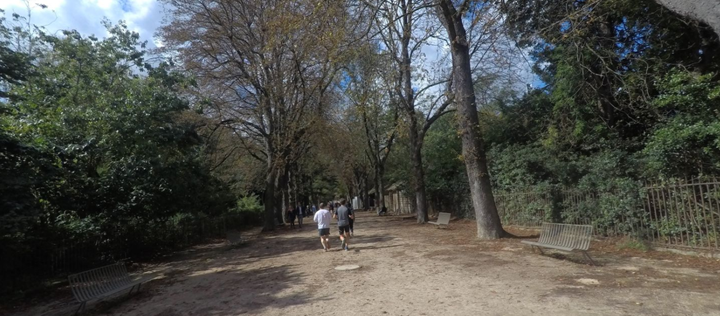 Here's a look at the heart rate graphs:

You can see the Suunto got off to a really rough start for the first 4-5 minutes, and then settled out.  The FR30 actually gave the best overall HR plot for this run, besting even the TICKR-X which stumbled briefly around the 2-minute marker (plus was struggling in those first few minutes in general).  I adjusted it around the 2-minute marker and it got happy then.
Throughout the rest of the run, the chest strap and the FR30 stayed pretty much together.  Note that the HR 'dive' at the end of the run is simply when the FR935 (connected to the TICKR-X) got accidentally restarted for one second, resulting in that line connecting two points.  You can ignore that.
And just in case you wanted a quick look at what those screens look like mid-run, here's the calories and heart rate page: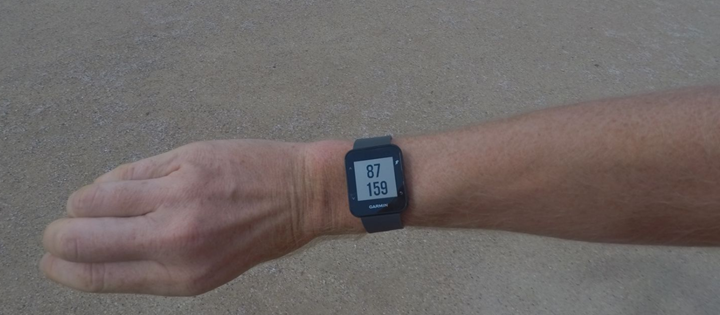 And then here's the page with distance (miles), time (minutes), and pace (minutes/mile):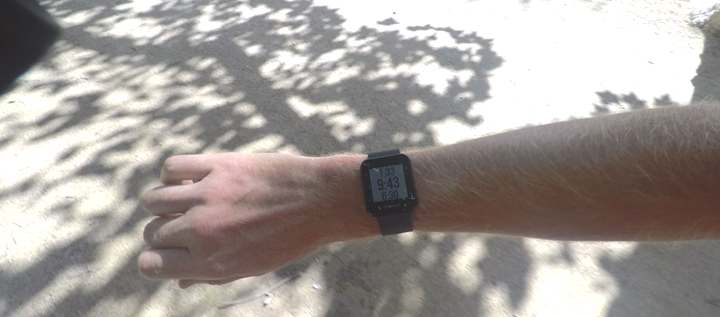 Of course, being all European, most of you will use kilometers instead.  But old habits die hard.
Afterwards, you'll get summary information of the workout, including distance, pace, calories, and laps: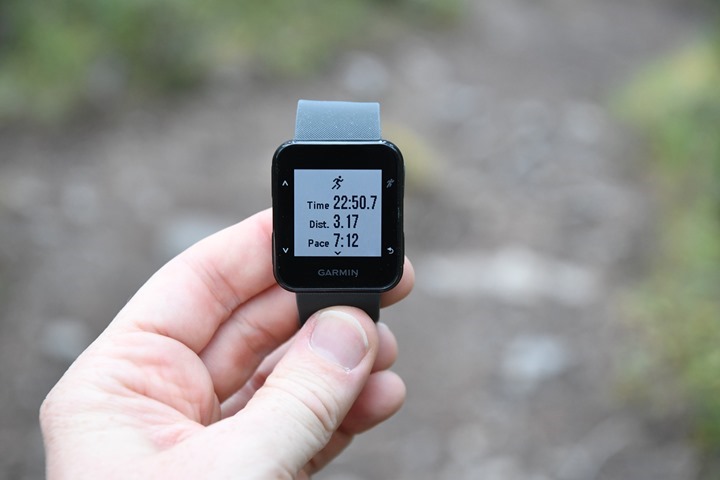 Additionally, the unit tracks personal records (PR's), so you'll get those too.  These are at different steps like fastest mile, fastest 5K, and so on: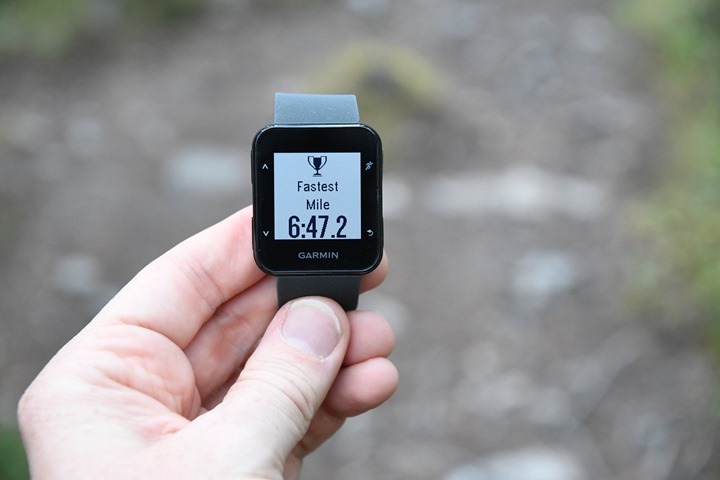 And that's the thing.  While there are way less features than the FR35, there's still the core of a very solid and simplistic GPS watch.  And most importantly – a simplistic GPS watch with optical heart rate in it as well as smartphone notifications and 24×7 daily HR/activity tracking.
If you don't care about those last pieces and just want a simple GPS watch, there are honestly cheaper options from both Garmin and TomTom (as well as Polar with the M200).  But for this price point, it's definitely compelling once you include those features.
(Note: All of the accuracy related charts were created using the DCR Analyzer tool.  It allows you to compare power meters/trainers, heart rate, cadence, speed/pace, GPS tracks and plenty more. You can use it as well for your own gadget comparisons, more details here.)
Wrap Up: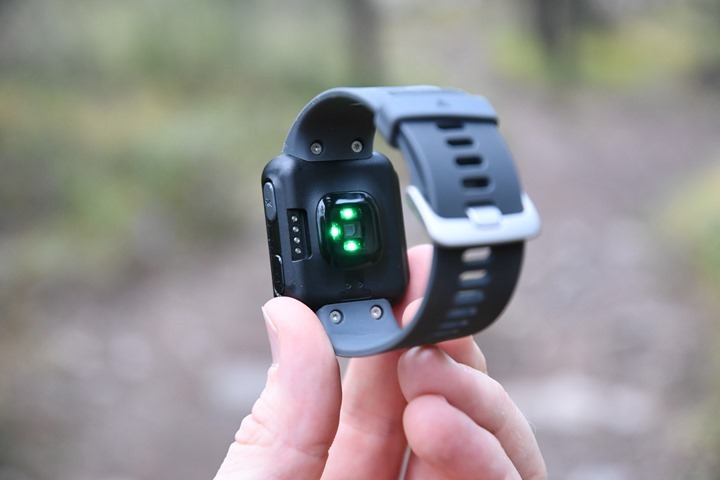 Of course, it's easy to make fun of all the features that got removed.  But what's left is still pretty compelling for the price point:
– Still has GPS, and can log your runs indoors or outdoors
– Still has an optical HR sensor
– Still has 24×7 HR tracking and transmission to Garmin Connect app/platform
– Still has Bluetooth Smart for syncing of workouts/data
– Still can display Bluetooth Smart notifications from your phone
– Still has Move IQ, which automatically creates non-GPS runs/rides/walks
– Still has auto-pause, auto-lap, and VO2Max (really?)
– Still tracks daily steps, calories, intensity minutes, and resting heart rate trends
– Still tracks personal records
And yes, it even tells the time of day and date.
As I said earlier, it's actually a pretty interesting little offering and makes for quite the decision of whether you value the specific additional features for €50 more (of either the FR35 or TomTom Spark 3 Cardio), or wanna save the cash and spend it somewhere more meaningful…like a donut shop.
I'm kinda interested to see what folks think of it.  As it represents two 'newish' things for Garmin:
A) Making a region-specific watch that has a unique feature set with a unique name (not just talking some of the Asian/Japan watch variants that Garmin makes by sticking the little 'J' after it but otherwise being same at launch).

B) Making a simplified version of the exact same watch hardware at a lower price point.  Sure, there's always been cases where Garmin has somewhat re-used hardware – but never as blatant as this in the fitness realm that I can think of.  The closest I can think of would be the Edge 200/500, but even that was dramatically different in terms of the user interface and features.
I suspect if they find this strategy works, we'll see it in other cases.  But this experiment may take some time to fully pan out.  So we'll see.
With that – thanks for reading!