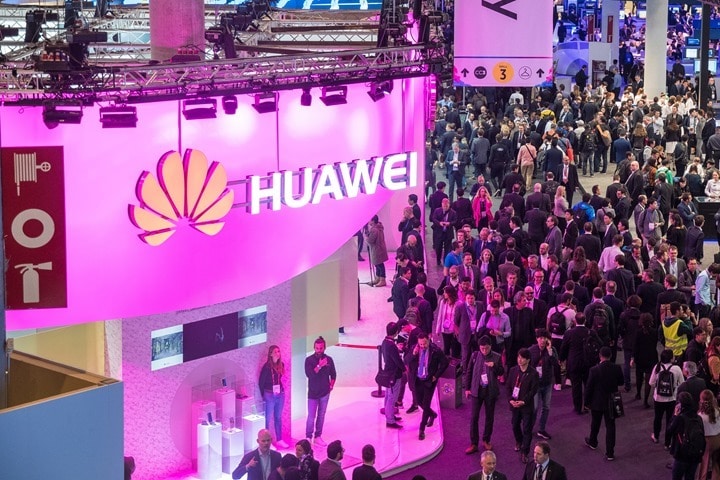 Over the last week or so two new sport-focused watches from non-sport focused companies have been announced.  First up was last week's announcement of the LG Watch Sport (and LG Watch Style), which was then followed by Sunday's announcement from Huawei of their Watch 2 unit.  In some ways these watches could be viewed as just more random Android Wear watches targeted at the general public.  But in reality there's a very subtle message not well highlighted about the Huawei watch that should cause the likes of Garmin, Polar, and Suunto to pay attention.
I had a chance to get some hands-on time with both while here at Mobile World Congress in Barcelona.  Of course, it was fairly limited, since both watches were tethered down to fancy tables to keep me from going for a run.  Still, it was enough to poke at some of the features and dive into some of the early issues raised (in the case of the LG Watch Sport).  Perhaps down the road I'll dive deeper into one or both of them.
In any case – this isn't a review, nor really a deep dive into all the features of these units.  It's just a quick look at some of the interesting things that stood out to me about each watch.
Oh – and just a quick note about Android Wear: Yes, it works on an iOS device.  Maybe not as well as Android (ok, definitely not as well), but with Android Wear 2.0 a lot of those quirks are disappearing.  So if you previously thought it was only an Android phone thing…think again.
Huawei Watch 2: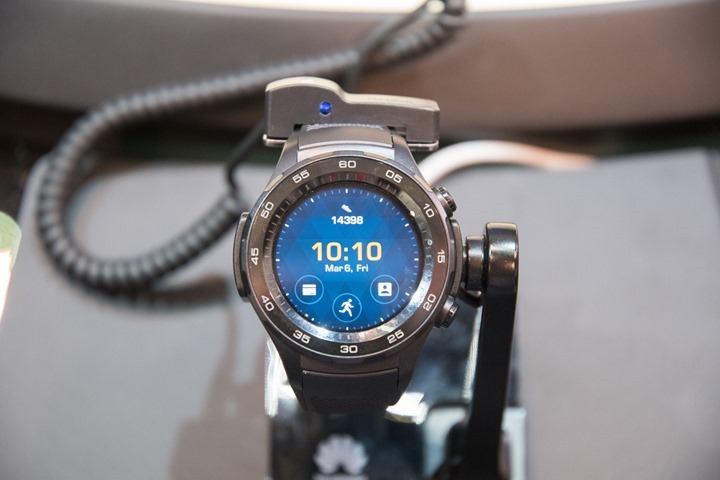 Up until this point, Android Wear watches have largely been about the Android Wear platform – not the fitness platform.  Which sounds stupidly obvious, but it's an important distinction in why I think most Android Wear watches have failed to catch-on with the fitness realm.  Instead of offering a cohesive sports and fitness experience, they focus on just being a branded version of Android Wear. Polar's brand. Samsung's brand. Moto's brand. New Balance's brand.
Even in the case of Polar, the extent of fitness on that watch was purely focused within the Polar app and the watch face.  Outside of that, it was just another Android Wear device.  And even more specifically, Polar's app was really just about recording the activity or basic workouts.
And there's nothing wrong with that per se (the M600 is a great watch), but as Polar themselves has said – it won't suit all athletes, largely due to the limited battery life and lack of advanced training metrics like their V800 has.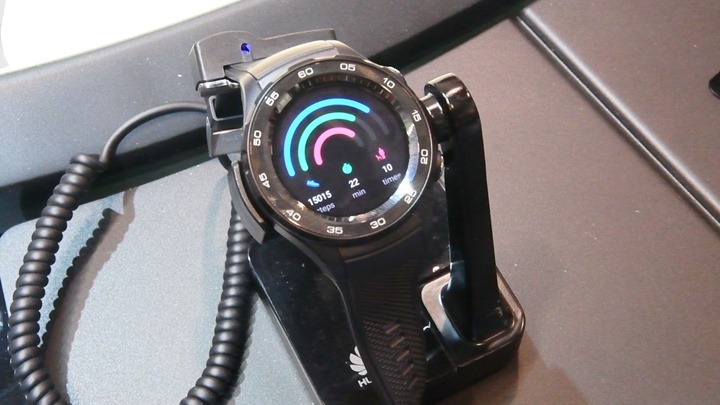 Whereas I think Huawei might be the first company to step towards that goal.  Of course, to catch everyone else up in one bulleted list or less, it has all the Android Wear staples that basically everyone has:
– Built-in GPS
– Built-in optical HR
– Built-in music storage and connectivity
– Bluetooth Smart and WiFi
– Microphone (for both audio commands and phone calls in this case)
– Android Wear 2.0 support
– Ability to run various Android Wear apps
– 1-2 days of battery life
Then it has less-common, but certainly not 100% unique features (at least on Android Wear):
– LTE cellular connectivity
– NFC payments (contactless payments)
– Barometric altimeter
– 30-day battery life in time/step tracker mode only (Casio has something similar)
Finally, it has one specific feature not found on any other Android Wear watch today:
– Integrated FirstBeat analytics for advanced training metrics
And it's this last one here that's really of interest.  See, most other watches will use generic metrics for calorie burn.  Really basic stuff that rarely leverages heart rate (Polar is an exception here).  But Huawei goes way further than Polar.  For example, you'll get a Training Effect score: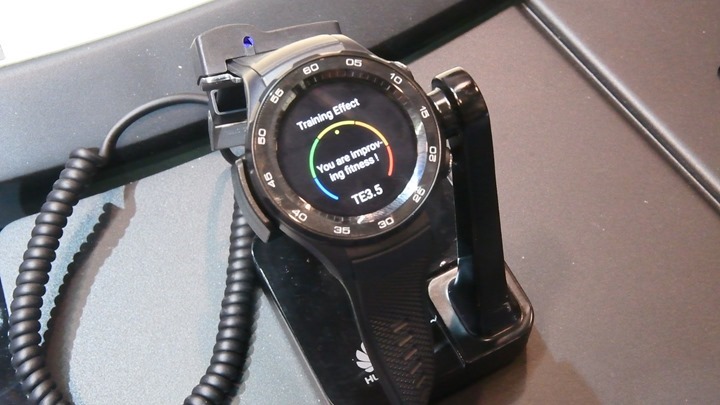 As well as Recovery Time: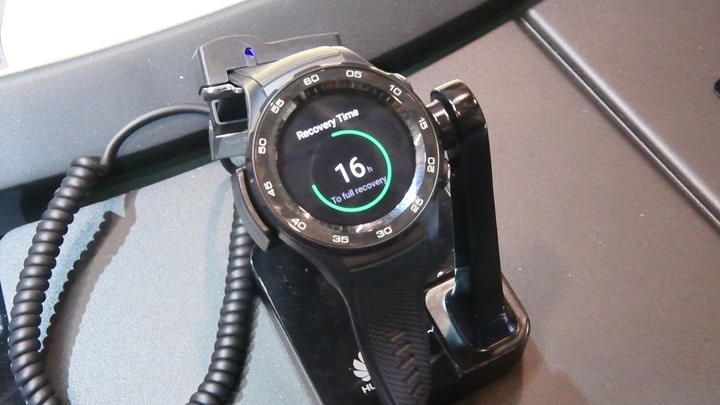 And even VO2Max: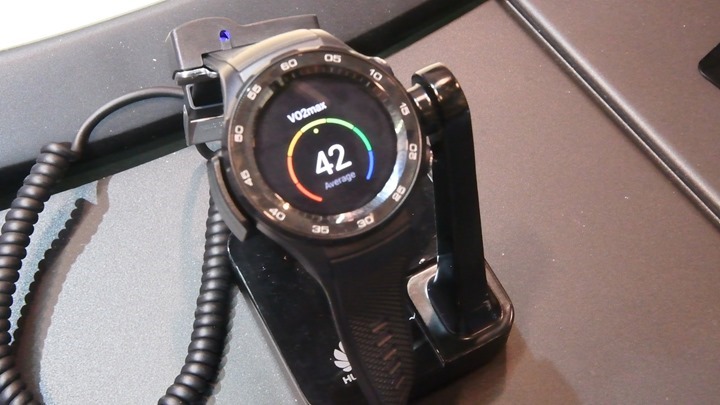 And the real kicker here is that in theory all of these should actually match what you'd get on a Garmin device. That's because Garmin licenses the exact same technology from FirstBeat.  Of course, Garmin does go further in that licensing – such as all the new training and recovery scores in the Fenix5.  Additionally, Garmin actually logs this data onto an online platform via the saved activity files, whereas it remains a bit fuzzy as to if or how this data is logged elsewhere in the Huawei platform.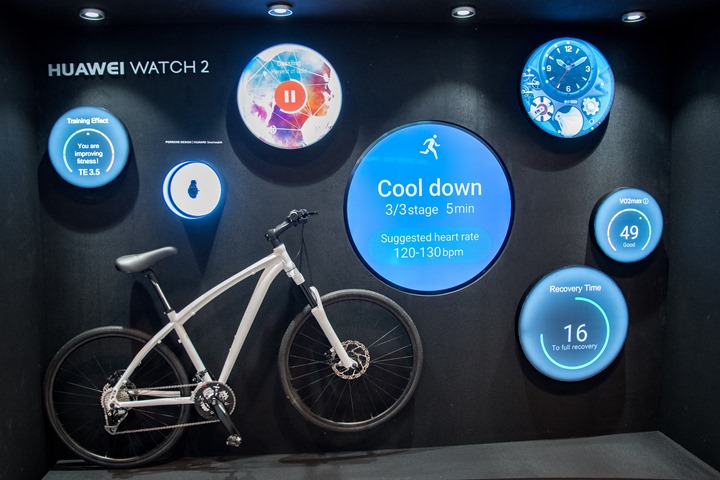 (Side note: They almost nailed this display station…up until they put that specific bike there.)
Still, it's an impressive and important step forward – especially since recovery time is set to be aware of past workouts as well, thus being cumulative.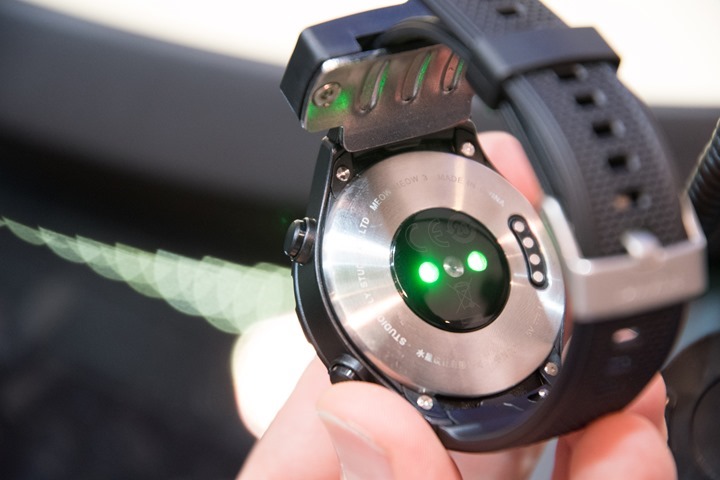 Of course – the big ticket item is whether or not the optical HR sensor is accurate.  You see, if it's not accurate then everything falls apart like a house of cards.  All of these measurements depend heavily on heart rate (plus some distance aspects).  While they can handle being slightly off with materially impacting recovery and training scores, they can't be horribly off (often a case of poor optical sensors seen in most Android Wear watches).
Unfortunately, I don't have an answer at this point on that piece.  It's something I'll have to poke at down the road if I pick up a unit to test.  Which, I probably will.  Priced at $329, it's roughly in the ballpark of other Android Wear fitness devices on the market.
Of course one of the challenges with the watch gaining steam is simply that Huawei isn't a well-known brand in North America (or barely even Europe) to most consumers.  Sure, the tech crowd know them.  As from a pure wearables sales numbers standpoint they do do well, but those sales are mostly in China – and mostly lower-priced wearables (i.e. $20 units).
Wanna see it all in action?  More of a video kinda person?  No problem – I shot this short and sweet hands-on goodness at MWC about it:
As noted above, it's set to start shipping in March in Europe, and North America in April.
LG Watch Sport: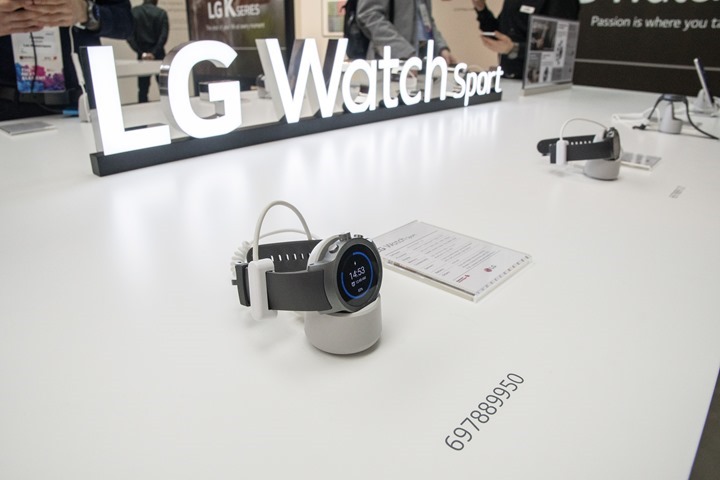 Next up we've got the LG Watch Sport, which came out the week prior.  This watch isn't super-unique in the grand scheme of Android Wear wearables.  It's got very similar overall specs to that of the Huawei watch:
– Built-in GPS
– Built-in optical HR
– Built-in music storage and connectivity
– Bluetooth Smart and WiFi
– Barometric altimeter
– Microphone (for both audio commands and phone calls in this case)
– Android Wear 2.0 support
– Ability to run various Android Wear apps
– A day of battery life
– LTE cellular connectivity
– NFC payments (contactless payments)
It does have the unique feature of being able to track gym/core exercises.  Sorta like the Microsoft Band did.
So all that's fine and good.  But for the most part, it's pretty basic when it comes to fitness.  You'll likely be downloading some 3rd party apps like Strava, Ghostracer, or similar to get the most from it.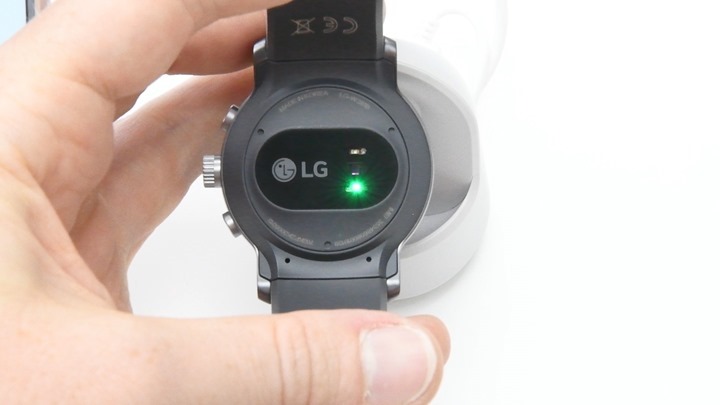 Also – there's technically two LG watches that were announced, the LG Watch Sport, and the LG Watch Style.  Hang tight and I'll talk about the Style in a second.
But what a lot of folks have focused on with LG Watch Sport is how big the unit is.  For example, Lauren Goode from the Verge talked about it in her first look last week.  So I wanted to dig into that piece a bit deeper and compare it to some of the other sport/fitness offerings out there.  You'll find those video comparison in the pixels below:
The key takeaway is it's really the band that's the problem.  Some have noted that the antenna is in the band, which is logical – many companies do that.  Or rather, did that.  That trend stopped about 4-6 years ago (I think the last Garmin watch that did that was the FR410).  Just like Suunto has moved away from the satellite bump seen in the Ambit lineup.  Sure some bands do that, because they are far thinner.  But for the most part the vast majority of companies now have separable wrist straps.  And that's largely because consumers prefer it, and it also makes service/support easier.
In this case, the straps definitely are affixed via screws, and there's what appears to be a gap – which means that it's not 100% molded together. In any case, that strap piece is what causes the unit to be so big and floppy.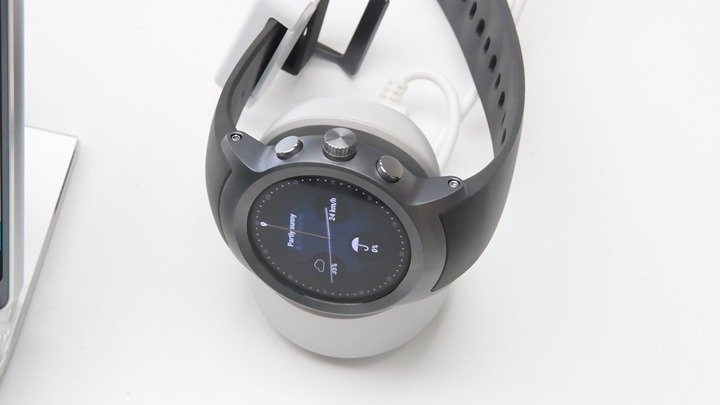 If you ignored that part, then it's really no different than Garmin's Fenix series in terms of size.
Beyond that though, I'm not certain this watch will make a big splash in the fitness wearables realm.  There are only two color options from a styling standpoint (and just one size), so I think you'll see more tech people than fitness people get this one.  The price is $349.
On the flip side – you do have the LG Watch Style, which is downright stunning in the looks department.  It reminds me of how when folks first saw the original Garmin Vivoactive and couldn't believe how thin it was for a GPS watch.
Except two problems: No GPS, and no optical HR sensor.  Thus likely a no-go for most people.
Still, it's always interesting to see companies experimenting.  In the case of the major phone makers, most of these wearables don't tend to do too well sales-wise.  You've seen companies like Samsung have higher volume numbers, but that's largely because they are bundled with phone purchases (for free).  But since sales aren't broken out that way, it's hard to know how many units these companies are truly selling by themselves.  And even harder to know how many are being used in a fitness capacity.
Still, with Android Wear 2.0 – hopefully that'll give developers (and thus consumers) a reason to try the platform, and thus give more competition to the fitness sector in general.
With that – thanks for reading!